Acquisition of real estate in different countries has a number of features. In Thailand, foreign nationals can buy apartments in apartment buildings (condominiums), but buying a house is a bit more complicated process. A foreigner, as an individual, cannot legally own land in Thailand (on which the house stands). The exception is foreign investors who have invested 40 million baht in the Thai economy. They have the opportunity to buy a plot of land. And that's not very big. However, not everything is so difficult and not only a dollar millionaire can afford to buy a house in Thailand.
The content of the article
Where to start, choosing a home
It may seem that choosing the house that suits you is very easy. After all, you know what you need. In fact, this process is rather dreary and long. To begin with, at least, you need to decide on the region. It is better to travel around all the places of interest to you as a tourist in advance, to roughly assess their infrastructure and atmosphere. Of course, it is also possible to buy a house remotely, based on a description on the Internet or in a real estate agency. But the risk of an unsuccessful purchase and the price in this case will be much higher. Choose, for example, a house on the seashore, as if from a cover, but in fact there will be some wasteland with a garbage dump or a parking lot for fishing boats nearby..
How to find interesting offers of houses? There are many options. You can start by searching the internet. Both in Russia and in Thailand, there are many real estate agencies on the spot offering their services. You can also watch ads for the sale of homes from individuals in the social. networks or local newspapers. And you can even «kicking» - go around the areas you are interested in, watch ads for sale on houses, ask local residents. True, this is a very energy-consuming method..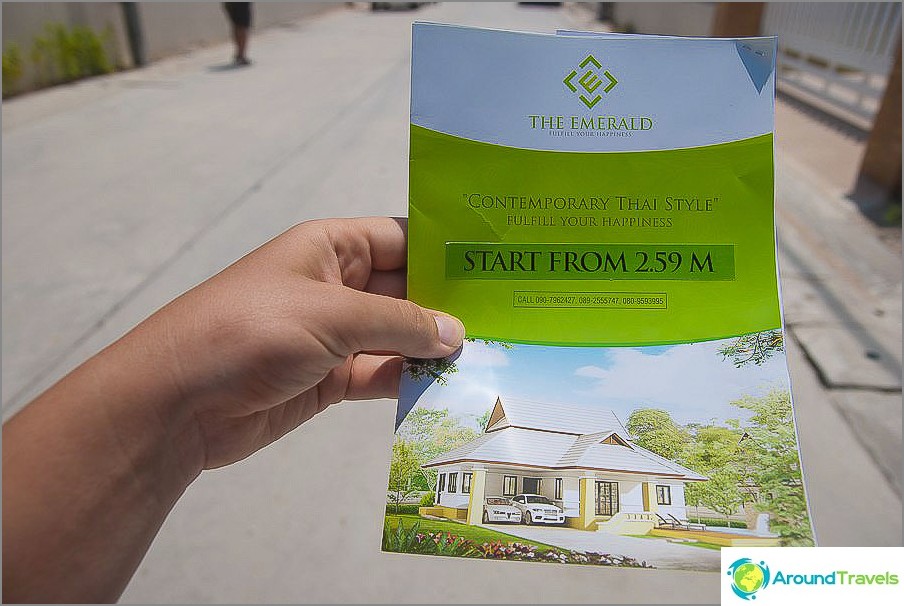 If you are already in Thailand and are well versed in the terrain, know the districts and main streets and have chosen several objects of interest to you, it is still quite tedious to go to see them on your own. You need to either have your own car, or take a taxi every time, independently negotiate with the owners of real estate, whether they are foreigners or Thais. To easily complete these tasks, you need to do all of the above for more than one day..
Therefore, the easiest way to start looking at homes is to contact your local real estate agency. There are many agencies in Thailand focused on the Russian buyer, with Russian-speaking employees. Usually, agents take clients to the screenings for free, negotiate with the owners themselves and translate the questions that arise during the viewing. However, you won't be able to see many objects in one day, since Thais are also a leisurely people, and objects can be at a great distance from each other. But still, organizing views is much easier with an agent than on your own..
That is, you can first ride with an agent, then on your own. You can contact several agents, they can work in different areas. You can find a foreign agent via the Internet. You can contact the office. As a rule, decent agencies have offices and internet sites. When choosing an agent, it should be borne in mind that a Russian-speaking employee is good, but Thais are easier to communicate with each other, and foreigners (most often Europeans) are on average more responsible and punctual than Asians. Therefore, if you can communicate in English, it makes sense to contact a Thai manager who works for the European boss..
Types of houses
Real estate agents specialize in «secondary housing», for sale from a developer or those who work with one village.
The house can be either in a village or detached. Better, of course, to choose a village. There is always a local administration, which will help in solving household issues. Even better is a guarded village with a closed territory and infrastructure. Usually this is a pool, gym, playground, meeting room for owners. In good settlements for foreigners, the list of infrastructure and common areas can be even more. There are so many Russians in Thailand that in some regions, for example, in Pattaya and Hua Hin, there are so-called «Russian villages» - where the houses are mainly acquired by Russian families. There are also villages and places where more foreigners or Thais live..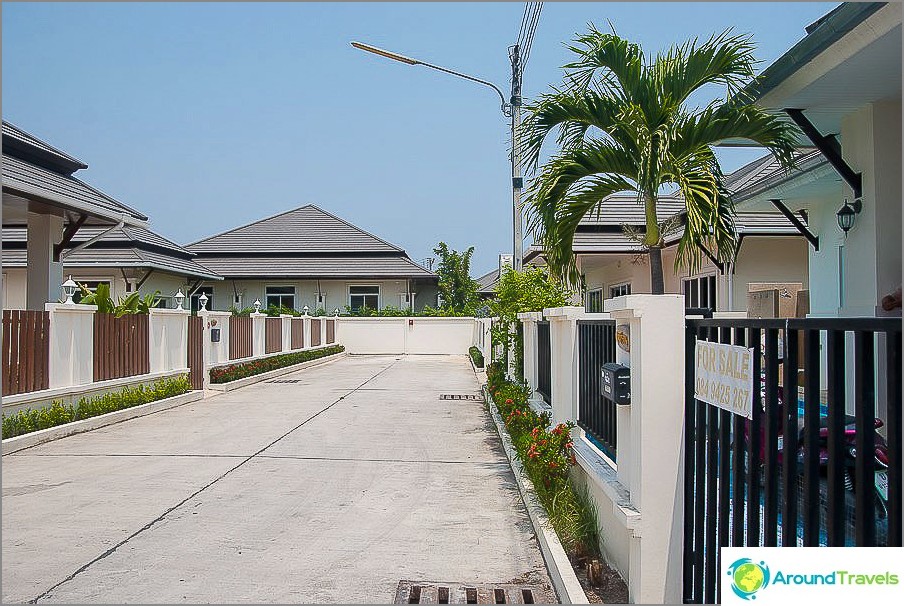 A house in Thailand can be bought, both at the stage of the zero construction cycle, and already built and inhabited for a long time, from a farang or a Thai. Buying a new home is largely a convention. You buy a plot to which the developer offers a certain standard project, usually even several, in different price categories. At the same time, during the construction process, the project can be greatly changed to your liking, both the interior decoration and the architecture of the building as a whole. You can also buy a ready-made new house from the developer or «secondary housing» - from the owner. For the price, all these options do not differ fundamentally. If you want to make the house completely «for yourself», then the best option is to buy a plot. True, you will have to wait for the construction of the house and control the quality of the work. If you are satisfied with the ready-made standard version, great, you can buy and immediately start choosing furniture. Buying a house from the owner, i.e. secondary housing, the good thing is that the owner has already eliminated many of the flaws in the housing, and has upgraded something compared to the original version. The downside is that people still have different tastes and it is difficult to find something really suitable for you..
Deal registration procedure, contract, formalities
When you already have in mind a property that is completely satisfactory in all respects, you need a lawyer. This is perhaps the main thing. A Russian or a foreigner cannot be a Thai lawyer. It is, at best, a translator or intermediary. The lawyer is only Thai. He will handle all your business, so he must be a good professional. And speak good english.
Of the documents, by and large, you only need a passport to complete a transaction. But there are still a number of nuances. For example, in order to make a payment, you first need a bank account, which is usually opened for foreigners either on an appropriate visa (tourist, educational, business) or «under the deal» - when there is already a preliminary contract for the purchase of real estate.
First of all, a preliminary contract is signed with a lawyer. In accordance with it, the owner is paid a deposit (in cash). This is usually a small amount, about 1% of the transaction value. Based on this preliminary agreement, you can open a Thai bank account if you do not already have one. The preliminary contract specifies how long the principal amount must be paid.
Documents required for opening a bank account:
certificate from the immigration office
certificate of residence in Thailand (where the buyer currently resides)
preliminary contract for the purchase of real estate
international passport
It is relatively easy to open a bank account with a non-tourist (NON-B, NON-O, NON-E) visa. It is also possible to open an account with a tourist visa or with a stamp, but not in all banks and not in all branches of the same bank. As is often the case in Thailand, it all depends on the decision of specific people. If your agent agrees with a bank manager and shows a preliminary agreement on the purchase of real estate, an account will most likely be opened.
Home decoration options for foreigners
The most important nuance when buying a house in Thailand is how a foreigner can register the ownership of the land plot on which the house stands. There are essentially two options: long-term lease or registration for a legal entity. There is another, rather exotic option - usufrucht. This is a lifetime lease, non-transferable. True, it is unlikely that many people will like this method..
A long-term lease or leasehold is issued for a period of 30 years, with the right to double it. In theory, the lease term can be a maximum of 90 years. There is information that some expensive residential properties can be rented for 120 years, and for businesses - for 150 years. But this is all just theory. In practice, the maximum possible lease term at the moment is 30 years. Sometimes real estate agencies offer an auto-renewal lease, but these options are not in accordance with the law. Even if the contract stipulates that the owner is obliged to extend the lease, this has no enforceability in court. If, after 30 years, the landlord refuses to renew the lease, the court will be on his side. It should be borne in mind that in 30 years the owner may already be different, because the land will be inherited, etc. In addition, Thailand's land law is less than 30 years old, so there hasn't been any precedent for an extension yet..
If you want to take a land plot for a long-term lease, you should contact a lawyer, giving him the documents necessary for registration. The lawyer goes to the Land Office, where they make a note on the title deed (Chanote) that the property is leased. In this case, the certificate of ownership remains with the previous owner. From the point of view of the owner of the land, this can be called ownership of property with an encumbrance.
The most common way to register a freehold land plot in Thailand is to establish a firm (company) and buy a house in its ownership. Thus, the owner is not an individual, but a law firm. This is the legal way. True, provided that the company operates and is not a nominee holder. The nuance is that a foreigner cannot register a company entirely on himself, there must be Thai shareholders. Clearance can be done through preferred shares. For example, Thais own 70% of the ordinary voting rights, foreigners own 30% but preferred ones, which for example have 5 votes per share..
Sequence of formal purchase procedures
All documents related to the registration of the company are prepared by your Thai lawyer. The shareholders of the newly created company are only Thais. The company then purchases real estate. That is, the certificate of ownership (chanot) from the previous owner passes to the company. Further, the shareholders change in the company. Now the proportion of Thais should be large enough so that it does not look completely nominal. Farang has the right of blocking so that Thais do not sell the property on their own. If you purchase a house under construction, payment to the developer comes in several stages, but the transaction will be registered in the Land Department only after the full amount has been paid.
After the buyer provides the lawyer with a check from the bank for the amount specified in the main contract, the lawyer with the documents goes to the Land Office to begin the procedure for re-registering real estate from one owner to another. Renewal takes from one day to two weeks. During this time, in fact, the buyer has neither money nor a certificate of ownership. The key to a successful transaction is the exclusive reputation of a Thai lawyer. If a house bought earlier by a company is bought by a foreigner, there is no need to register the transaction with the Land Committee, the director and shareholders of the company change.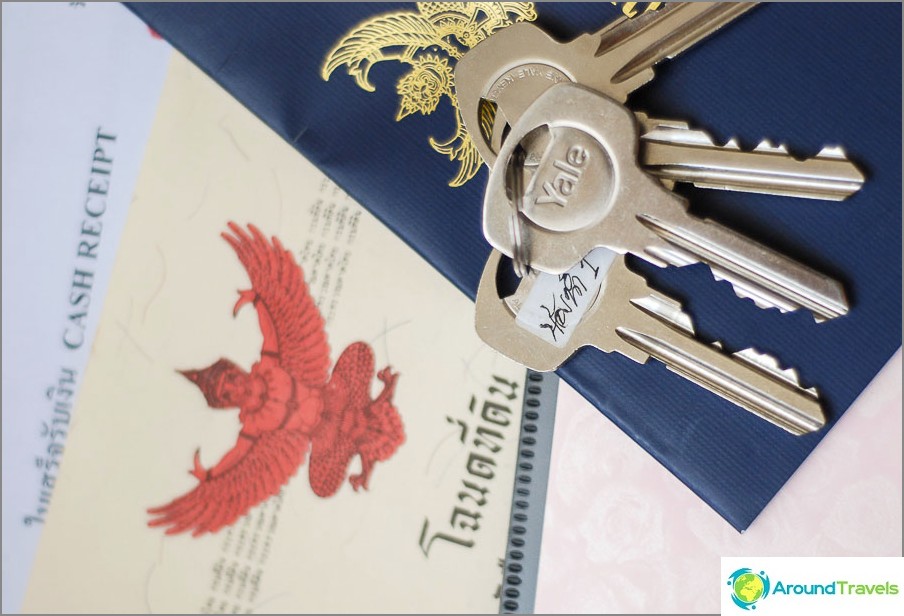 Completing the purchase procedure is the receipt from a lawyer of a Thai title deed - Chanote and house keys. The certificate of ownership for Thai citizens and foreigners looks the same, on the back of the certificate is recorded information about all previous owners of the property.
P.S. With the purchase of an apartment, everything is somewhat easier, because there is no land issue, but you need to remember about the quotas for the number of apartments that can be owned by foreigners in a condominium. And I would probably buy an apartment, it seems to me that such real estate would be more liquid.