One of the easiest visa procedures in Thailand is to extend a single or double entry visa for one month. Everything is done, it is easy and does not require any special preparation, nevertheless I will briefly describe this process on Koh Samui (in other cities everything will be very similar). And if you still do not know anything about visas at all, then first read the article All about visas in Thailand. And let me remind you that we have personally compiled by us directory of houses on Koh Samui, where there are more than 80 houses with a map and a photo, for a short period, while you are looking for a house, the hotel can be bought through RoomGuru, and we also have our own detailed review best hotels in Koh Samui.
The stamp for 30 days is extended in the same way.
The content of the article
Renewal Basic Information
The visa can be extended for 30 days, thereby receiving 60 + 30.
Also, at the end of the validity of the visa, that is, at the end of 90 days, the visa can be extended for another 7 days.
Working hours
The Samui Immigration Office is open from 8.30 am to 4.30 pm, Monday to Friday (excluding holidays).
Break from 12:00 to 13:00.
Required documents
Passport along with immigration card.
Copy of the passport of the main page and with a visa.
Completed form
Photo 4x6 or 3x4 (you can make it right there, as well as a photocopy of a foreign one).
You need to indicate the address in the application form where you live.
Somewhere in 2016, information went that they began to demand another document - a rental agreement. As I understand it, this does not happen everywhere, and only sporadically. Now visas are being extended without it, but they can start demanding again, I don't exclude it. Read the latest reviews below, they just write the current situation.
On Koh Samui they do not require it yet (December 2017), in Phuket I myself extended it and did not demand it either (February 2017).
Renewal cost
1900 baht per person, which is 30 days, which is 7 days.
Application process
You arrive at the place, go up to the second floor, take a blank form of the questionnaire, fill it out (there is a pen and examples of filling on the counter). Next, your documents are verified, after which you give them and in 5-10 minutes everything is ready. Alternatively, take the questionnaire home and fill out there, and then come again.
First you need to make a copy of your passport, immigration card and visa page, as well as a photo if you don't have one. At the entrance to immigration, you can do all this - 2 photos of 100 baht (they take pictures stupidly on an iPhone), for a photocopy of 5-10 baht. The photo will need to be pasted on the completed application form after checking the documents.
Must be served in person.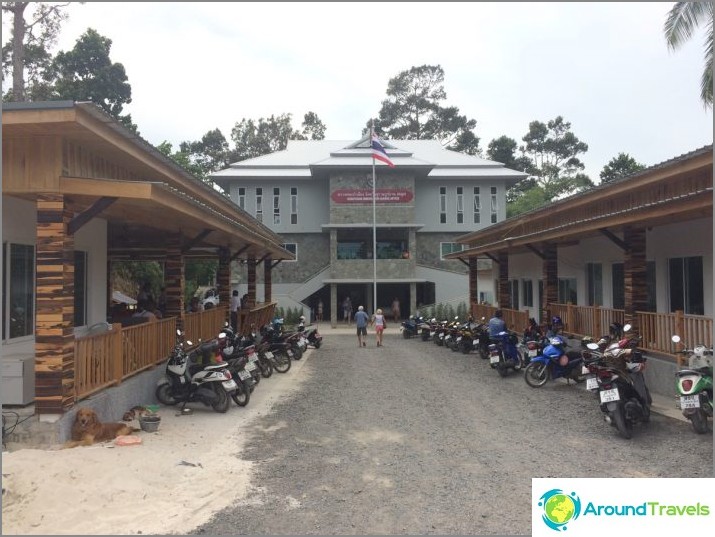 An example of filling out a questionnaire
Fields in the questionnaire that may be confusing:
kind of visa: type of visa, usually tourist
arrival / departure card: number on your immigration card (you filled it out on the plane)
period of… days: 30 days extension
reason for extension: reason for extension, I indicated vacation
address in Thailand: the name of your hotel or village is enough (in principle, you can write what is next to you if you do not know yours)
this application is writen by: who is filled in, we indicate our last name and first name
address no, road, tambon: left blank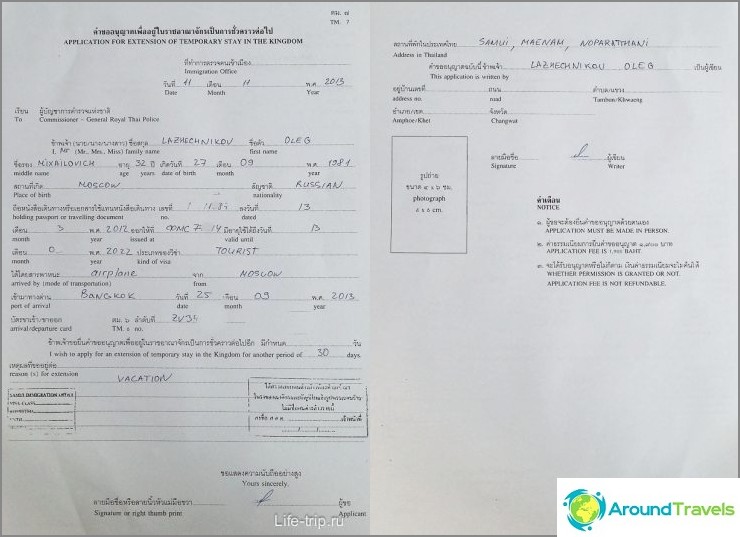 An example of filling out a questionnaire
At one time they were asked to fill out a questionnaire. But as of the end of 2017, it is not needed. Just in case, left here, you never know.
Below is an example of filling out a questionnaire, but you can also watch it on the spot in the immigration.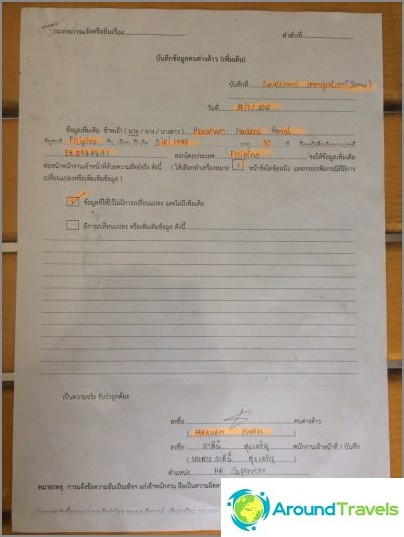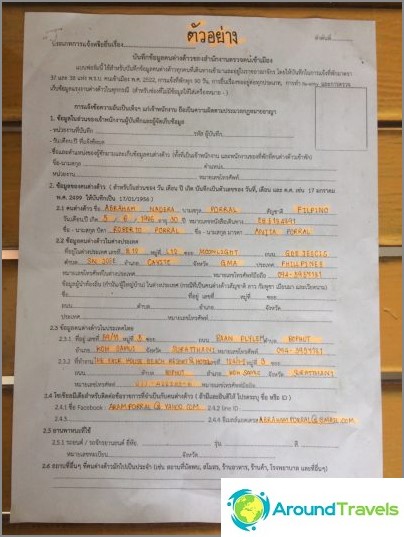 When to apply for renewal
There is information that it is possible to extend a visa only 30 days before the end of the visa, but I do not have its confirmation. There is also information that can be extended immediately after arrival. Probably depends on the specific migration. To be sure, and not to travel, so that 2 times, extend in the second month of your stay in Thailand.
The main thing is not to delay, otherwise you will have to pay a fine of 500 baht per day, or even the visa will not be extended at all and will be forced to leave the country within 7 days. I read it too.
What is your last day, you can find out by looking in your passport. At the airport, you were stamped with a number, this is the last day (inclusive). Please note that a maximum of 60 days may pass from the moment of arrival, not 2 months.
Extension of visas for children
When I posted a post about obtaining a Thai visa in Moscow, I wrote that I did not give Egor a visa and he will fly under the stamp. Then the question arose in the comments, is the overstay for children under 14 years old is not a punishable violation, or is it not a violation at all? So in immigration to Koh Samui, sometimes even children's passports are not taken for renewal! You bring your passport and money, and they say that the children don't need it (I was present in this situation). After that time I once again came to Thailand with Egor and in exactly the same way. I didn't pay for overstay when leaving.
But! Despite the fact that you will not be charged a fine when you leave, messages were sent that if there is an overstay in the passports of children, they may subsequently be denied a Thai visa. At least in Moscow, there was such a case. So, decide for yourself.
30 day stamp renewal
I will separately add about the extension of stamps, otherwise they ask. The free stamp that was given to you at the airport when you first entered the country (or at the land border) is valid for exactly 30 days. It can be extended in the same way, but only for 7 days. Also costs 1900 baht.
There is no 30 day renewal! There was talk, and information about this appeared on many sites, but all this was not confirmed.
How to get to immigration on Koh Samui
Immigrated to Maenam. If you go along the ring road, then you need a turn for a short road to Lamai, and there are signs everywhere at once, below is a photo of one of them.
From Lamai, you can also go along this shortest road - beautiful views and it is much better than the roundabout (quieter, traffic is calm and good views of the beaches.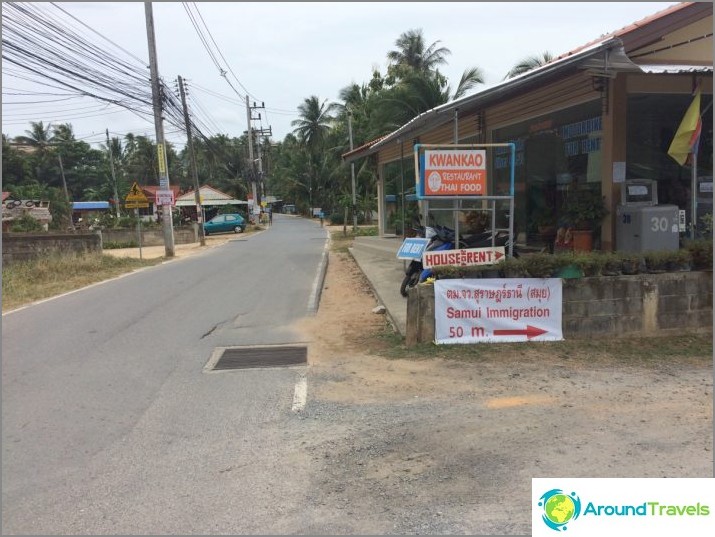 Samui Immigration
Samui Immigration
Samui immigration. Details on how to extend a visa to Koh Samui.
Samui Immigration. Details on how to extend a visa to Koh Samui.