If someone is not in the know, but the migration card has recently been changed, which must be completed before the Thai border. These cards are distributed to everyone on the plane when you fly from Russia. Some Asian airlines do not issue. But, of course, there are forms before passport control, but this will take additional time, so I fill it out on the plane, if there is such an opportunity..
The content of the article
Sample card filling
I post a sample of filling. And then I remember the first time, when I flew to Tai, I asked the neighbors what they mean. It seems clear, but in doubt.
Download sample>
You can save the pictures to your phone and then view them if you have any questions..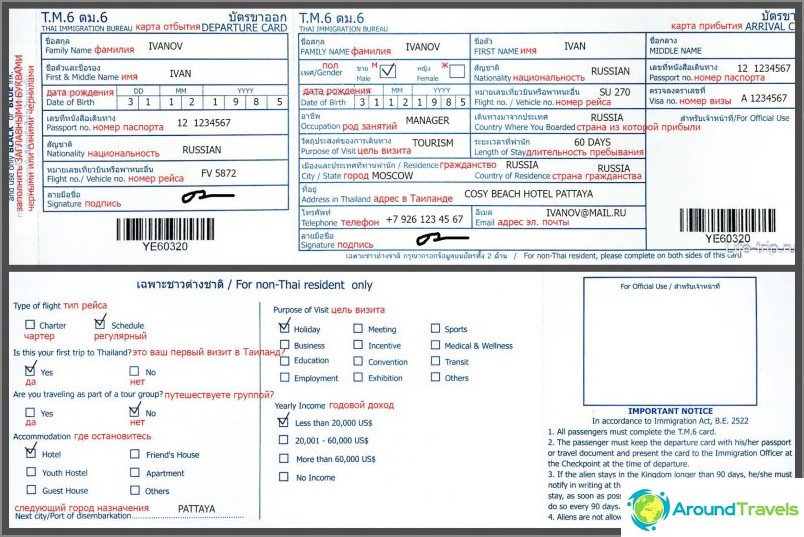 How I filled out the card
And now, just in case, an example of my filling. Let there be another sample.


Some explanations
Everything about visas to Thailand and about the process visa processing in Moscow (if you need it), read my links.
It must be filled on both sides and both sides. The border guard will keep one of them for himself, the second will be invested in your foreign country, and it is better not to lose it, otherwise you will have to go to the immigration office later.
The cards are not exactly a formality, but they are not particularly checked. This is not to say that you have to write incorrect information there, but that you do not need to be a perfectionist. For example, in the card you need to indicate your annual income, I think it is obvious to everyone that you can put a tick in any field and this will not affect anything.
Likewise, the address in Thailand - just indicate the city and the name of your hotel.
You do not need to fill in the visa number if you will be entering on a 30-day stamp.
Fill in with blue or black ink. And take a pen with you on the plane, the flight attendants will not distribute them, you will have to interrogate the neighbors who have it. From experience, few people take.