Faced with the fact that not everyone knows how to pay for housing in Airbnb correctly in order to minimize commissions on conversions. Therefore, I want to briefly talk about this, everything is simple there, but it is not immediately obvious that this can be done.
Let me remind you that I already wrote about registration and booking in the service, So we assume that you already know everything..
Where does the conversion and commission come from?
As you already understood, I'm still more or less happy with Airbnb, so I continue to recommend it to everyone. Sign up here and get $ 32 off Airbnb on apartments worldwide. Valid for the first booking, booking must be from 70 $.
Get $ 32 Discount>
You can read the information on the official website about the choice of currency and payment in it. I'll tell you in simple language what to do.
The fact is that in 2018 Airbnb changed the payment procedure and your card will be charged in the currency that you selected on the site. If you have chosen the euro, then the euro will be deducted, if baht, then baht.
And your Russian bank will recalculate these baht or euro at its unfavorable rate into rubles (sometimes it will even recalculate it through dollars, there will be a double conversion). Moreover, he can take from above a commission for conversion of 3-5%.
How to avoid conversions and commissions
It's simple. Before requesting a booking or paying, change the currency back to rubles, if your card is in rubles.
There are exceptions: B&N Bank cards, Visa Opening cards, Homecredit cards. Cross-border rubles will be written off through the dollar. Therefore, it is better not to use such cards at all when paying in rubles on foreign sites..
If you pay with a dollar or euro card, then, respectively, in dollars or euros. Always put before payment the currency in which your card is.
Airbnb is currently converting currencies at a normal rate close to the stock exchange rate. So you can painlessly pay immediately in rubles, since most Russians have cards in rubles.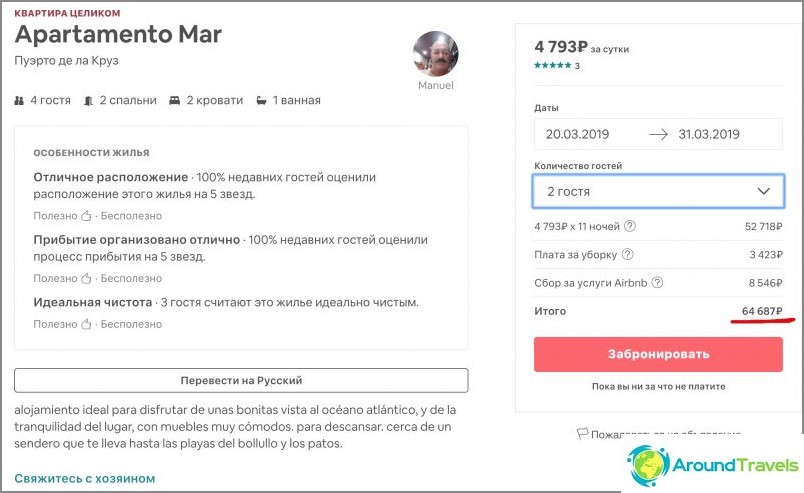 Just in case, I note that we are talking specifically about the commission for the conversion of your bank, and not about the commission that Airbnb takes for its mediation (Airbnb service fee).
P.S. New payment rules were introduced in 2018. Before, everything was different and had to be done differently too..