Karon is a dangerous beach. Yes - he's handsome. Yes - it has singing sand (in fact, it just creaks underfoot) and gorgeous sunsets. Karon has a number of other advantages that put it in the top five of the most-most beaches in Phuket..
But personally, Karon scares me with one harsh feature - there are constant RIP currents. Lots of spontaneous rip currents. Read article by link, if RIP-current is an empty phrase for you, and when you read it, choose another beach for swimming. People here die like flies, but you don't want to become one of them.?
The content of the article
Beach description
Karon Beach is located between the beaches Patong in the north and Kata on South. The length of the beach is about 3 km, and I did not even begin to measure the width - it is very wide, tens of meters, with a slight slope of the coast towards the water.
The sand on Karon is fine, almost white, with a yellowish tinge. When walking, it crunches underfoot like snow, for which it is called «singing», although the definition, in my opinion, is not very suitable. During the hot season, the Karon water is clean and clear. In the off-season - large waves that disturb the sea, which makes it lose its attractiveness.
Set aside your bookmark right away - short overview of all the beaches of Phuket, will help you decide on the choice of the beach if you refuse Karon.
Entering the water, depth and waves
The sea on Karon is deep. Continuing the raised topic of reverse currents, I will say once again that Karon is a dangerous beach. Even in calm seasons, there are often red flags along the coast, and flags indicating rip currents discovered by rescuers. The key word here is discovered.
In addition to them, there are also spontaneous pulls, (be sure to read about this in my article), which are detected already upon the fact that a person is carried away by the current. In summer, there are large waves, but be prepared for the fact that the rescuers here have already hesitated to fish out the corpses.
If you, drunk, climb into these waves and jump, then they will not smile at you, but they will drive you out of the sea with magic pendals. In a calm season, the sea is quieter here, and swimming is not so dangerous.
Sun beds and shade
There are some trees on Karon, from which the shadows are three kopecks, and even then - less than before noon. Then the sun passes to the western half of Phuket, and until the evening you have nowhere to hide, except for rented umbrellas.
More or less, the geography of the beach saves: between the embankment and the sand there is a narrow section of lawn with trees, which sometimes becomes wider and allows people to hide in their shade. There are few shadows, there are many who want to, you will have to knock. Thais have adapted to organize pseudo-beds from sand (sun beds were forbidden), and they rent them to tourists for the same 100 baht.
Beach photo
Left side of Karon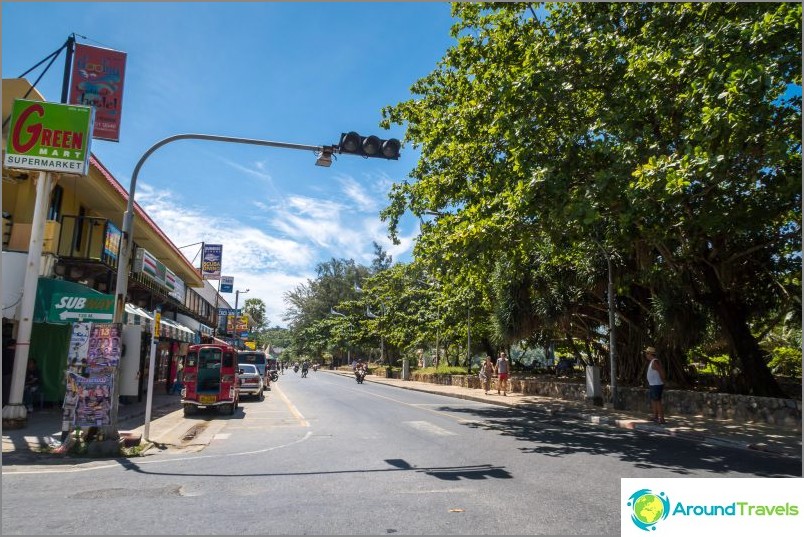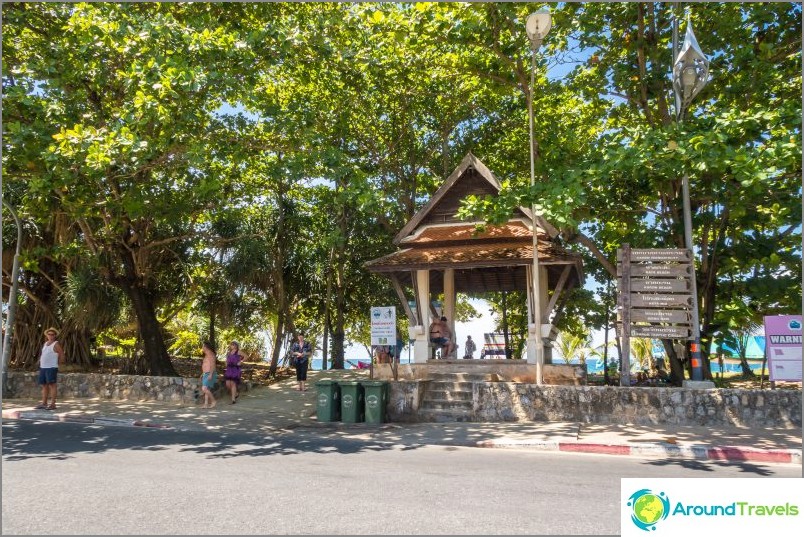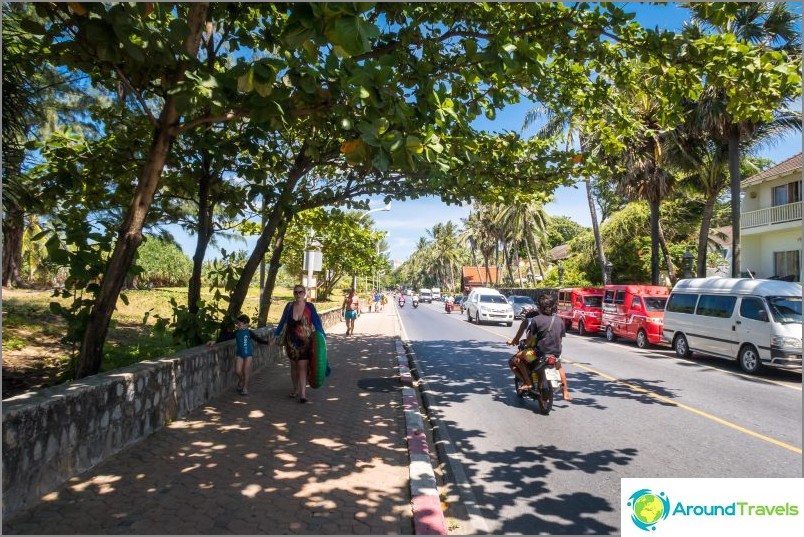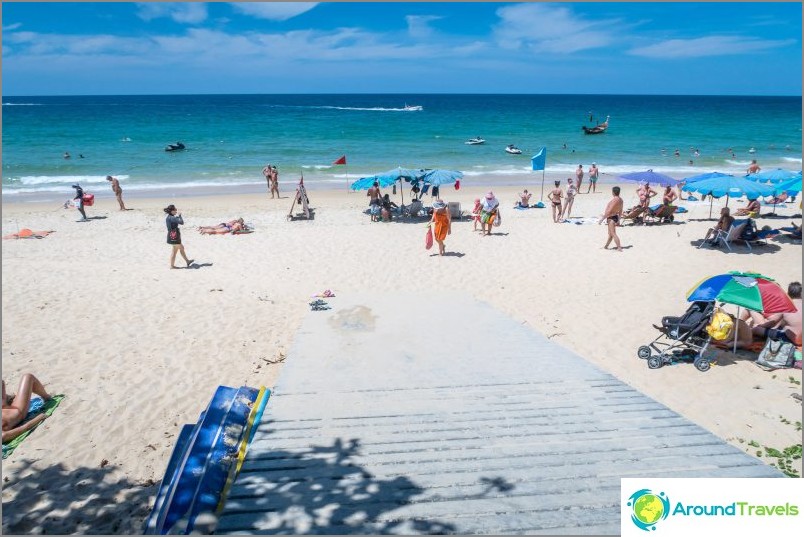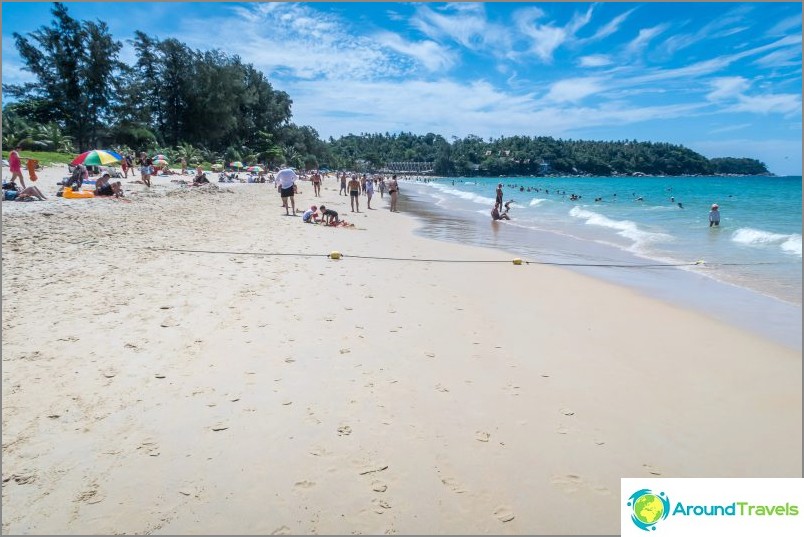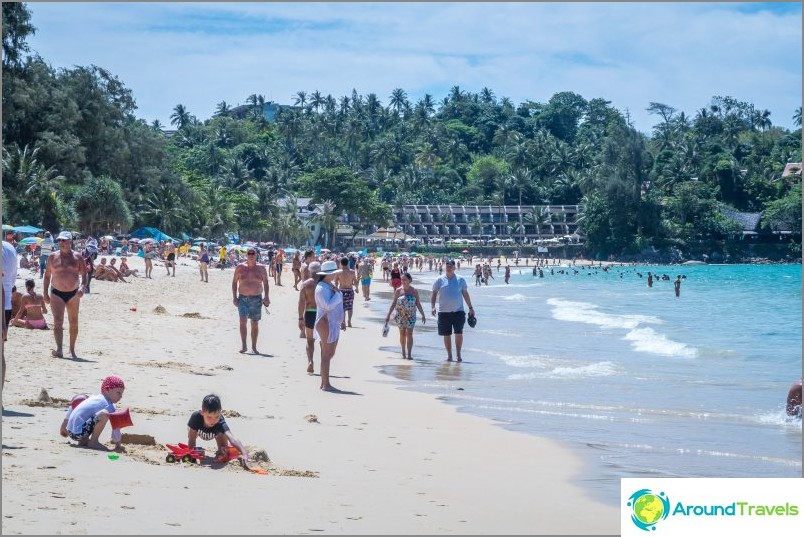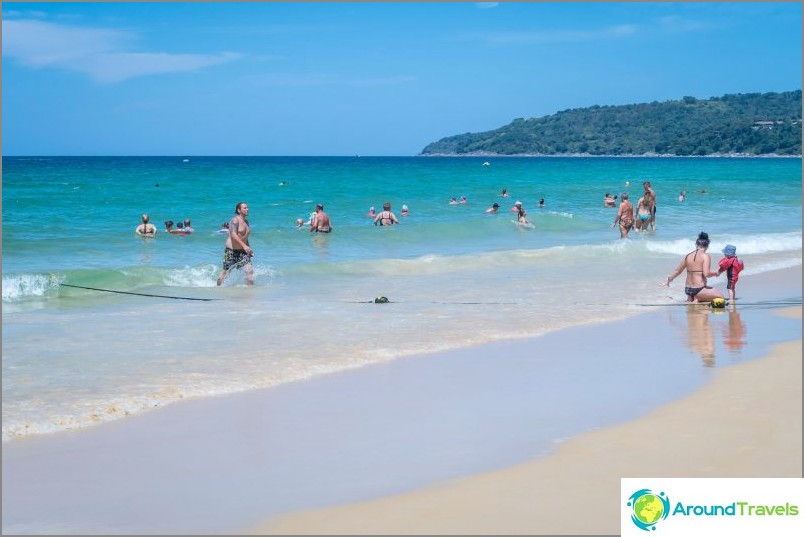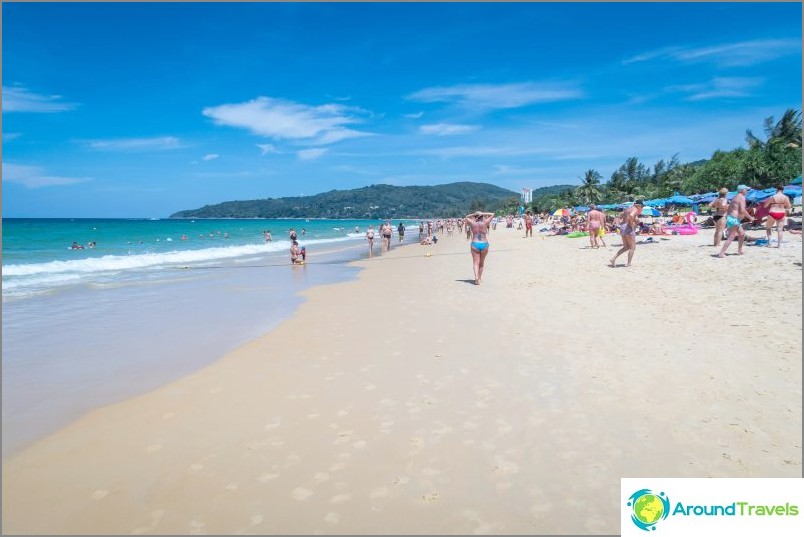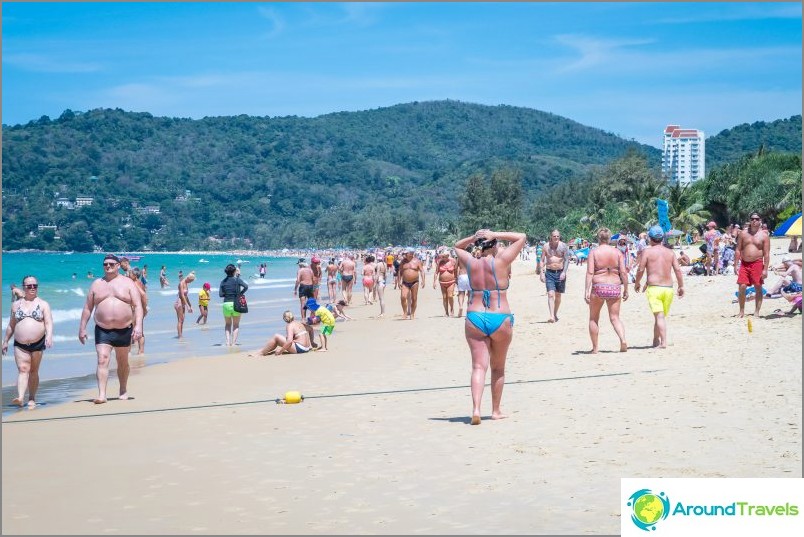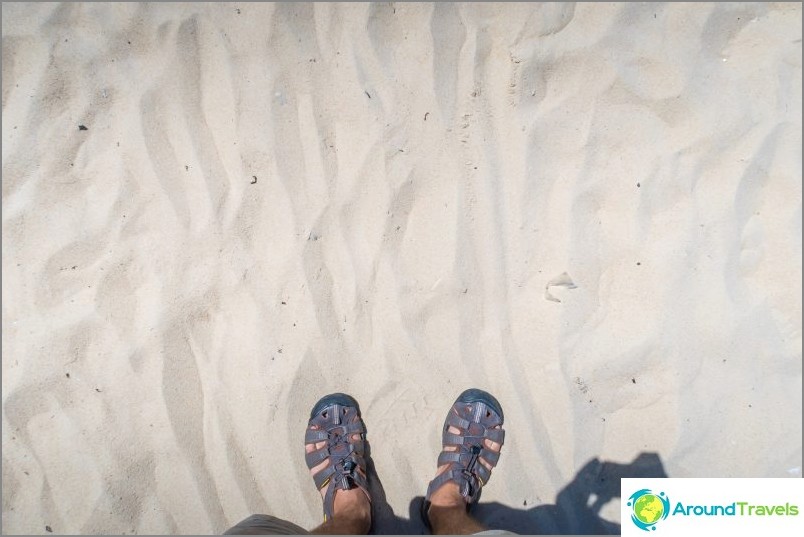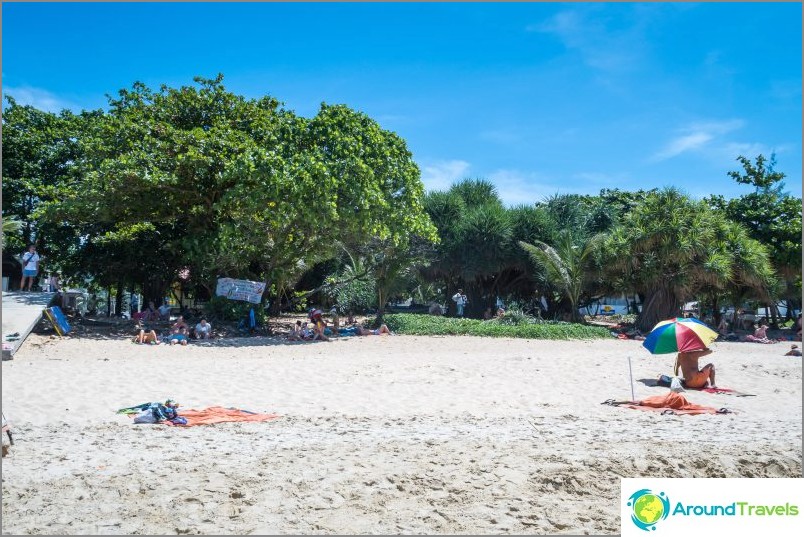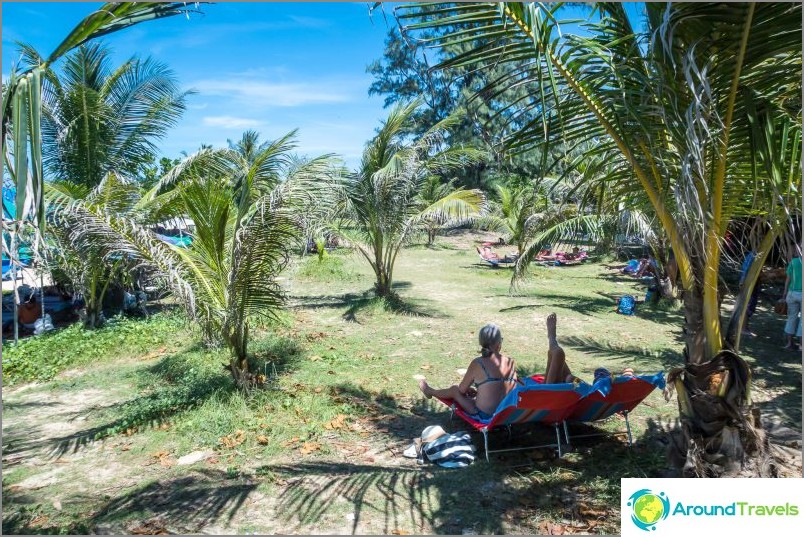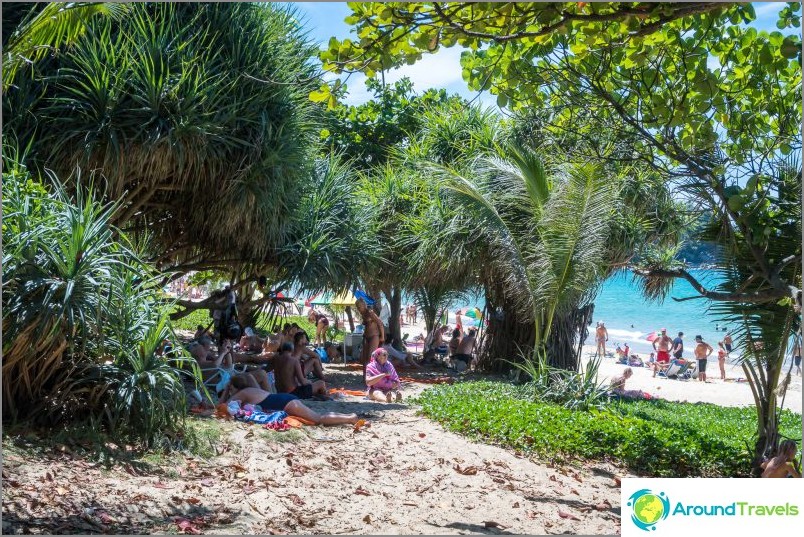 Right side of Karon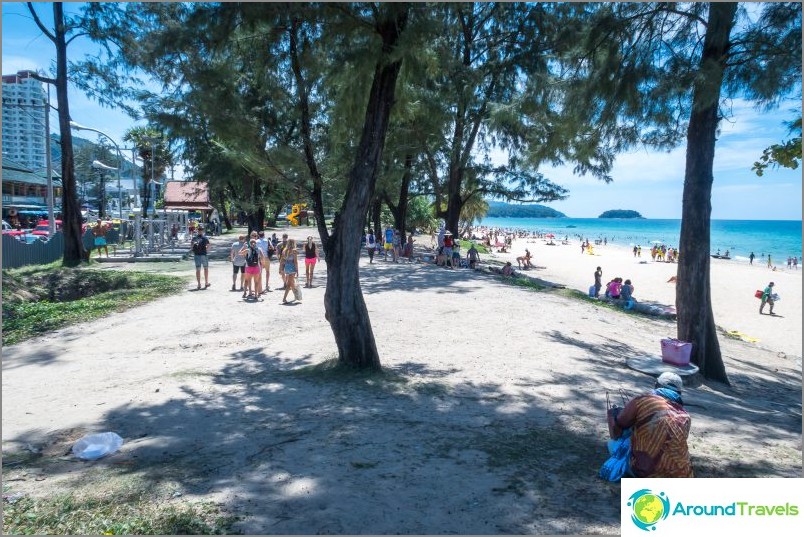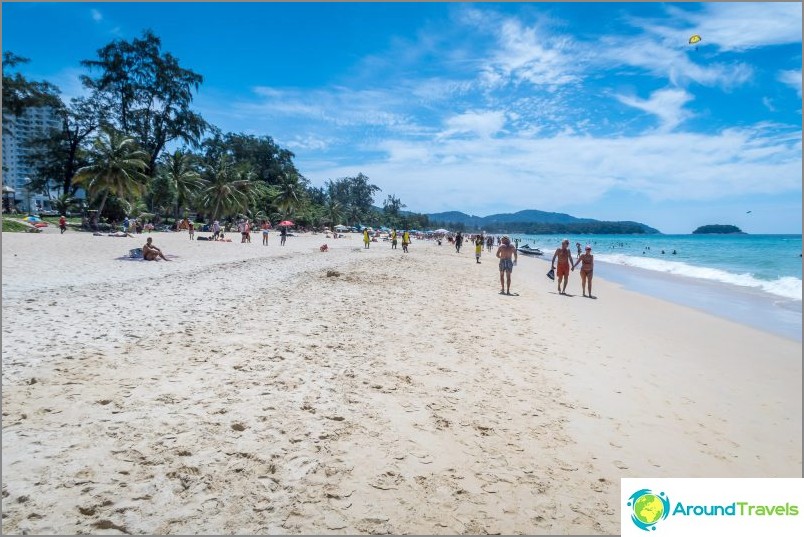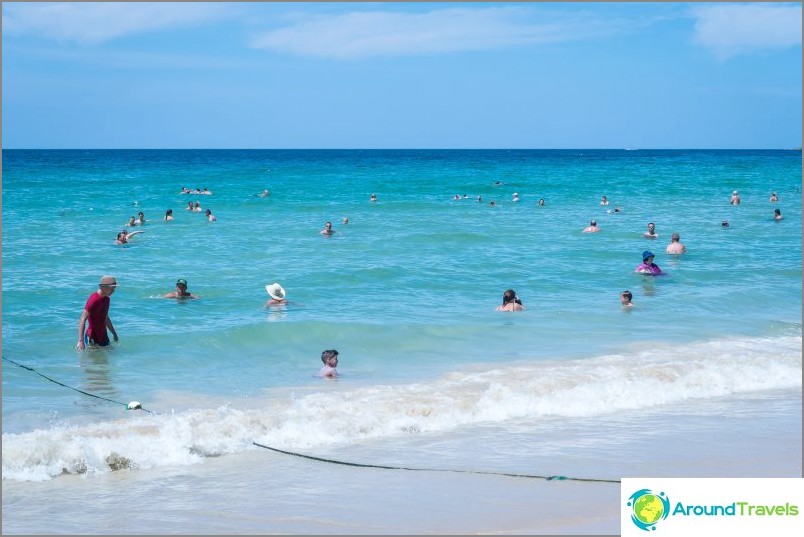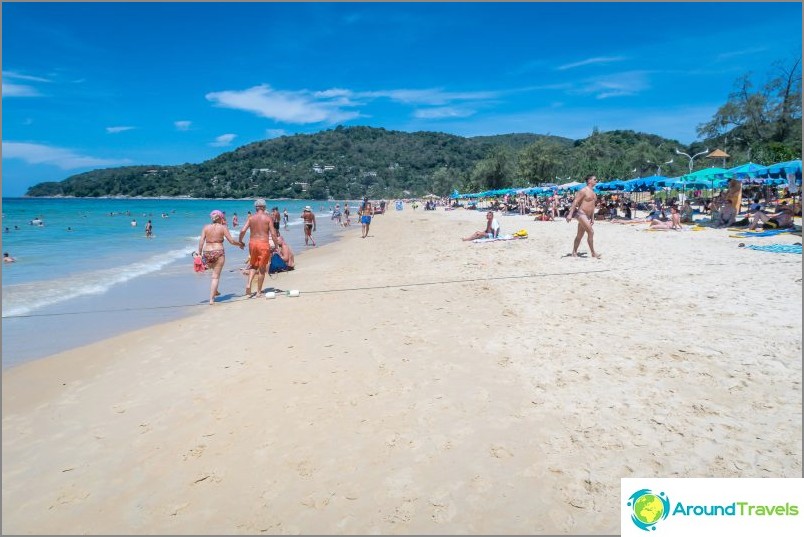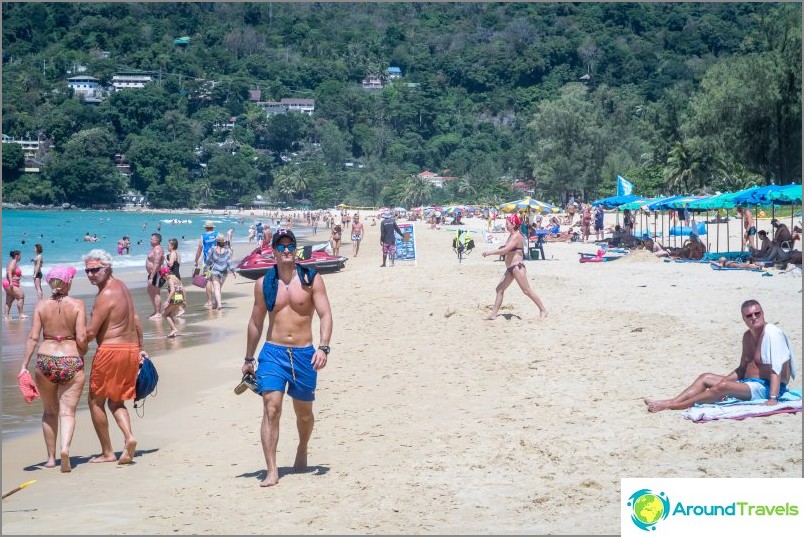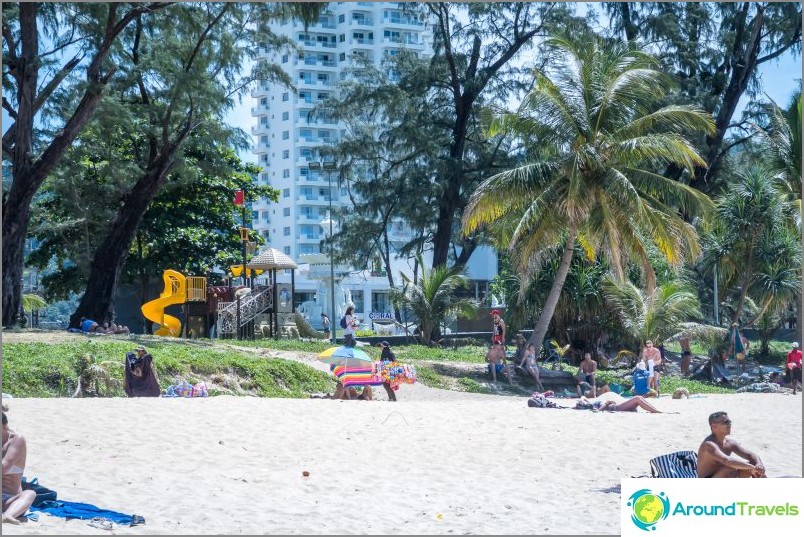 Infrastructure
The infrastructure of Karon is relatively rich in tourist services and rentals. There is also a lot of entertainment that you can try, both active and calm. There is an observation deck on the hill behind Kata Beach Karon viewpoint, but in fact it is closer to Kata beach.
Karon has a lot of travel agencies that offer a wide range of excursions, both in Phuket and the neighboring islands. There is a surfboard rental, mini golf in Dino park, and not far from the beach there is a statue of Buddha on the mountain. In the evenings, Karon is quite noisy, especially near karaoke establishments, well, where night bars and discos open..
There are a couple of nice gazebos by the road overlooking the sea. The cafes along the beach are usually expensive and often disappointing in the choice of food. There are 7-Eleven convenience stores and other shops on the beach-facing streets and along the road. Food in beach eateries costs from 70 baht per dish (mainly rice with chicken) and more.
At the same time, some restaurants offer free salad bars, which are slices of vegetables and fruits that you can eat while waiting for the ordered dish. It is unprofitable to ride Karon's tuk-tuks, the prices are high, they have a whole mafia here, they practically do not bargain, they are very arrogant.
Therefore, it is more useful to walk, for example, from Karon to Kata you can walk in 20-30 minutes, depending on where to go and how dense you had a snack.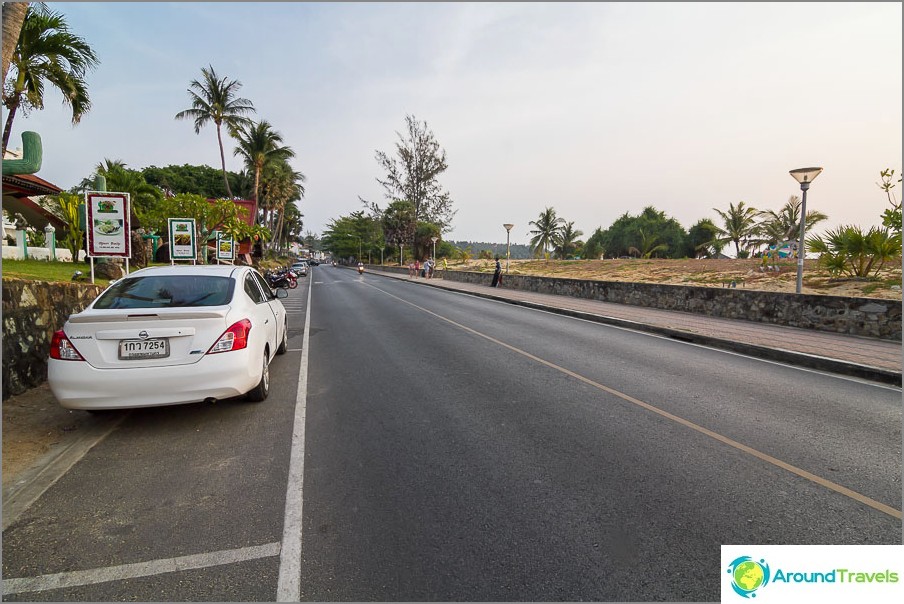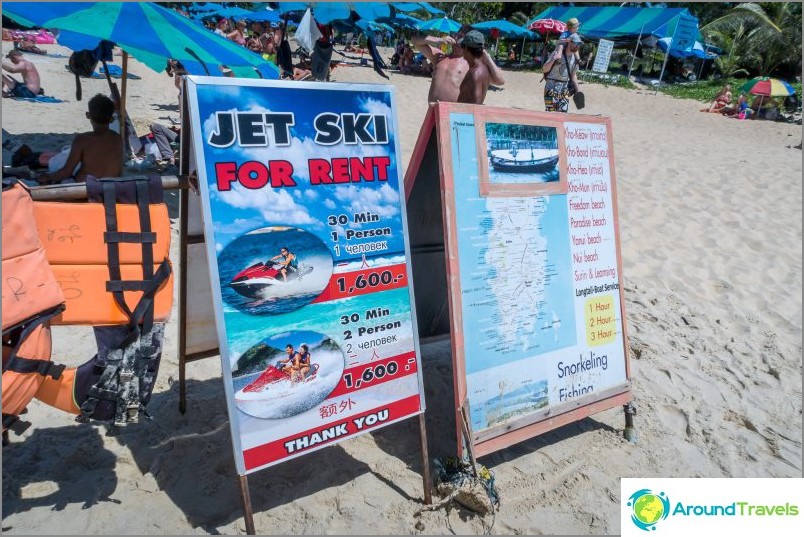 Houses and hotels on the beach
Accommodation in Karon is expensive. Basically, these are large hotels on the first line, and a little further from the sea there are cheaper hotels, small condos and very few private houses.. «First line», which runs just behind the road that runs along the beach, is occupied by such hotel giants as the Hilton.
The buildings along the road are not very dense, but there are plenty of places for shopping lovers: markets, shops, cafes. In the north there is a park with a small pond. Quite quiet place for a tourist town. To the south, where there is a circular movement, a street with numerous cafes, shops and hotels goes deep into the district, which leads to a Buddhist temple.
But you can also find inexpensive housing on Karon, there are options. You can pre-book a room in a guesthouse with a fan from 350 baht per day. At the same time, it will be quite clean, with Wi-Fi, a 5-minute walk to the beach. There will be no problems with finding accommodation even during the New Year holidays, since there are a lot of offers.
Since there are really a lot of hotels on Karon, it is impossible to list them all. But some do deserve a mention. On a hill at North Cape Karon, romantic secluded villas such as Centara Villas Phuket and Secret Cliff Resort offer spacious rooms.
Next to them is the luxurious five-star chain hotel Centara Grand, with a river-shaped pool, excellent sea views and a large territory..
The largest concentration of hotels on Karon is in the circular traffic area with a fountain. Where the main road along the beach begins. Not far from this place, in the center of the beach, there are mainly huge chain hotels. For example, Karon Sea Sands Resort - with a large pool and great reviews.
The smaller Ramada Phuket South Sea, with modern and bright interiors; the five-story Baumancasa Karon Beach Resort with a rooftop pool with a good (especially at sunset) meditative views of the green hills and the sea.
To the south, there is a large complex Baan Karonburi Resort, with Thai motives in architecture and interiors and an excellent swimming pool. And a little in tune with it in terms of general characteristics of Woraburi Phuket Resort .
In the very south of Karon, you can find several large hotel complexes with a good location, impressive interiors and excellent reviews: Thavorn Palm Beach Resort, Phuket Island View Hotel and especially well located at the very end of the beach, resting on a cape overgrown with greenery, right next to the water Beyond Resort Karon .
If you want to book a hotel here in advance or look for accommodation on other beaches, I have selection of hotels in Phuket with a good rating and reviews.
Karon hotels>
Be sure to check for discounts or specials on the excellent Roomguru service. He will quickly and easily show you discounts in all existing booking systems. In Asia, for example, there are a lot of offers on Agoda.com, which are much more profitable than in the same hotels in the Booking.com system..
For the lazy, here are the direct links to the hotels listed above:
How to find the beach
From Phuket Town by taxi or songteo. Songteo is the cheapest way - only 40 baht from Phuket Town. Tuk-tuks in the form of red cars with two benches in the back are quite expensive - in the evening they ask for 200 baht from the neighboring Kata. To the airport by taxi also go through Phuket Town, an hour, if there are no traffic jams. The cost is 1500 baht and more. There are also motorcycle taxis. Suitable for short distances.
Beach Map
Karon Beach Map
Karon Beach Map: