Patong Beach is a popular and popular tourist beach on the west coast of Phuket. Historically, it so happened that it was here that a mass tourist was brought in in batches, under which the infrastructure of the beach was created and improved, which eventually resulted in a full-fledged island town.
Patong can hardly be called a beach for relaxation and solitude - it is a noisy, energetic, youthful area with a mass of entertainment facilities, in the service of which thousands of Thais and foreigners are involved. If you need some action, drive and no hassles with shopping, nightlife and currency exchanges - feel free to choose Patong.
The content of the article
Beach description
Patong is one of the longest beaches in Phuket; its length is about 4 kilometers of a thirty-meter strip of sand, facing west, the sunsets are amazing here. There are many tourists in Patong - as a consequence of the popularity.
People do not like to lie on the sand just like that, so the beach is densely lined with sun loungers and umbrellas, which does not look fun at all and almost completely excludes the possibility of a carefree walk along the beach. Prepare mentally for the fact that you will have to constantly hustle with tourists in any corner of Patong.
In addition to tourists, there are a large number of street vendors, tattooists, masseurs and manicurists on the beach. If you wish, you can use their services, but I would not recommend doing Thai massage or any other massage above the knees. Crumple your feet - please, but the spine should not be trusted by wandering masseurs.
The beach is released only in the evening - with the onset of darkness people run away from the beach towards the village, where nightlife establishments in Patong begin to work, most of which are concentrated on the famous Bangla Road. And the beach goes to supporters of solitude and walks along the sea, although walking among the garbage is no longer so pleasant, and the Thais simply do not have time to clean up..
In addition to the post about Patong, I have a short overview of all the beaches of Phuket, which will help you decide on the choice of the beach before your vacation. See if it might help.
Entering the water, depth and waves
The ebb and flow in Patong is not as pronounced as in the same province of Krabi, so the beaches are always bathing and do not limit you on the time of visiting the beach. Of course, at low tide, you will have to move a little further from the coast, but in any case, this is better than wandering under the sun on the wet seabed for half a kilometer or more.
The coast on Patong is flat, flat, without sharp drops, a dense sandy bottom begins under the water. Sometimes stones or shells are tucked under the foot - the favorite toys of children on the beach..
The calm season, when there are no monsoon rains and storms, is the period from November to April (unlike Koh Samui, where November and December are the rainiest months of the year).
On ordinary days, when the weather does not predispose to the appearance of waves, Patong has a calm sea, which makes it universal for those who like to swim in the depths, and for family people who flew to Phuket with children. But I repeat - the area itself behind Patong Beach can hardly be called a family corner..
Sun beds and shade
It is paradoxical, but true - the greenery in which the entire Patong area is immersed disappears as it approaches the water, and there are no sources of natural shade on the beach itself. So whether you like it or not, budget for the cost of renting beach equipment. A set of sun lounger and umbrella will cost you 100 baht daily /
If there are three or four of you in the family, and you are going to seal all 10-12 days of vacation, then the results are quite substantial. Keep in mind that on some running sections of the beach you will not be allowed to lie down with your towel, they will interfere, touch your things, provoke aggression and force you to rent a sun lounger.
Patong Beach Photos
The northernmost (right) part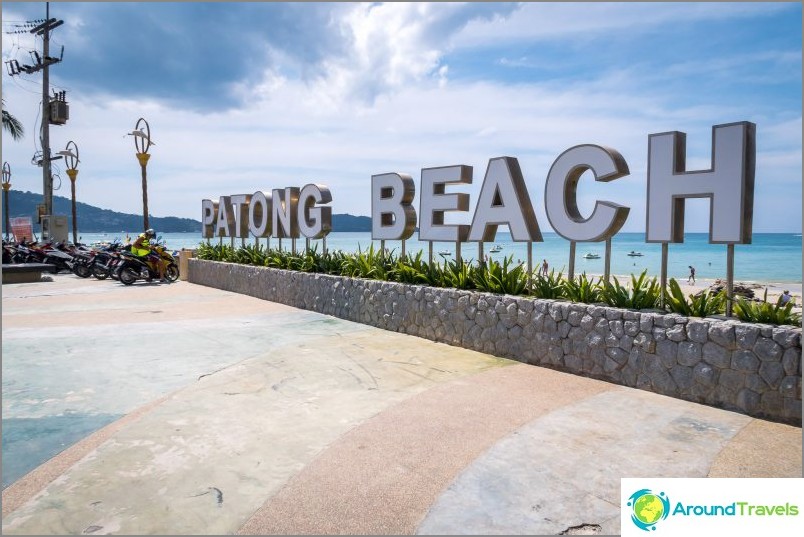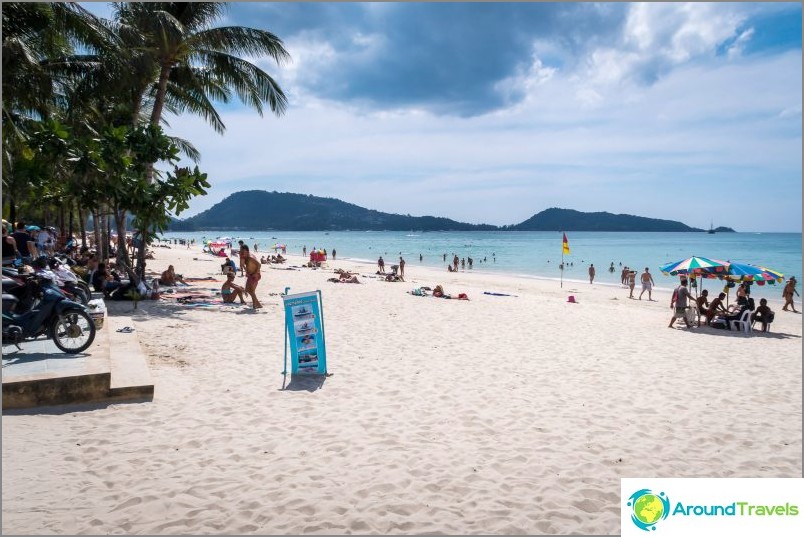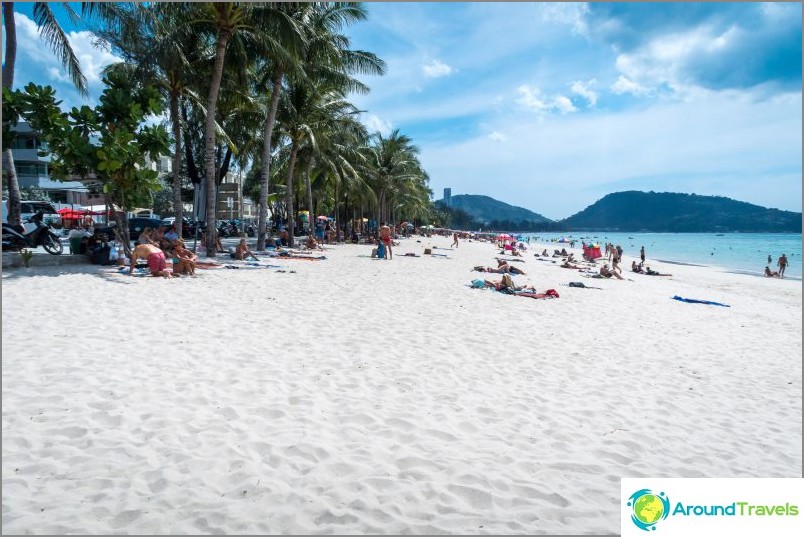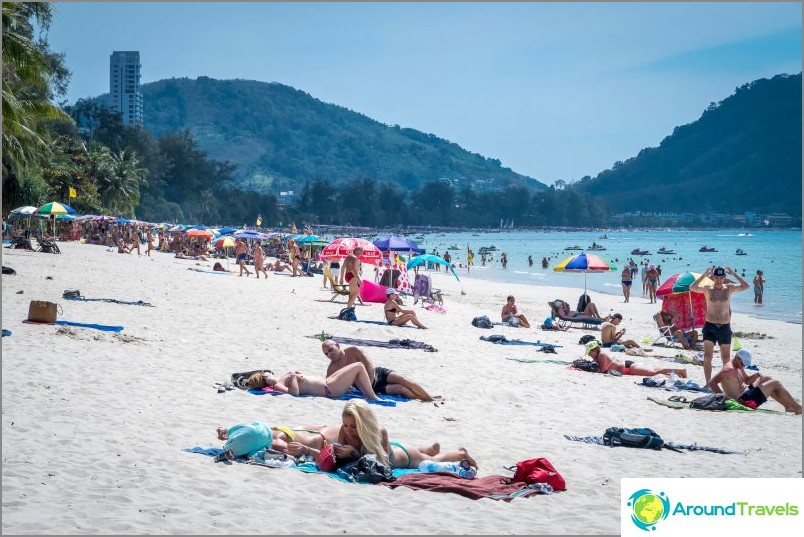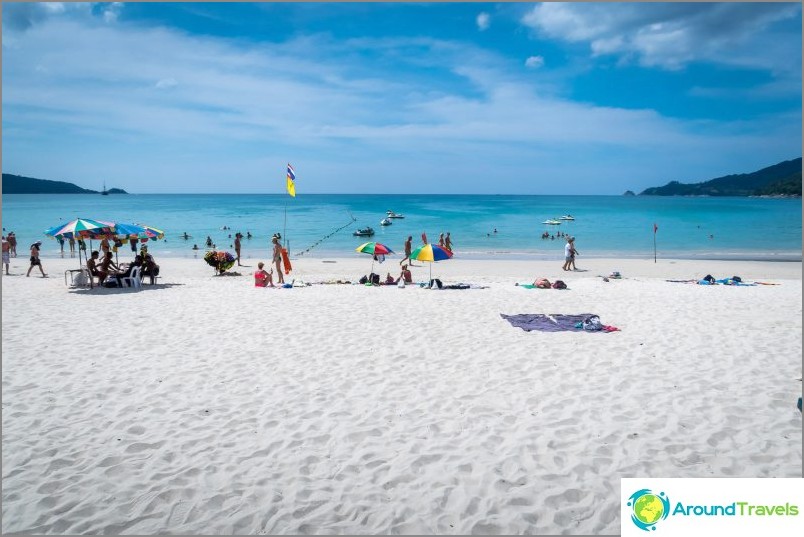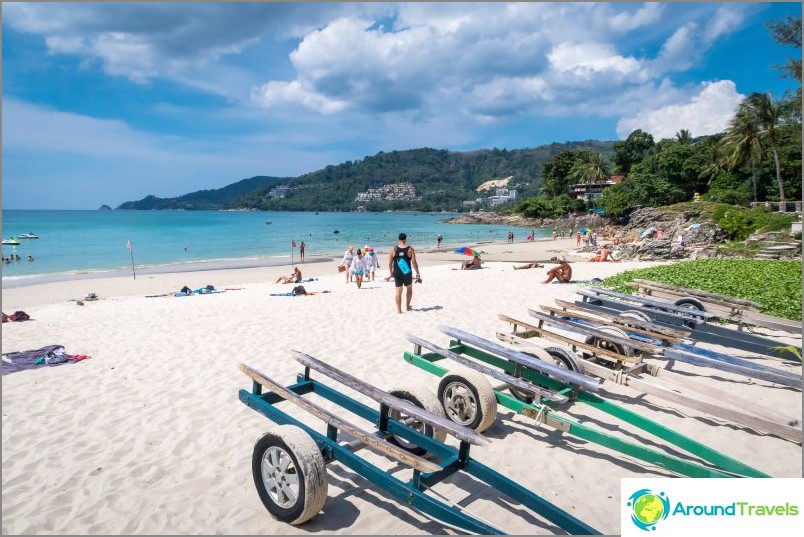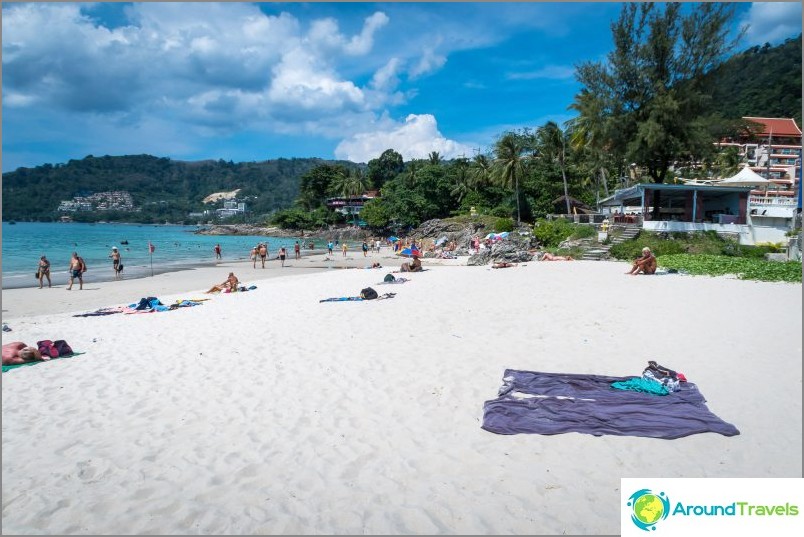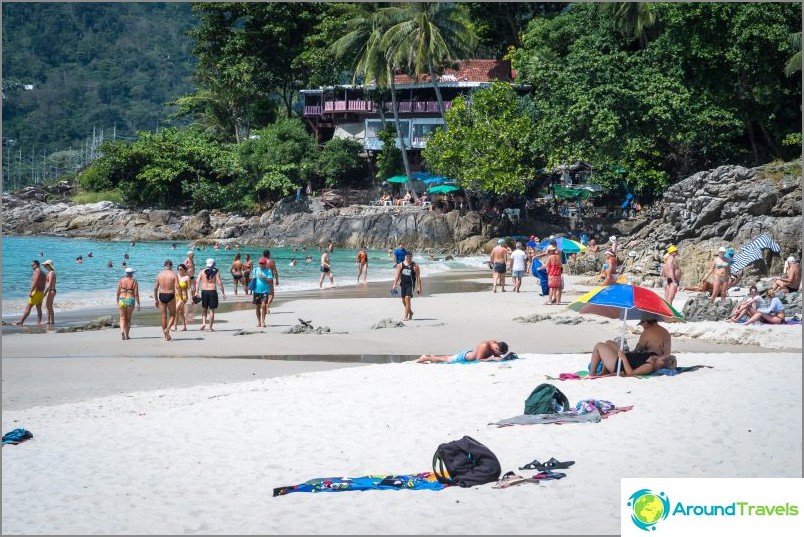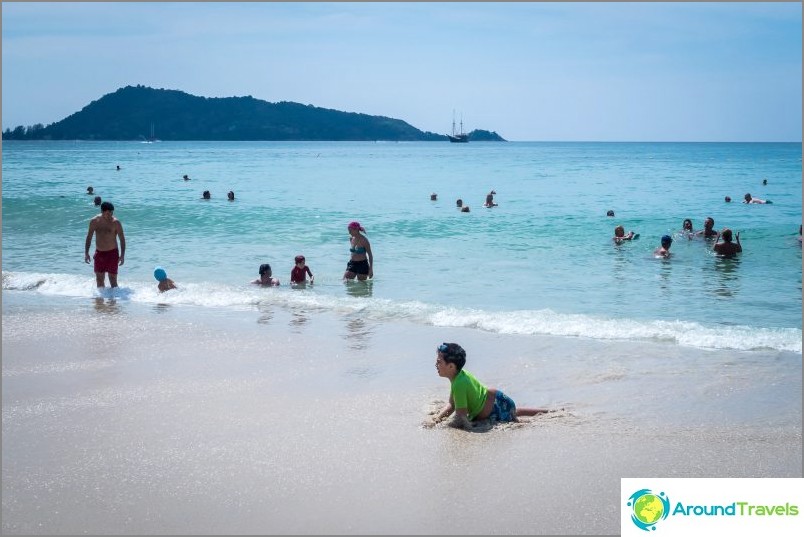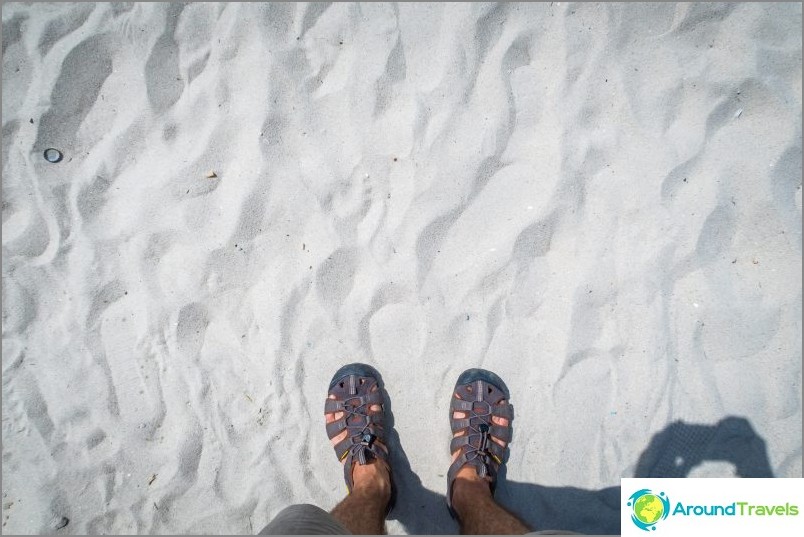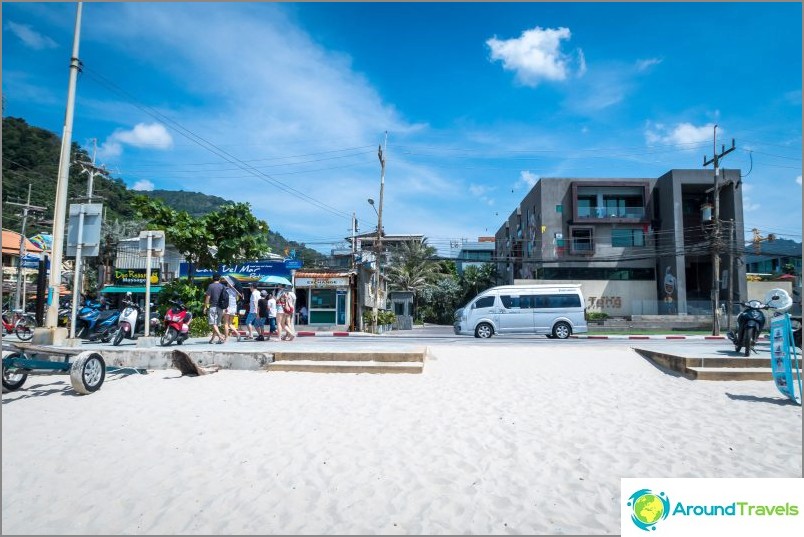 central part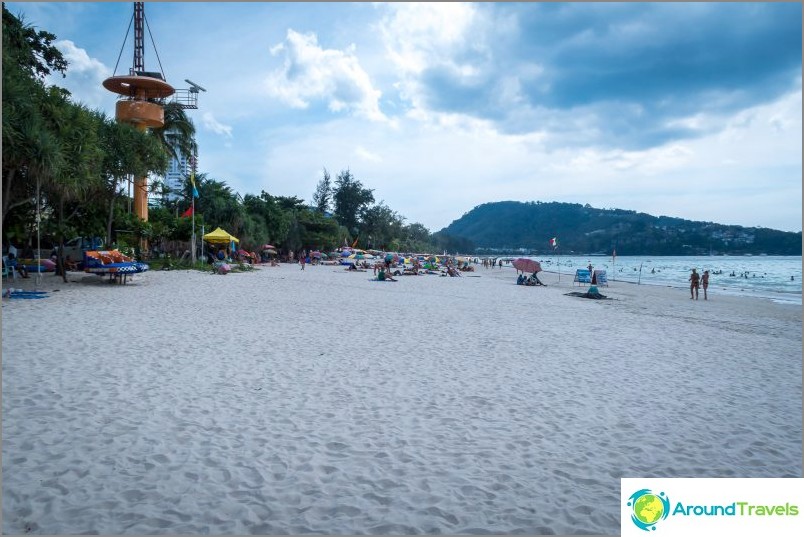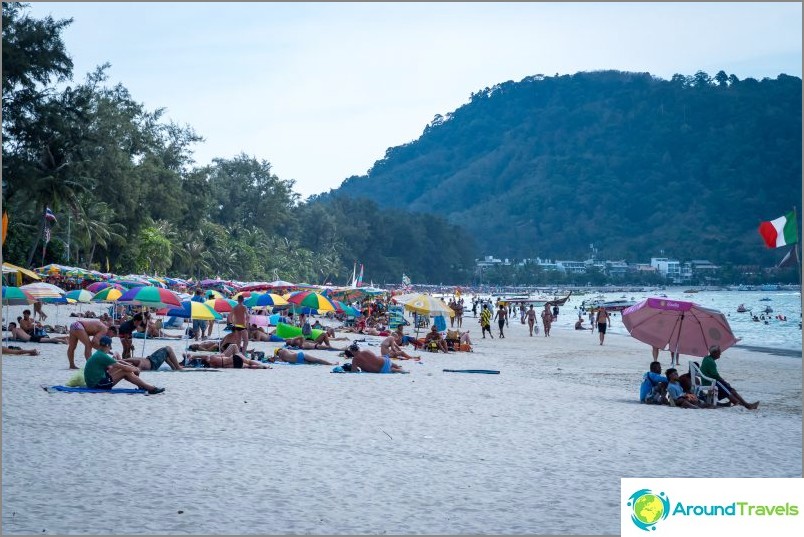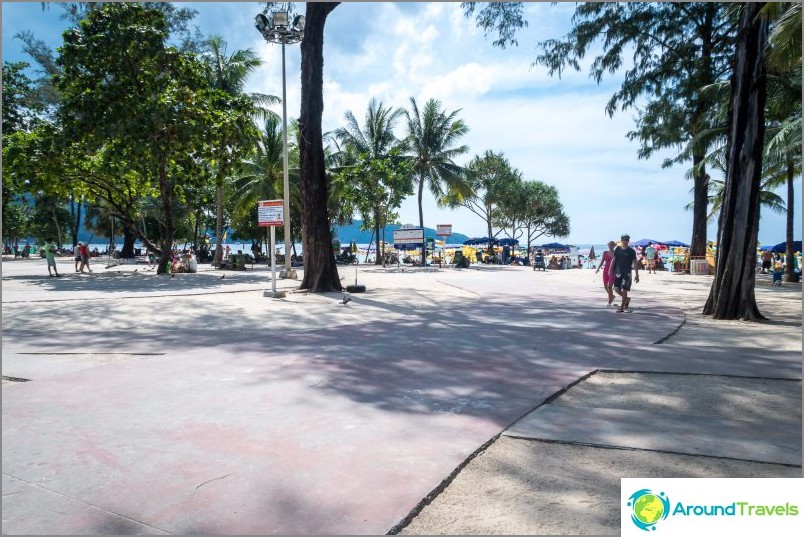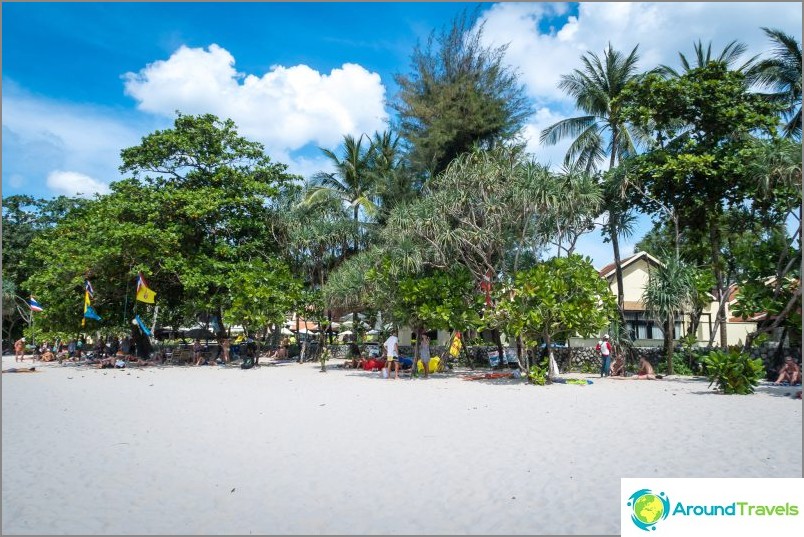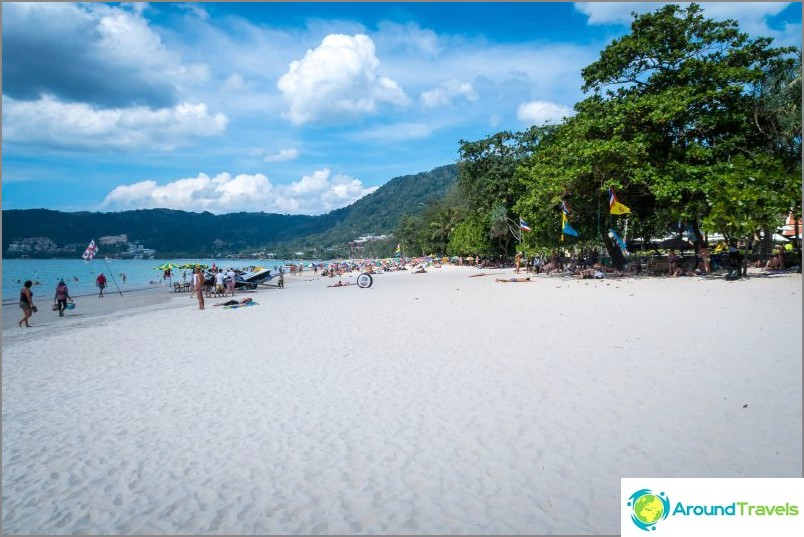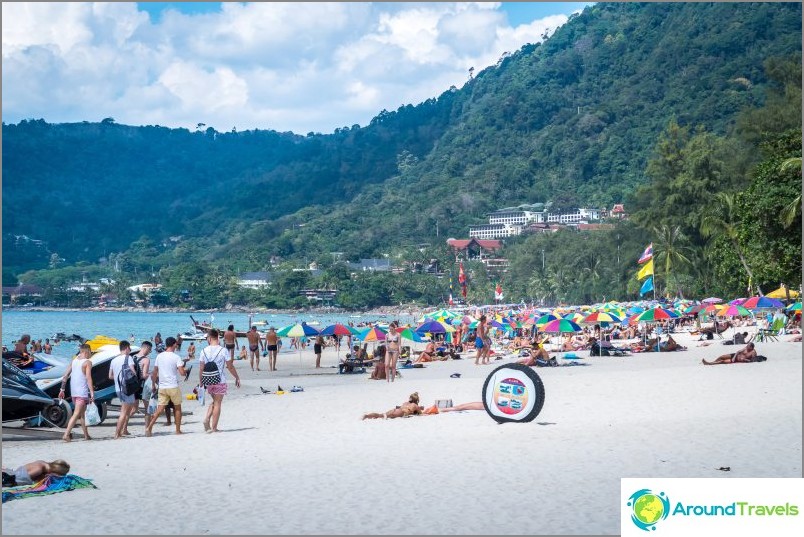 The southernmost (left) part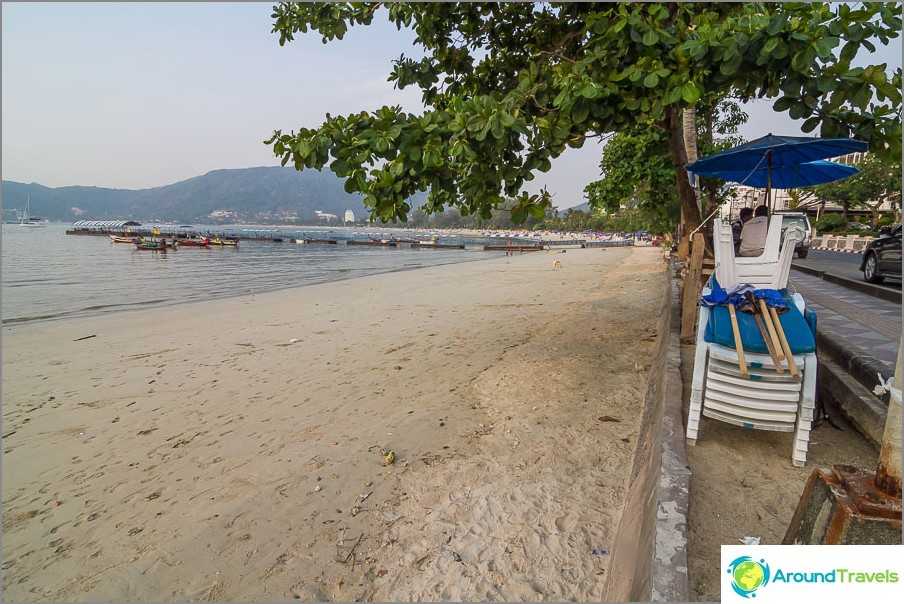 Infrastructure
There is a very heavy traffic road just behind the beach strip. Here you can catch public transport and taxis, but this is Patong, which means that prices for everything will be higher than on other beaches of the island. The infrastructure as a whole has every possible offer of goods and services. There are a number of outlets, a lot of cafes and restaurants, massage parlors, ATMs and chain stores such as «Seven-Eleven».
In general, Patong has everything you need for life, moreover, within walking distance. If you have chosen Patong as a place to stay and are not particularly eager to explore new places, you do not even need to rent equipment or ride tuk-tuk and songteo.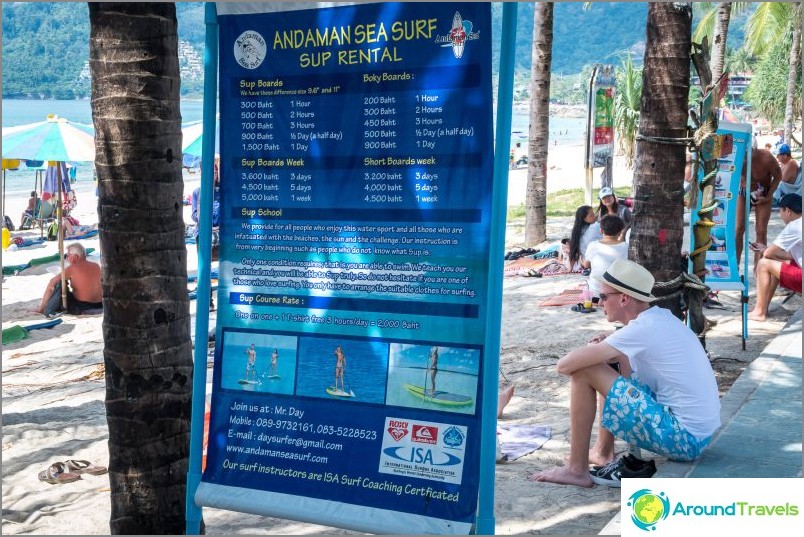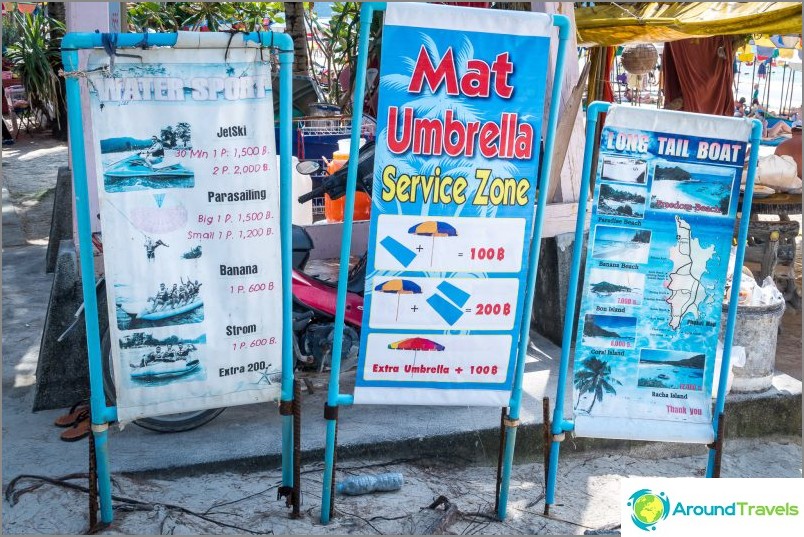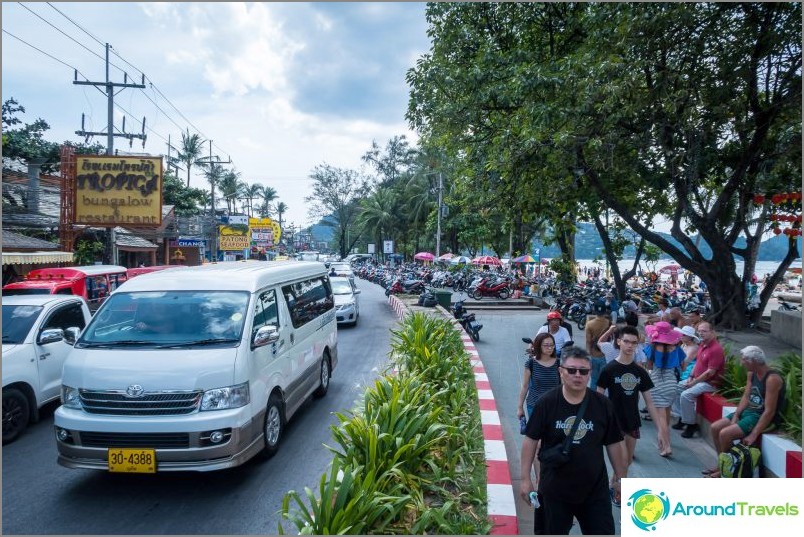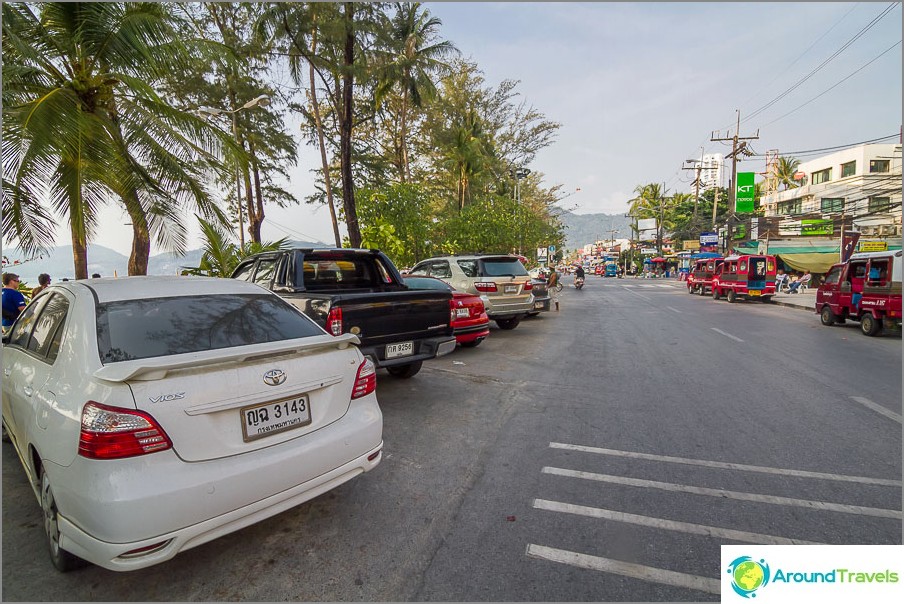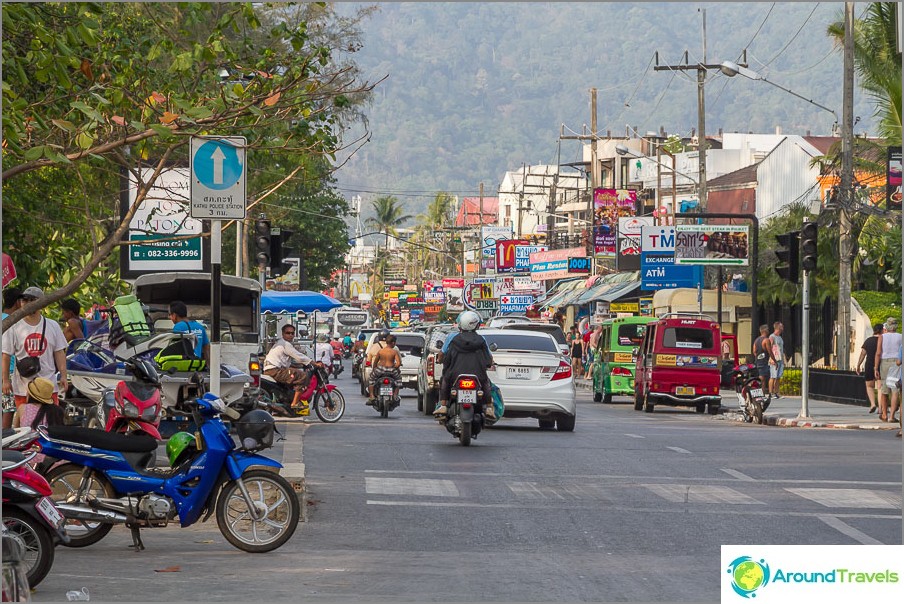 From the beach entertainment area in Patong, there are jet scooters, parachutes with boats, bananas, volleyball courts and kayak rentals with SUP boards. From passive types of recreation, in addition to bars and restaurants, you can arrange for yourself quite chic shopping for a huckster «Junqceylon», where you can buy almost everything.
There is also a department store on its territory. «Robinson» and «Big c». This shopping center is located a few steps from Bangla Road, 1 km from Patong Beach and, in fact, is one of the local attractions. These include: Loma Park (Park Loma), Chinese temple Pun Tuao Kong, boxing stadium Patong Boxing Stadium, cabaret show of transvestites Simon Cabaret and temple Suwan Khiri Wong (Wat Suwan Kriri Wong).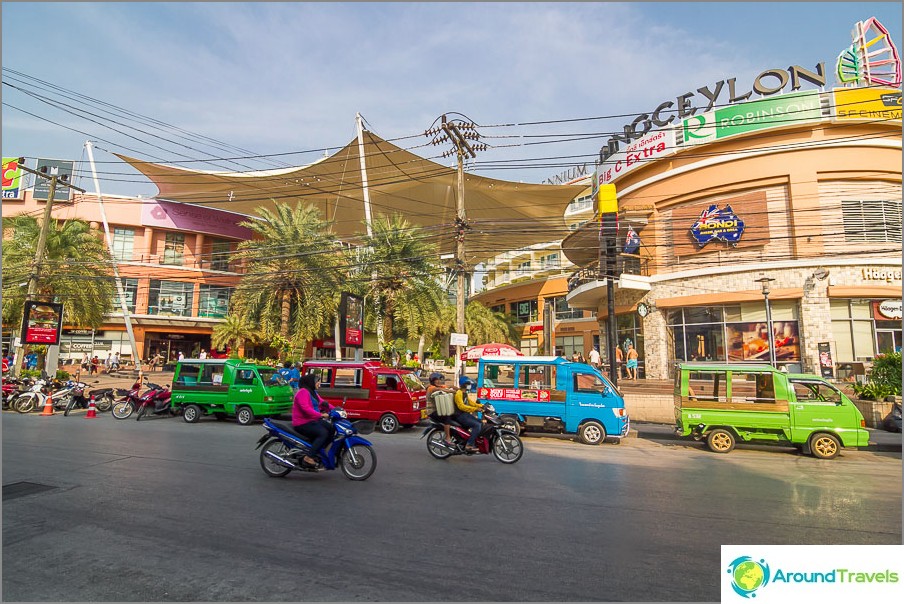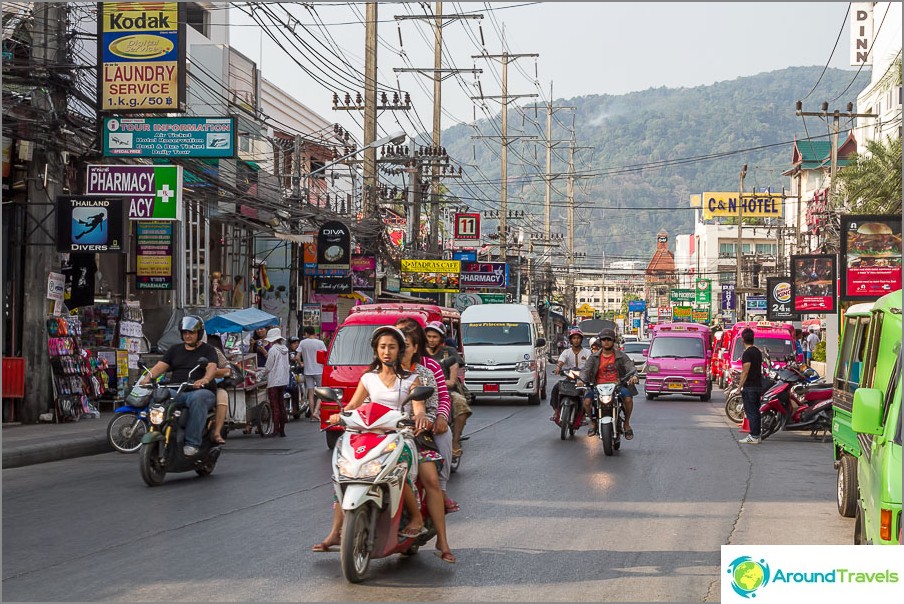 With the onset of darkness, the area near Patong Beach turns into one big get-together, where the island lovers of nightlife and club life are drawn. The epicenter of the movement is considered Bangla Road and adjoining jays (lanes), which after 18 hours is closed to traffic and becomes completely pedestrian.
The blinds of countless bars, nightclubs and so-called «go-go-show». Establishments drown out each other with loud music, girls in revealing outfits call to go to their institution, and this whole celebration of life continues until the morning.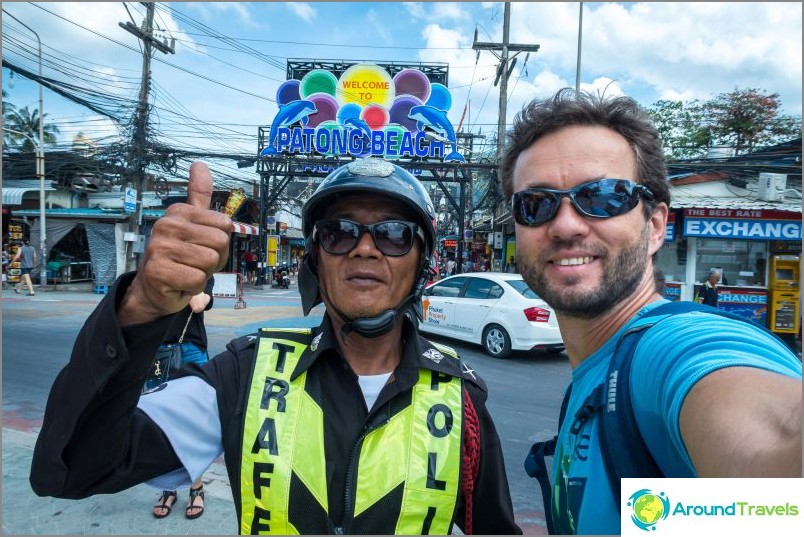 Houses and hotels on the beach
One of the advantages of Patong Beach is a wide selection of awls, from expensive hotels to cheap guesthouses. There are no problems with the search for housing even in the hot season, since there are really a lot of offers. It is worth noting that the entire array of residential buildings (hotels, hotels or guesthouses) are not on the first line.
Interestingly, the further the property is from the beach, the higher its prices. You can rent an inexpensive room in a guesthouse, 5 minutes walk from the beach from 450-500 baht per day, or rent a house for 11-13 thousand baht per month, 10 minutes by motorbike from the beach.
Examples of great hotels in Patong include: B-Lay Tong Phuket - a well located large hotel with a modern architectural style; a little more classic, with huge pools at Phuket Graceland Resort; very roomy Impiana Resort Patong with national elements in decor and architecture; light and comfortable La Flora Resort Patong; a large Thai-style resort Seaview Patong Hotel Phuket .
Top rated hotels include the incredibly stylish modern Patong Terrace Boutique Hotel, the huge Holiday Inn Resort Phuket, cozy, green, with areas for children, and spacious pools. More affordable hotels with a good rating include, for example, Seven Seas Hotel Phuket
Since Patong is a traditional hangout place, there are also quite budget options, for example, classic hostels. One of them, with a good rating - Patong Backpacker Hostel .
Patong hotels>
Be sure to check for discounts or specials on the excellent Roomguru service. He will quickly and easily show you discounts in all existing booking systems. In Asia, for example, there are a lot of offers on Agoda.com, which are much more profitable than in the same hotels in the Booking.com system..
For the lazy, here are the direct links to the hotels listed above:
If you want to book a hotel here in advance or look for accommodation on other beaches, I have selection of hotels in Phuket with a good rating and reviews.
How to find the beach
Get to Patong from Phuket airport you can take a minivan. The price for a ticket is from 150 to 180 baht, or choose an air-conditioned bus called Phuket Airport Bus Express, the fare is 120 baht, departs from the same stop where buses go to Phuket Town.
State buses run from Phuket Town to Patong, the fare is 25 baht. The main bus stop is on Ranong Road. Buses leave every 30 minutes. In addition, there are also buses going to Patong from the old bus station on Phang Nga Road..
You can catch a taxi or get to the beach on your own by renting a motorbike or car. It is recommended to start from the southern part of the island and follow the coastal road. At the beginning you will be greeted Kata beaches and Karon, and, after them, beyond the pass, there will already be Patong itself.
Well, if your path starts from the airport, then choose the southern road and follow it straight, about 15 km to the Heroines Monument. After the monument, there will be only 4 km along the road to the traffic light, at which you need to turn right. The next section of the path will stretch for 6 km to the huge Tesco Lotus store. Here again you need to turn to the right. In a few minutes of the way, the road will bump right into Patong Beach.
To move freely around the island, you can rent a motorbike, the rental price is about 250 baht per day, or a car - from 1000 baht per day. It is difficult to park, but you will not be left without a place. As a last resort, you can leave the car or bike a little further away..
Beach Map
Patong Beach Map
Patong Beach Map: