Medical Spa Hotel Rosa Springs is perhaps the coolest hotel in the Olympic Village: honest and well deserved 4 stars. Moreover, this is not just a hotel, but a Medical Spa hotel. Speaking Russian: a sanatorium. That is, among other things, there is a whole body of medical offices and first-class equipment, as well as a full minced meat for healthy leisure under the roof. Swimming pool, sauna, hammam, children's playroom, gyms, massage, pump room with natural mineral water.
The content of the article
Rosa Springs Hotel
Price and booking
I had a double room Standard Double for 6300 rubles / day. Here is a direct link for booking.
For the trip in March-April, I chose the Medical Spa Hotel Rosa Springs, despite the price tag and doubts. We only live once, the funds allowed, so I did not see any special reasons to lower the bar and look for simpler options.
But in the Olympic Village (1170 meters) there is also inexpensive housing for those who prioritize economy, not comfort. Opposite, for example, is the Riders Lodge. There are simpler rooms (probably one of the worst on the Plateau), they are much cheaper, but a rider's youth communal apartment, if anyone needs that. Inexpensive price tag and the neighboring Rosa Ski Inn and smaller hangouts. Alternatively, generally renting a hotel downstairs is even cheaper there, albeit less convenient.
Hotels on Krasnaya Polyana>
Subsequently, I became convinced that when visiting a winter resort with the aim of snowboarding or skiing, it is this private option with a separate number that is more relevant for me personally. No shared rooms, no shared toilet, no drying clothes and shoes everywhere. And without this exotic there is nowhere: after each ride, you come wet. I would like to undress calmly, without embarrassment of anyone, wash, hang clothes where it is convenient, and not where there is a place left.
Interior
The Rosa Springs has a very pleasant interior from the lobby. A revolving door, rubber carpets at the entrance to cushion the snow, glass walls and lots of light. To the left of the entrance is the lobby with sofas, small coffee tables, armchairs and an artificial fireplace. On the way to the ski room or spa, there are also sofas, creating an atmosphere of leisure and comfort. Entrance to the rooms is organized by cards, but the elevator does not restrict your movement around the hotel building, as it happens in some places.
Rooms are quiet with soft flooring. The main thing is not to open the windows in the evening if they overlook the Mammoth bar and its neighbor Riders Lodge - noisy comrades. And you will have a great view of the mountains from almost all windows of the hotel, although the higher you live, the prettier the scenery. Accommodation options in Rosa Springs: double room, single room and twin room. The rooms are clean, without the characteristic scuffs on furniture and a tired look in general.
The room has satellite TV, a small refrigerator, a hairdryer, heating and air conditioning - as far as technology is concerned. Everything in the room is new, there is nothing to complain about, even if there was a desire. Modern large shower with huge hand shower. Two bathrobes, although by default they are small, and for larger people you have to order separately by phone. Shampoo, gel, toothpaste brush - all this is included with the bath.
Linens and towels at Rosa Springs are changed every day and two 0.5 bottles of water are provided. There is a safe, which easily fits a MacBook 15, which is not often found, and there is still a lot of room for other valuable things. The closet contains white slippers, a jacket brush, a shoe sponge, a thread repair kit and a sticky corduroy roller. Attention to detail makes your stay comfortable. In short, I liked it, I'm still inexperienced.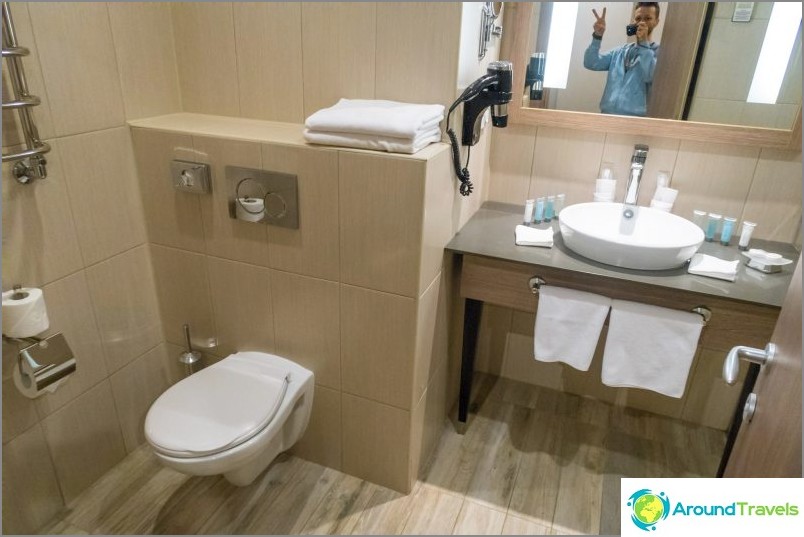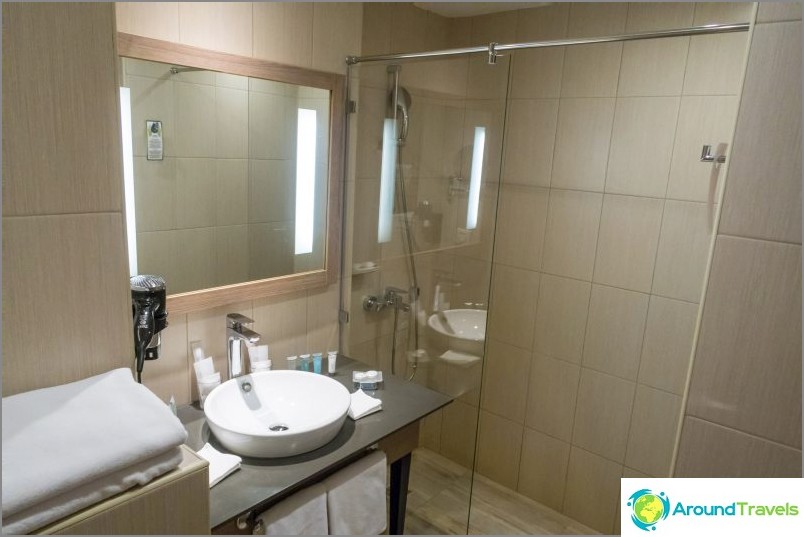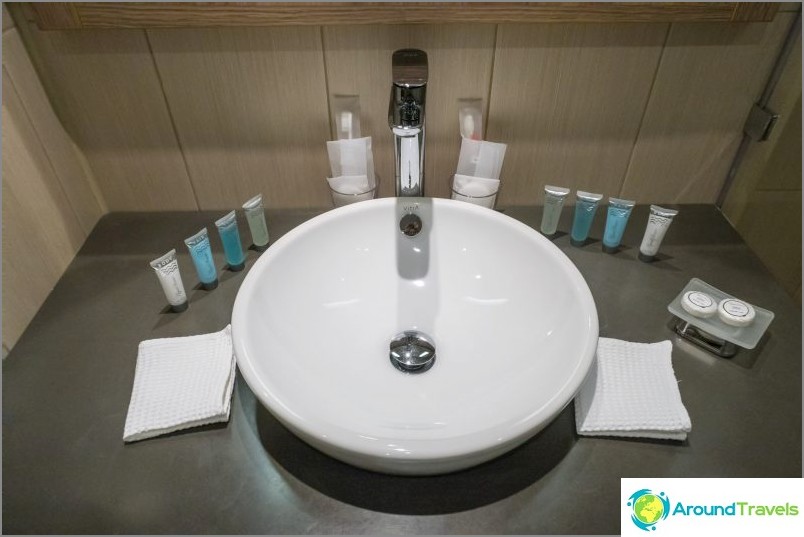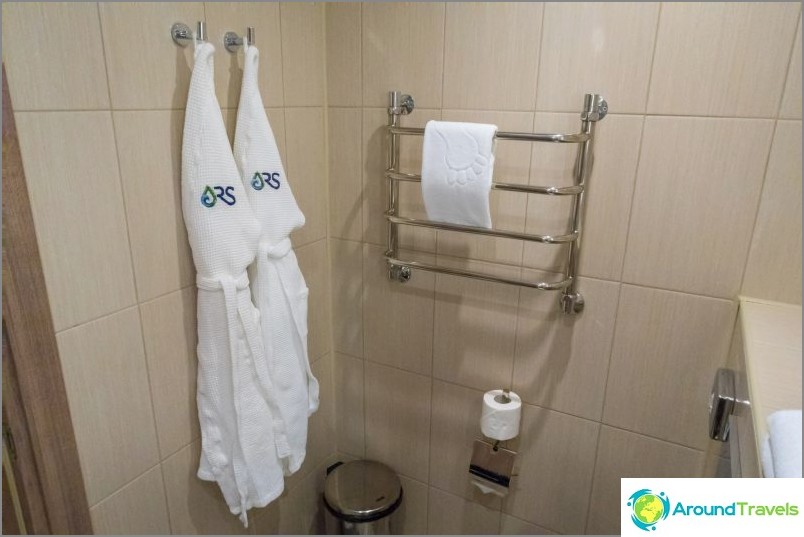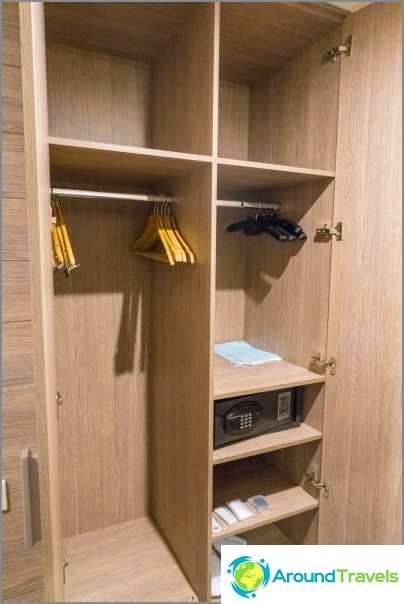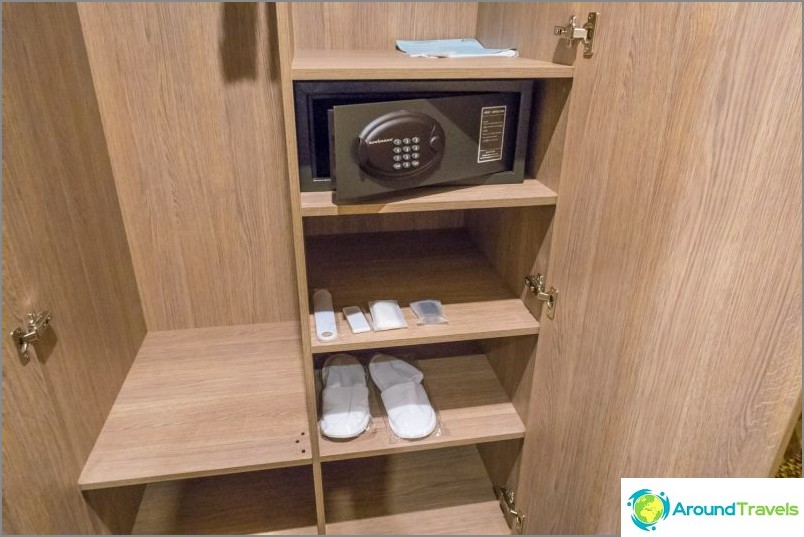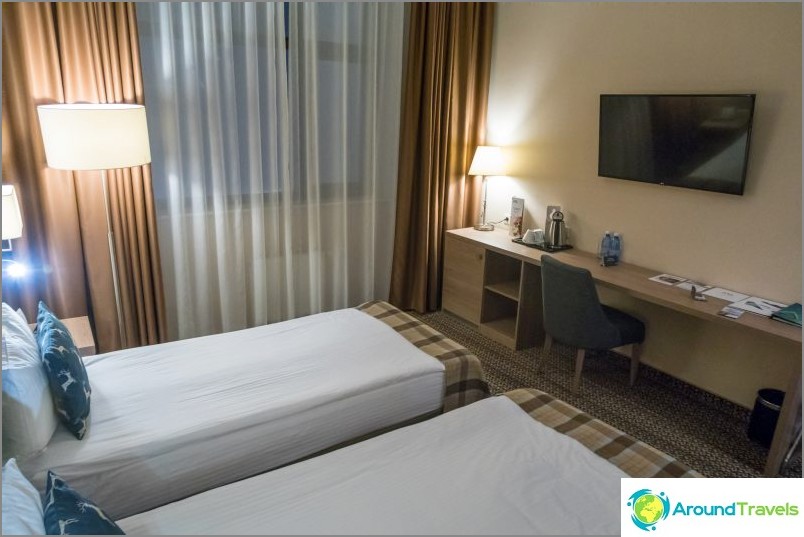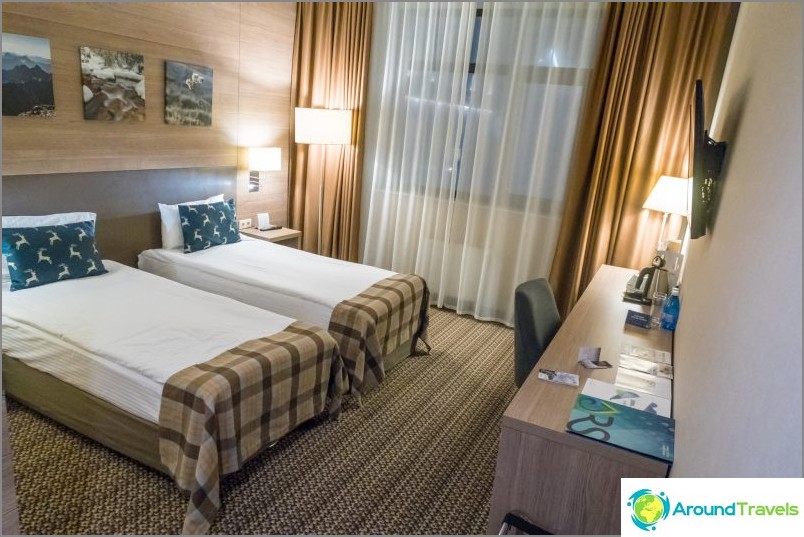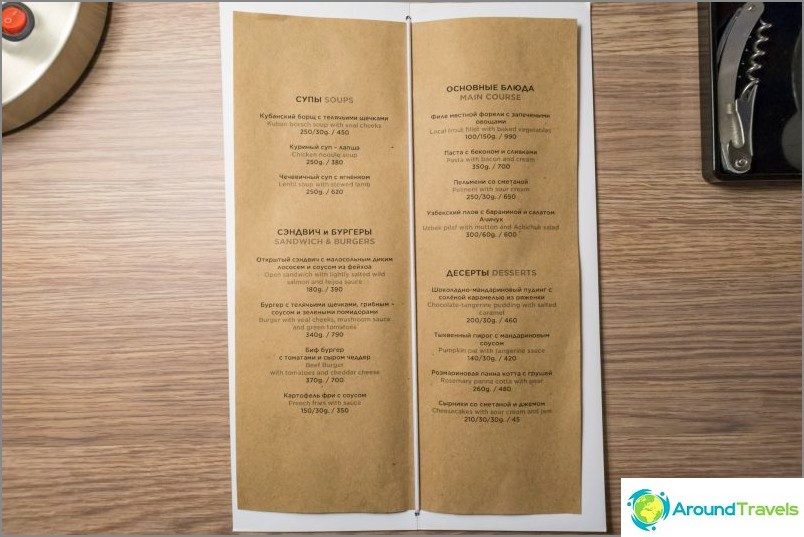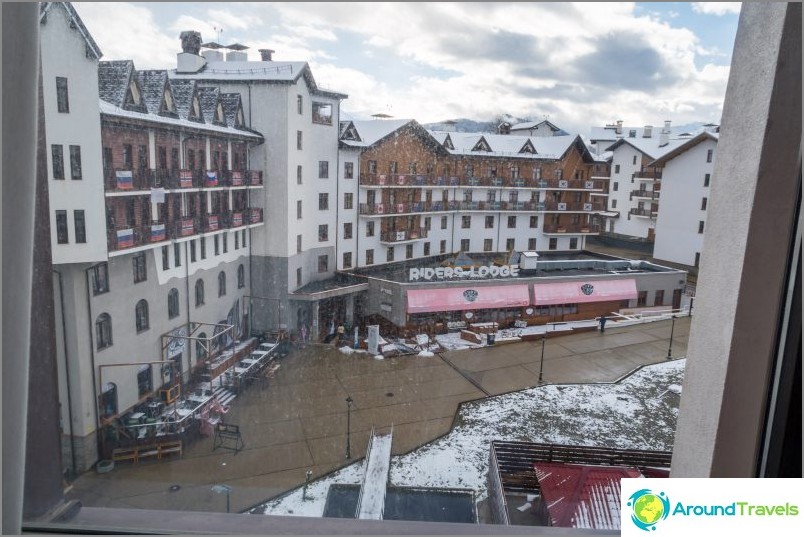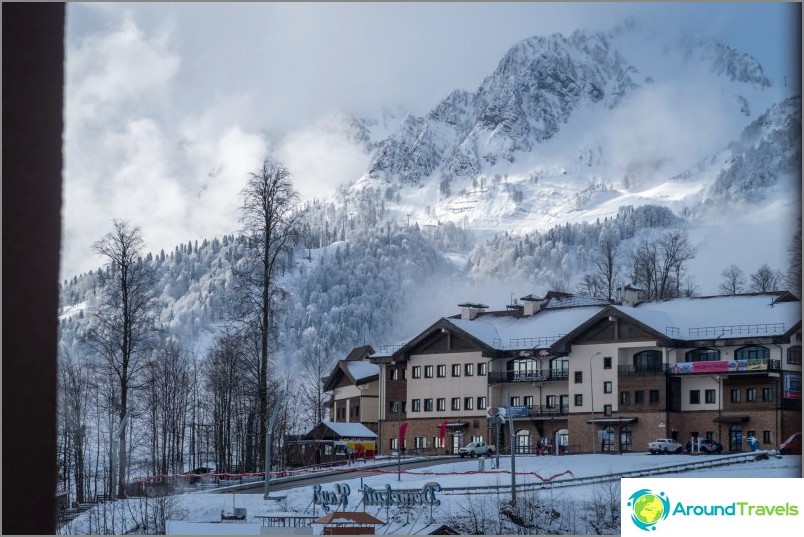 Exterior
Guests of the Rosa Springs Hotel will receive a ski pass during their stay to descend from the Olympic Village to Rosa Dolina. Moreover, even after the checkout, you will be given a free-of-charge one-time card for descending on a ski lift, if you did not plan to call a taxi to the Olympic Village. Many people expect that the ski pass will work in the direction of Rose Peak, but everything is not so chic, so you will ride downhill for free, but in the mountains you need to buy a separate card.
As I wrote at the beginning of the post, in the lobby of the hotel there is a pump-room with mineral waters, which looks like a wall with taps sticking out of it. Take a disposable cup and drink from any tap, they are all different. An author's coffee shop with rather high prices for coffee, even for the Olympic Village, is also organized right there. There is also a phyto-bar, an expensive Rosemary restaurant, a spa complex, a medical center. Large shared drying room for boards / skis and boots included in the price.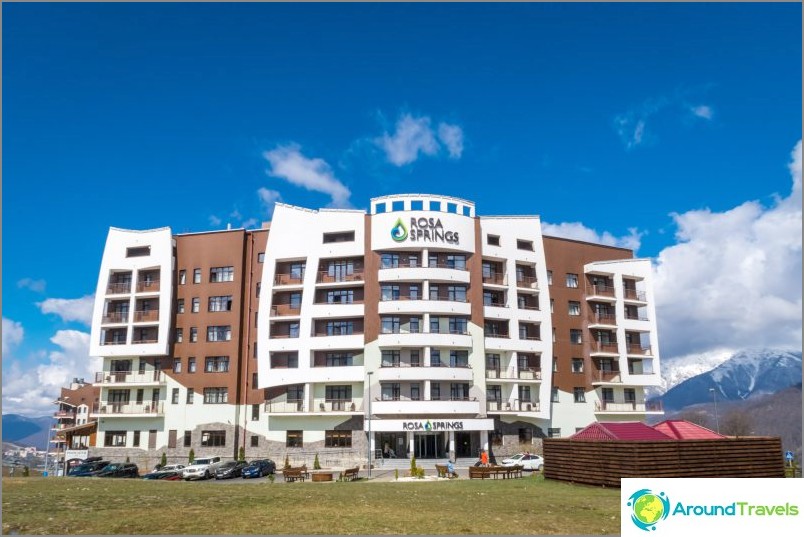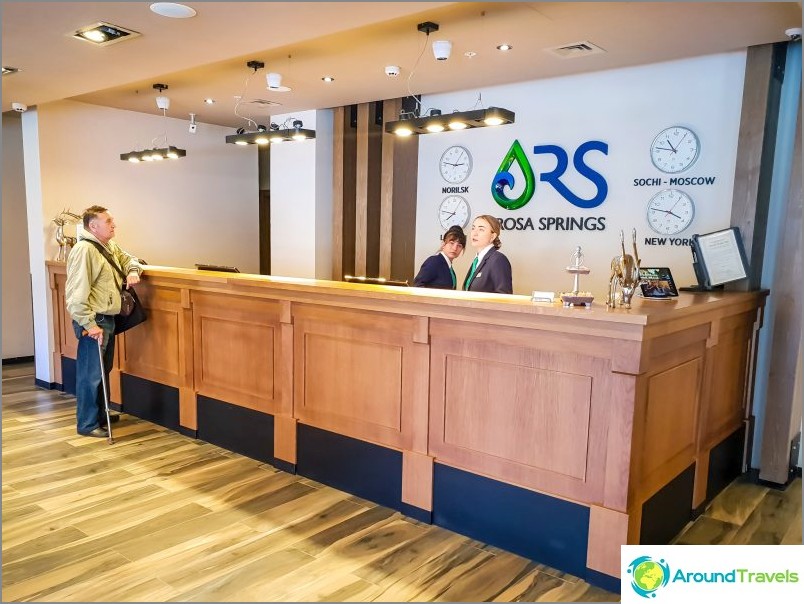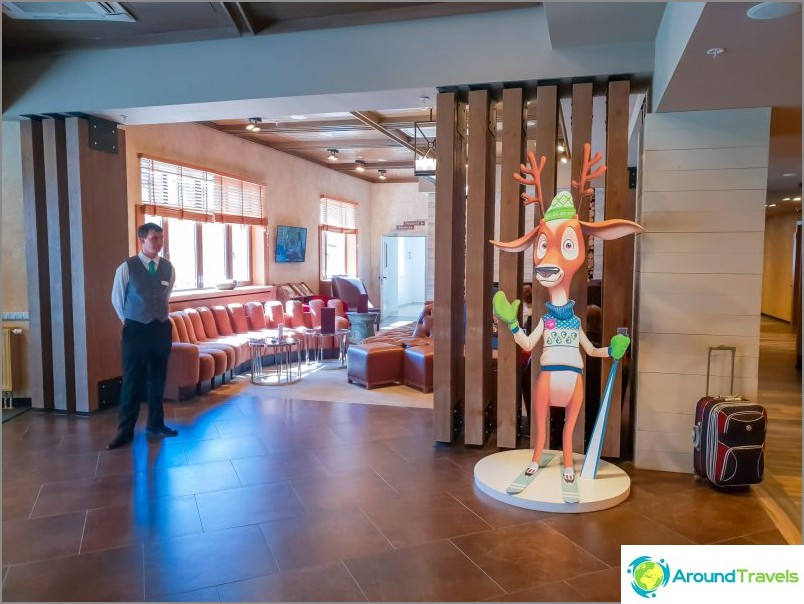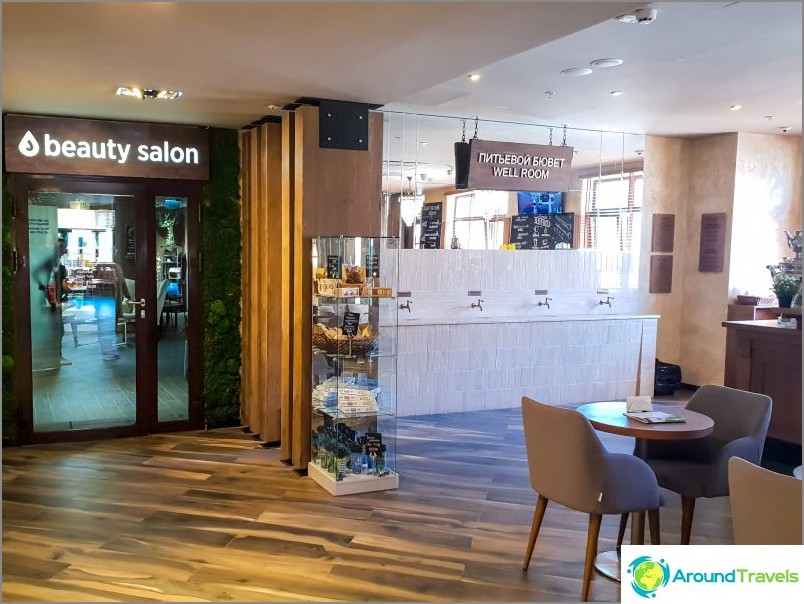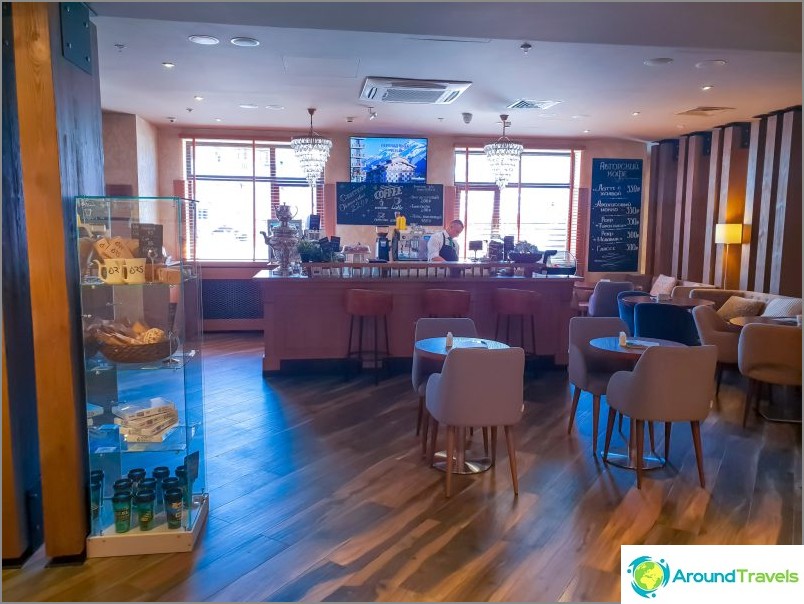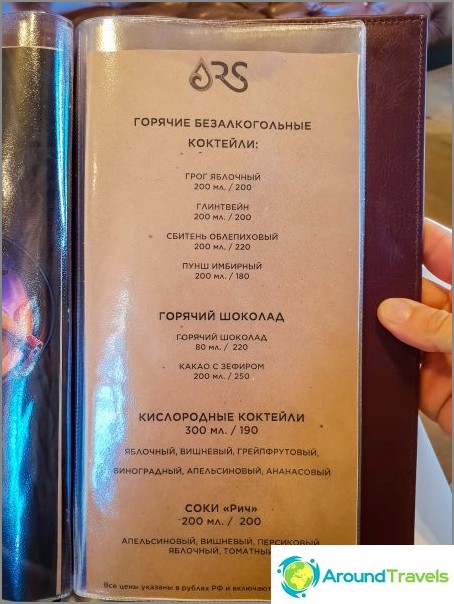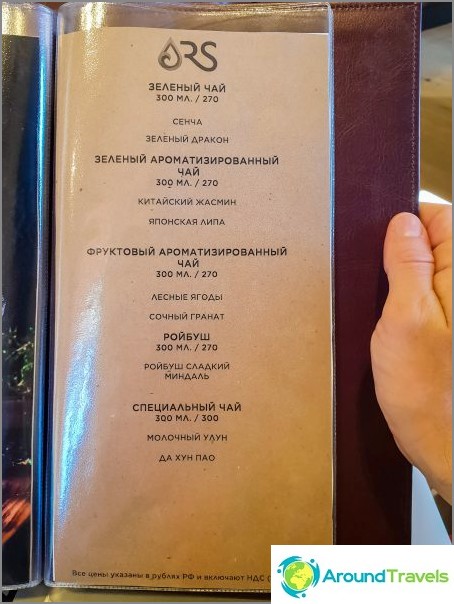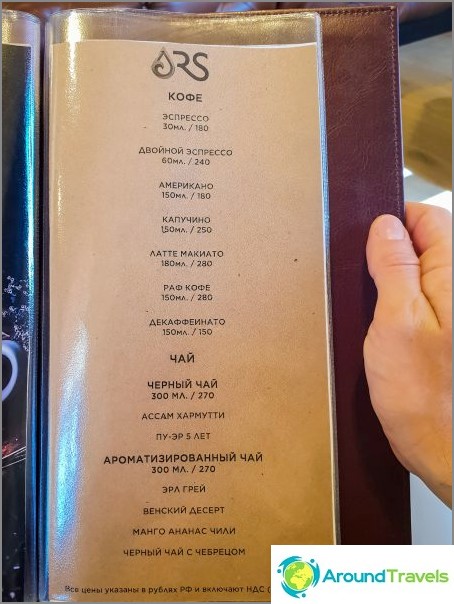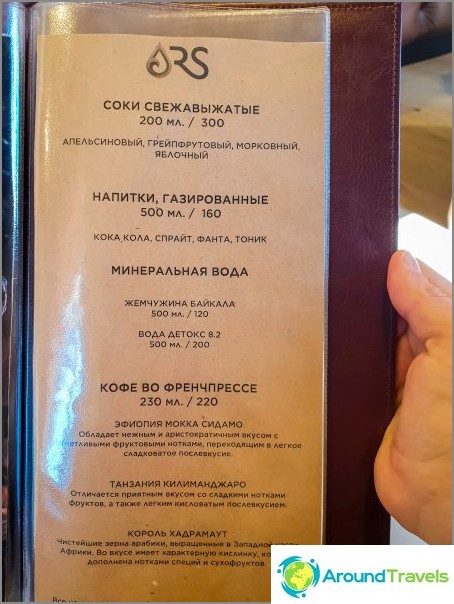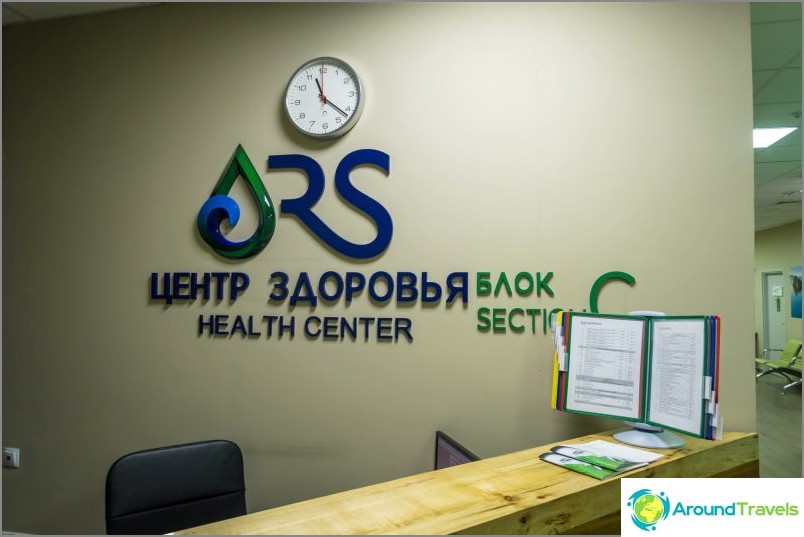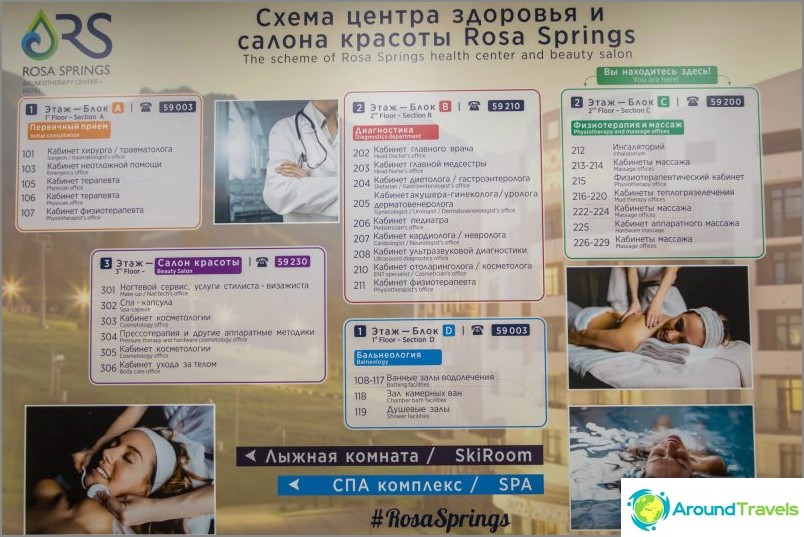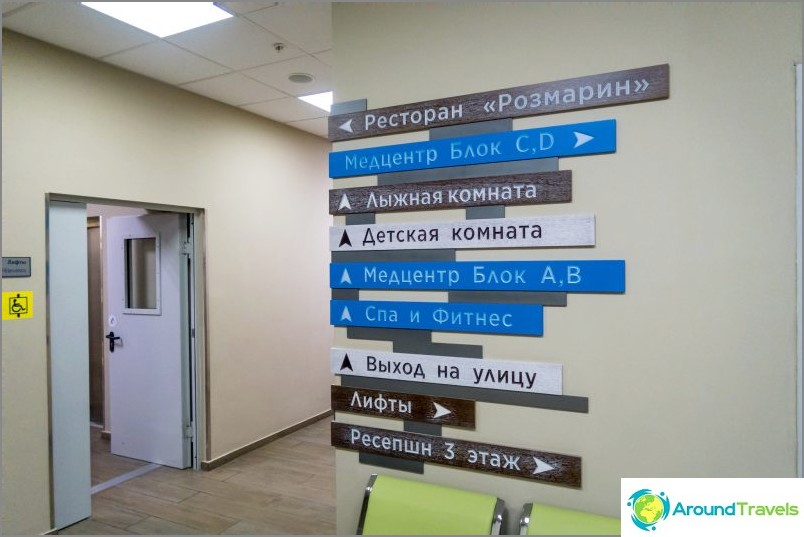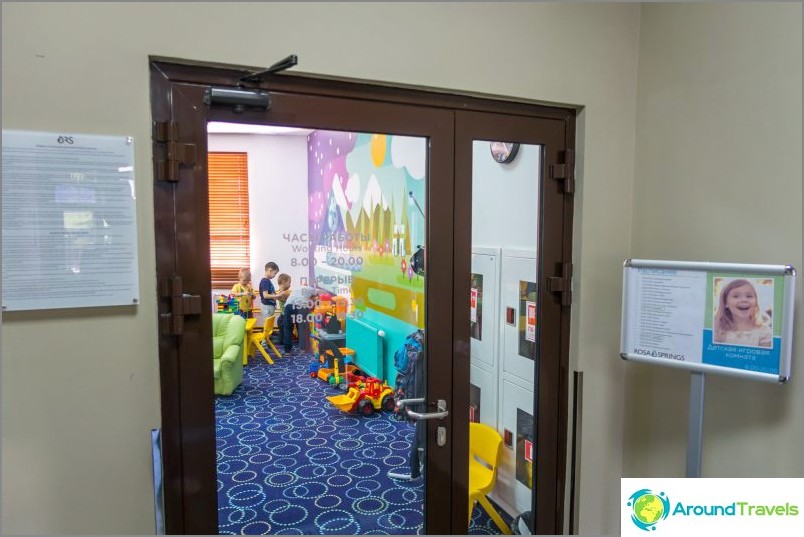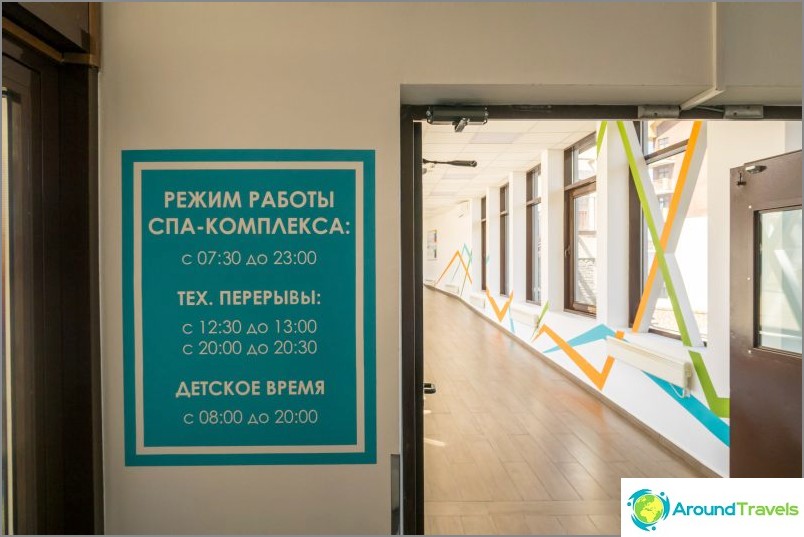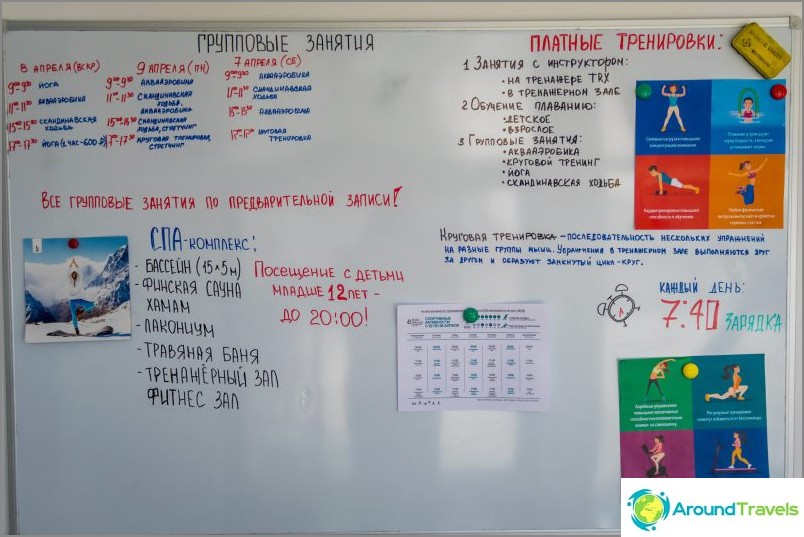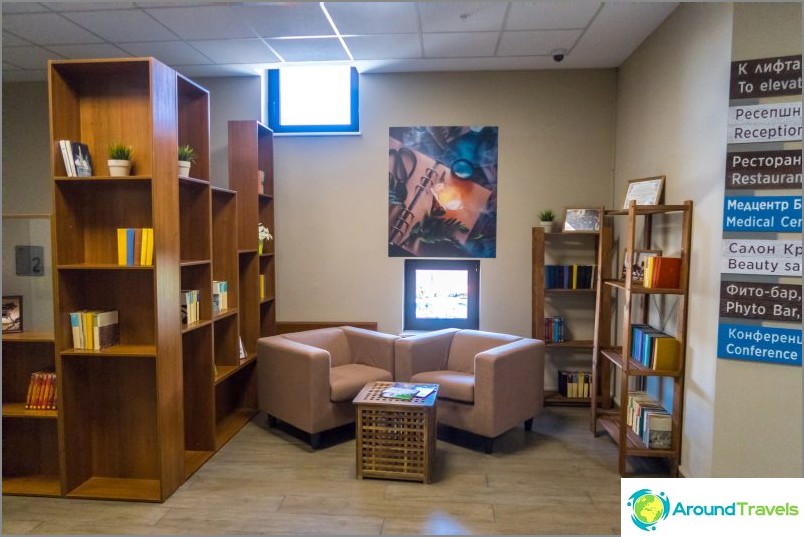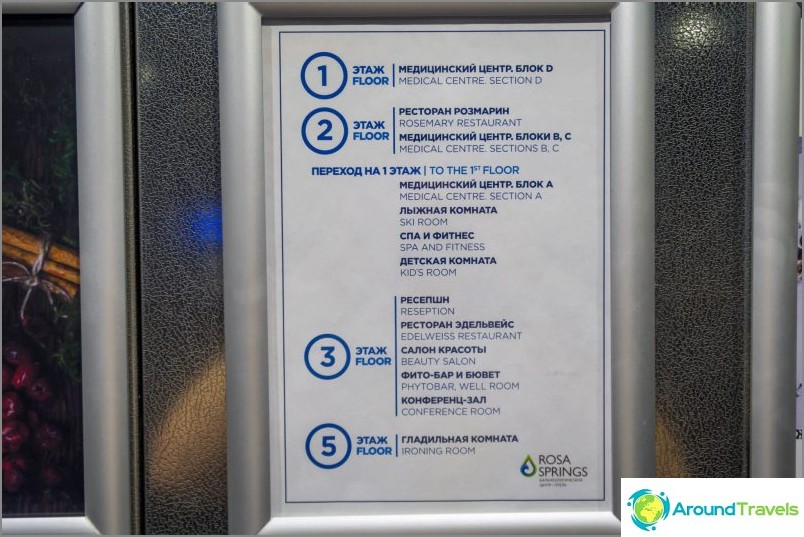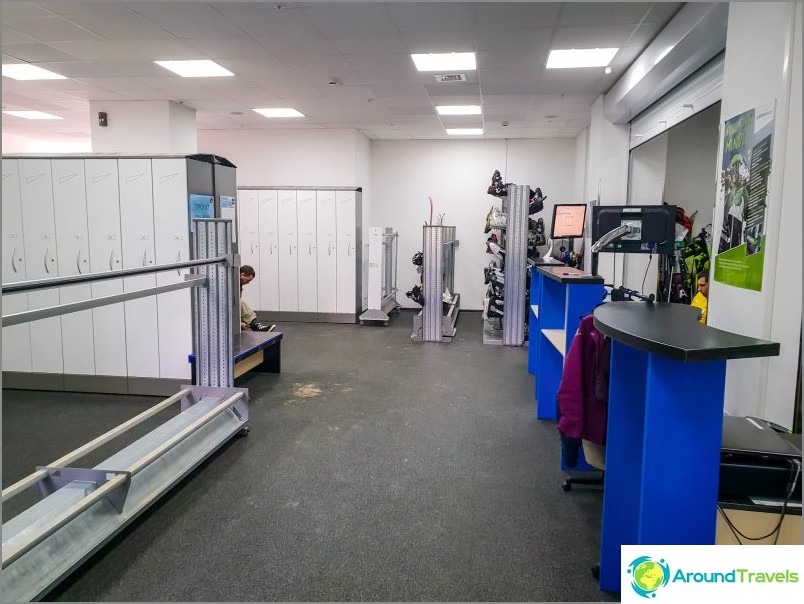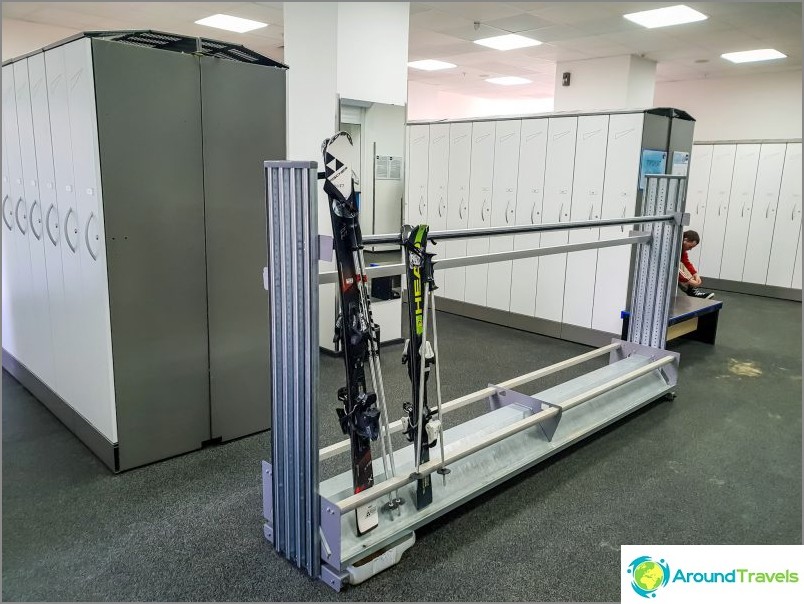 Breakfast at the hotel costs a separate 1200 rubles per person, and with the onset of the summer season it decreases to 900 rubles. It is held from 7 to 10:30 in the form of a standard buffet with an unconventionally rich assortment. The choice is really - very large: fruits and yogruts, croissants and cereals, porridge and vegetables. There are cold cuts and cheese, scrambled eggs, cottage cheese casserole, sausages and sausages, bacon, braised beans and salted fish - that's all I can remember offhand. From drinks: cappuccino, espresso, several juices including tomato, milk, «cucumbers with lemon» and tea. I have not listed everything, but in reality everyone will find something for themselves. After a week of living, all this, of course, becomes boring, but before that time pleasant mornings await you. I don't have such a varied breakfast at home, in fact.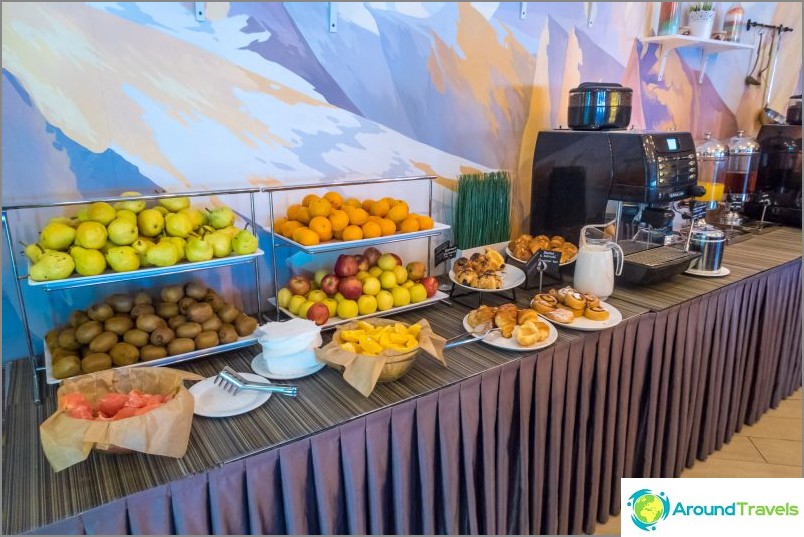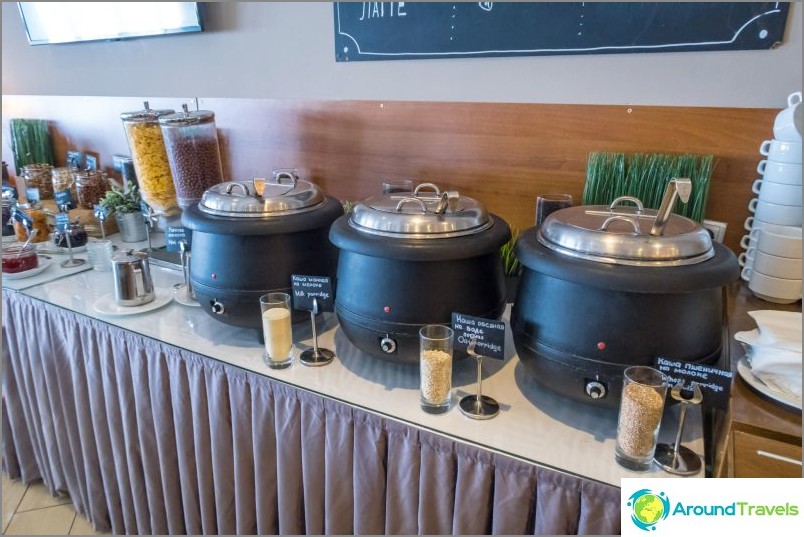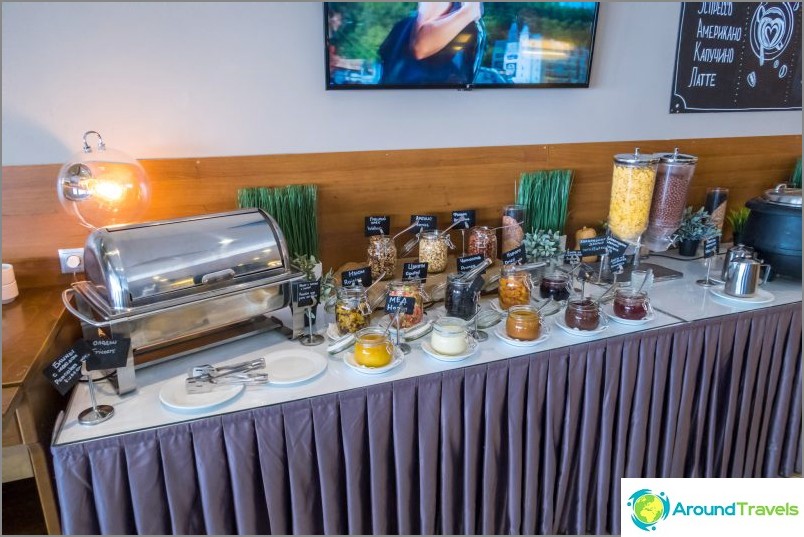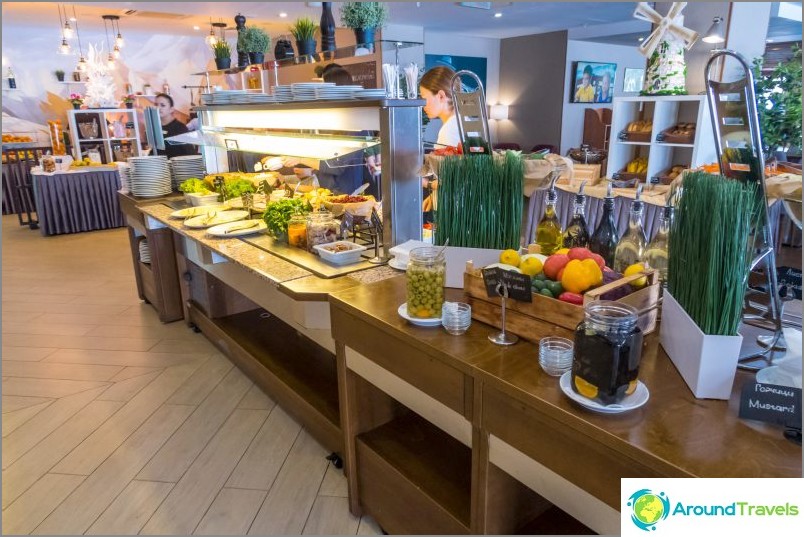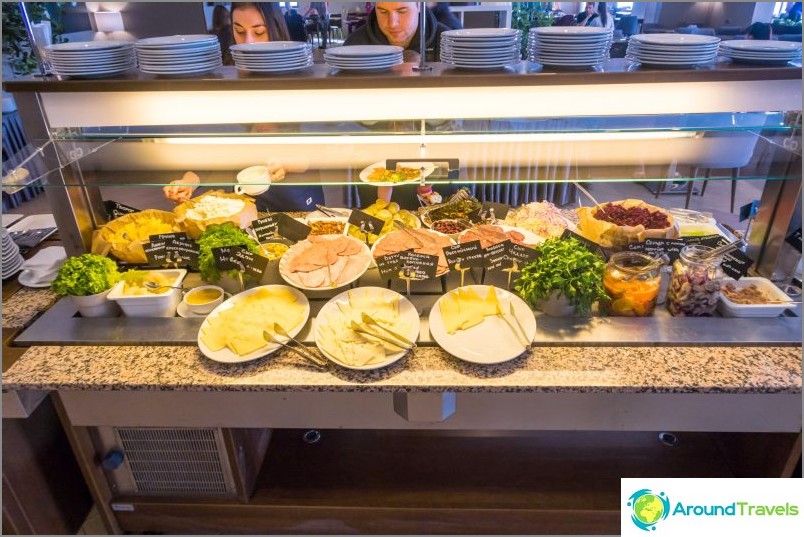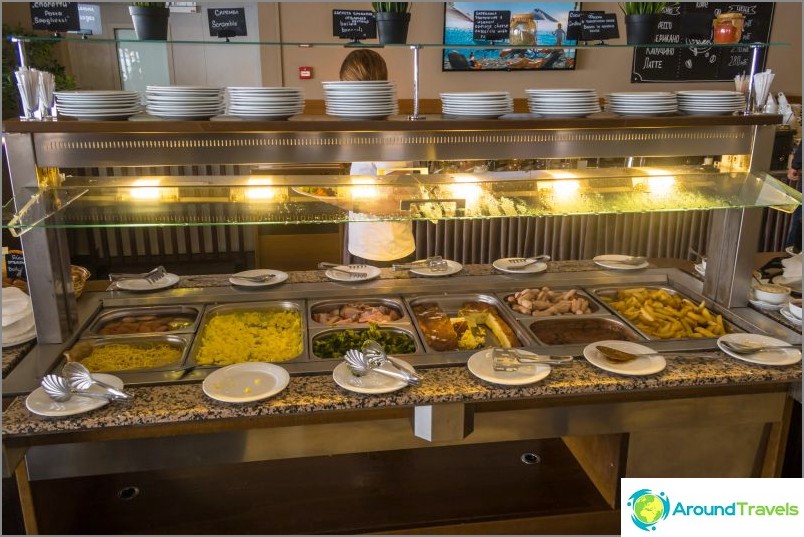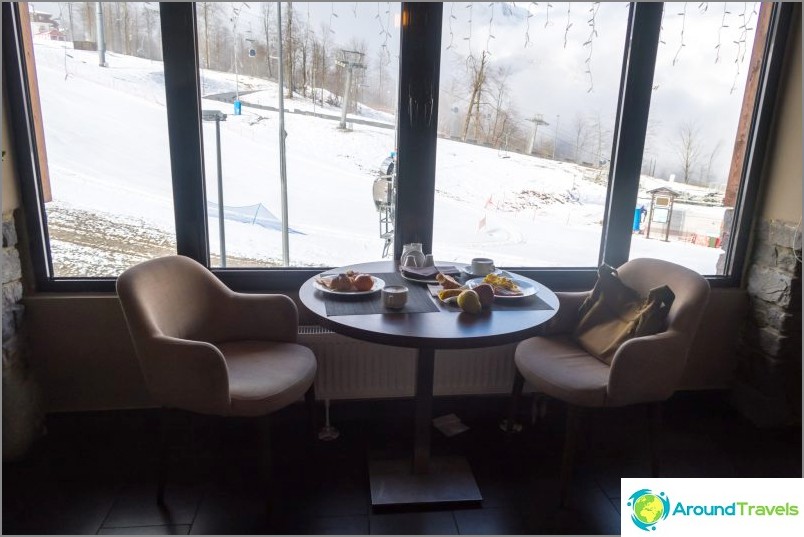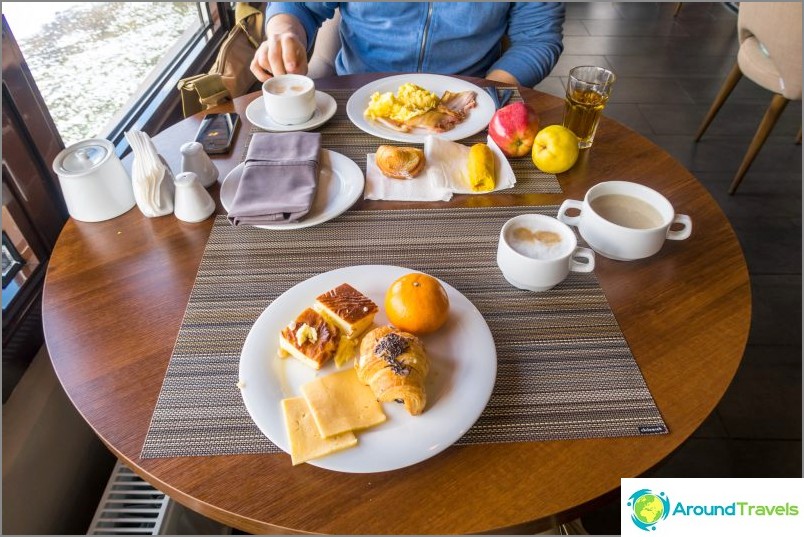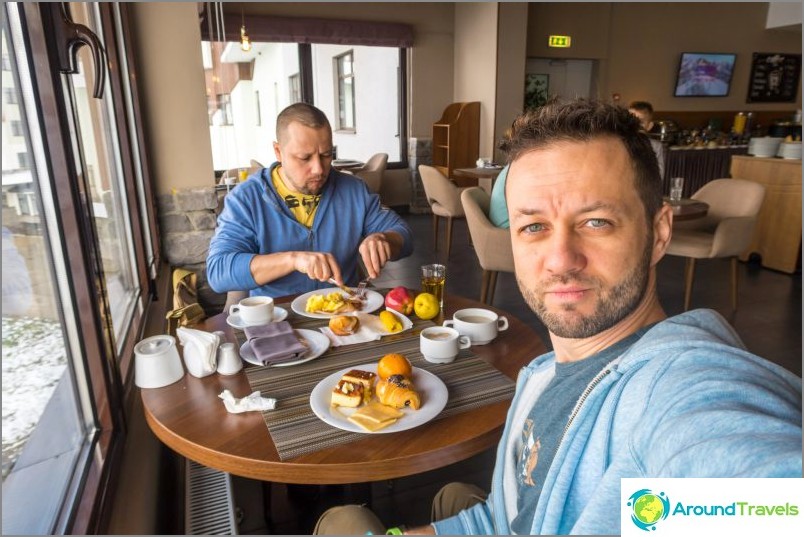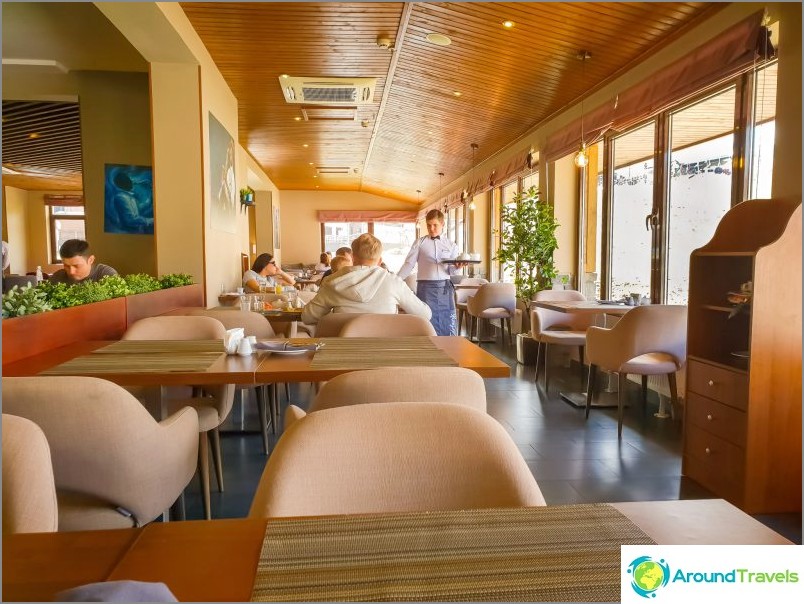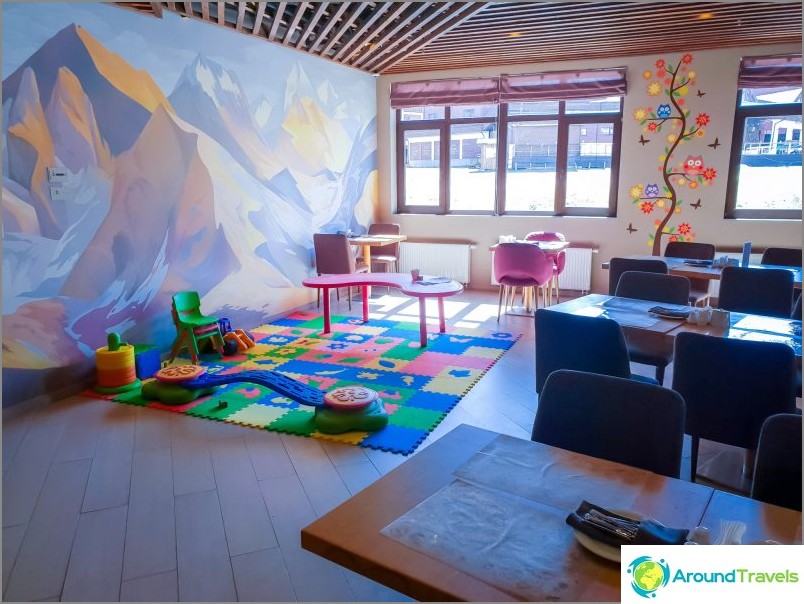 Hotel on the map
Rosa Springs positions itself as a ski resort hotel in the ski in ski out format, which implies the ability to get to the ski lift directly from the hotel's doorstep and return in the same way.. «Skiing gone, skiing came», although there is an inaccuracy here - it all depends on whether the lift will work from the hotel to the main funicular. However, there is a free minibus, and it takes only 10 minutes to walk to the funicular along the asphalt.
The transfer from the airport to the hotel costs 1900 rubles. A taxi upon arrival can be found somewhere for 1300-1500 rubles. Alternatively, rent a car or use car sharing.
Rose Springs Hotel
Rose Springs Hotel
Perhaps the best hotel in the Olympic Village. Expensive, comfortable. Accommodation with all conveniences, plus its own medical center. I lived there, I liked it.
More details.
Perhaps the best hotel in the Olympic Village. Expensive, comfortable. Accommodation with all conveniences, plus its own medical center. I lived there, I liked it. More details.