Everyone probably knows that we love camping. And because so you can save well, and because there are more impressions - we are city dwellers, so you just need to be in nature.
Unfortunately, nowadays we rarely get out in this format, but we always keep this option in our head. So, if earlier we used a small camping tent (its weight is important when you carry it on yourself), then recently I decided to buy a healthy QUECHUA Arpenaz Family 4.2 XL camping tent. Comfort is immeasurably greater in it, especially in rainy weather, and when moving by car, plus or minus 5 kg does not play a role. Now the incentive to get out more!
The content of the article
What to choose, a camping or camping tent?
It seems like everything is clear here, but I will still write what the main advantages are. Naturally, we are only talking about autotravels, camping, recreation centers. When hiking, weight is critical, and you do not stand in one place, so there are no options, only light camping tents. Although our marching one is also heavy because of the vestibule, which you can safely do without. Okay, getting to the point.
Height. Our camping tent Normal Troubadour 2 plus is about 105 cm high. Accordingly, it is even uncomfortable to sit in it, the head rests on the ceiling. If this is a hike and a format «spend the night», it'll do. But if you stand in one place for a week, then you will spend all the time on the street, you will not climb into the tent once again, it is too crowded there. In cars, by the way, the situation is the same, minivans for long trips have a higher ceiling, so it is psychologically more comfortable.
Dimensions. If it suddenly rains, and you yourself see what summer it is, then you will have to sit in a tent all day. In a small tent you will not even have to sit, but lie. Therefore, the presence of a large vestibule greatly improves the situation, especially if you can stand in the vestibule. You can get together with the whole company and sit, chat, play, but I, for example, could work if the Internet is available.
Camping accessories. To be honest, I used to look with skepticism at those who carry plates, tables, chairs and other paraphernalia with them. Now I think about it myself 🙂 It's one thing to be a savage alone, when you don't need anything, another - with your family. I want comfort at times. Although, for some, any tent will be anti-comfortable by definition, only a hotel.
It's easier with children. The point repeats the previous ones, but I will mention it separately. If you have a restless child, he will go crazy in any tent. However, there will be a slight head start in the campsite. In addition, camping tents usually have their own floor in the vestibule, where you can lay a blanket, creating a space for games..
Comparison of tents Family 4.2 and Family 4.2 XL
Life hack - when ordering online on the Decathlon website, but through the Letyshop cashback service, there will be a return of 2.5-5% for all goods, including tents. If you are not yet in the know, then they have delivery, so you can order everything for yourself at home. By the way, there you can return not only from Decathlon, there are a lot of options, look through the catalog.
Initially, I drove for Arpenaz Family 4.2, it is less and cost only 7000 rubles. However, it was the end of summer and they were no longer available. I had to take the same one, but with the XL prefix for 10,000 rubles (with a discount), it is larger, heavier, and there are nice features that are not in the younger brother:
two transparent windows for light
a large mesh window on the vestibule wall and the same window in the entrance door to the vestibule (there is at least some ventilation)
two storage niches with a floor for storing things
In the usual Family 4.2, there is only one window in the vestibule and it is made of oilcloth, that is, there is no airing at all, which is not good at all. On the one hand, I didn't really want to increase the size of the installed tent, but, on the other hand, plus or minus half a meter in length and width for camping is nonsense, and mosquito nets are needed. Here's another comparison.
Arpenaz Family 4.2: vestibule 3.9 m? (max. height 195 cm), 2 rooms 140 x 210 cm, dimensions 230 cm x 460 cm, weight 11 kg. Water resistance 2000 mm awning, 5000 mm floor.
Arpenaz Family 4.2 XL: vestibule 5.88 m? (height 214 cm), 2 large rooms 140 x 210 cm, 2 mini-vestibules, dimensions 280 cm x 510 cm, weight 15.3 kg. Water resistance 2000 mm awning, 5000 mm floor.
Review of the tent Arpenaz Family 4.2 XL
The price at the time of this writing is 10,000 rubles (via Letyshop 2.5-5% cheaper).
In general, I liked the tent, it was well done. But how long it will last will only be shown by time and real camping for at least a week. On the official website, reviews are mostly good. We spent one night in it, having put it for a day at the dacha, specially went to test. Withstood 5 hours of tropical rain. The first setup took about 50 minutes, but we set it up in the dark and didn't read the instructions. I folded it alone in about 20 minutes.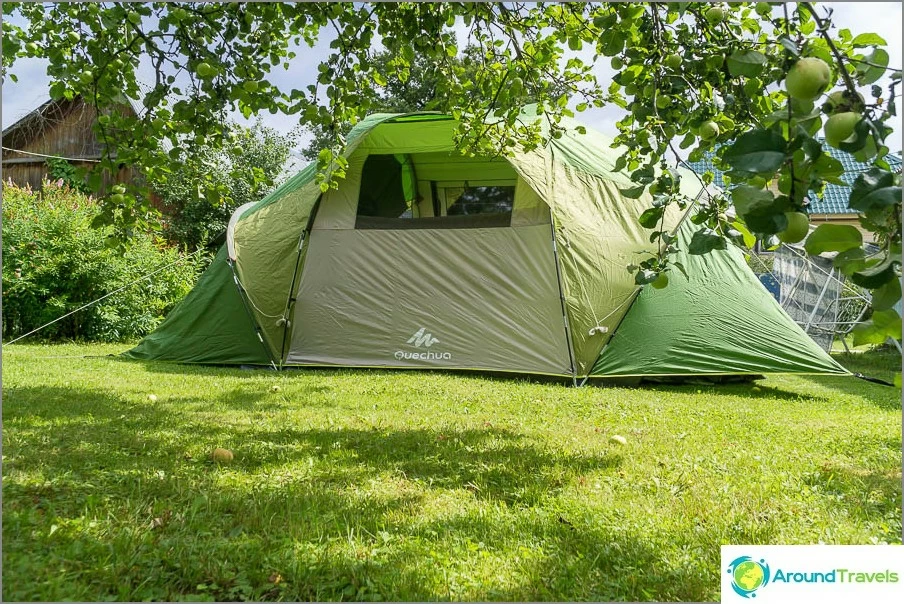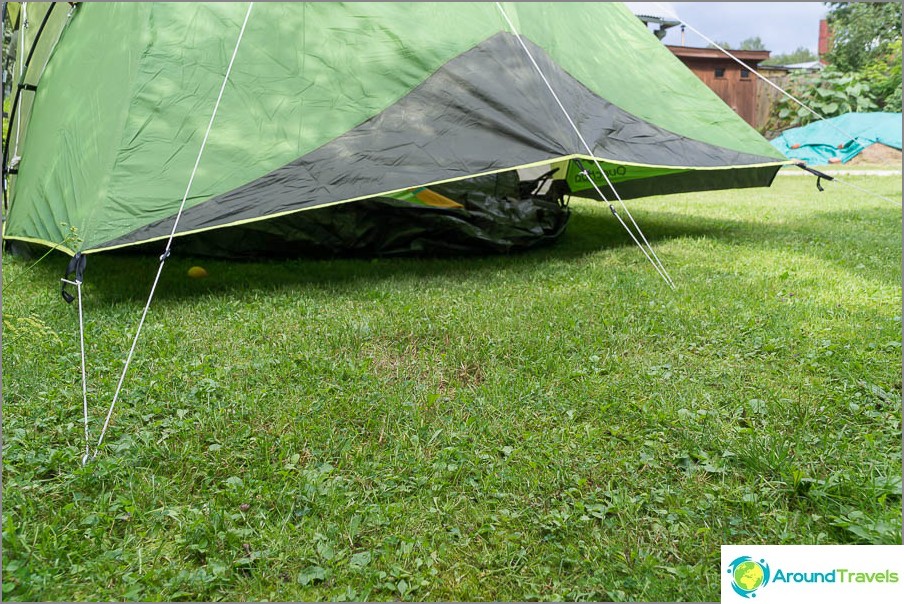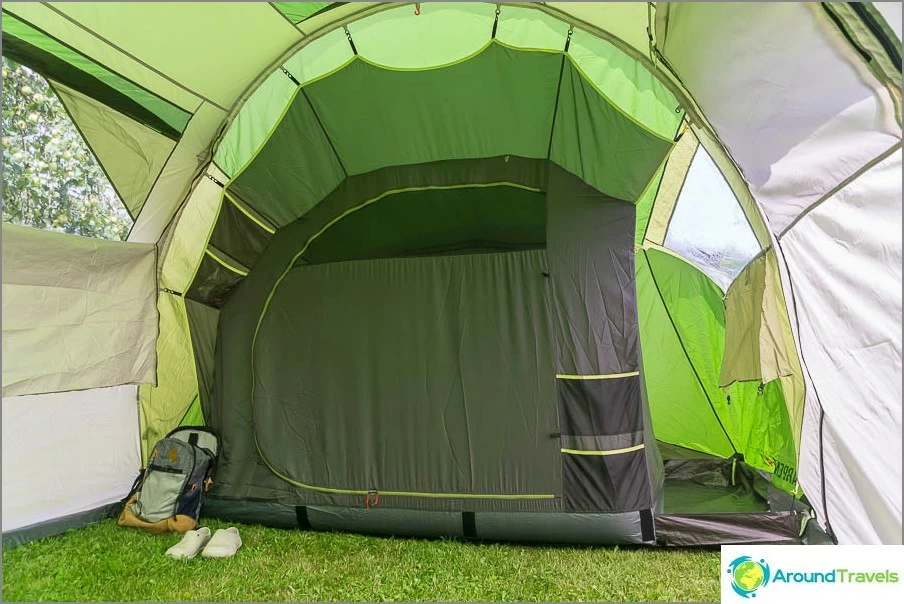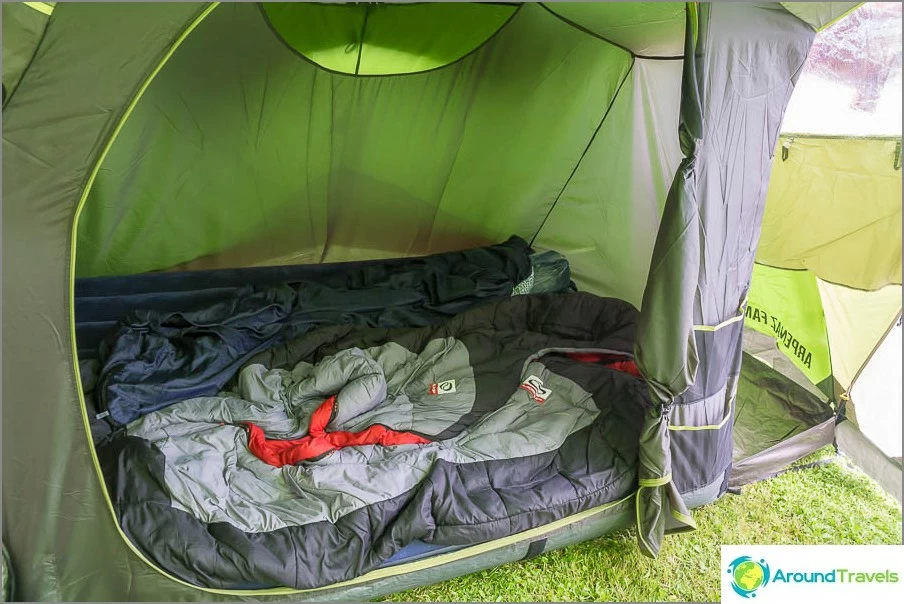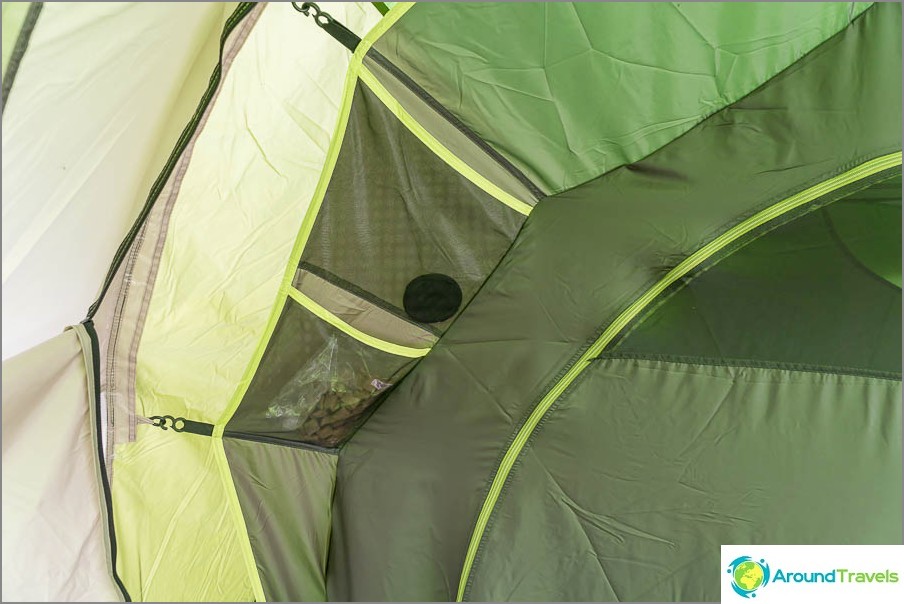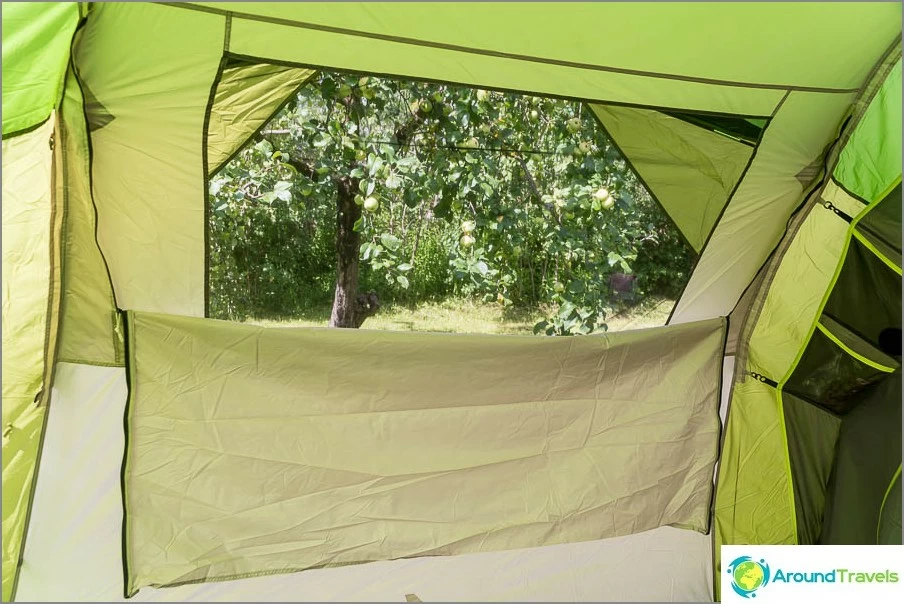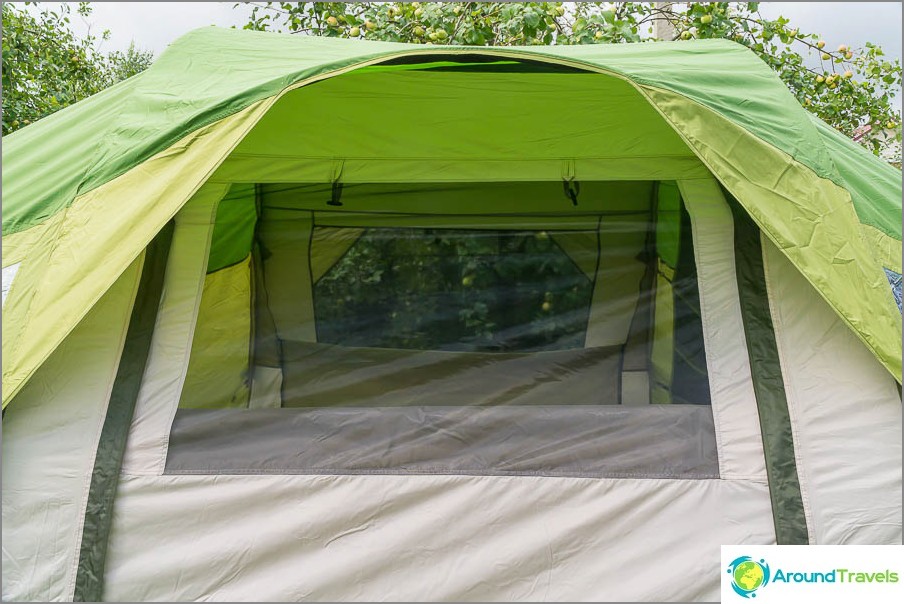 As you probably already noticed, there was no floor in the photographs in the vestibule. We did not immediately set up the second inner tent, to which this very floor is sewn. Below are the photos where everything is already installed..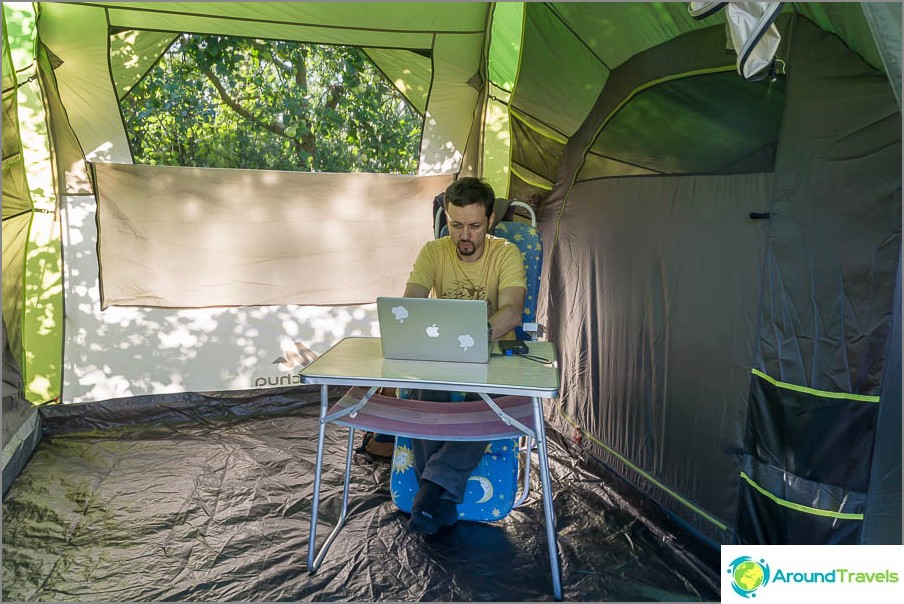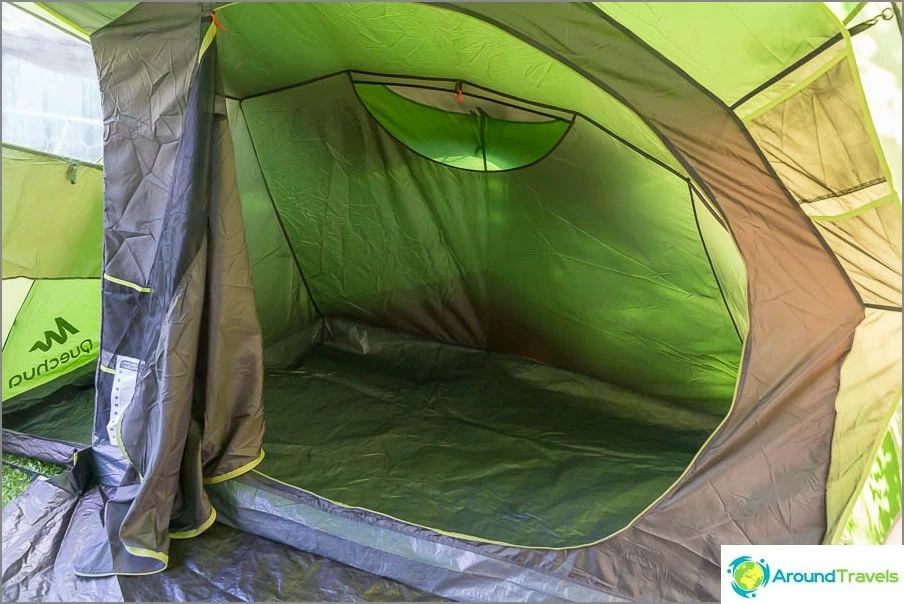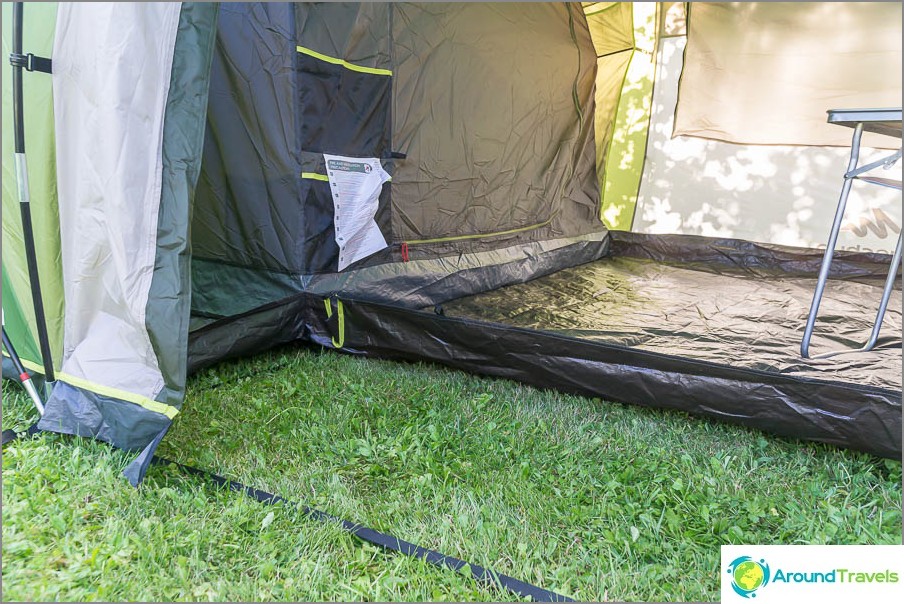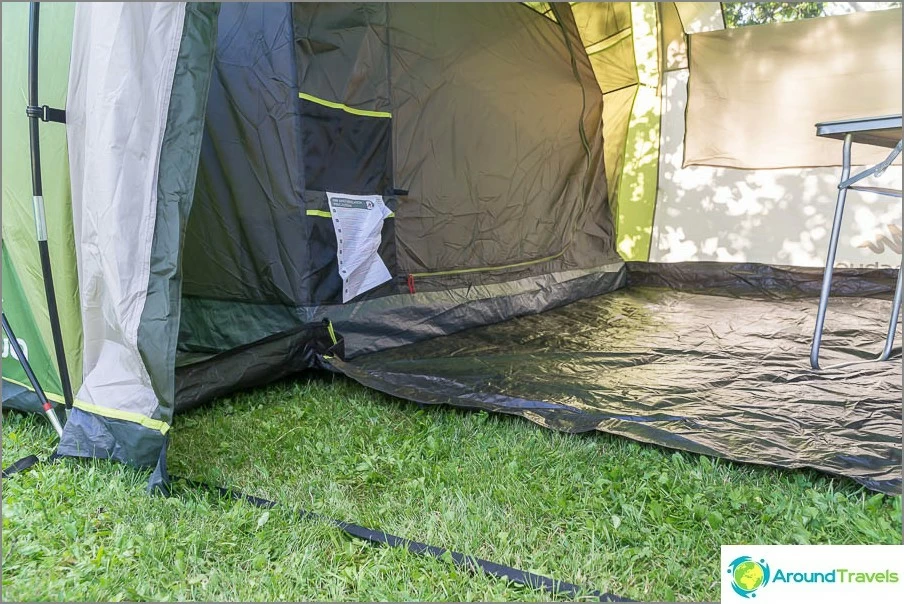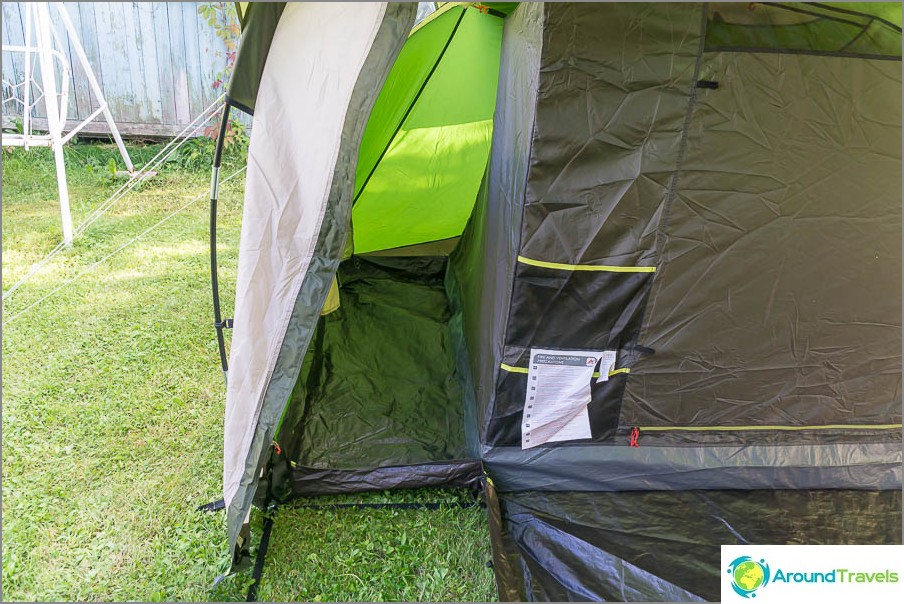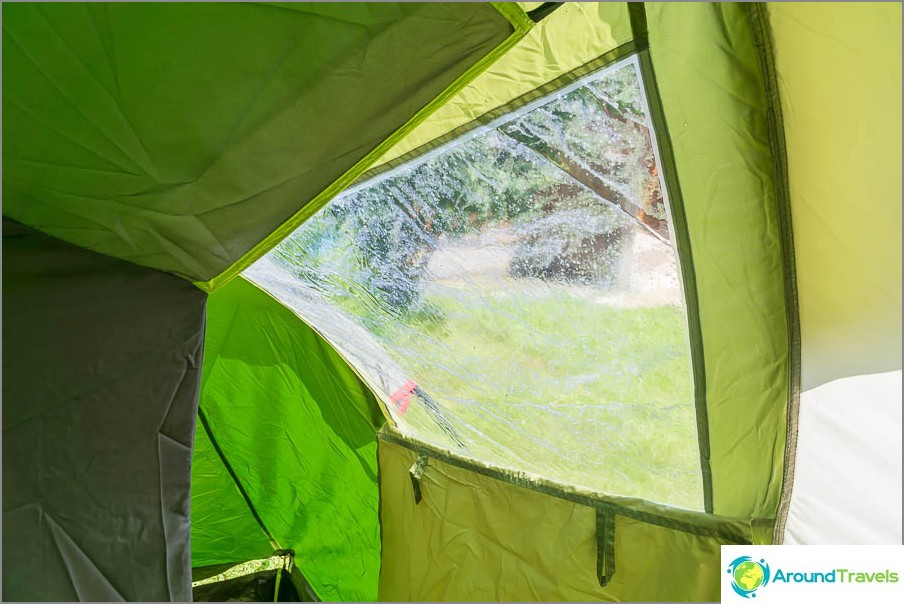 The nuances that I remember:
The tent must be stretched strongly, otherwise wide gaps will form between the awning and the ground, because it is not realistic to find a perfectly flat area. Unusual. But it's understandable, it's big, you need to pull harder.
It seemed to me that the main weight is the arcs and pegs. If you replace the arcs with aluminum ones, then a couple of kilograms can definitely be removed, but this is more a question for the manufacturer. Alternatively, you can skip one of the inner tents to save weight and volume. But again, motorists don't need this..
Surprisingly, for some reason the pegs are dull. Was it really difficult to sharpen them? They will easily enter into loose soil, and if the soil is more serious, it will be more difficult.
First, an awning is installed, and then two tents are hung inside, one is ordinary, the second comes with a sewn floor for the vestibule. I like this design for two things. First, it is convenient to put it in the rain, you will not get the insides wet. Second, you can put up two inner tents, you can put one, or you can not set up at all and use only an awning. With one tent inside, the vestibule is just huge!
Family 4.2 XL for four, two people in each section. However, two families with two small children can easily accommodate, that is, we have a capacity of 6 people. Also, if desired, another 3-4 adults can freely lie in the vestibule. All things from the vestibule can be folded into two mini-vestibules, or, as I called them, storage niches, thereby freeing up space on the floor.
In the picture on the site there is a diagram of the tent. The size of the berth may be somewhat misleading, it is 140 cm, not 150 cm! Although our mattress 150 cm fits into the bed, however, with an interference fit. Ideally, it is better to use mattresses of exactly 140 cm. The three of us with the child were cramped, but 200 cm will not be enough for us, Yegor loves to sleep as a star 🙂 It's good that there is another compartment, where there is another 140 cm.
P.S. What experience do you have, do you go camping, do you use camping tents?
P.P.S. Separately, we had a post about camping stuff, but it needs to be edited along the way.