An upside-down house in Phuket is an attraction for two occasions in life: when you have absolutely nothing to do, or when you have never been to this kind of place. In my opinion, this entertainment is a one-off, and having gone to it in one part of the planet, you are unlikely to discover something new for yourself, visiting it in another country. Well, perhaps there may be some national differences in the decor and interior. Furniture and interior fittings are attached to the ceiling inside the house, which is designed upside down. Unusual, but impressions quickly become boring.
The content of the article
Upside Down House
For a long time I doubted whether I should go to the upside-down house in Phuket (or they call it «Bringing Down the House»), because I have already seen similar houses in Pattaya and near Gelendzhik. But, as part of the research of Phuket attractions, I just had to make sure personally that doubts are not unfounded. And you know what? Of these three places, the upside-down house in Phuket was my favorite. No, I will not write that inside there is incredible fantasy and a fundamental difference from what I have seen before, but if you have never visited such an attraction, then I recommend going.
Well, if you've seen this before, it's not worth your attention. You will not see anything fundamentally new here. Organization of excursions around the house is definitely on top. There are even special staff on the spot who suggest the correct points for shooting. What I liked especially - even if you come alone, you will not be left without photographs, because they help to take pictures. On the other hand, if you use their services, then all the photos are the same as those of half of the tourists who came here, stereotyped. For more sura, I post pictures both in normal and immediately inverted form..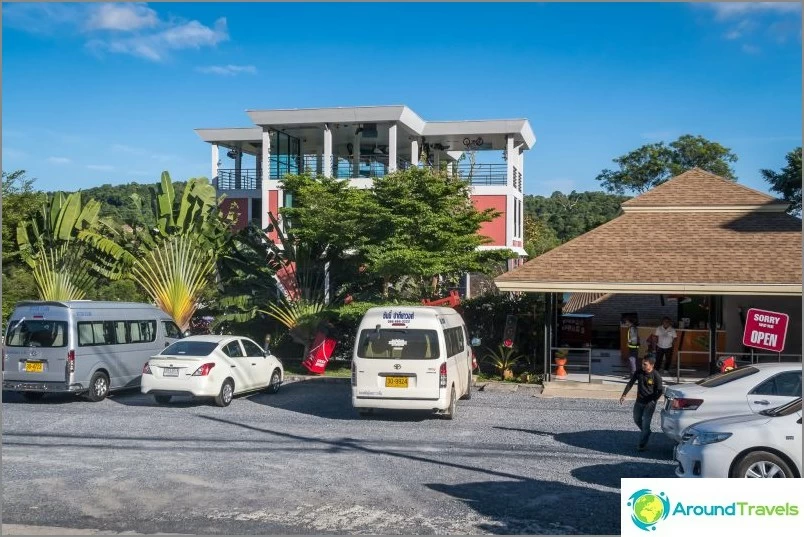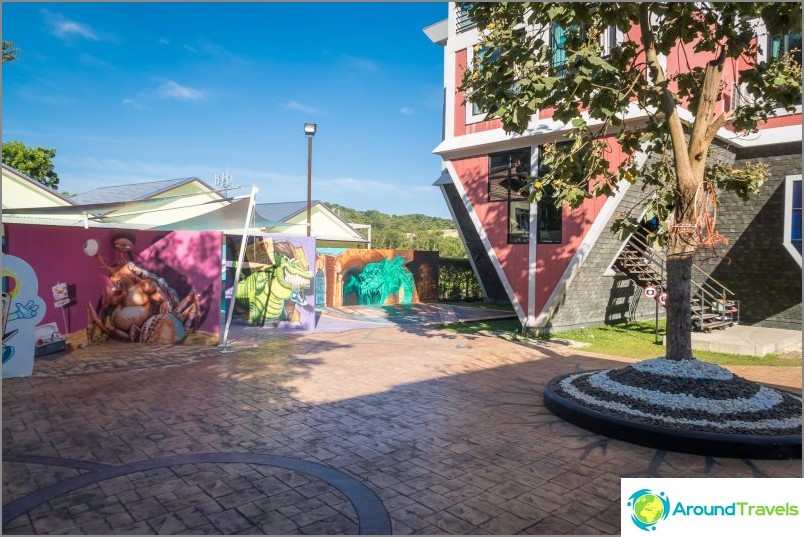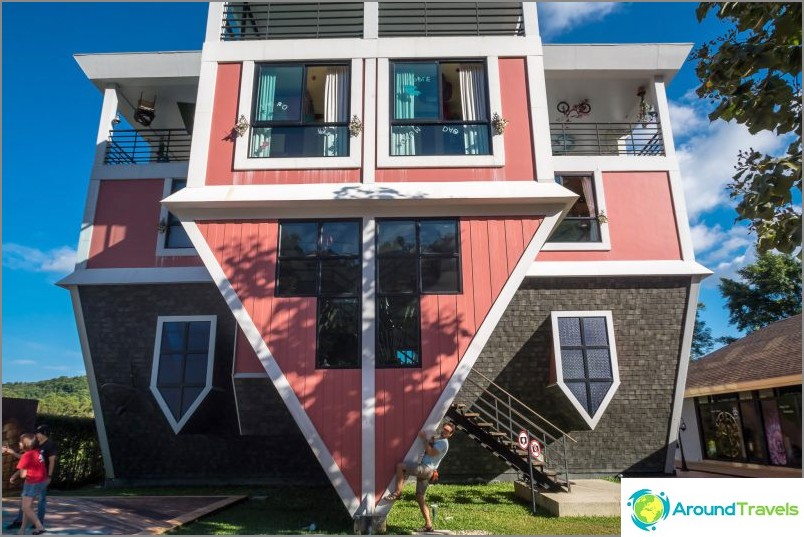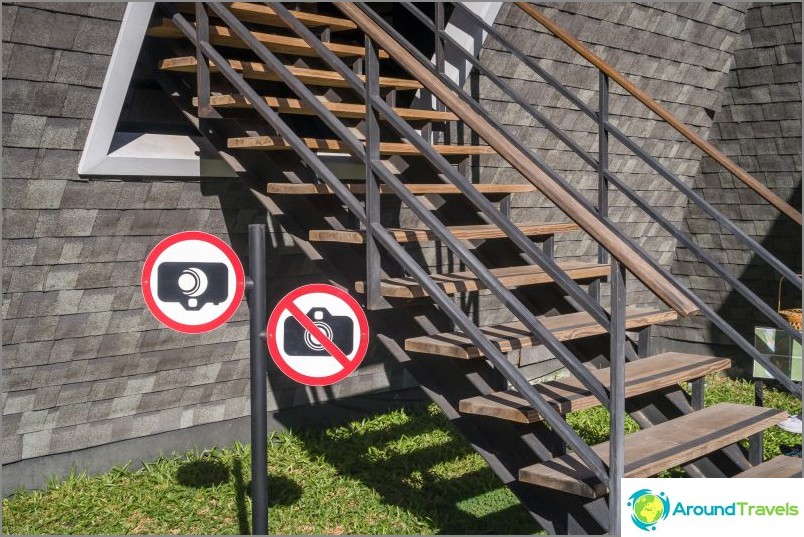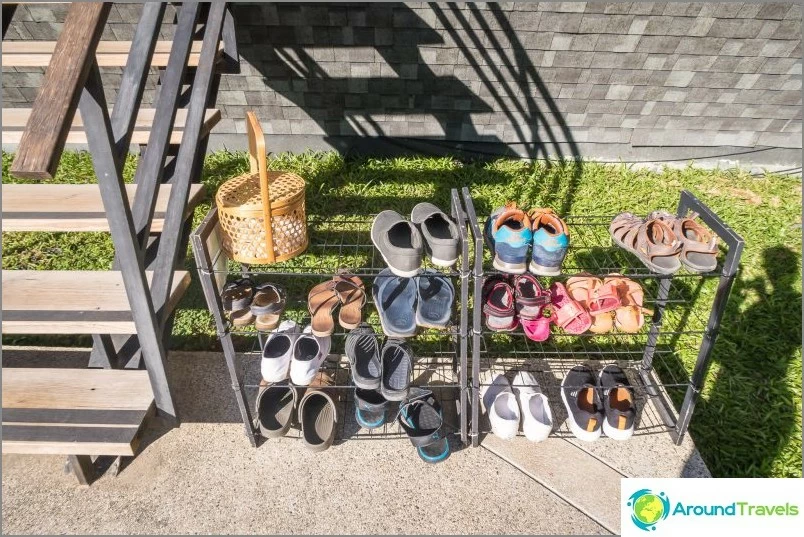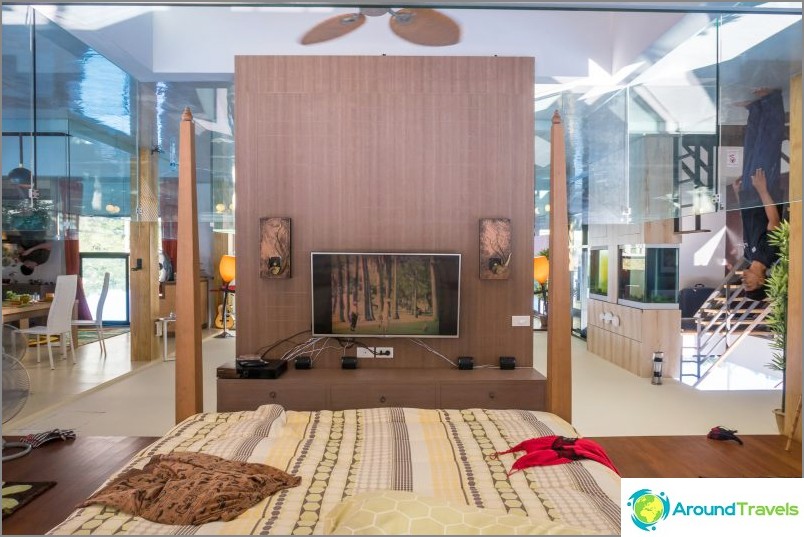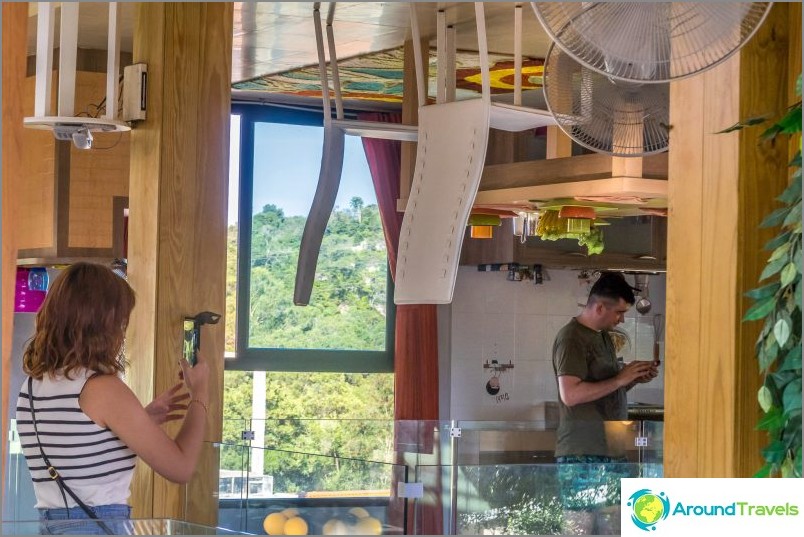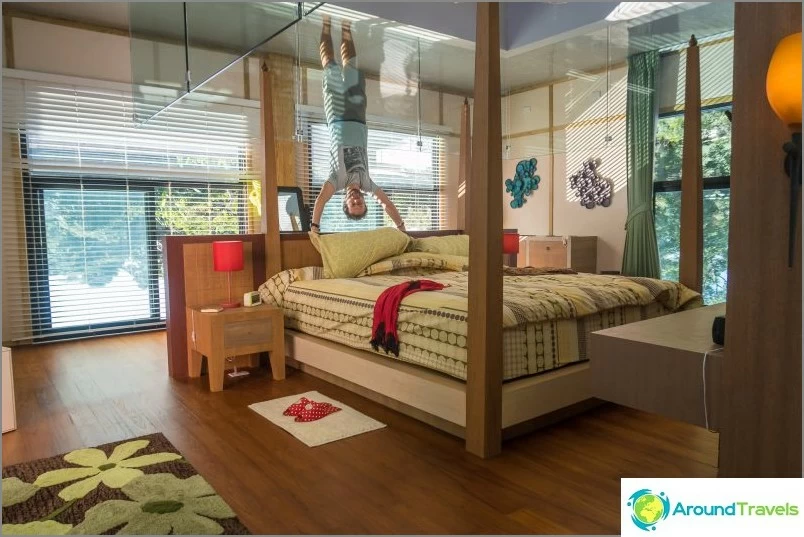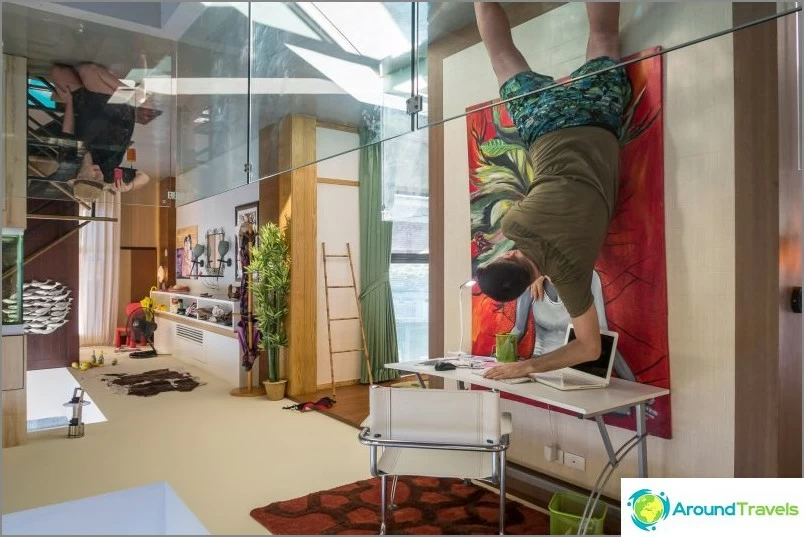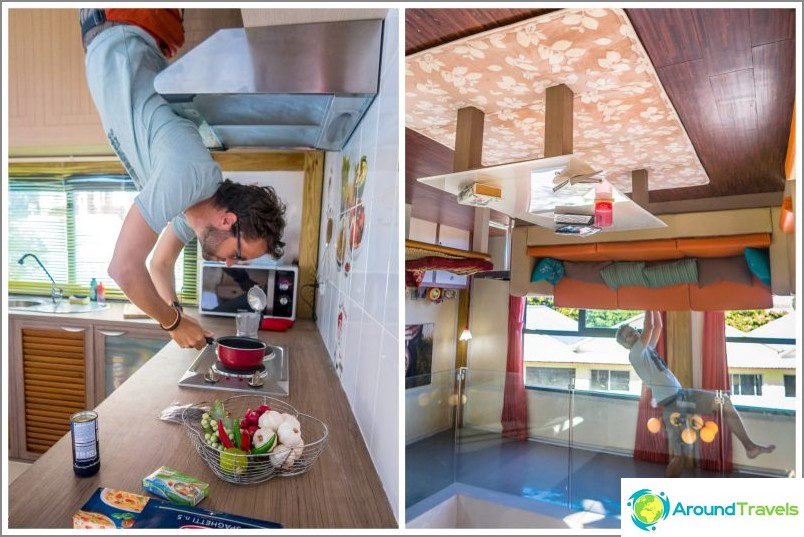 Unfortunately, I had no options - I arrived alone, so do not be surprised at some of the poses and angles «true tourist». Of course, this attraction is more suitable for a trip with children, and it is for them that all this should be interesting and fun. Although, even if you are an adult, but the mood is like that of Vasily's horse and you are just passing by, you can stop by and take a couple of pictures for yourself or for Instagram. Moreover, the pleasure is completely inexpensive..
The house has an attic and two floors. On the first floor there are rooms with a bed, a living room with a sofa, a kitchen, a bathroom, and on the second, a tuk-tuk and a couple of pieces of garden furniture were nailed to the ceiling, you can see them in the photo. The floor is open, therefore less interesting. Everything is traditionally screwed to the ceiling with self-tapping screws or glued. Disadvantages of the attraction: glass sides because of which the feeling of home comfort disappears and the layout is not very competently made - there are no separate rooms, plus for some reason they made a second light and separated it with glass sides. This gives glare when taking photos and because of them there is no sense of a single space in this house..
I was in the previous two houses and there the floor was made with a slight slope, which creates the illusion that something is wrong with this house, and this enhances the surrealism of the interior, but this was not done here. They also have a separate, «drunk» a room and I assume that there is a sloped floor, but I did not go there - it costs extra money.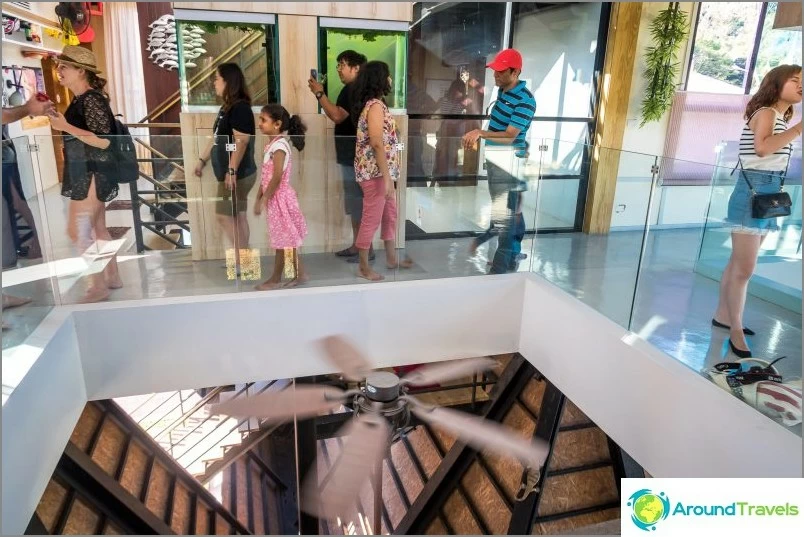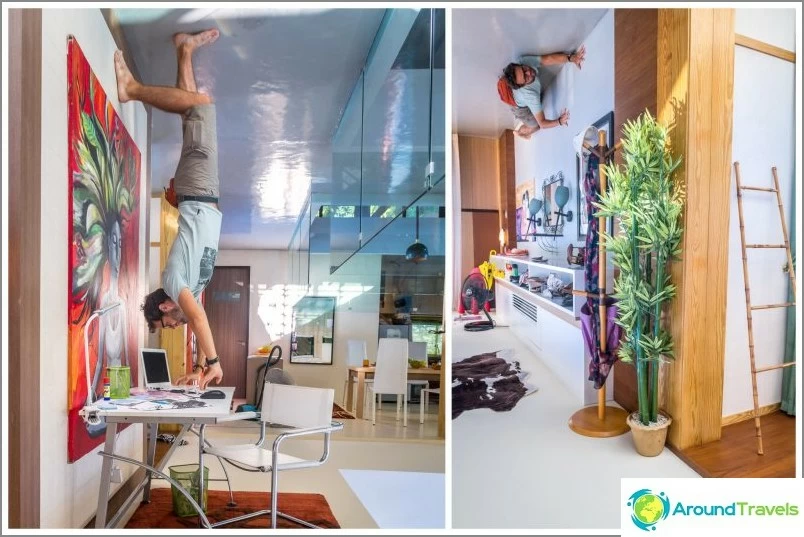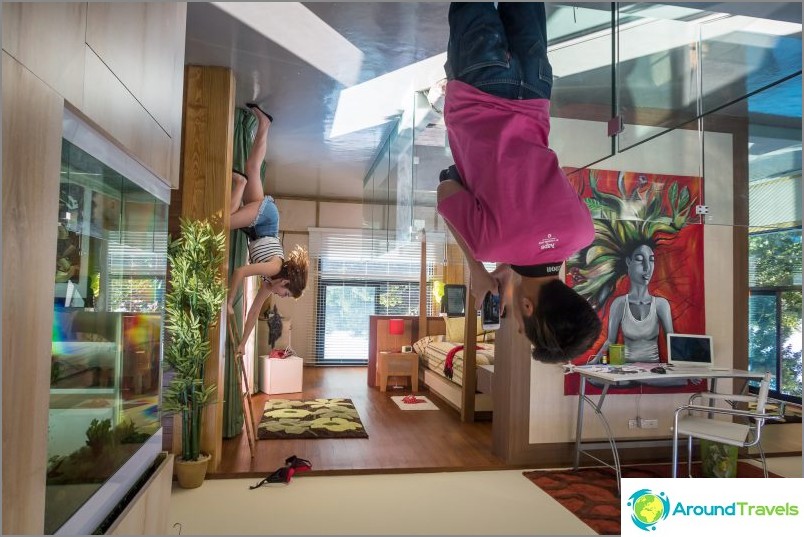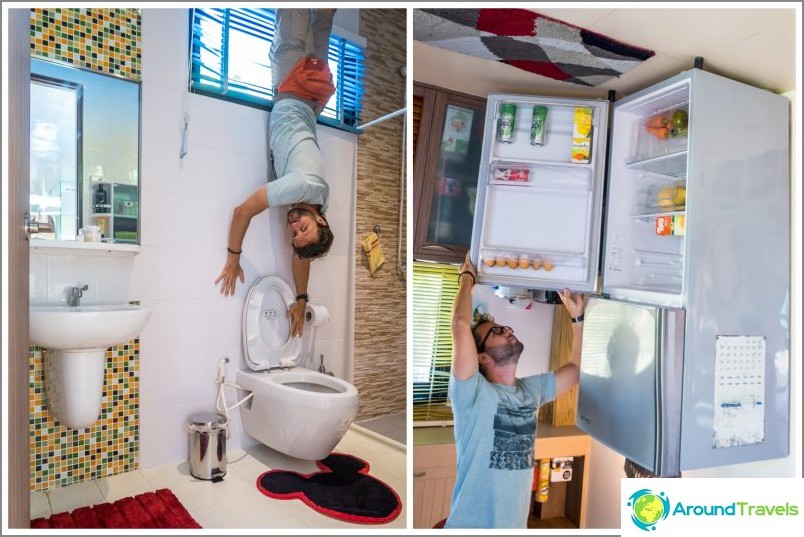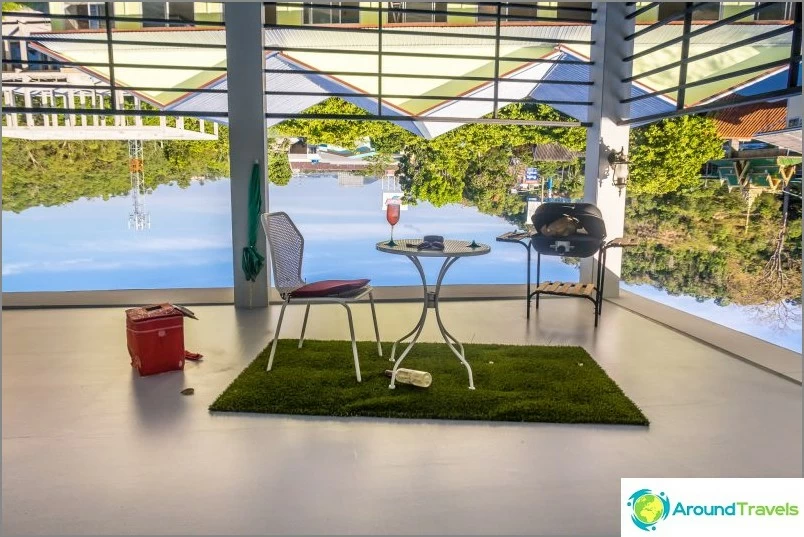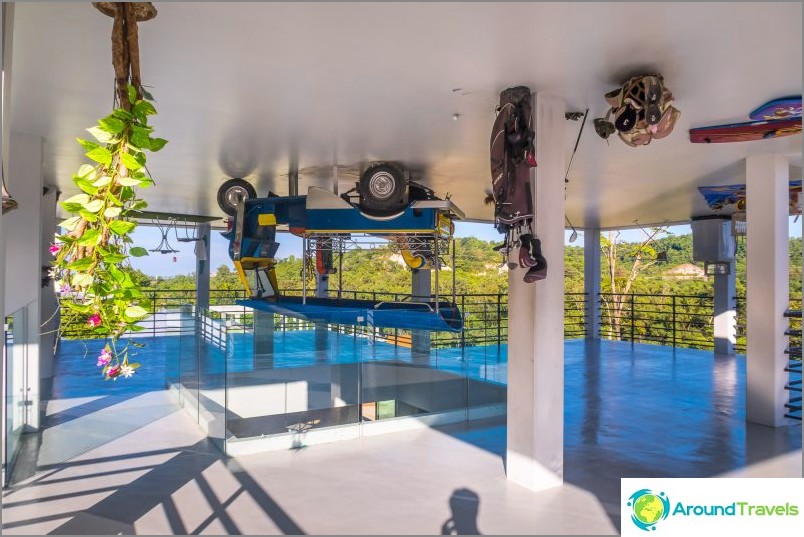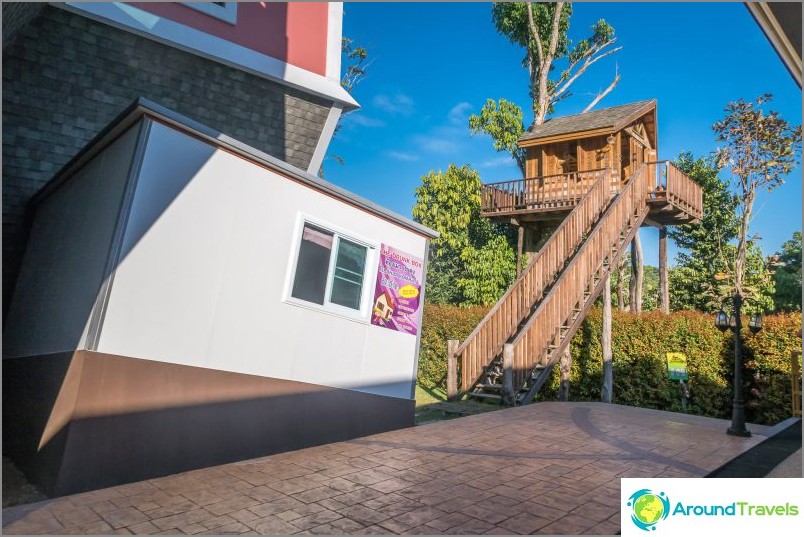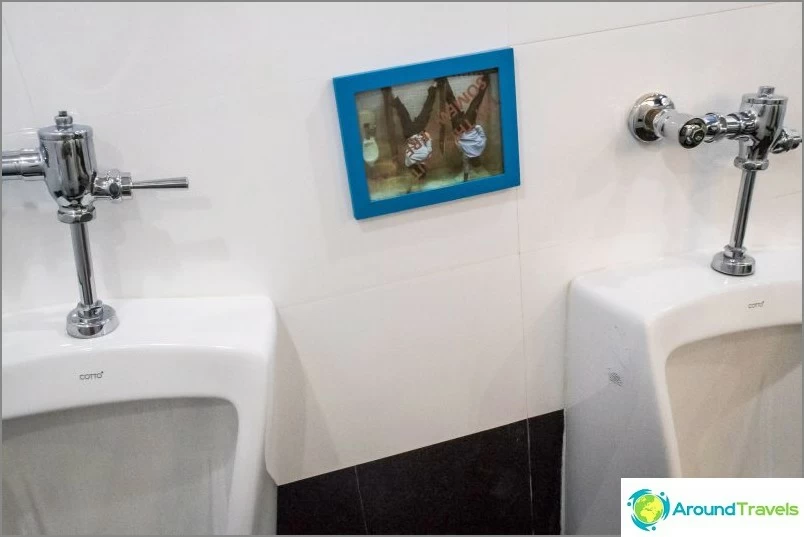 Information to visit
The cost of the ticket is for the house only: 350 baht per adult and 190 baht per child. Maze ticket for adults - 170 baht, for children - 120 baht.
If you take a combo (house + maze): 460 baht for an adult and 250 for a child.
Unfortunately, the Klook service does not offer a significant discount on tickets, as is usually the case: 335 baht for a house and 155 baht for a maze (440 baht combo). But still, you can save a little by buying tickets through them. Let me remind you that you buy online, receive an email voucher and show it at the checkout from the phone screen.
Discount Tickets>
Open from 10 am to 6 pm, ticket price depends on the inspection program. There is the Upside Down House itself, the Garden Maze, the 9D Cinema, the Drunk Box and the Room escape game. You can take either a combo ticket or visit each zone separately. I only took a viewing at home, and if you are with a child, it may be interesting to see something else.
English and Thai names are Baan Teelanka and Upside Down House Phuket. You need to take off your shoes before entering the house..
Time for viewing at home and a photo session should be about 20 minutes, because everything proceeds quickly enough.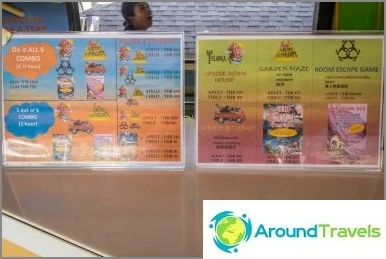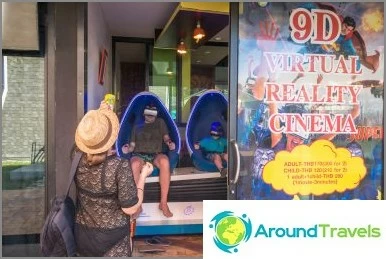 On the map
Upside Down House Phuket
Upside Down House Phuket
An attraction for all ages. If you have never visited such an attraction, then I recommend going. If you have already seen this, it is not worth your attention - you will not see anything fundamentally new.
More about the attraction.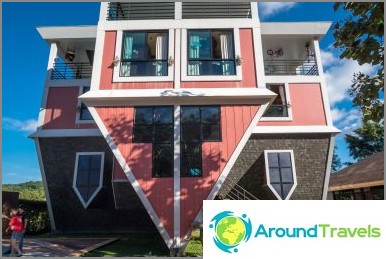 An attraction for all ages. If you have never visited such an attraction, then I recommend going. If you have already seen this, it is not worth your attention - you will not see anything fundamentally new..