I arrived in Koh Samui just a couple of days before the New Year and there was no longer a wide choice of hotels. I wanted to live in Chaweng in the thick of things before I go to retreat. In the pictures on the booking site, I liked the hotel with an interesting interior in the form of concrete niches in the rooms. Without thinking twice, I also booked it. When you often stay in hotels, sometimes you are tempted to try something unusual.
The content of the article
Price and booking
During peak season 1800 baht / night for a standard bungalow at Pandora Lifestyle. The junior suite is 3000 baht, and the family bungalow is 4300 baht. Standard in off-season costs 1100-1300 baht. As elsewhere, prices fall by almost 2 times. I lived in a standard bungalow.
At first, they seemed to want to move me somewhere else, either in a higher class, or, on the contrary, in a lower class, since there were no vacant places. But everything settled by itself and I didn't have to move anywhere. So do not believe those who say that during peak season everything is free and there are places everywhere. Yeah, ten times.
Hotels on Koh Samui>
Be sure (and I insist) to check for discounts or special offers on the excellent Roomguru service. He will quickly and easily show you discounts in all existing booking systems. In Asia, for example, there are a lot of offers on Agoda.com, which are much more interesting than for exactly the same hotels on Booking.com.
For example, here is a direct link to the hotel: Pandora Lifestyle .
Interior
If we talk about the housing itself, then, on the one hand, it is quite ordinary. The room is of normal size, the mattress is good soft, there is a separate sofa and a desk where a laptop can be put, all kinds of shelves, a large bathroom.
But, on the other hand, there is a certain concrete design in the room, lights of different colors above the bed ... I don't even know what to call this style. Cavemen? 🙂 For some reason, the Flintstones' dwelling reminded me, if you remember such a cartoon. But you better look at the photos, it will be clearer this way.
It seemed to me that despite the fact that the hotel is quite nice, it is a little tired already. But it seems that it's not so noticeable because of this concrete design. Whether actually originally «cave» the styling is slightly old. To be honest, the rating is too high (8.3), I would put it less, somewhere 7.5-8.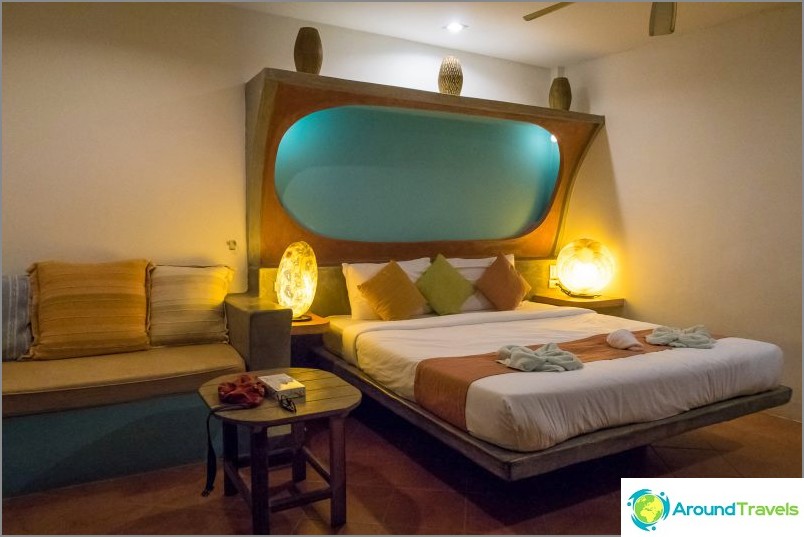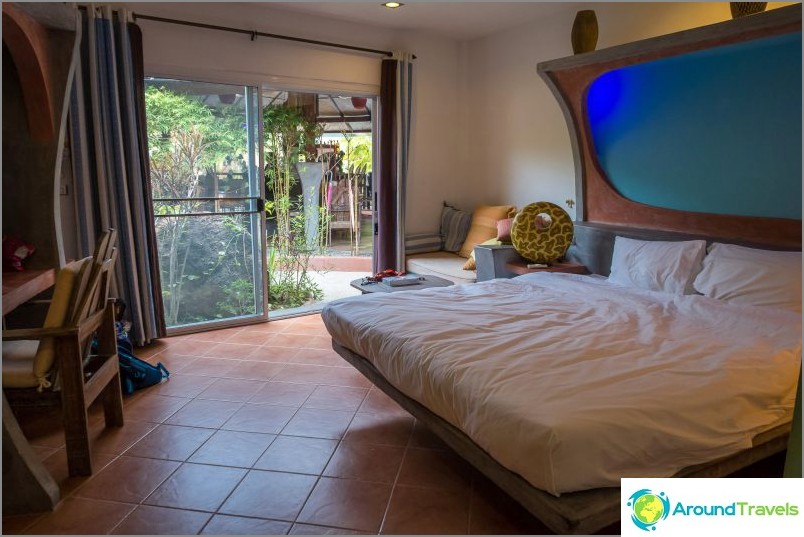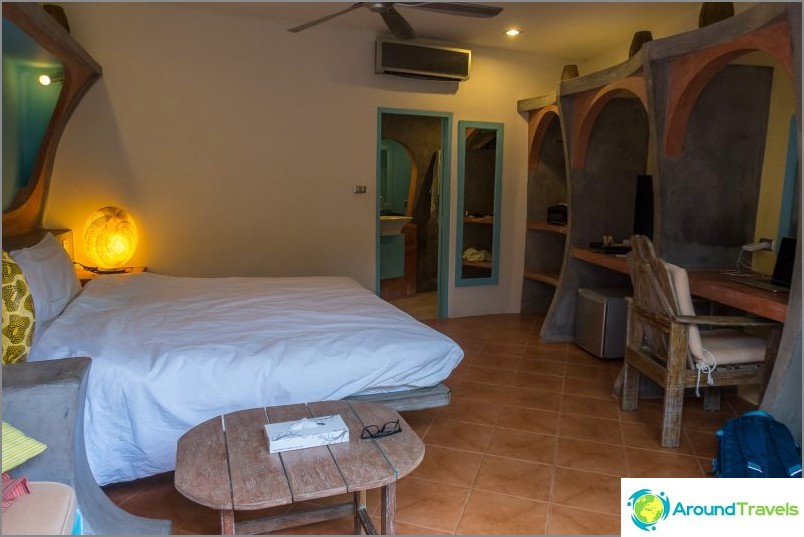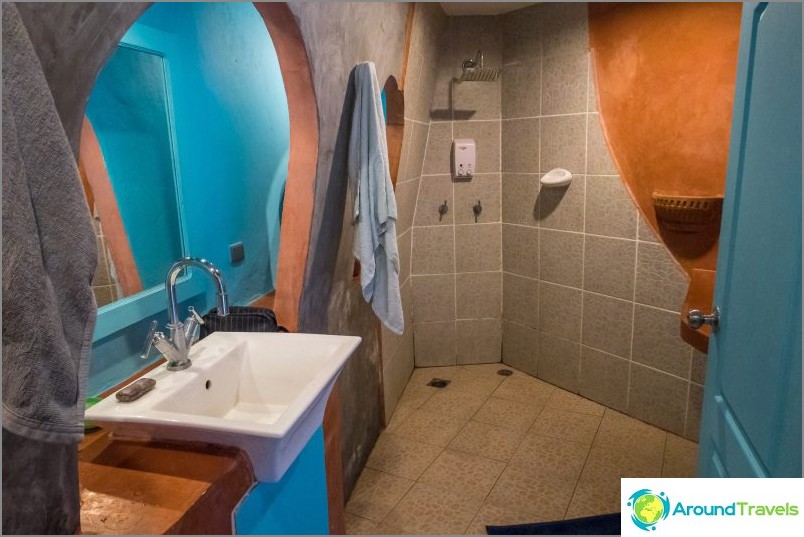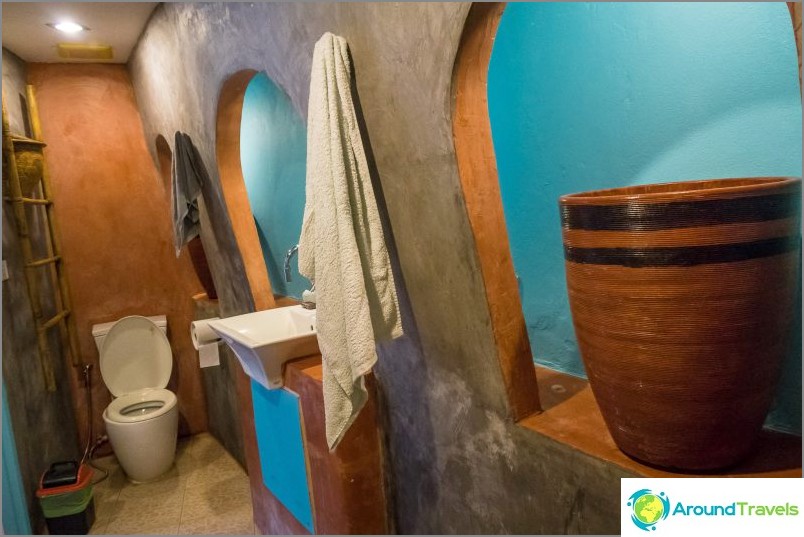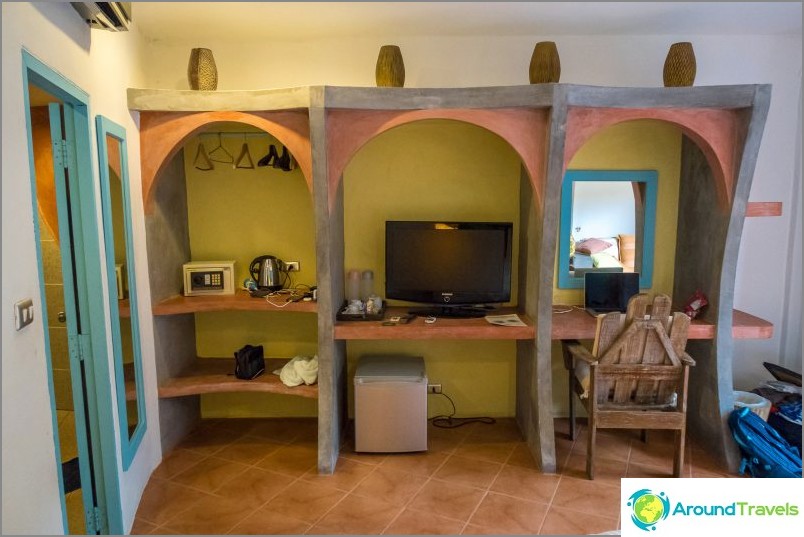 From technology, here is an LCD TV, mini-fridge, safe, kettle, hairdryer, air conditioning. Traditionally, they were given a couple of bottles of water and cleaned up every day. Wifi speed leaves much to be desired, sometimes it dropped to zero altogether and it is impossible to use.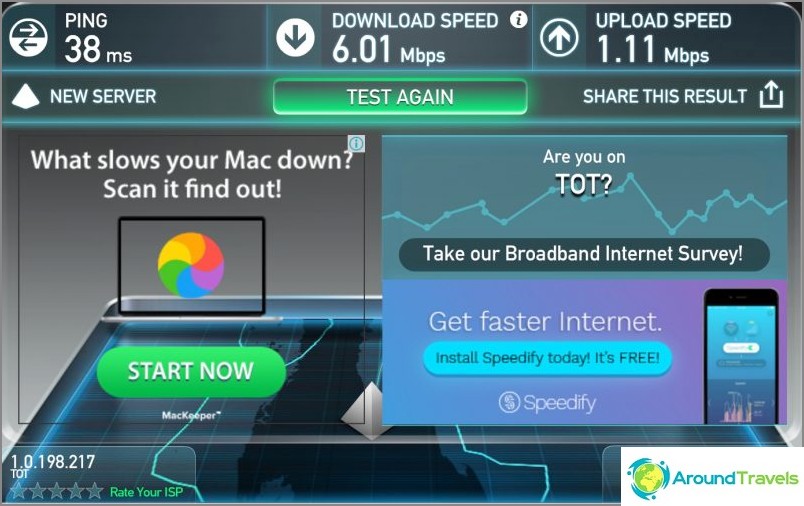 Exterior
Small bungalow type hotel. But the bungalows are not separate, but connected to each other, such a townhouse turns out to be one-story. Arranged in a circle around the pool and restaurant. All rooms have one glass wall and the same door to the outside.
I would like to say that it is quiet and calm ... Yes, it may be so, but due to the fact that the territory is very small and everything here is quite compact, you can hear any conversations - in the neighboring rooms, in the restaurant, by the pool. For example, while I am writing these lines, neighbors are sitting on the street near the entrance to their room and watching some Chinese TV series on their phone. And everything is heard perfectly (5 meters to them). But in fairness, I will note that it was quiet in the evening and at night.
The territory itself, although small at all, is very cozy. Despite the love of Thais to roll everything into concrete (this hotel is no exception), it somehow looks very even here. Moreover, there is also enough greenery, for example, the glass wall of my bungalow was partially covered with bushes. Really, the owners made a nice nook.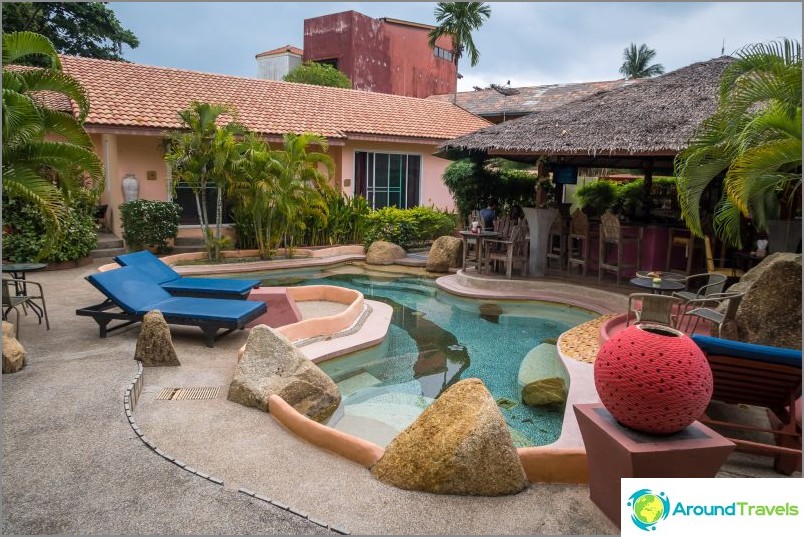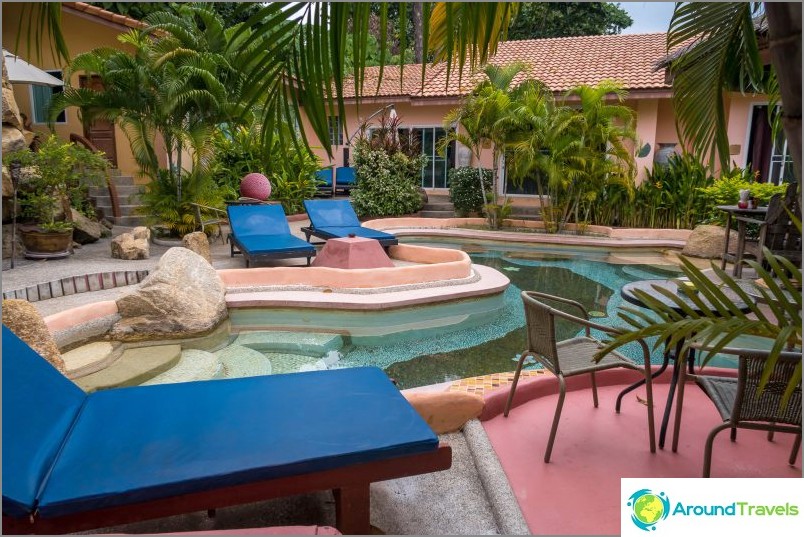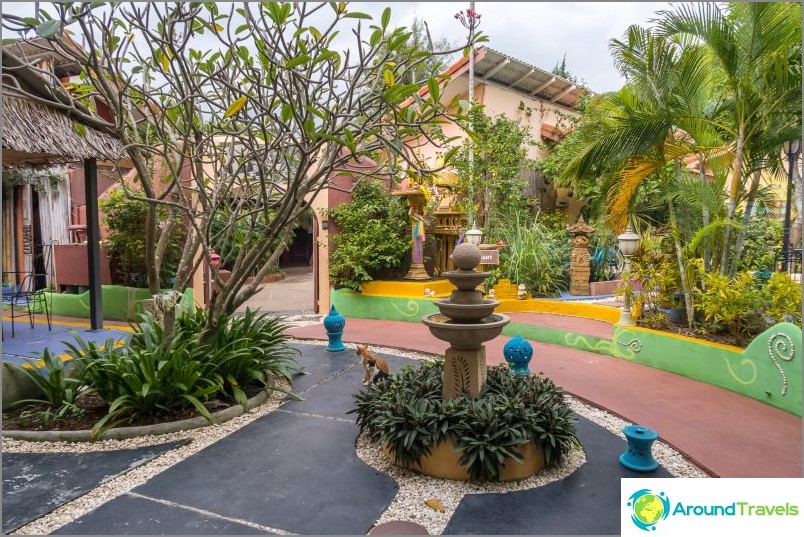 Breakfast is included in the price and it is so-so (for such a price of rooms). Lipton tea (but okay it is everywhere), and only instant coffee. Toast with butter and jam, a little bit of fruit, even less vegetables, yoghurts from 7-11, and muesli with milk. It's good that they also offer flakes and oats, not just corn ones. It happens in simple hotels that only corn, and I don't really eat them. You can choose 3 positions from hot (see picture). In general, everything is modest. But in the restaurant itself, the food is not bad, I ordered several Thai dishes, delicious.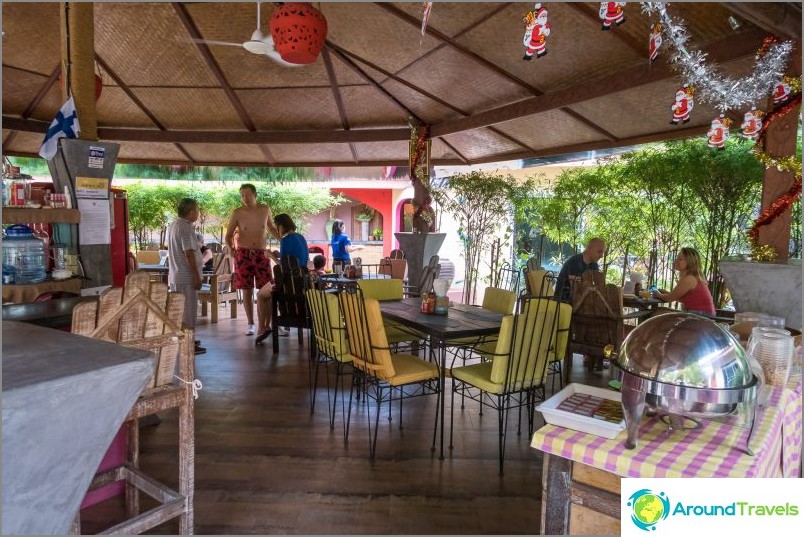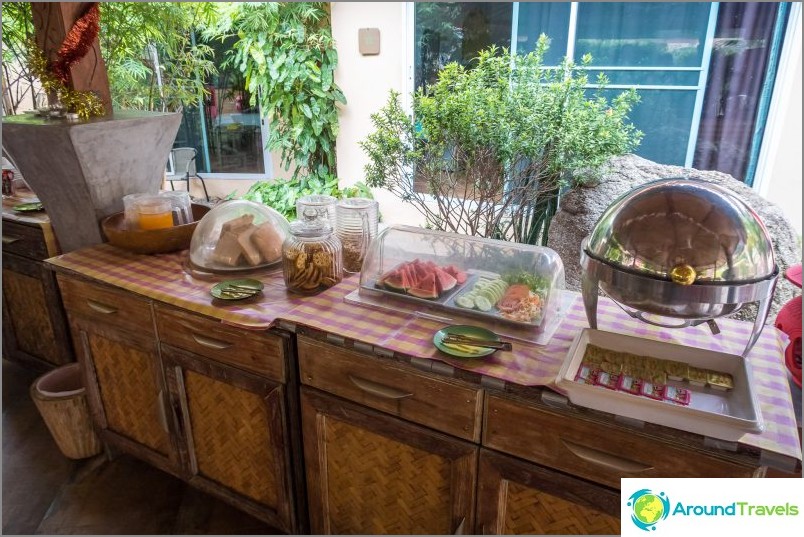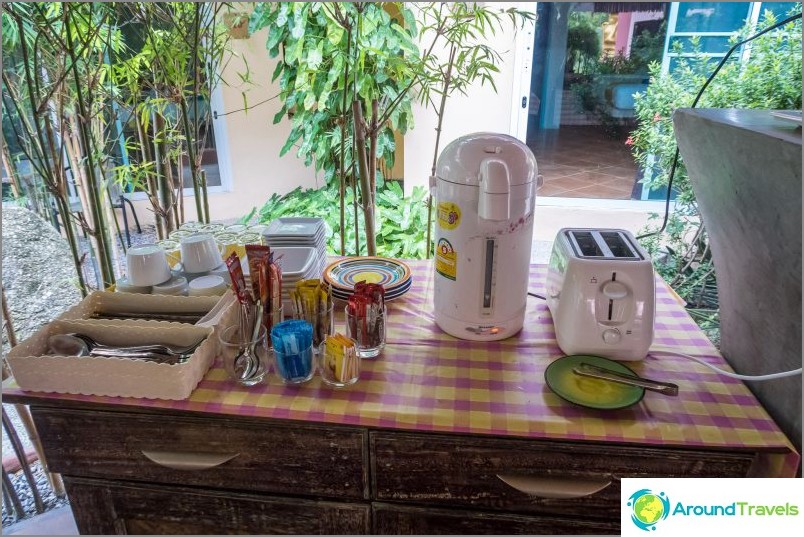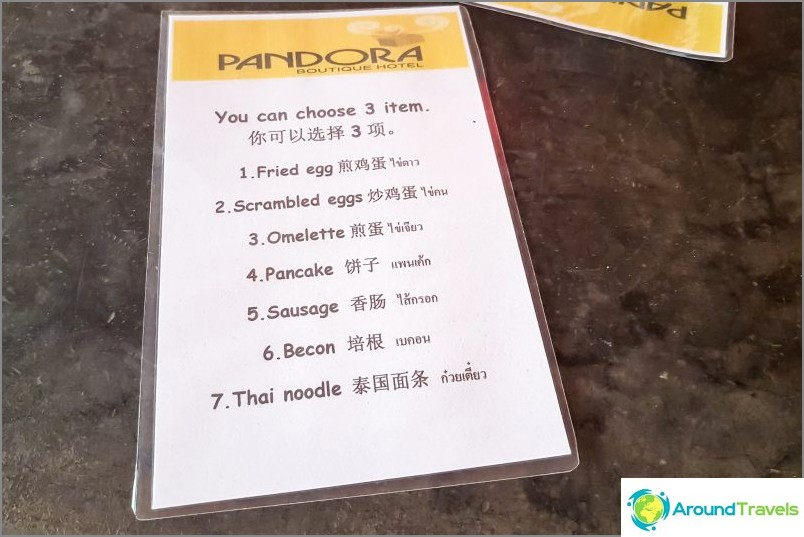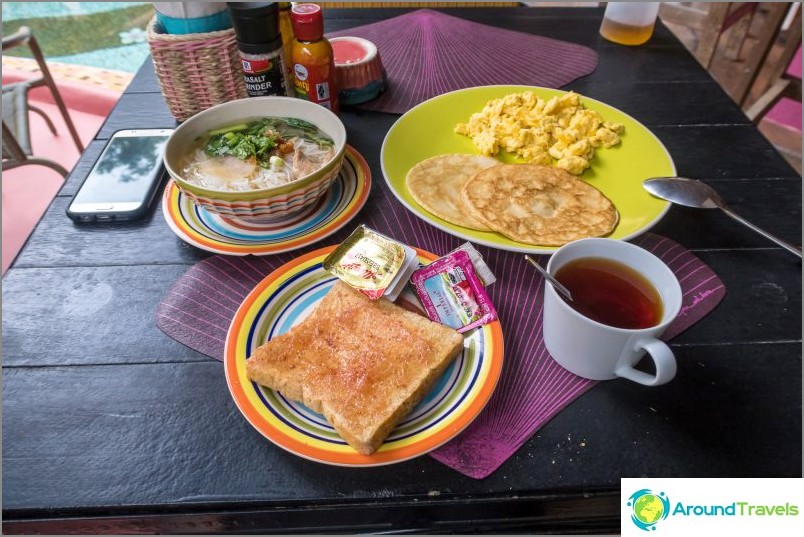 On the map
But with the location near the hotel, everything is fine. Near 7-eleven and Famaily Mart, across the road is Chaweng beach, and that part of it with breakwaters, so there will always be a quiet and calm sea. Nearby massage, restaurants, cafes, after all, this is the most tourist street on the island. And if you walk about 10 minutes you will find yourself in the very center of Chaweng (the hotel is like from the edge of the district) and nightlife. Also, about 20 minutes walk to the Central Festival shopping center.
Pandora Lifestyle Hotel
Pandora Lifestyle Hotel
Nice hotel in Chaweng (Koh Samui). Near the beach (its shallow part) and all the infrastructure is also close. It is also called Pandora Resort Hotel..
More details.
Nice hotel in Chaweng (Koh Samui). Near the beach (its shallow part) and all the infrastructure is also close. It is also called Pandora Resort Hotel..