I decided to drive through beautiful places in the north of Thailand. I have already been here, but for a long time, and since the north of Tay is to my liking, I longed to return. I marked my end point in Me Salong. And when I was looking for where to stay comfortably, I came across a hotel with a not quite standard interior and a beautiful view. Plus the hotel was very well located. In a quiet location, yet close to many attractions in the north of Taya. This option just suited me, so I decided to focus on it..
The content of the article
Price and booking
The cost for a deluxe room with two beds on one podium is 1500 baht. Here is a direct link to Wang Put Tan Hotel. A good breakfast is already included in the price. If you need breakfast for a child, then the surcharge will be 100 baht.
Hotels in Mae Salong>
You should definitely check the availability of discounts or special offers in the Roomguru service. This service will show you immediately discounts in all existing booking systems. In Thailand, it is often more profitable to book the same hotel on Agoda than on Booking.
Here's a direct link to Wang put tan
But in this case, Booking won, it came out cheaper. By the way, it is better to book in advance, as in this hotel the rooms disperse quickly and you can fly with the number. After all, the hotel is one of the best here in this price range. I just booked the last room there. And yes, do not take the Standard rooms for 900 baht, they are on the ground floor, the view will be blocked by trees.
Interior
Loved this hotel. His rating is 8.7, I confirm. The room is more than spacious, the view from the loggia is amazing! Only because of him it is worth stopping here. Actually, I think this is the main feature of this hotel and it is about it, first of all, they say in the reviews.
I liked that the windows are in the floor, or rather, they are not windows, but glazing instead of a wall, which allows you to enjoy the views of the mountains from anywhere in the room. You wake up in the morning, and in front of you is an endless valley and mountains, mountains, mountains. However, if you want a view of the mountains from your window, settle here.
The interior is simple - concrete style (not everyone will suit), but since the hotel is relatively recently built, the room is not dead or tired. Well cleaned, there were no complaints about the cleanliness. Chinese style beds - podium and mattresses. The mattresses are good, the linens are ok too. The building itself looks new too. In principle, there are few normal hotels in Me Salong, a lot of trash.
The room has a teapot and an electric kettle, 2 bottles of water, hairdryer, large TV, air conditioning. And, attention, normal green tea for brewing, not Lipton! How I love Me Salong for this, at least you can drink normal tea. In fact, there is nothing else in the room. It is a pity that the condo does not work for heating (in Tae there are such at all?), Otherwise on some days you can give oak.
The bathroom is ordinary Thai, with a shower through a concrete partition. Everything is quite simple, but clean. All sorts of shower gels, soaps, etc. were in stock.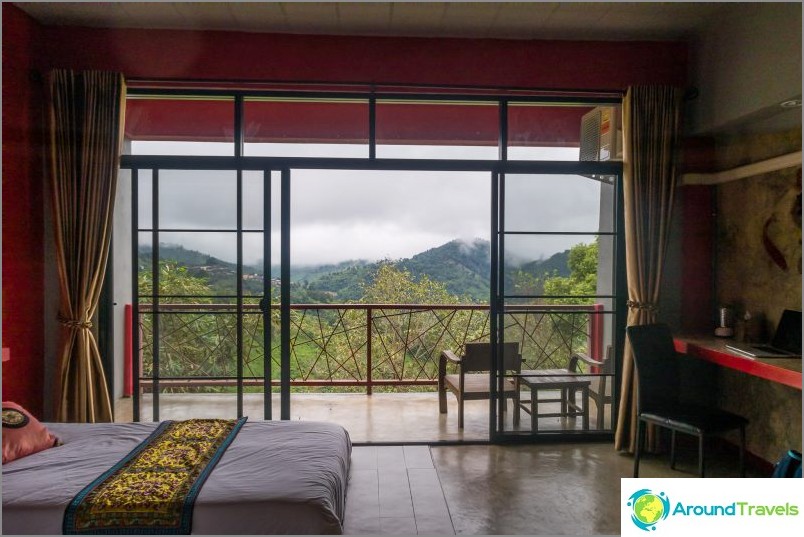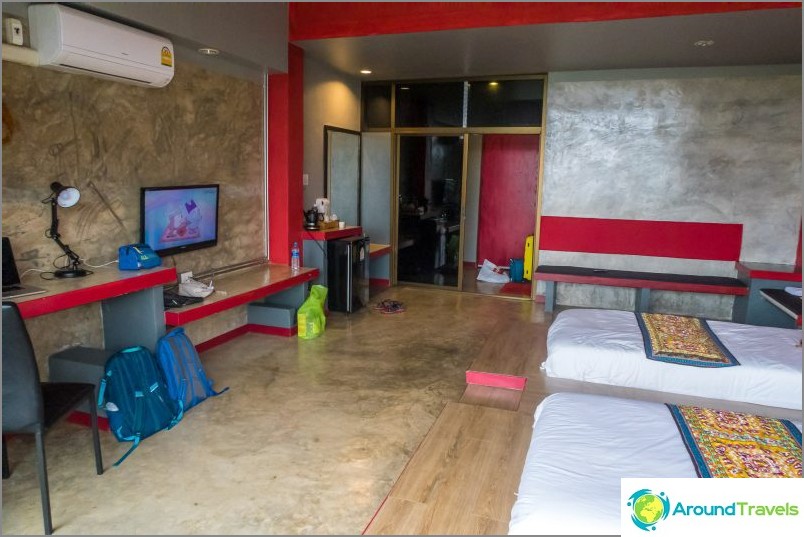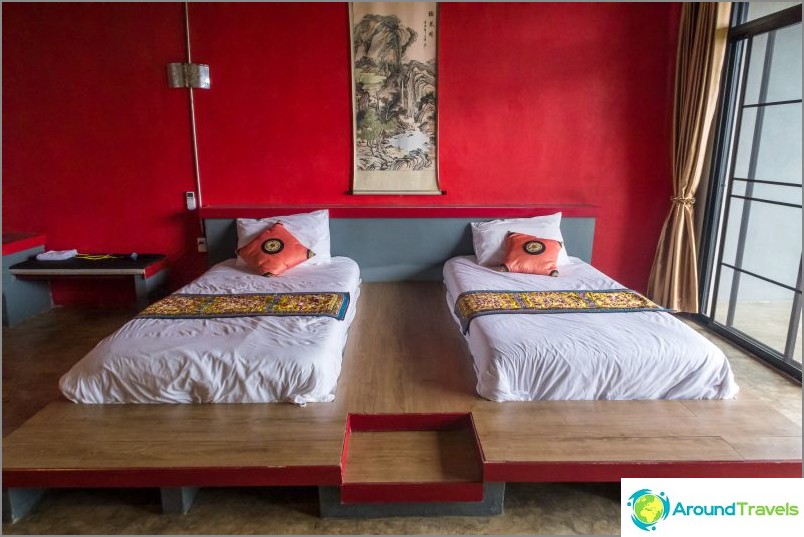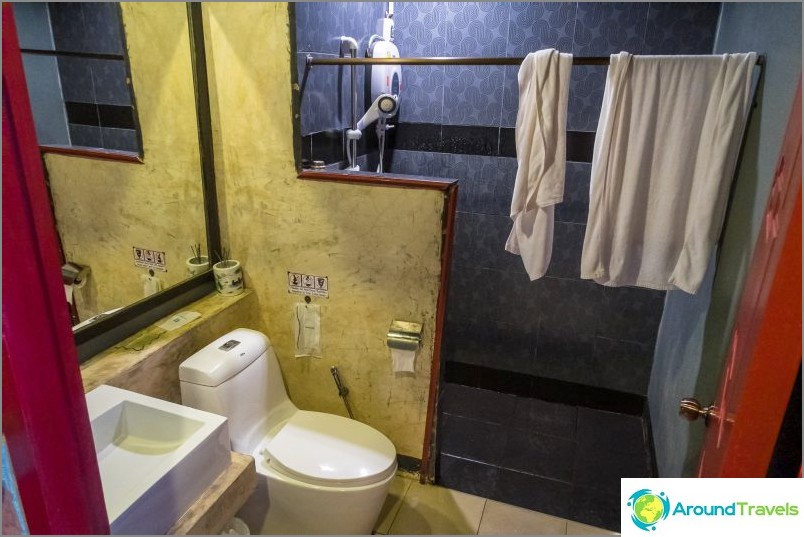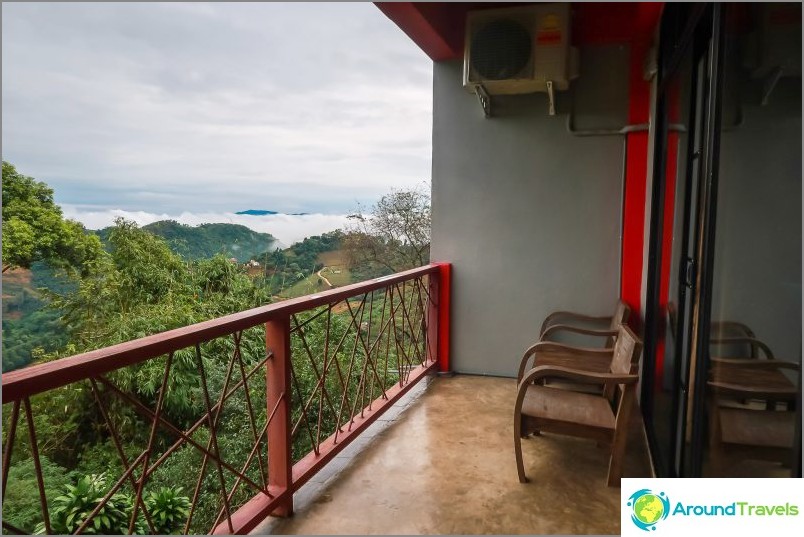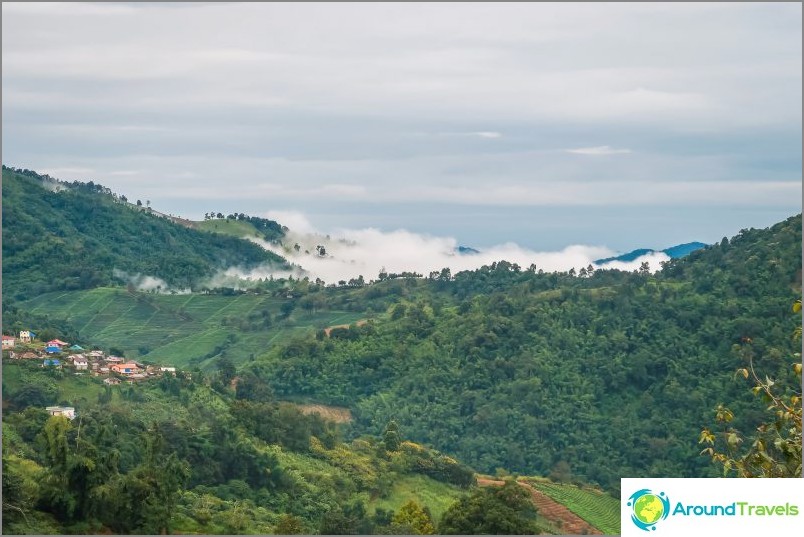 The hotel has a restaurant where you can have a delicious breakfast. Breakfasts are included in the room rate. There is no menu as such, you need to order 1 of 3 sets in advance: a European breakfast (egg, sausage, fried potatoes), a Chinese national dish (mashed potatoes with something incomprehensible there, egg pasta and deep-fried bread) or Thai rice soup.
I took the Chinese version (I know Thai food, the European version is not interesting), and I liked it. Not Thai food at all, no spices and pungency. Free access to toasts, coffee, green tea of ​​2 varieties, biscuits. There is a balcony with incredible views of the valley and mountains.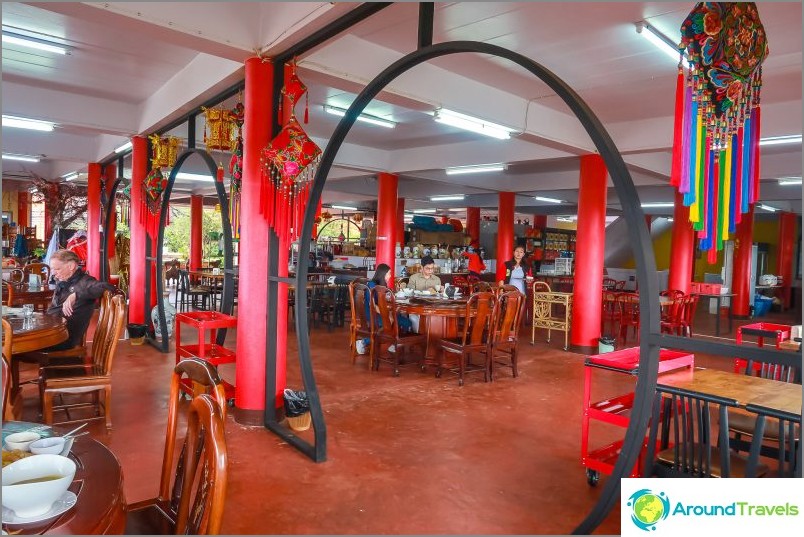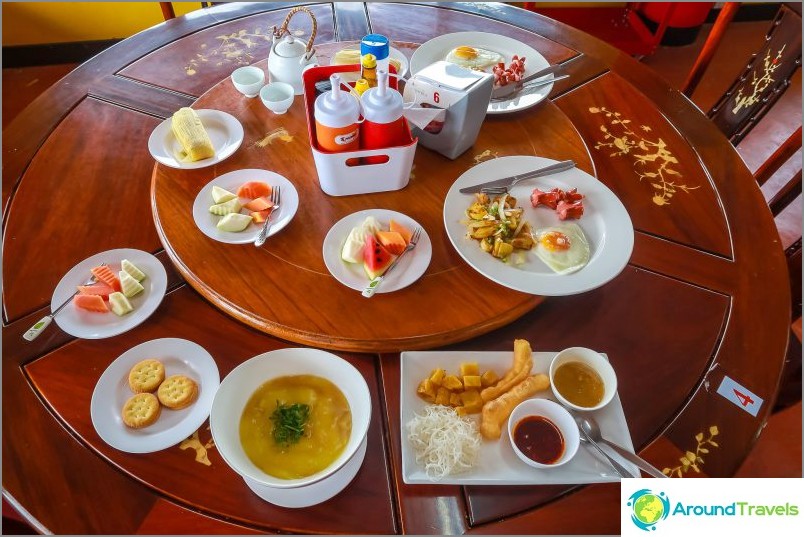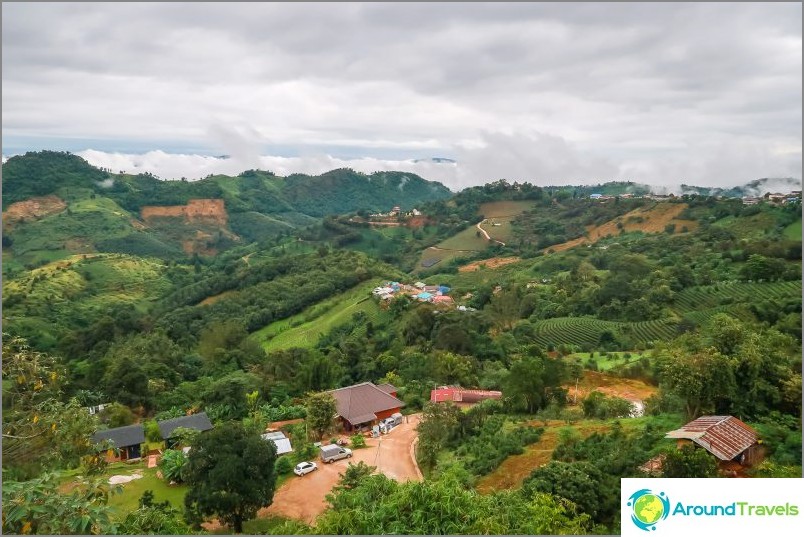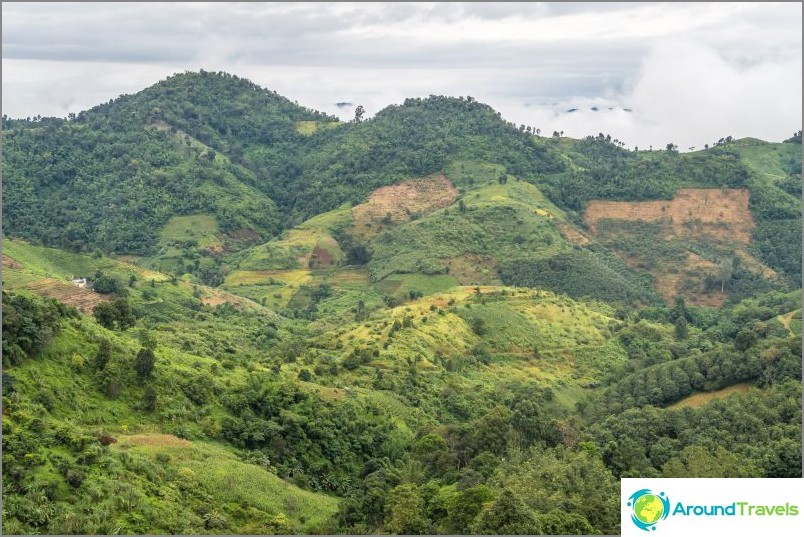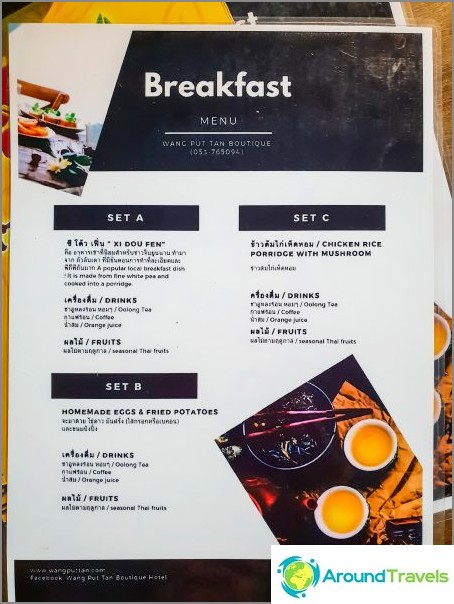 Exterior
The hotel has a Chinese-style facade. There is free parking. Good wi-fi. There is no territory, as well as a pool, but the mountains compensate for everything. If you need something more from the hotel, then there will be a completely different price tag. And they don't come here for swimming pools.
The owner speaks very good English, is welcoming and very nice. She has a tea boutique at the hotel where you can taste Chinese tea according to all traditions. I had a pleasant 1.5 hour chat with the hostess of the hotel during tea tasting (I drank oolong tea and was satisfied), after which I bought the tea I liked. There is also a souvenir shop, so you don't have to go far to get gifts for relatives..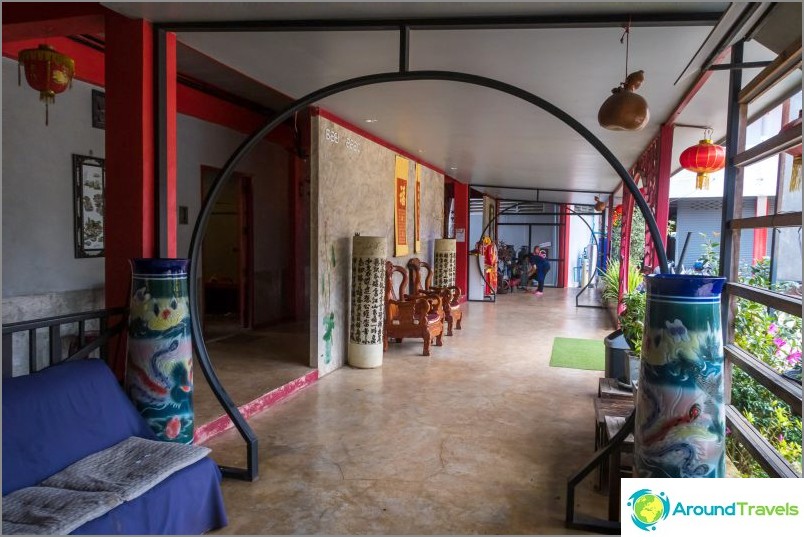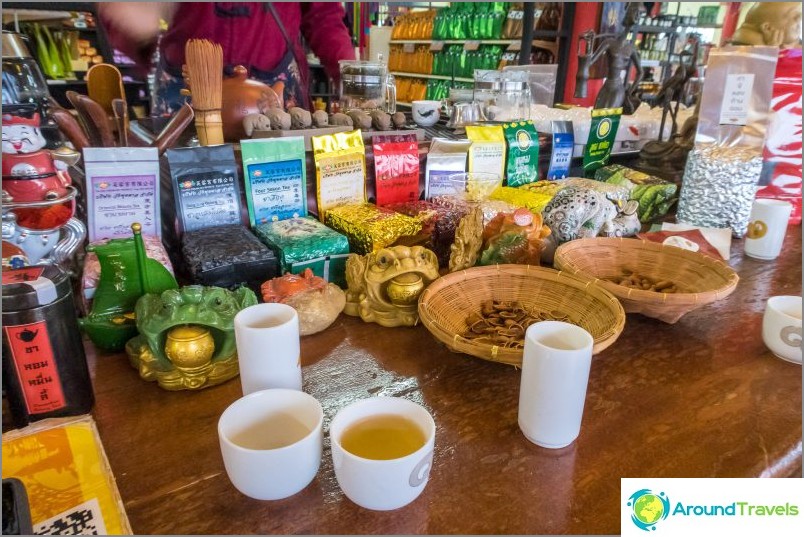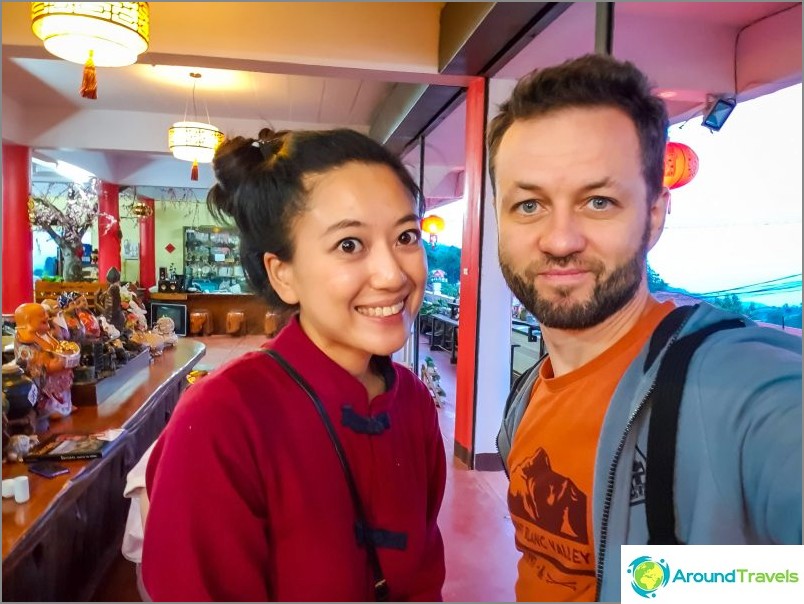 There is a 7/11 supermarket within a 5-minute walk, and opposite the hotel is a coffee shop - Sweet Mae Salong with a beautiful view of the mountains. The cafe is simple, but very pleasant, with an open veranda with a stunning view of the tea plantations and mountains. Sat there with a laptop, taking coffee and dessert. Great place to relax.
Not far from the hotel there is santikiri temple (it can be seen from the balcony), worth a visit, as well as there funny installation with large teapots.
Since I came to check in late enough, at 9 pm, I was a little worried that the staff would already be absent, in Tae people do not really like to work and leave home early enough. But I was pleasantly surprised, at the reception the same hostess, who speaks excellent English, was waiting for me.
On the map
Wang Put Tan Hotel
Wang Put Tan Hotel
Simple but good hotel. Clean spacious room with mountain views. Breakfast included.
More about the hotel

Simple but good hotel. Clean spacious room with mountain views. Breakfast included. More about the hotel
P.S. The hotel is well worth a visit, so I recommend it if you are in the quiet and beautiful Me Salong.