How many times I have been to Thailand, but still it was impossible to ride on the train, I came to the railway station, but there were no tickets, and I had to go by bus. They are also good, but since I had heard about the Thai reserved seat for a long time, I decided that this time I would definitely go to Chiang Mai by train. And along the way, the intention turned out to be strong, which is why it turned out that way..
In general, I liked everything, the reserved seat is, indeed, much more convenient than the usual one. But the trains are shabby, a little dirty in the carriage itself and in the toilet, about the same as in our non-branded trains. It may be more civilized in the first class, but I went in the second. So not for backpackers and aesthetes, it is better by airplanes, especially since the price is comparable (with the first class). But the railways of Thailand are very, very comfortable to travel around the country.!
The content of the article
Buying a ticket
How to buy a train ticket online
Recently a website (Russian, English) has appeared where you can book and buy a train / bus ticket - 12GO.asia. It is now the only such service. Very comfortably! And then after all at the office. The Thai Railways website has long since stopped selling tickets. Payment by card or PayPal.
A bus ticket is electronic, but a train ticket must be obtained in real terms, either at the agency's office (several points), or by mail. You also need to know that Thai railways do not have a ticket base as such, so you need an original ticket that cannot be lost, because it cannot be restored..
Railway tickets in Thailand>
At the register
Electronic train tickets do not exist, therefore either through the agency (see above), or immediately at the ticket office at the station. It is better to buy at the box office in advance, as I already wrote, several times I could not leave on the day of departure, there were no tickets.
Here is the official website of the Railways of Thailand - http://www.railway.co.th which has train times and prices.
Reservation by phone or mail
I have not tested the option, since I usually need a ticket a week before the trip. You can book your ticket directly with the Thai Railways via email passenger-ser@railway.co.th or fax +6622256068. The service costs 100 baht and is available for tickets within 15-60 days prior to the departure date. The request must include your surname, your email, route, class, bottom / top shelf, train number, departure day and time, number of passengers. You will receive an answer to your email, but it can take a very long time to answer, and 2 weeks, and a month, so do it as soon as possible. You will need to pay for the ticket at the box office Hua Lumphong Railway Station in bangkok.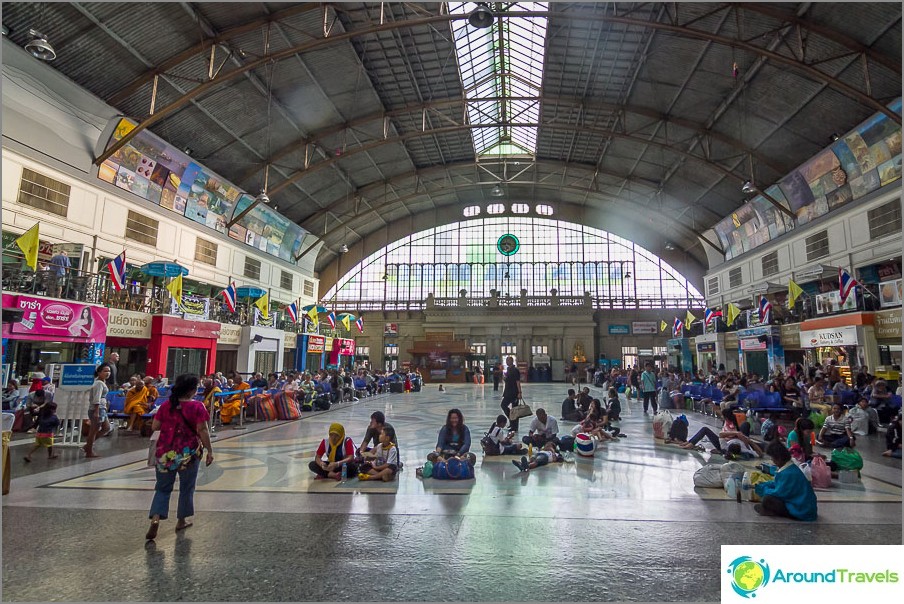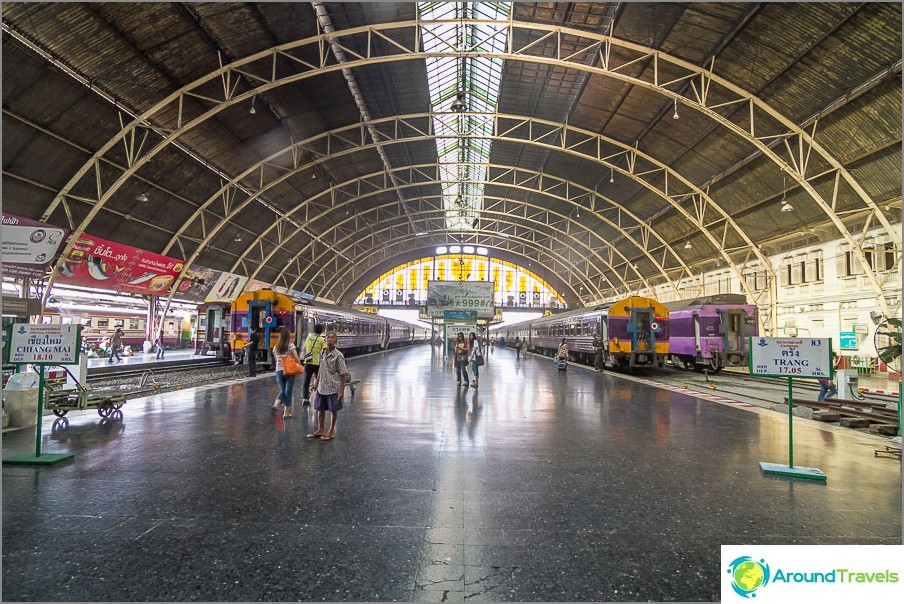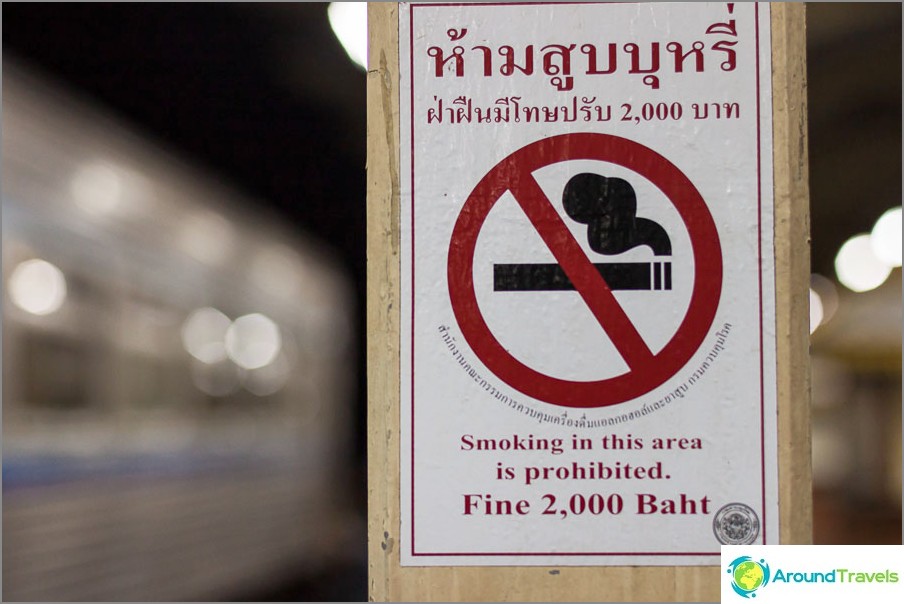 About Thai trains
Classes
Platzkart cars (second class / second class) are of two types: when all the shelves on each side of the aisle are side (my case), or only ordinary transverse shelves without side ones, like our compartment, only without doors. The thing is that Thai cars are narrower than ours, so the transverse + side shelves do not fit in them, as in our Russian reserved seats. The second class comes with air conditioning (a / c) and with a fan (fan), as well as seated with a / c and fan. Seating as in our drop-back express trains.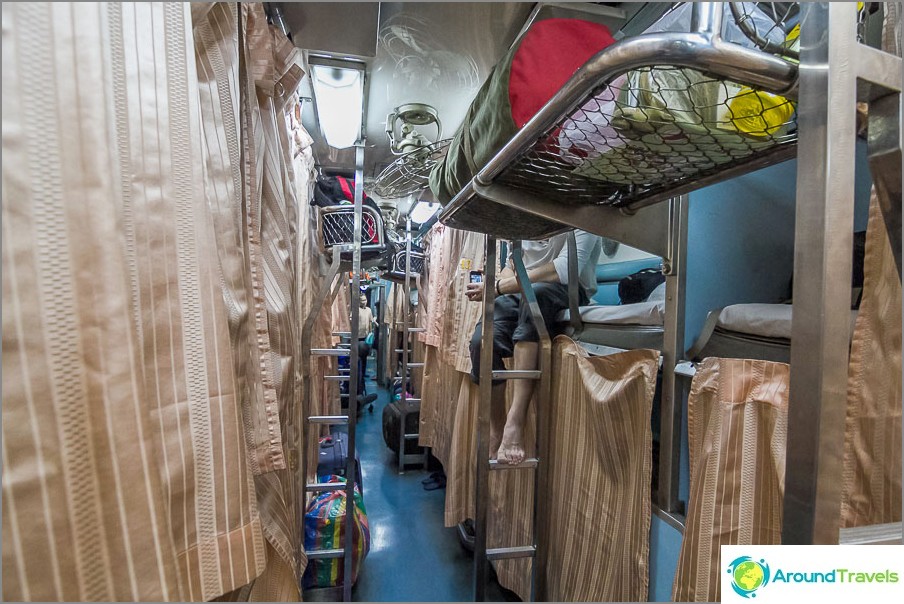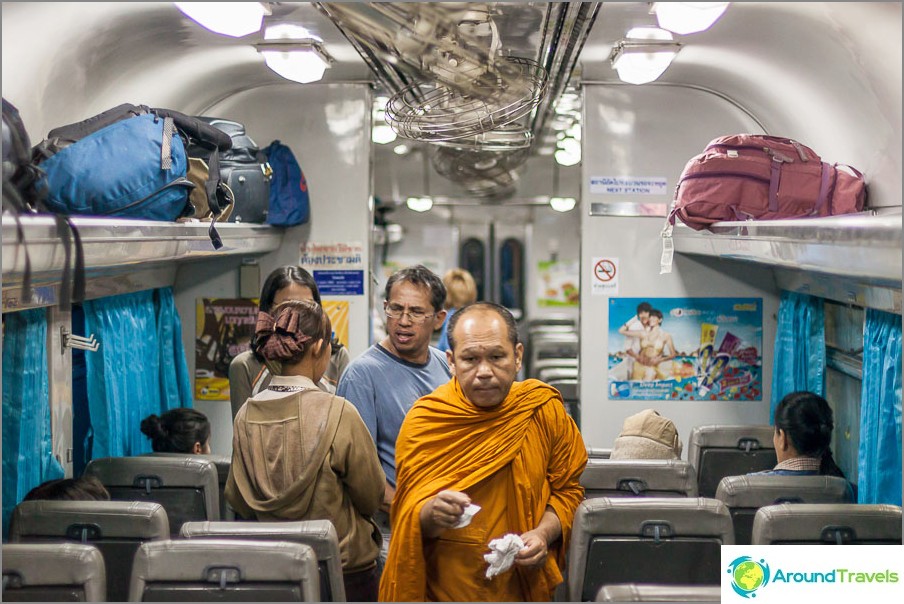 In addition to the second class, there is also the first (first class). It looks like our compartment, only there are only two shelves: lower and upper, and there is also Room first class, when there is only one shelf. The third class is very similar to an ordinary Russian electric train with wooden or leatherette seats..
Interior inside
The fact that the carriages are narrower is even good, fewer people travel. But that's not even the point, comfort is achieved due to wider shelves and curtains! It is clear that the width of the berth may not have been designed in Russian trains, but the curtains are a penny solution, why didn't anyone think of it ?! I immediately remember how we hung with sheets to get a private area 🙂 True, this did not go well with the lack of air conditioning, although without a sheet you can sometimes suffocate if you go south in the summer. By the way, I thought that the air conditioner would blow mercilessly (a standard situation for Thailand), but in fact it turned out that the sweatshirt was enough, and then only because I was already used to the heat.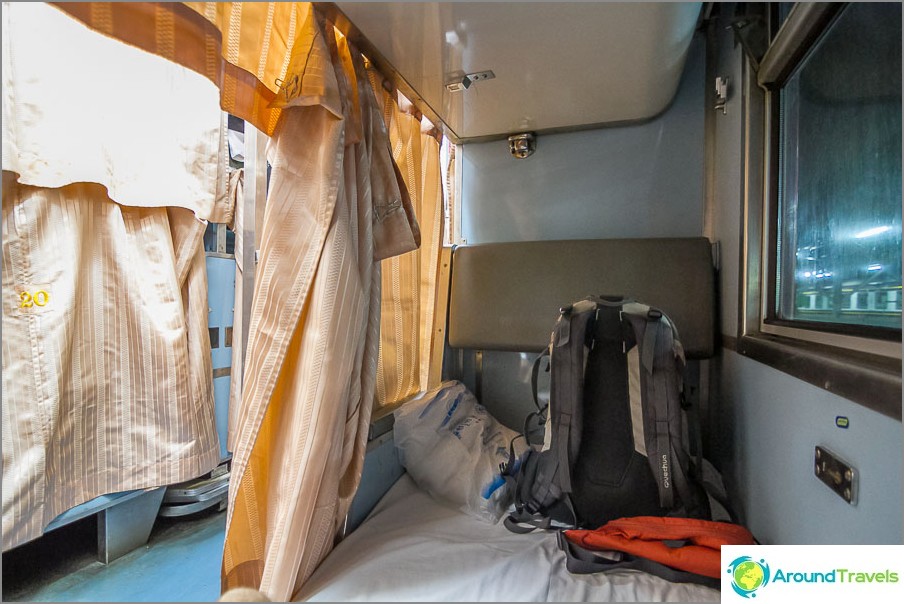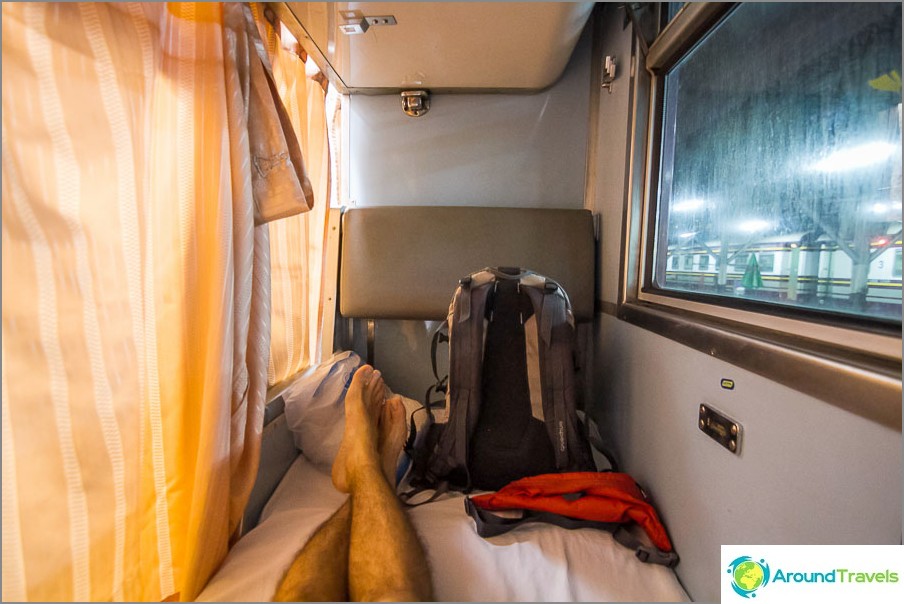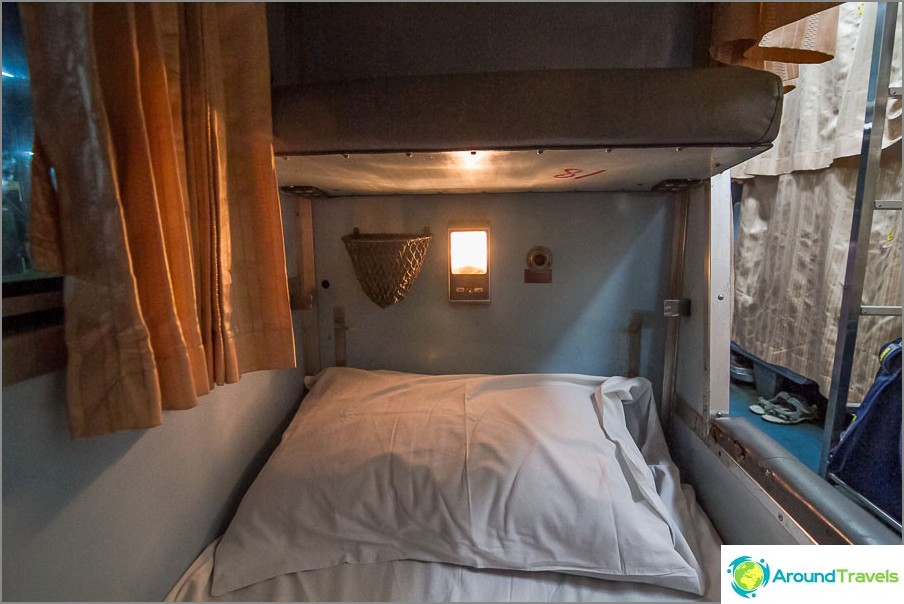 I had a bottom shelf and it is quite comfortable to sleep on it. Perhaps only too tall people will have nowhere to put their legs (it is not designed for too tall people), but it seemed to me that the shelf is slightly longer than our side ones. You put your things in a special place in the aisle, and not under the shelf. On the one hand, it is not so safe in terms of theft, on the other hand, easy access. By the way, I really liked that there is also a special place for things on the upper shelves, and it is not above your head, but also in the aisle. And so there is no third luggage rack upstairs to bang your head against.
When I entered the carriage, the shelf was already covered, it's nice that you don't have to fiddle around. In the morning I got it together and got two seats and a table. Well, more precisely, I did not hang up the table, but I had it.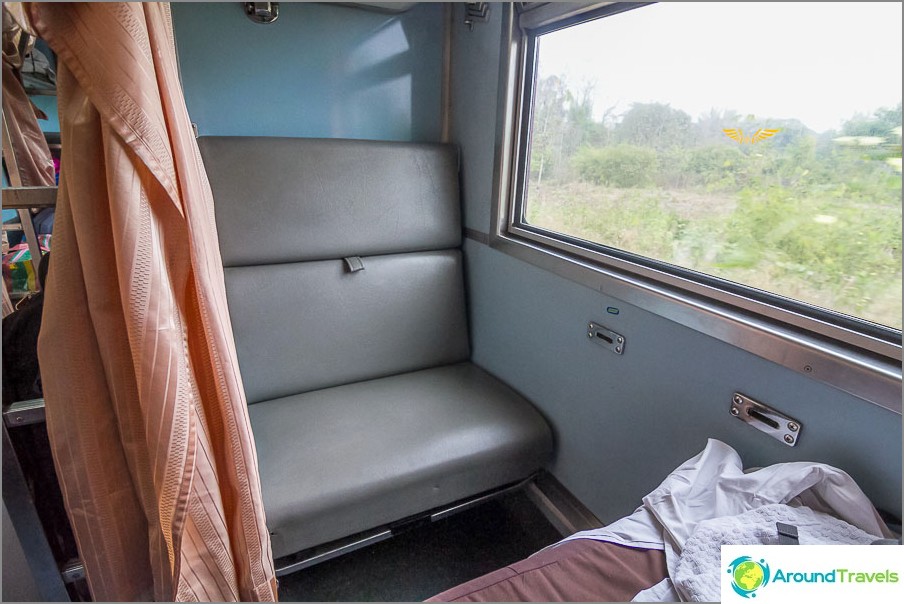 Another unusual moment - there is no titanium with boiling water. Well, if you suddenly decide to take with you infusions and tea bags. But there is a restaurant car, where the prices, although higher than on the street, are quite reasonable. Plus, at some stations, grandmothers will come in and offer food, however, the range is small.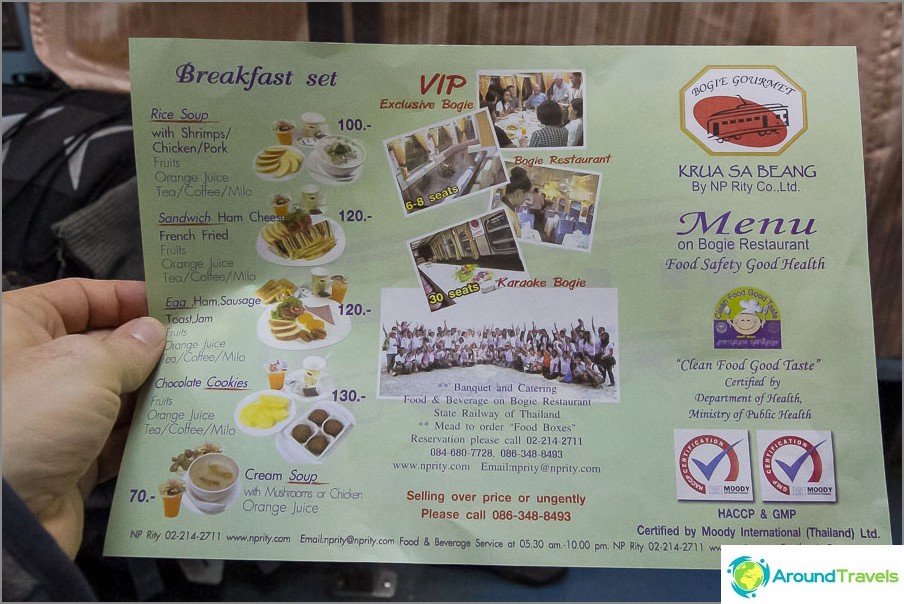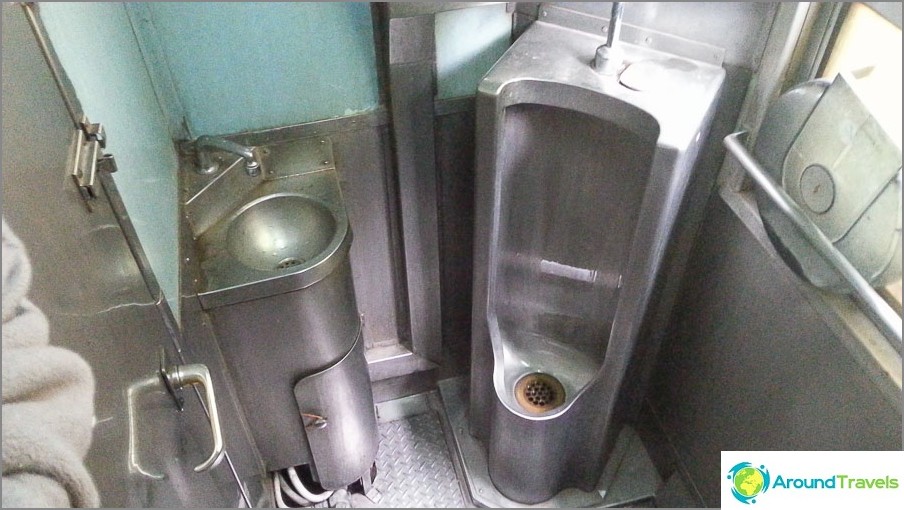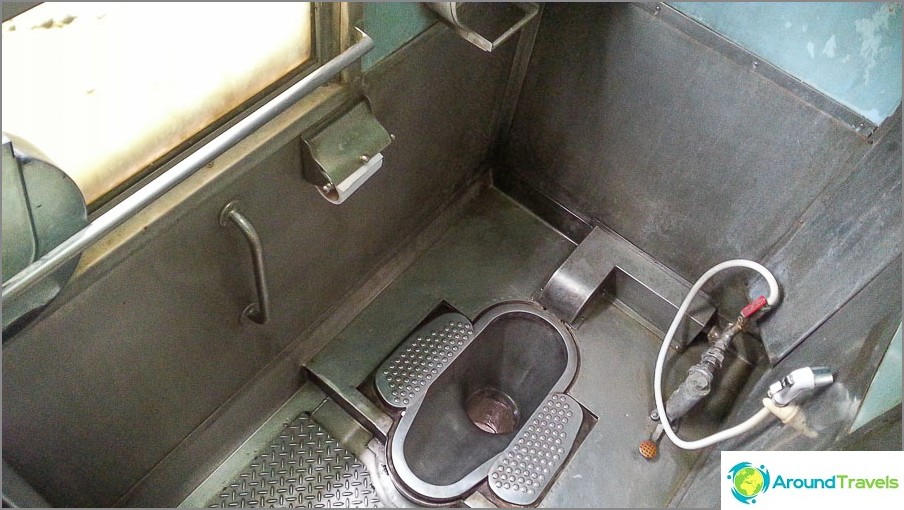 Thai train fares
The Lower bed is always more expensive than the Upper bed in the first class and in the second. A ticket to Chiang Mai from Bangkok costs:
On the upper shelf of the second class with air conditioning 750 baht, on the bottom 820 baht
On the top shelf of the second class with a fan 530 baht, on the bottom 580 baht
Second class seated with air conditioning 540 baht
Second class seated with fan 430 baht
Third class sedentary 270 baht, reminiscent of an electric train
There was no first class on my train, but in others it is, and the ticket costs 1253/1453 baht depending on the shelf, or 1950 baht with one shelf in the compartment
Children's tickets (from 3 to 11 years old) are 100-200 baht cheaper than the main ones, up to 3 years old are free.
It is about 800 km from Bangkok to Chiang Mai, so that the ratio of cost and distance is clear. If my memory serves me, then Russian trains are 2-3 times more expensive, and are constantly getting more expensive. Tickets for Thai trains have not risen in price at all over the past 4 years..
And if we talk about the price of first class and compartment trains in the Russian Federation, then in general the difference is even greater. But in Thailand, it seems to me, it is easier to fly by plane than first class, a little more expensive (usually 1500-2000 baht), but many times faster. And any seating places are suitable for some extreme lovers, because not everyone wants to sit for 15-18 hours (comfortable bus it takes only 9-10 hours). In my opinion, if you want an Asian flavor (it is in cheap seating places), then you need to choose a short distance, and not a long route Bangkok-Chiang Mai or Bangkok-Surat Thani.
Speed ​​and time
Despite the fact that you can sleep well on the train (if we are talking about recumbent seats), it is worth knowing that trains in Thailand are not as punctual as ours. Starting from the fact that you can wait for departure at the station for 2-4 hours, ending with the fact that it will arrive in the city of destination a few hours later. For example, my train left at 22 o'clock, and was supposed to arrive at 12 o'clock, and arrived somewhere at 16. bus Bangkok-Chiang Mai usually rides about 10 hours and strictly according to the schedule.
Moreover, the situation with train delays is not nonsense, but the most ordinary one. It seems to me that every second (or even every first) train is late. Apparently, only the poor strata of the population travel by trains because of the cheapness and they have nowhere to rush. Especially, this concerns the third class, there the price is generally penny.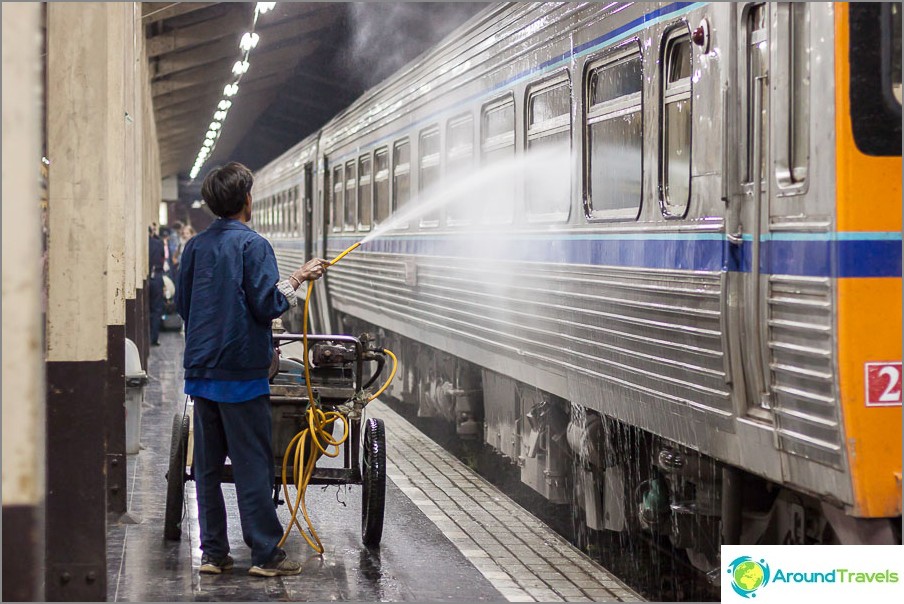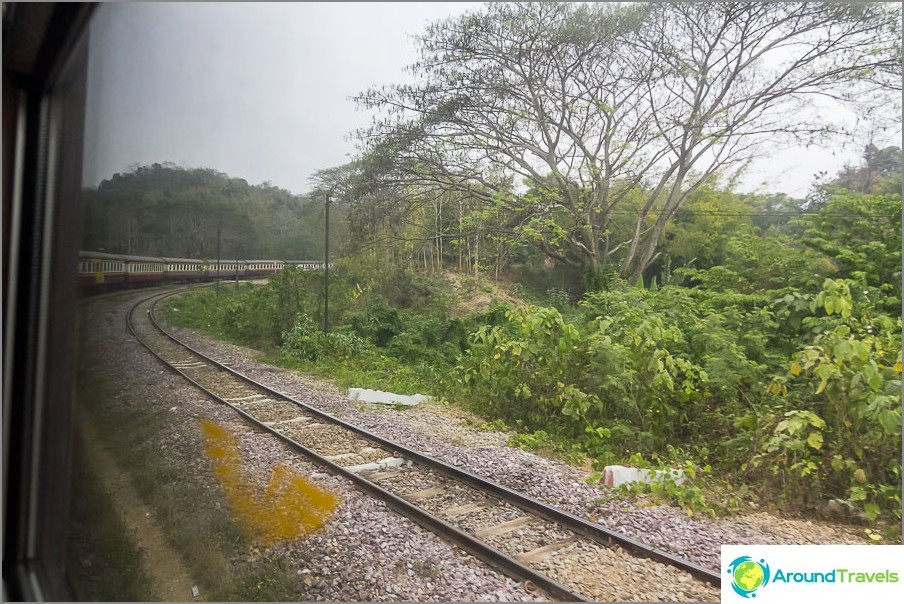 Thailand rail map