There are several ways how to get from Bangkok to Chiang Mai in order of increasing cost: bus, train, plane. Obviously, comfort also rises as the price rises. The fastest and most comfortable - plane, train is one of the longest ways, but you can sleep like a human. The bus goes faster than the train, but sitting down to sleep is not for everybody. You can also get there by car. The way back is described here: How to get from Chiang Mai to Bangkok.
The content of the article
Airplane from Bangkok to Chiang Mai
The most expensive way, but the most comfortable and fastest, especially if you transfer directly at the Bangkok Suvarnabhumi airport after arriving from Russia. I have not seen direct flights to Chiang Mai from Moscow, but if you initially need to go to Chiang Mai, then look at flights with transfers, you will save money. They often cost the same as just Moscow-Bangkok.
You need to know which of Suvarnabhumi airport low-cost airlines do not fly, so the price of the flight will be higher than if you were flying from Don Muanga low-cost airlines AirAsia or Nokair. You can get from Suvarnabhumi to Don Muang in 30-60 minutes by taxi or free shuttle bus. Read the links about airports, everything is written in detail there, I will not repeat.
First of all, tickets can be searched through good ticket search engines for all airlines Aviasales.ru and Skyscanner.ru. There are both regular regular flights and low cost'NS. Airfare starts from 1000 baht and sometimes there are promotions.
You will arrive at the Chiang Mai airport, it is there alone and is located within the city limits. Next, take a songteo or tuk-tuk and go wherever you want. The center of Chiang Mai (square) can be reached in 15 minutes, there is not far.
Train from Bangkok to Chiang Mai
How to buy a train ticket online
You can buy a train ticket both at the box office of Hua Lampong and at any travel agency on the streets of Bangkok. In my opinion, if you are going to buy tickets from an agency, it is better to do it in advance and via the Internet. Only 12Go.asia now has such an opportunity. Payment by credit card or PayPal. The train ticket is not electronic, it is imperative to get the original, either at the agency's office (several points), or by mail. Unfortunately, Thai Railways does not support e-ticketing.
Railway tickets Bangkok-Chiang Mai>
Train station and schedule
You can also get to Chiang Mai by train, but it will be a little more expensive than by bus and there are often no tickets for recumbent seats (there are almost always seated ones) day in and day out, especially on holidays. You need to buy in advance, preferably a week in advance, but if you arrived today, then this is not an option at all. The cost of a ticket for a reserved seat with air conditioning is about 800-900 baht. Please note that if there are no train tickets, local helpers will offer you to leave by bus, but the prices there will be twice as high as if you go from the Mochit bus station. Moreover, most likely they will say that there are very few tickets and you will not leave. We got caught like that for the first time. More about trains in Thailand.
You will need Hua Lamphong Railway Station, which can be reached by subway. The station is also called Hua Lamphong (MRT), it is the final one, you can't go wrong. Underground branch MRT. Post about Metro.
Hua Lamphong Railway Station
Hua Lamphong Railway Station
Train station in the heart of Bangkok
Train station in the heart of Bangkok
Bus from Bangkok to Chiang Mai
How to buy a bus ticket online
There is a site that is one of a kind - 12Go.asia. It makes it possible to buy bus tickets over the Internet. Almost all bus companies are present at it, so there will be a choice. But there are not all directions, only popular ones. You can't buy a ticket to some city in a remote province. Payment by credit card or PayPal, electronic ticket, very convenient!
Tickets Bangkok-Chiang Mai>
Car transporter Mochit
Buses to Chiang Mai from Bangkok run from MoChit Bus Station. There are day and night flights, they go almost once every half hour. As a rule, there are always tickets, but if you need to leave at a strictly defined time or in a certain class, then of course it is better to buy in advance, especially during the period of Thai holidays. It takes 8-10 hours to go. The ticket costs 400-800 baht, depending on the class (vip, 1, 2). The second class (second) is the cheapest, and the cheapest bus company is Goverment bus (just 400 baht). All buses are good and air-conditioned (compared to those that travel the same distance across Russia). But on a night flight, I would advise buying tickets at a higher price Vip-24, Vip-32, Vip first class.
MoChit North Bus Station is a 15-minute walk from the Mochit (BTS) and Chatuchak Park (MRT) metro stations, they are close by, one overhead (BTS) and one underground (MRT). If you are coming from Suvarnabhumi Airport, take the City Line (a branch from the airport to the city), get to the Phaya Thai station, where we change to the Skytrain line and reach the Mochit station. You can take a taxi, but the choice is yours. How to get from the metro can be seen on the map below. If you don't feel like going, you can take bus 138 or tuk-tuk.
In Chiang Mai you will arrive at the bus station Arcade Bus Terminal. Further, the easiest way is to take a songteo and for 20-60 baht get to the desired point in the city. As a rule, they go to Old City, this is the central part of the city, located in a square (a large square-shaped moat that encircles the city center). There are all cheap guesthouses, as well as cafes..
Nakonchai Air (NCA)
First Class (21 seats) - 876 baht, buy only 2-3 weeks in advance, otherwise it won't. Wide leather massage seats (3 seats in a row).
Gold class (32 seats) - 657 baht, on weekdays there is a couple of hours before departure, on weekends and holidays you may not be in time. Comfort for more than an average person.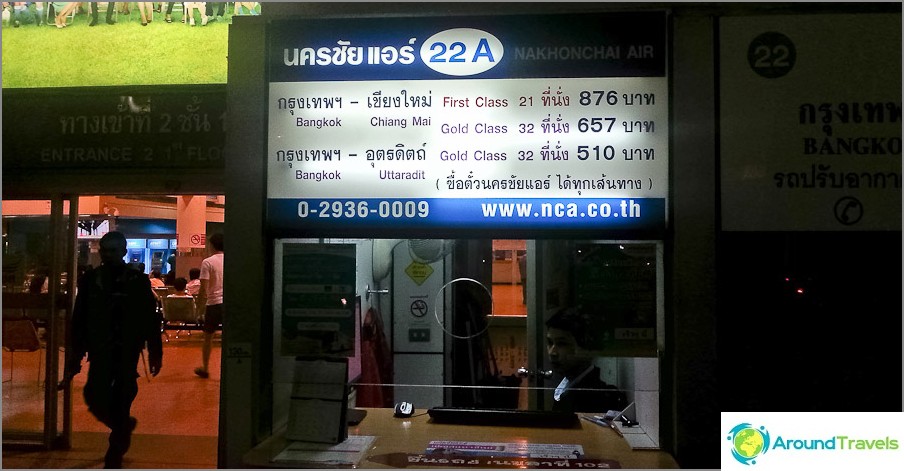 Sombat tour
Vip-24 - 789 baht, it is also better in advance, but there are more flights, you can really catch it in a couple of hours. Wide massage seats, individual screens (3 seats in a row).
Vip-32 - 657 baht
First class (40 seats) - 563 baht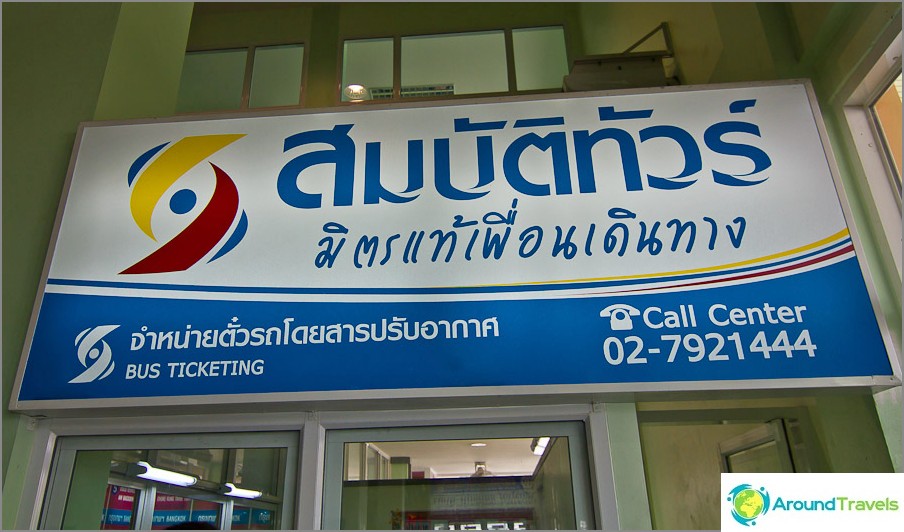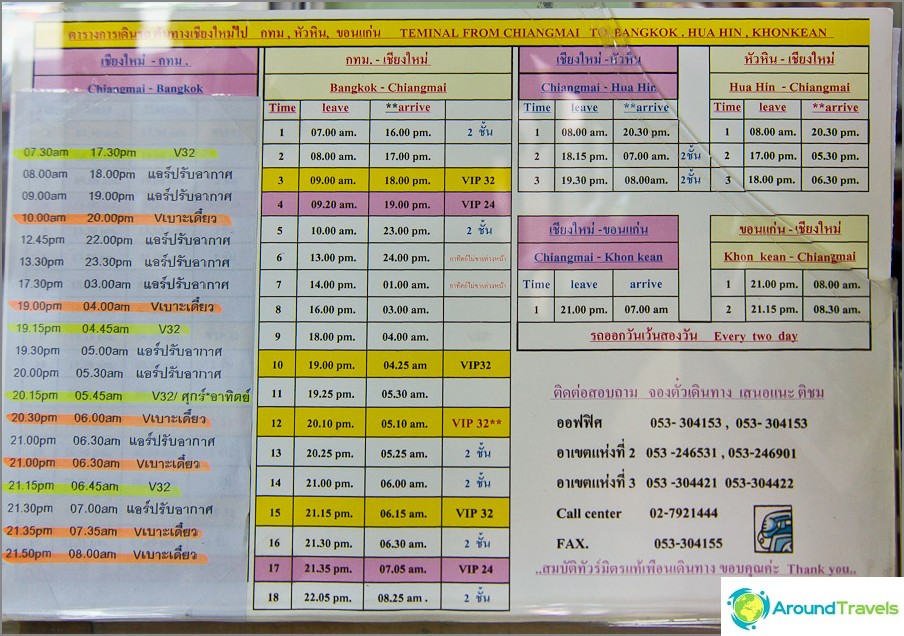 Transport 999
Vip 876 baht (20.00, 21.00)
First class 563 baht (18.30, 21.40, 23.00)
Second class 438 baht
By rented car
Probably, it makes sense to consider this way to get to Chiang Mai as a separate trip, because it is far enough to go, and if you have cheap air tickets (this is not Samui for you), you can quite fly away by plane. However, if you go by car, then you can stop at a bunch of places along the way, in Ayuttayu the same, or in Sukhothai. In detail all the nuances of renting I already described. By the way, you can take a car at Chiang Mai airport as you wish. It will also be convenient, you can drive around the north, I have already done this many times and I want more.
Rent a car with a discount>
You need to take a car through a trusted economybookings broker, it is cheaper through them than directly. Plus, he will immediately show on his website all offers from international distributors in Thailand. And insurance without a deductible can be donated free of charge. I usually take cars from Hertz, as I often give the car at another point, and usually other companies charge a commission for this. Hertz doesn't take anything if you take it for a period of 5 days or more. And just on the aggregator's website it is convenient to compare what will be more profitable, with Hertz without a commission or with another company with a commission, but cheaper by the day.
P.S. If you are looking for accommodation in Chiang Mai, I remind you that we have review of 22 guesthouses in Chiang Mai. Or you can search and book a hotel in Chiang Mai on the service RoomGuru.