Traditionally, for such a plan of articles, I remind you: this is not a detailed guide to action, with a schedule of work and prices. Such information is better known to the direct organizers of entertainment, and what is typical - all this info changes from year to year and from season to season. The main ambassadors of this article are to give you an idea of ​​what else can be done in Krasnaya Polyana and the surrounding resorts in the winter. There is something to do here, that's for sure.
However, no one bothers to go to Sochi or Adler, warm up (there will be no snow) and see more famous sights - My TOP15 dostov in Sochi.
The content of the article
Estosadok and Gorki Gorod
Winter entertainment Gorky Gorodi is primarily about climbing a slope using a funicular and descending on skis or snowboards. Therefore, we will not focus on the main winter activities, but move on to those that athletes usually remember in the second place. Well, or not the athletes themselves, but those who kept them company on this trip.
Unlike summer holidays, in winter you will not have so many opportunities for hiking in the mountains and picnics in nature do not look so attractive. However, there are enough winter recreation options in Gorki Gorod so as not to get bored during your vacation..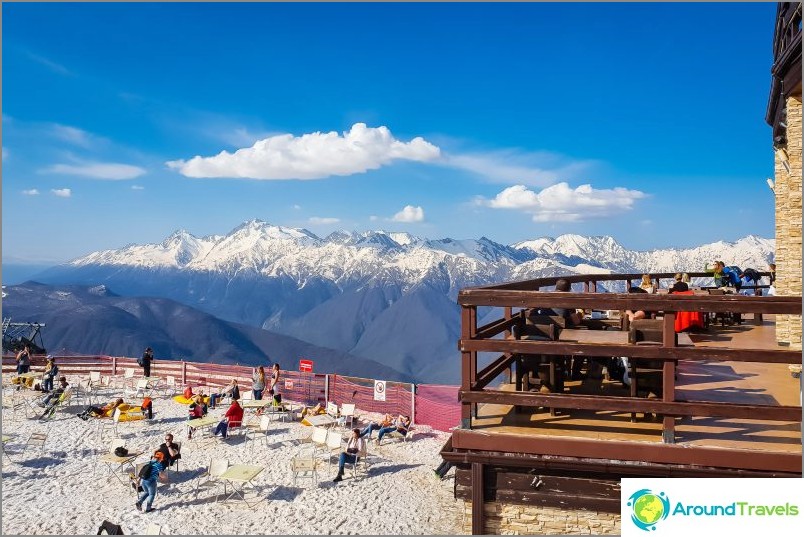 Husky Center?
The Husky Center is a kennel with a few more entertainment options for tourists. In addition to the dogs themselves, there are introductory and educational excursions for you, dog sledding and contact with huskies. Shoot around with them, pet them, watch them bite or chase the dog people while feeding. The smell is specific, but the atmosphere is quite positive. Located at an altitude of 960 meters, in the Upper Town.
Tubing
At an altitude of 960 meters, in the Upper Town of the Gorki Gorod resort there is all-season entertainment, which is especially important in winter, and let's put it bluntly - only in winter, descending from a slide for our person looks like a natural pleasure.
Unlike summer tubing, cheesecake descent here takes place on dense snow, and not on fluffy plastic. And this is a completely different speed and emotions.
Mountain Beach Water Park
Gorki Gorod is the only resort town where you will find a full-fledged shopping and entertainment center, even by metropolitan standards. Everything would be prosaic if inside the Gorky Gorod Mall, in addition to boutiques and a food court, there was not a whole set of all-season entertainment, the largest of which is a water park with a real sandy beach. Beach games, pools and jacuzzis, Finnish saunas and massages, animators and entertainers are also prepared here for you..
Snowshoeing
You can safely call it snowshoeing. Now this strange word is gradually coming into use at the resort, combining a purely Russian «snowshoes» and an English ending for action. Snowshoeing is perhaps the only option after skiing for hiking on the snowy slopes of the mountains. The fun is not easy, but it allows you to move in any direction without falling into the snow up to your waist.
Free Ice Skating Rink
An open ice skating rink was built to the left of the main lift of the Gorki Gorod, at an altitude of 540 meters (that is, in a valley by the river). The main purpose of the skating rink is mass ice skating in a circle. For this, a rental point was set up here, skating instructors and figure skaters were hired, and places for changing clothes were equipped. With your skates, you can easily and free of charge, which is much more pleasant and beneficial for the health of the legs..
Esto-Sadoksky bridge
A local semi-attraction, in relation to which the local newlyweds have a belief (fresh) that walking across the bridge and leaving a castle with their names on it, they receive bonuses to a long and happy family life. The key to the lock is thrown into the river, as expected..
Tammsaare Museum
A small private house on Estonskaya Street was converted into the Anton Tammsaare Museum. Tammsaare is the most widely read Estonian writer of his time, who underwent medical treatment in Sochi for two years. Inside, there are expositions telling about the founders of the village, their way of life and history. Dishes, utensils, examples of home clothes, musical instruments and other authentic hand-made items. Open on weekends.
Pyramid in Esto Sadok
A wooden structure, during the construction of which nails were not used, which, in the conditions of modern development of materials for fastening, has long ceased to be a sensation, to be honest. A thousand years ago - yes, it was nonsense, a construction genius. And now - plastic ties, glue, drills and milling machines - boring.
The pyramid seems to exactly copy the tomb of Cheops, on a scale of 1:29. Built according to the project of Professor Proskuryakov, although I googled who this professor is and did not find information about where and in what area this person received a scientific title.
Rosa Khutor
The main resort of Estosadka, where, in addition to mountain slopes and funiculars, there is also a whole valley with built-up banks of the Mzymta, where you will find all-season entertainment for yourself and your family.
Only walks in Rosa Valley will not be so long because of the cold and snow, but a whole range of coffee shops and cafes of different levels are always at hand. And do not forget about the Olympic Village - it is quite a full-fledged resort town with a lot of active and passive attractions.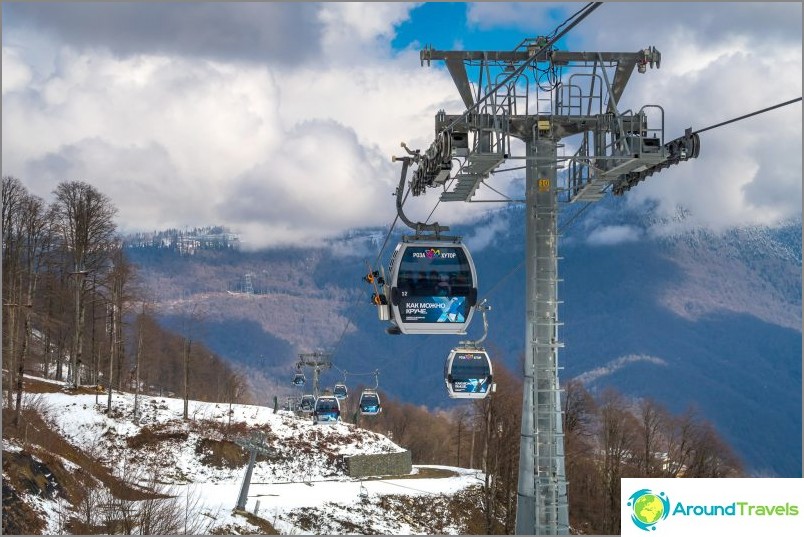 Obstacle Park The Stash?
Once closed and unknown to the masses, a park in the forest on the slope of a mountain, where many obstacles were made from natural materials - stones and logs. Well, iron, of course. Moreover, during the construction of this place, no major changes were made to the landscape, and all the details of the park are organically built into the surrounding nature. Cable car «Daphne» help you.
Evening skiing
Evening skiing is like day skiing, only in the evening and on illuminated trails. As you understand, the lighting of the tracks is a costly and rather difficult business in the mountains, but every year there are more such tracks, which is good news..
In particular, Rosa Khutor offers evening skiing on the tracks: Chalet, Juventa, Rosa Blade and Rosa Star. All four slopes are of varying difficulty, from green to red. What is interesting about skating in the evening, what attracts athletes to it? Few people and a flat slope is at least.
Evening sledding
More light, adult and children's entertainment on the illuminated B-52 highway, although children under 10 are not allowed here. Toboggan tickets are sold for Rosa Plato at the Berloga box office. If you are at the word «sled» imagine something aluminum, with a pop-up back and on a string, then get it out of your head. The sleds will be large, wooden, with round noses - as in the tales of Hans Christian Andersen. For the descent, you will also be given a helmet.
Coop Studio - egg in the mountains
An art studio and a cozy coffee shop built from environmentally friendly materials. The building is made in the shape of an egg, where master classes in painting are held. From Tuesday to Sunday, you are available: library, cafeteria, tea ceremonies and even evenings of literature and poetry. And also a recreation area, a childhood attic, hand-made accessories, a fresh bar with rare sorts of tea (alcohol free zone), yoga and dancing..
Park Virtuality on Rosa Khutor
Modern entertainment for all ages. Games using virtual reality devices, various mazes, plus children's play areas and a laser shooting range. Kids over three years old can be given to animators for painting, and while they are collecting soft houses there, running in a maze or jumping on a trampoline - relax in a cafe nearby.
Art Studio Tsvetnye Gory
Classes in arts and crafts for adults and children. You can make your own sweater, you can create a postcard, or an oil painting, like in Repin. Here, no one will point you to your shortcomings or uneven lines - creativity has no boundaries and frameworks, so both experienced masters and novice amateurs feel comfortable in the art studio. Art lectures are held here every week.
Mountain Brewery Endemic
A small attraction, a visit to which is better to plan without being behind the wheel, otherwise the whole point will be lost. A local mountain brewery that produces craft beers using local ingredients. Watching is interesting, but trying is three times more interesting.
Aviary complex of the Caucasian reserve
All-season right fun for a family vacation. This is not really a zoo, but rather a rehabilitation zone for animals found on the territory of the reserve. Therefore, the strange (at first) choice of pets is easily explained by the fact that they came here not for the entertainment of tourists, but in a random way and under not the most cheerful circumstances. However, you can see almost all of the local fauna here..
FLACON 1170
A fashionable establishment whose main purpose is to host events such as festivals, parties, symposia and other large gatherings of people united by common interests. They proudly call themselves an art space, but in general, it's a really good place where you can eat delicious food, listen to good music and chat with interesting people.
Tubing
Massive entertainment at the resorts of Krasnaya Polyana. Tubing in the Mountain Olympic Village starts from the Olympic rings, near the start of the stairs to the funiculars. The place, by the way, is all-season - in summer the descent is organized along a special chute, and in winter it is more fun - along the slope of the mountain with trampled snow. And it ends near the Pear restaurant.
Indoor ice rink
A skating rink for mass skating. A place where the weather is always good and the temperature is right. Great for foggy days or when there is nothing else to do. The main thing is to guess with the time of filling the rink, and this needs to be clarified already on the spot or on the rink's website.
Evening sledding
A pleasure for adults and children on the illuminated section of the B-52 highway, which is blocked especially for sledges. You will climb on the Zapovedny Les funicular, and the descent is going to be a long one, from a height of 1600 to 1170 meters. Children under 10 years old are not allowed here; sledges and helmets are rented in the Den. By the way, you can't come here with your sleds..
Husky Center
?Husky center Rosa Khutor (and husky centers are the same popular topic in Polyana as tubing) is located at an altitude of 1100 meters, next to Lake Superior. Here you will be offered to chat with dogs, take some pictures, drink hot tea and go dog sledding around the lake (the length of the track is about one kilometer).
Karting
On the sixth floor of the P4 parking lot, there is a covered track with a length of 250 meters. Good, even concrete pavement, telemetry all the way, bar, soft corner and children's play area. At the same time, six karts can be rolled out at the karting track, which automatically makes the attraction an excellent family vacation or entertainment for a small company..
Rosa Hall Concert Hall
Here you will need to look at the Rose Hall website to keep abreast of the local repertoire and list of events. This is a fairly spacious building with a cinema and concert hall, a conference room and seven small halls for smaller events..
Gazprom and Laura
The most compact ski resort in comparison with its neighbors. This is if we talk about the part of it, which is located at the very bottom, near the Mzymta River. The main winter entertainment at Gazprom is the mountains and the Galaxy, a large entertainment center with a water park inside.
RC Galaxy
The main all-season entertainment for Laura and Gazprom. Inside the building of the Galaktika RC there are: a water park, an ice rink, a food court, a nightclub, a bowling alley, a cinema for three cinemas, a billiard room and a children's play area. There are also restaurants and bars, and where without them - shops and boutiques.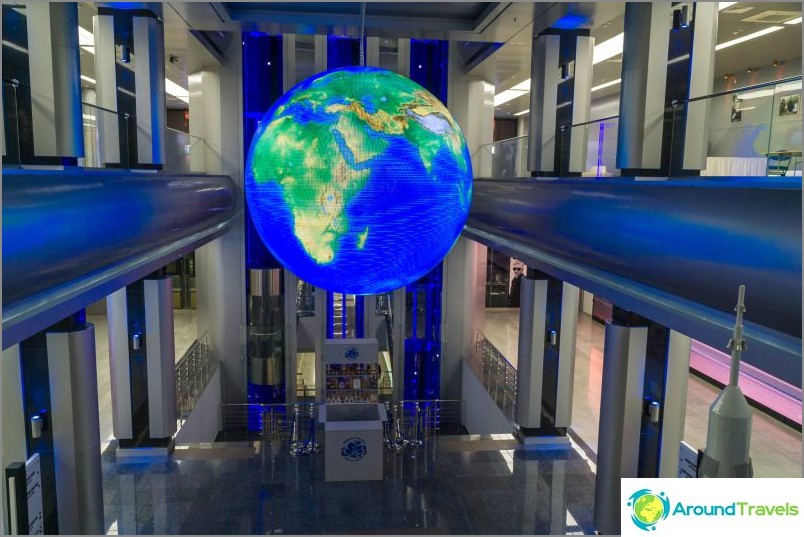 Cross-country skiing
Short runs for cross-country skiing, including several runs to tone and shake up the athletes. They are laid along the territory with picturesque views of the mountain peaks. By the way, this is the only ski and biathlon complex in the district, you cannot go cross-country skiing anywhere else. Alpine skiing only and slopes only.
Snowshoeing
An alternative to summer trekking, but the walking distance is significantly reduced due to the peculiarities of the equipment, snowshoeing is quite difficult to walk and they do not completely save you from falling into the snow, so you will have pleasant physical activity and untouched snowdrifts around natural attractions.
Husky Center
There is another husky center on the territory of the Laura stadium, where visitors can ride the dogs, pet them, take pictures with them, and then clean their jackets of dog hair for a long time. But entertainment is definitely worth bringing children here, and even adults are not left indifferent by strict blue-eyed dogs with pretzel tails. In addition, there is a lounge area for relaxation and outdoor picnic..
Tubing
A two-hundred-meter track for riding on inflatable cheesecakes, with turns, embankments and holes - but everything is very decent and safe. The speed of descent in winter is much more interesting here than in summer, due to the snow cover, which allows the cheesecakes to accelerate faster and easier. Entertainment for both adults and children, and - all-season.
Deer farm
A picturesque, pretty place in a fir forest, where reindeer pens were equipped. There are adult animals and a few calves, and the program includes standard feeding, photo session and sleigh rides. You can ride alone or in a group of up to 4 people - in this case, two adult reindeer are harnessed to the harness, which in total can pull up to 600 kg.
Igloo hotel
Ethno-park and entertainment complex, which includes a snowy children's playground, a miniature park with wild animals and magical monsters, as well as an interesting igloo hotel complex. If you're not in the know, Igloo is the snowy, cone-shaped home of northern residents. The walls of the houses are up to 2 meters thick and, according to the organizers, are soundproof..
On the map
Summer and winter activities in Krasnaya Polyana
Summer and winter activities of Krasnaya Polyana: