After walking around Ankara, we returned to the railway station. Now we had to go to Adapazar? It is such a city between Ankara and Istanbul.
Our acquaintance with the railways of Turkey began with a scoreboard. Well, the fact that it is in Turkish is not so bad, so it is also somewhat illogical. Trains do not appear where they are supposed to be. In this case, the names of the stations do not necessarily coincide with the name of the city. Try to figure it out, because nowhere is there a list of correspondence between the station and the city.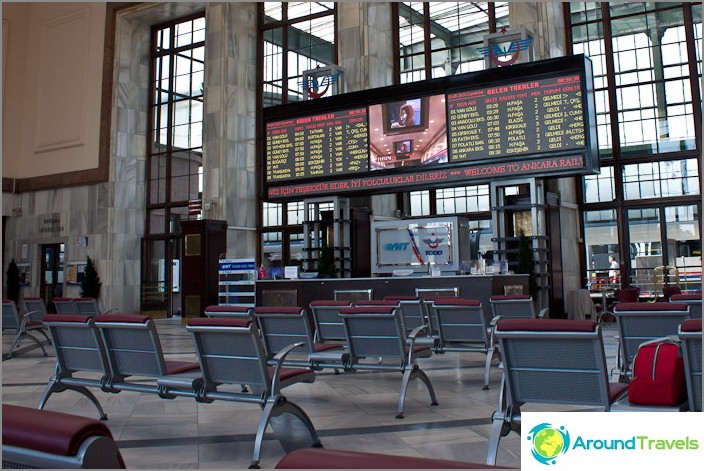 Our train was delayed, but we realized this only after we did not find anything similar to our train on the platform. We tried to chat with my aunt at Infomation. She poorly got confused and confused us, for some reason she began to offer us another express.
But it didn't end there. Just imagine, you are sitting waiting for a train, which seems to be an hour late, but no one says anything for sure. In English, the workers of the station do not really understand. And then, at 12 at night, the scoreboard goes out! Our, so to speak, the last hope for information! And then, the cash desks are closed and the aunt leaves for Information! Only the cleaners are left, sweeping the floor thoroughly. The station was closed and we are alone on the platform ... After that I got so much respect for our Russian railways, imbued with pride for the clarity of their work.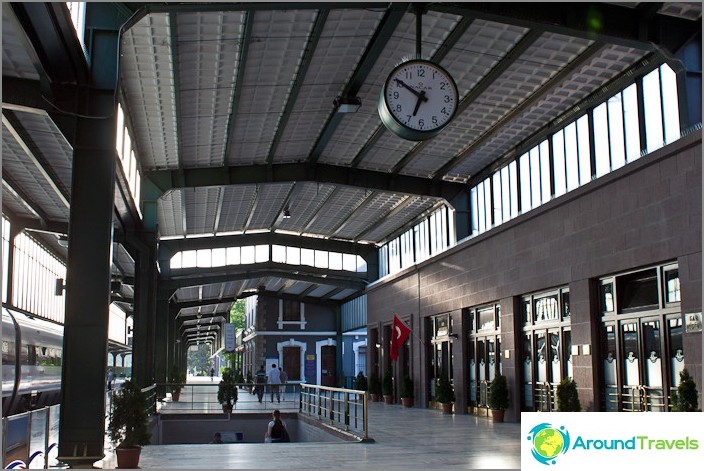 The train arrived, only 3 hours late. And to Adapazary, where we went, for as much as 6 hours. And this is a normal thing, since such trains are for the poor, and they are cheaper than a bus. True, everyone usually drives in seated places, since the coupe is 2 times more expensive: 12 liras (240r) sedentary, 22 liras (420r) sleeping. Exceptions are the fast-track express trains to Istanbul. So, if you decide to use the railways of Turkey, consider these points. By the way, this is one of the options to travel in Turkey cheap.
In our sleeping car, only 3-4 compartments were occupied, and only the two of us were traveling in our compartment. Everything inside the car is a little unusual: a continuous corridor, the door can be opened outside on the go and independently, which some Turks did at technical stops.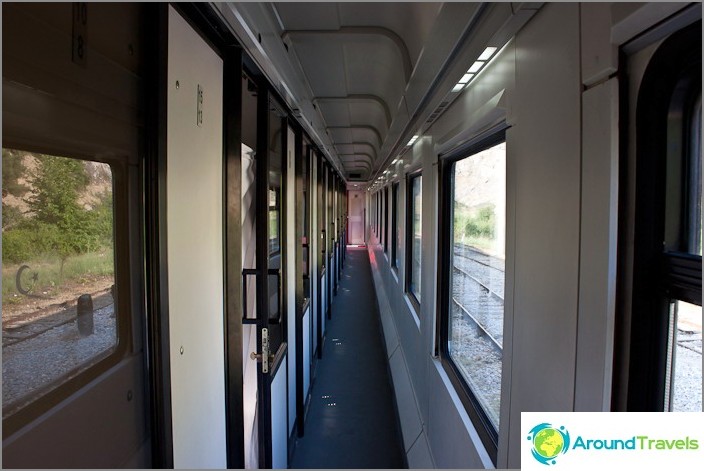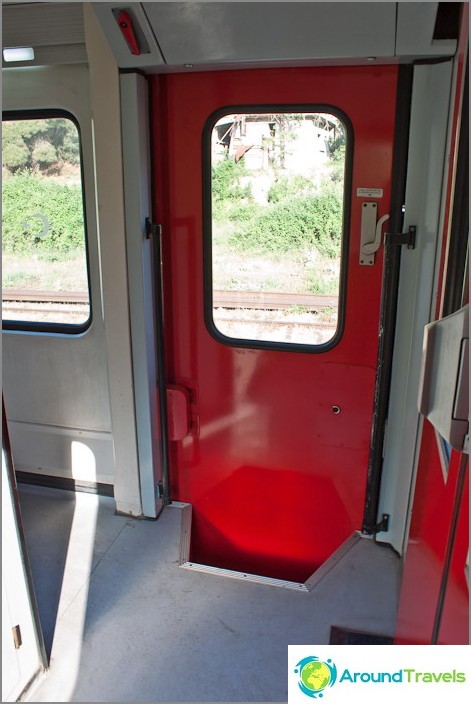 Two toilets: European and Asian, plus a room with a washbasin. A total of 3 hygiene rooms! But there is no titanium with water! How to drink tea? And what about the coveted doshirak? Or is it just Russian realities?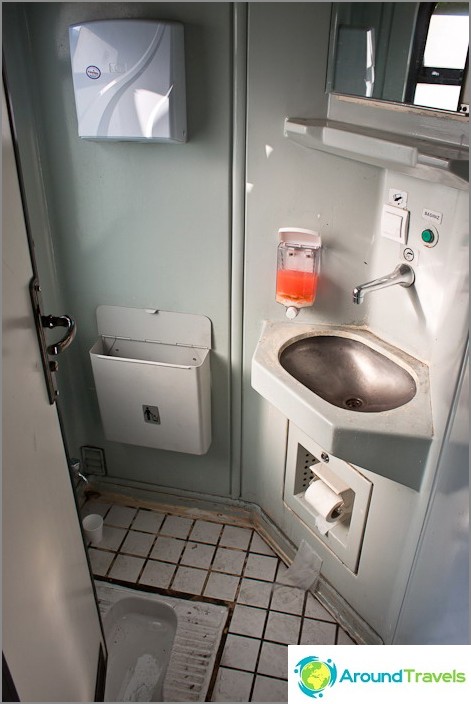 The compartment itself is also different: soft wide shelves, the lower ones recline so that they turn into seats with armrests. The table touched most of all. And where can I put a loaf of bread, boiled eggs and potatoes, chopped cucumbers, and a couple of bottles of water? And in theory for 4 people!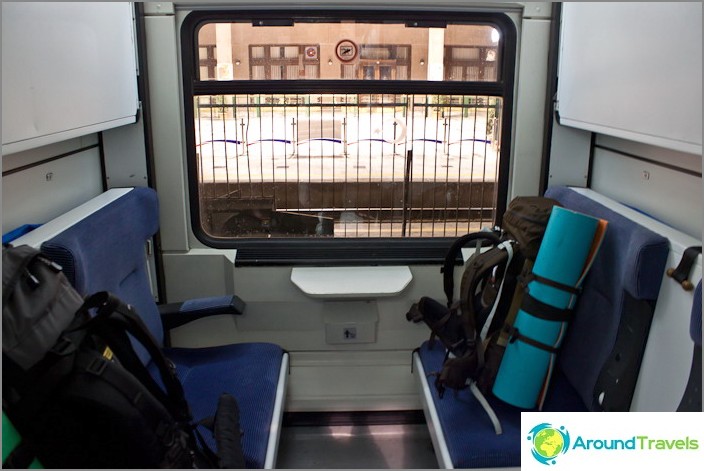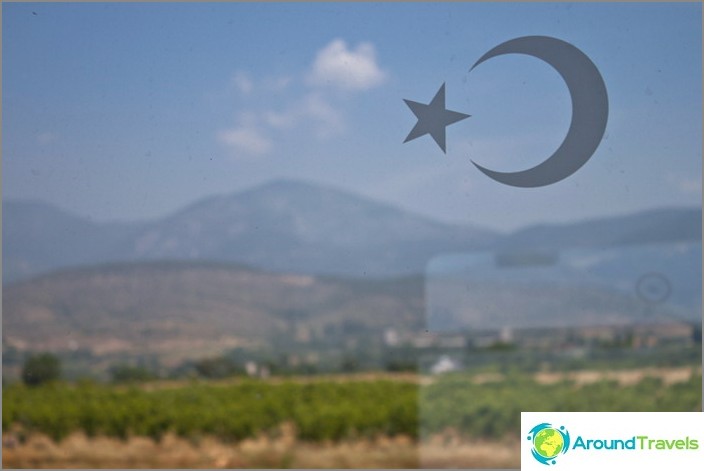 And I also liked the ladder to the upper shelves. It is attached and wooden! And the designers implemented it so that if the upper shelves are lowered, then there is nowhere to put it.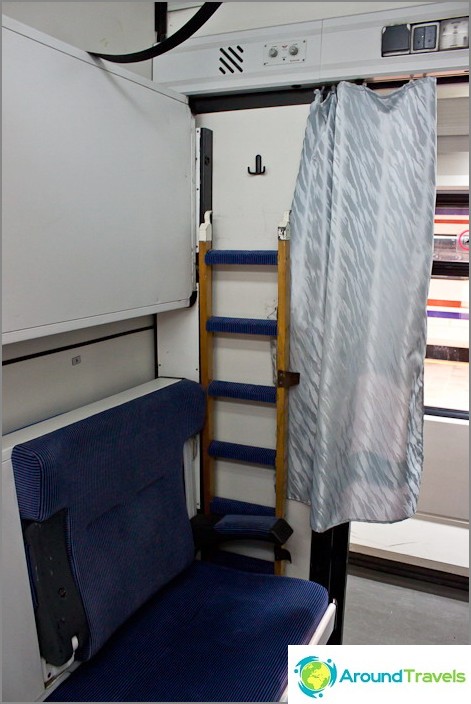 There was no conductor in our car, but he periodically came to us, apparently one for several cars. But in each compartment there was an air conditioner and a temperature regulator. There was also an outlet where I charged all my batteries. Here it turns out to what progress has come! When interested, it will be on the trains in Russia?
After getting enough sleep on the train half a day late, we left for Adapazarı, and in a couple of hours we were already in the town of Karasu. Here friends, a Russian-Turkish family, dad, mom and five children are already tired of us..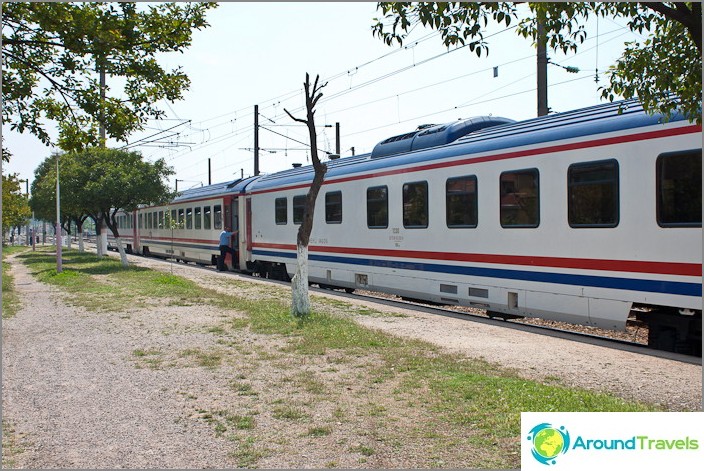 All parts of the story about our independent trip to Turkey:
Route - Kemer - Antalya - Demre (Worlds) - Olympus and Cirali. - Side - Lake Beysehir - Cappadocia - Goreme - Ankara - Adapazarı - Karasu - Istanbul