I remember that I myself once participated and conducted a competition related to travel. It was a long time ago, 2 years have passed since then 🙂 This time I am not doing anything and one of my acquaintances asked me to post information about a similar competition that he is organizing. The prize fund is not bad, so if you write any articles about travel, on your personal blog or on some portal, then it will not be difficult to sprinkle another article. Well, now an announcement from Alexander 🙂
The World of Travel website together with the companies Anstal-Tour, Poseidon Expeditions and Maps and the 2GIS directory are holding a competition for the best travel story.
Prize fund of the competition: 21,000 rubles
Returning from a trip or vacation at sea, we always bring with us not only photographs, but also many vivid impressions. Share your impressions with other readers and enter the competition for the best travel story.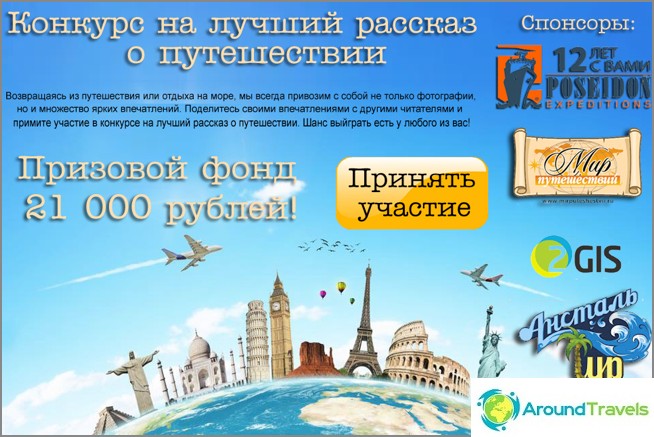 Terms of the competition:
Reports are accepted from October 1 to November 20, 2012.
Winners will be announced by December 1, 2012.
Prizes:
1st place: 12,000 rubles from Anstal-tour
2nd place: 6000 rubles sponsored by Poseidon Expeditions
3rd place: 3000 rubles sponsor 2GIS company
Details and conditions of the competition
You can find out on a special page on the World of Travel website:
Relax, travel, write reports and win valuable prizes.
Even if you've never written a travel report, this is a good reason to try your hand at writing a story about your vacation..
Good luck and creative inspiration to all participants! Remember, each of you has a chance to win!
Actually, participate, and perhaps you will be lucky. In principle, the prize fund is enough to buy a ticket for the next trip, which means that this can be considered earning on travel at first. You have to start somewhere. You don't lose anything anyway 🙂