Quite unexpectedly, while absorbing another portion of Tom Kha's soup, I decided to write how we cook it here. Sure, «preparing» it is said loudly, because we have it for the most part a semi-finished product, but there is also cooking there. And most importantly, our recipe is very simple and takes a minimum of time. True, Tom Kha is not quite Thai, but in the Russian manner, but for me it is even better than the traditional one. In general, I will not torment you anymore, I will tell you.
The easiest Tom Kha soup recipe
Buy in any supermarket Roi Thai bags with Tom Kha soup. They are of two types: 250 ml and 500 ml. The second, of course, is cheaper. You will also need to buy coconut milk, it is sold everywhere, even in minimarkets 7-11.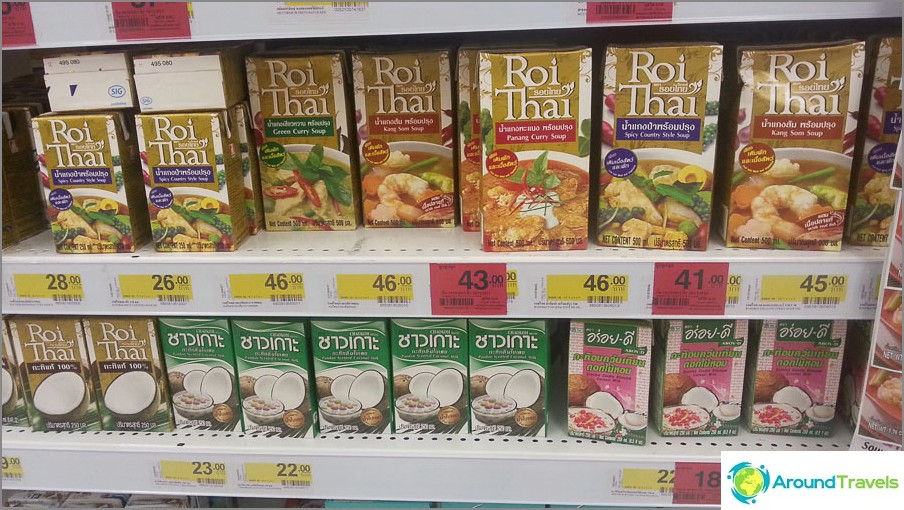 Actually, these same bags of Roi Thai are already ready-made soup, but they «empty», without vegetables, shrimp and meat. Most often, the cafe sells Tom Kha Gai (with chicken), but we usually prefer, or just vegetable, or Tom Kha Kung (with shrimps).
I also want to explain why to add coconut milk, if it seems to be in Roi Thai as it is, the soups are ready-made. The fact is that the very first Tom Kha that I tasted left an indelible impression and was remembered as the ideal of the soup. So there was quite a lot of coconut milk in it, so in some cafes, Tom Kha seems diluted to me, let alone Roi Thai. Try it, a much richer taste is obtained.
This time there were no large bags in Tops Market and I bought small 250 ml bags. Further, everything is even easier. We cut vegetables and cook them. What vegetables? Yes, any: carrots, onions, cauliflower, vegetable marrow, greens, potatoes. In fact, everything that is cooked for an ordinary Russian vegetable soup and that is in the refrigerator. You can stock up on onions with carrots, but we are usually lazy, there is already enough taste.
Pour the contents of all 4 bags (3 Roi Thai + 1 coconut milk) into a saucepan, add the vegetables cooked before (as anyone likes, thicker or thinner), bring to a boil and that's it! Tom Kha soup is ready! You can also leave boiled chicken or shrimp here. By the way, shrimps can be boiled right there, they just need to boil for 1-2 minutes.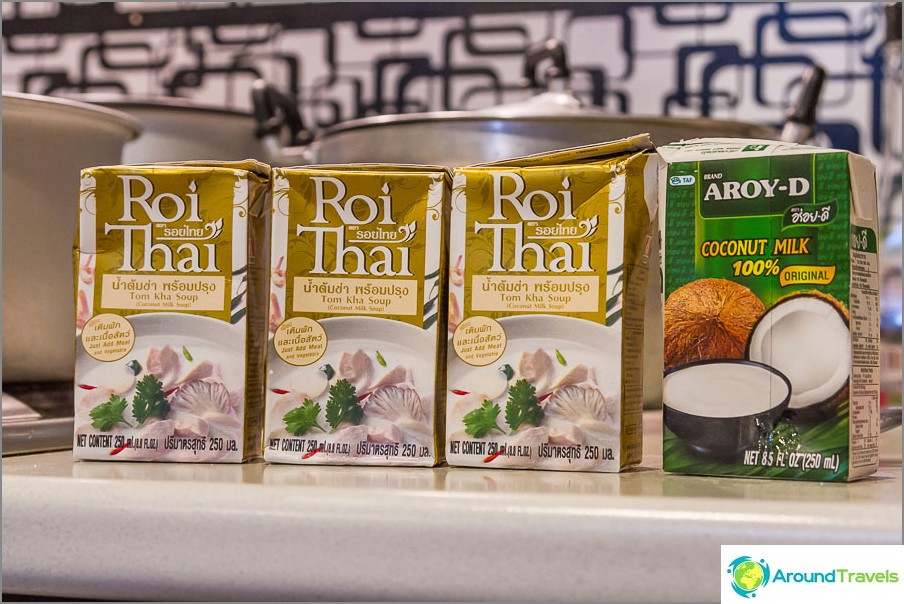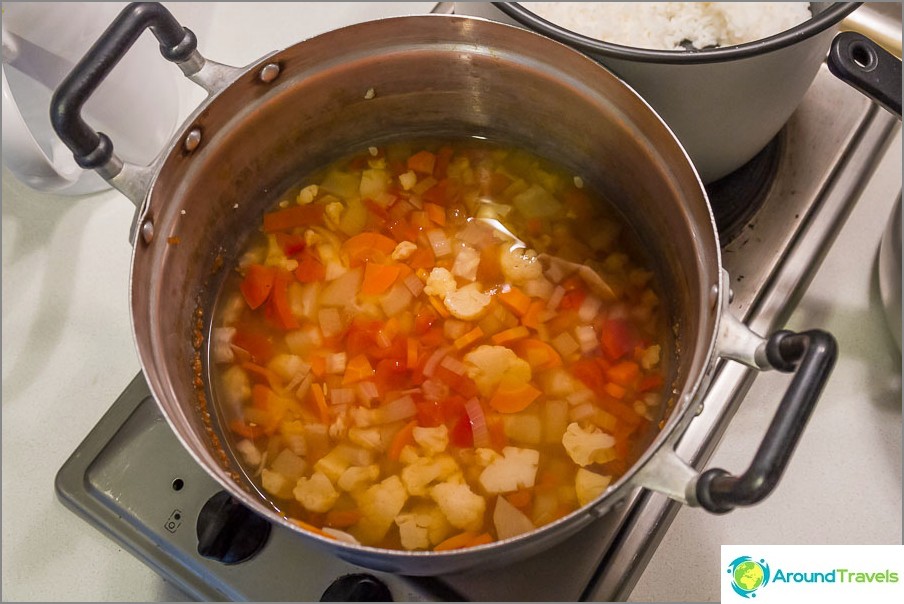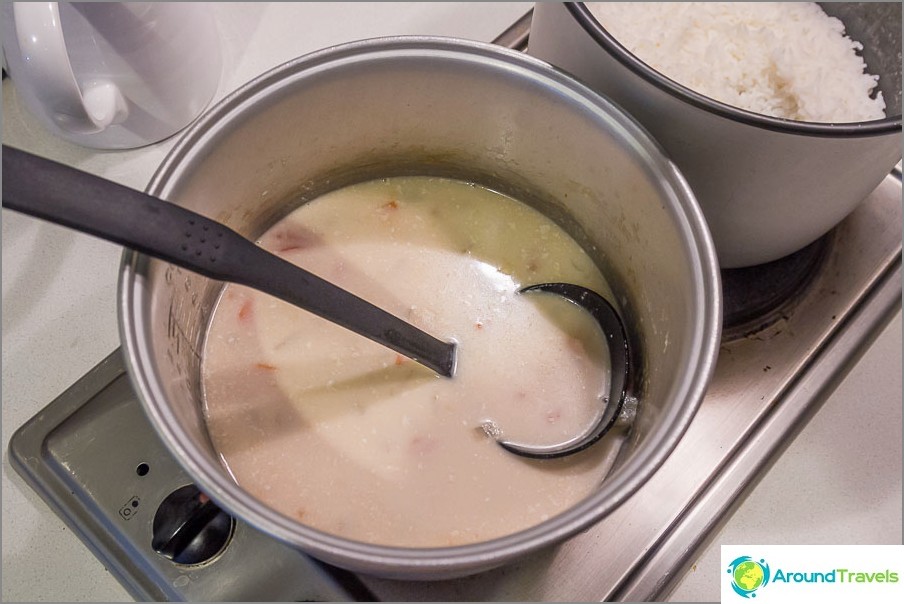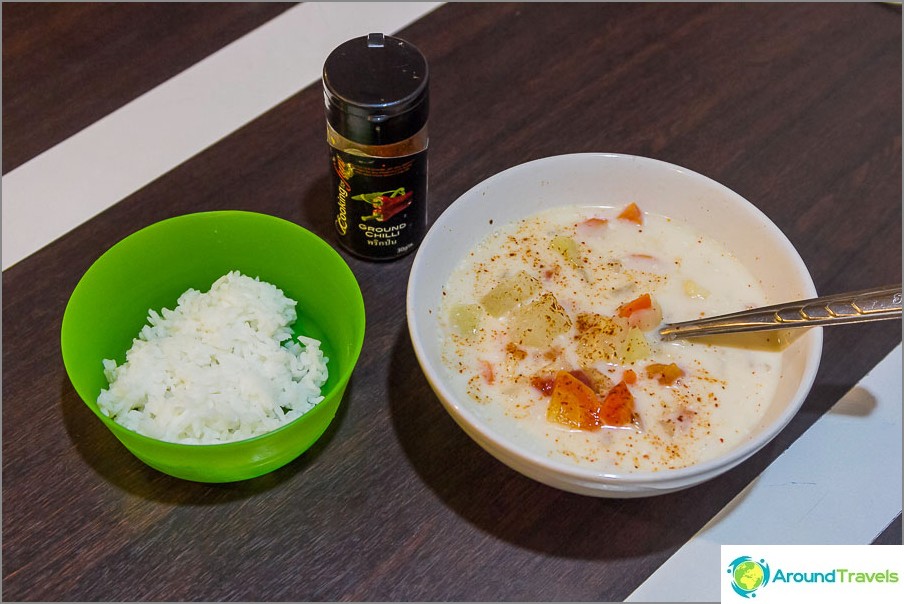 Traditionally, all Thai soups are eaten with rice. We do that too. We have never felt much love for him, but either in Thailand the rice is different, or something else, but now I want it all the time. In general, rice is needed to seize the spiciness, it really helps.
Why am I adding pepper? Because, in my opinion, Roi Thai, diluted with vegetables and coconut milk, is not spicy at all, especially if it is eaten with rice. But this is all for an amateur.
750 ml Roi Thai + 250 ml coconut milk + vegetables = enough for 3-4 normal servings. It turns out cheaper than in a cafe and much more satisfying, because in Thai soups usually, except «some water» and shrimp / meat, there is nothing to eat, only a plate of boiled rice saves in addition.
P.S. Yes, I almost forgot, this budget recipe is obtained only in Thailand. In Russia, Roi Thai bags are more expensive. On the other hand, there is no choice, in Thai cafes in Moscow prices are even higher.