Incredible cyborg trees were built in Singapore. Yes, Singapore knows how to surprise! These gigantic structures put on an incredible show in the evenings, and at the same time they also serve as a power plant..
The content of the article
Garden by the Bay Light Show
Supertrees, or Supertree, as the architects called them. These designs resemble the trees from the movie. «Avatar». Their height varies from 25 to 50 meters. A bridge passes through several trees. It serves as an observation deck. The bridge itself is impressive in size and beauty. It connects the tops of super trees and is located at a height of 25 meters. Artificial trees provide themselves with energy for evening lighting. They collect sunlight throughout the day and convert it into energy. They also support the ecosystem of the greenhouse complex. A restaurant is built on one of the trees. It is at a height of 50 meters.
In the evenings, an amazing light and music show takes place. The show is called Garden Rhapsody. It starts at about 7 pm, lasts about 20 minutes and is repeated several times during the evening. The show is very impressive. We went to look 3 times and each time we could not take our eyes off. By the beginning of the show, a large number of people gather in the square under the trees, but there is no feeling of a crowd, «herring in a jar».
You can watch it from different angles. You can stand under the trees in the center of the show, you can buy a ticket and watch the show from the bar on one of the trees. Another good view opens from the bridge leading to the shopping center near Marina Bay. Closing show starts at 20:45.
Be sure to go! It doesn't look like anything. You will have the most pleasant and vivid memories of visiting this attraction..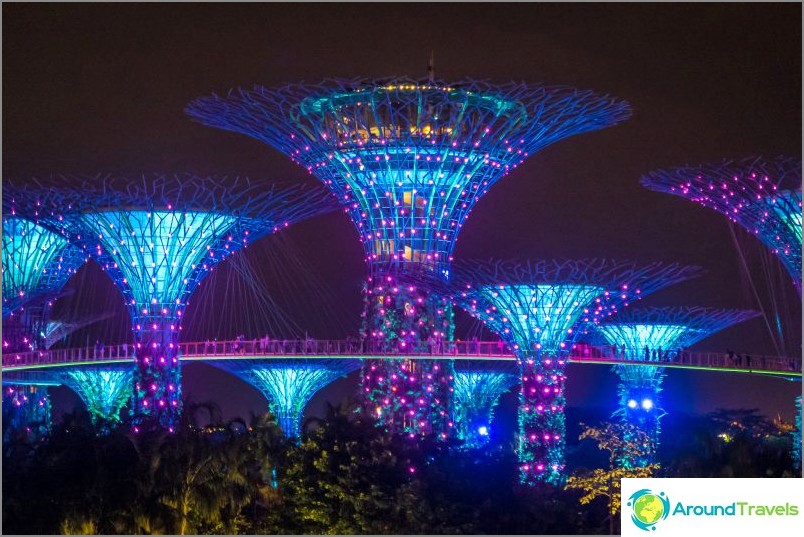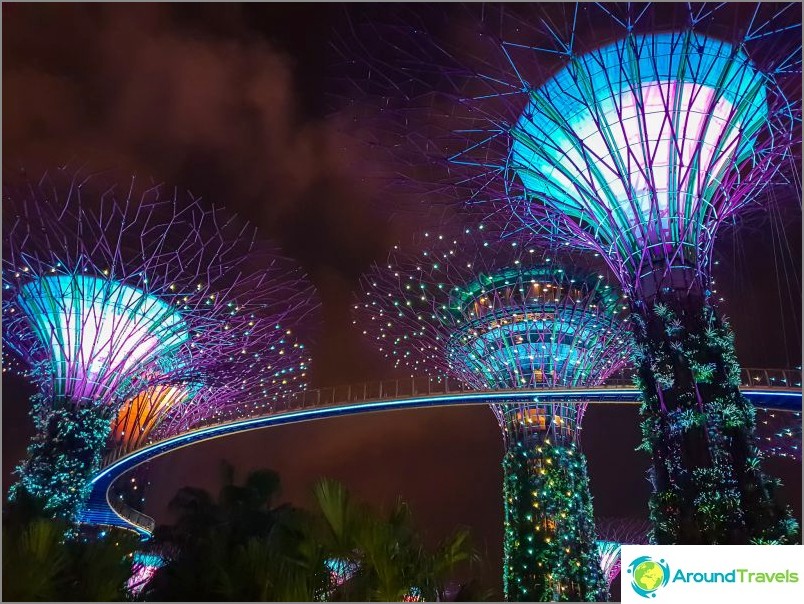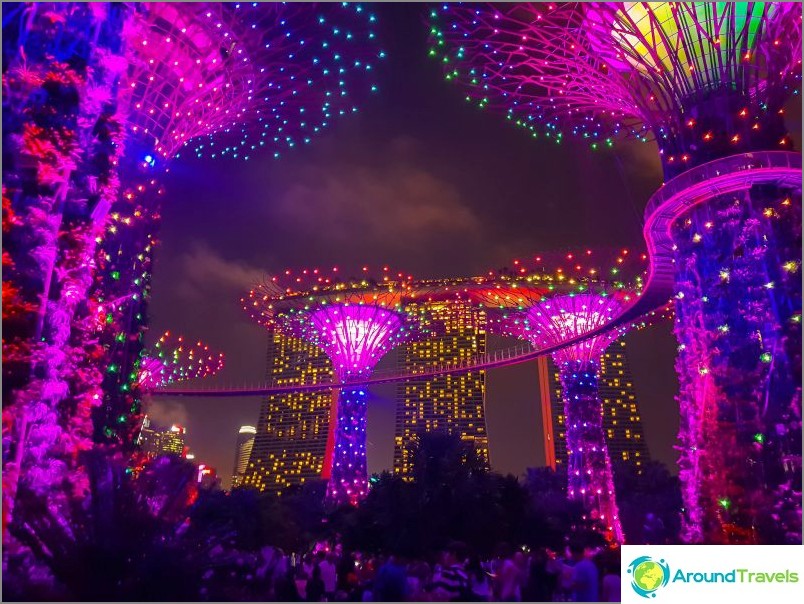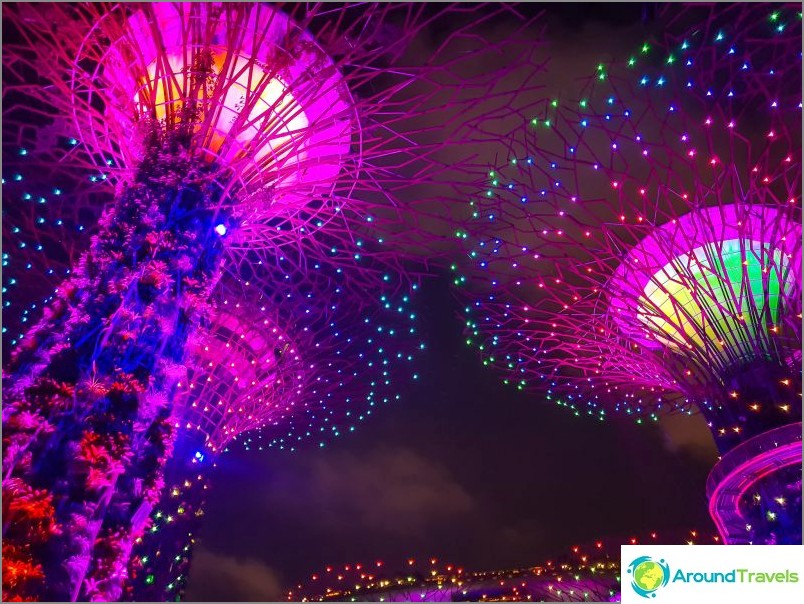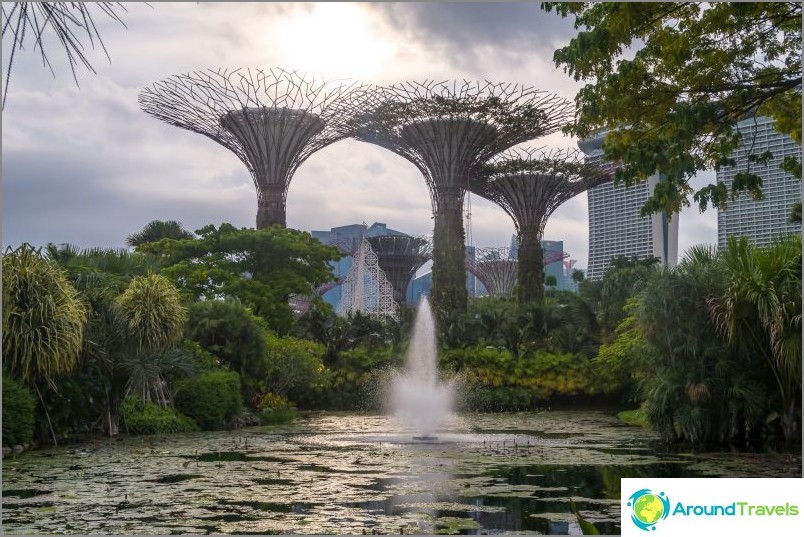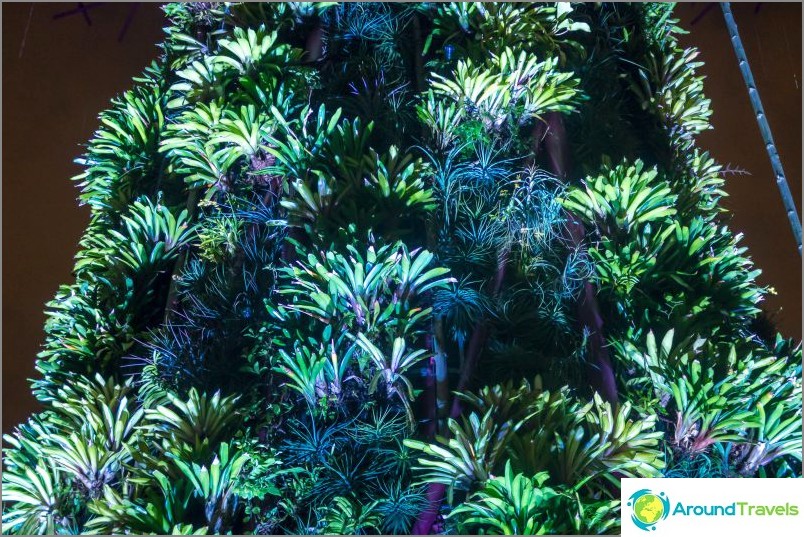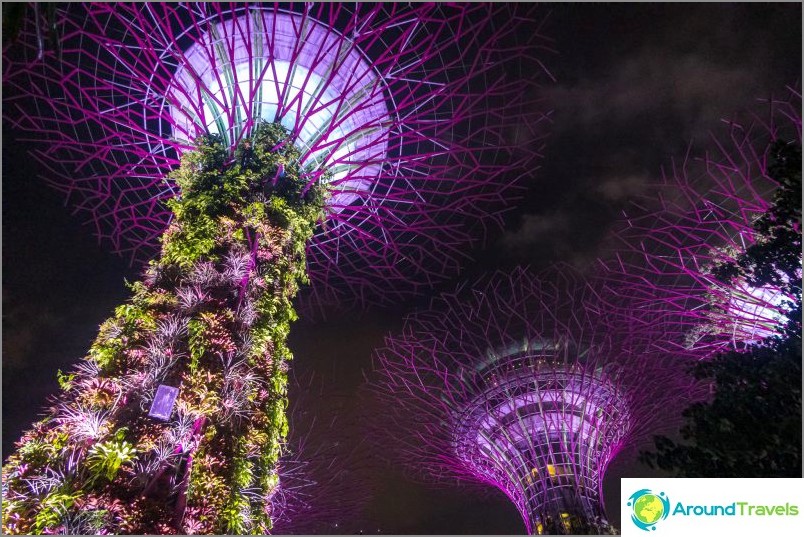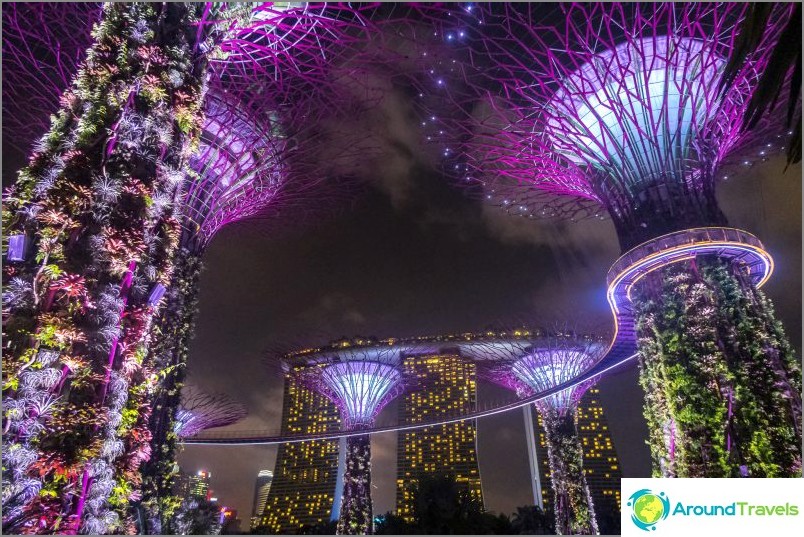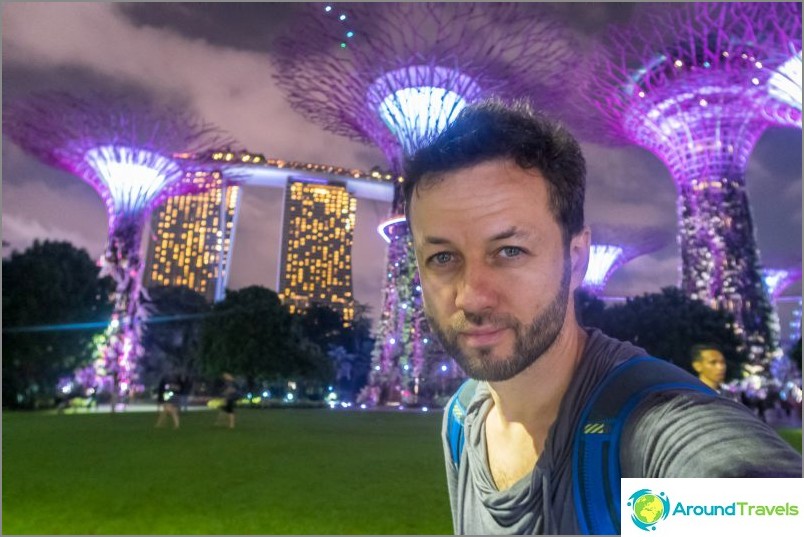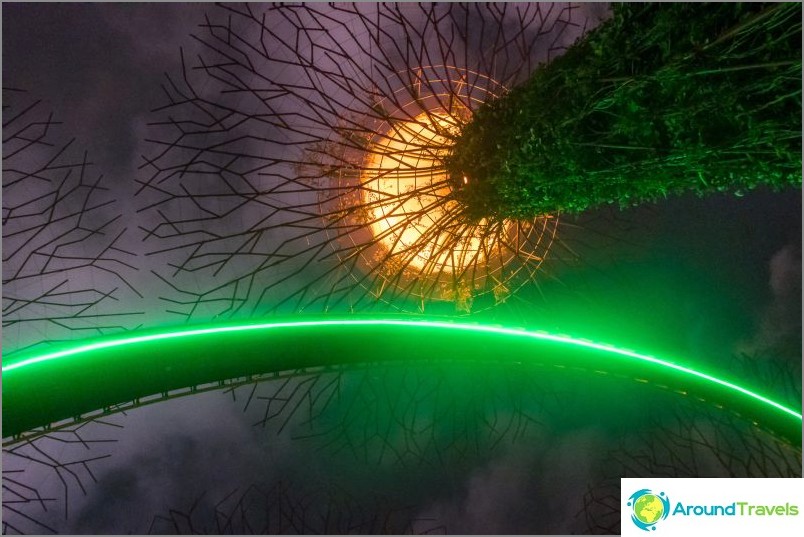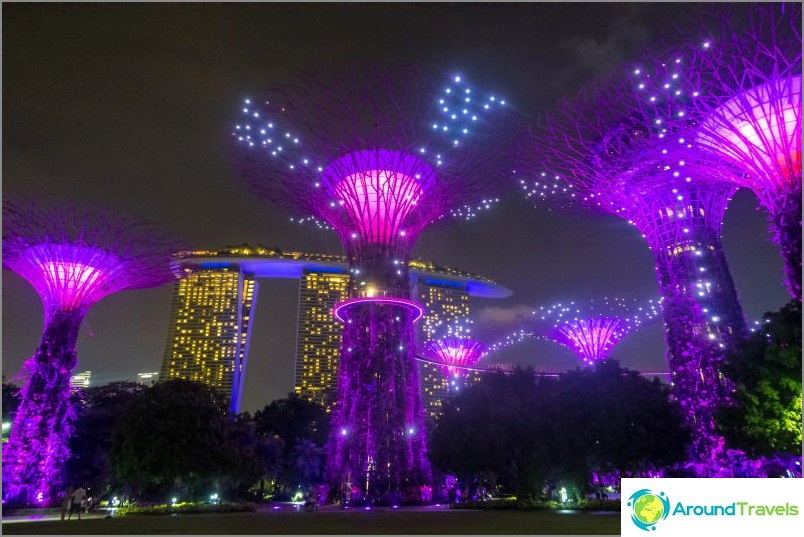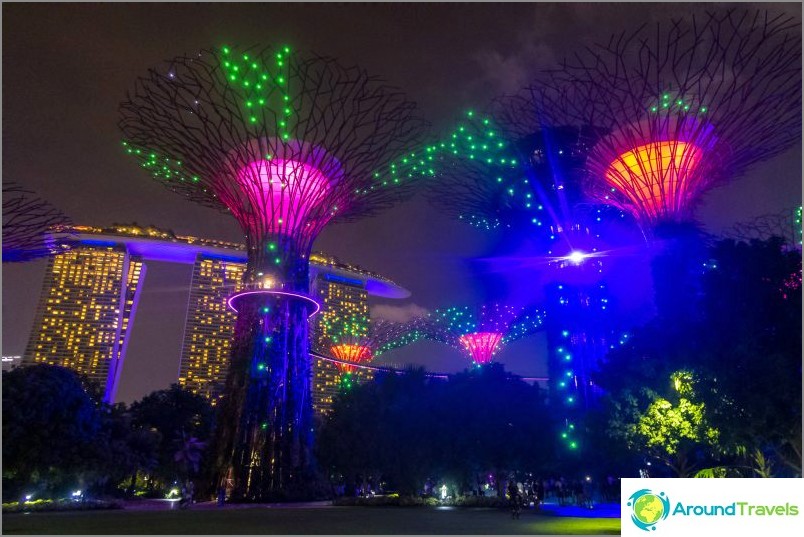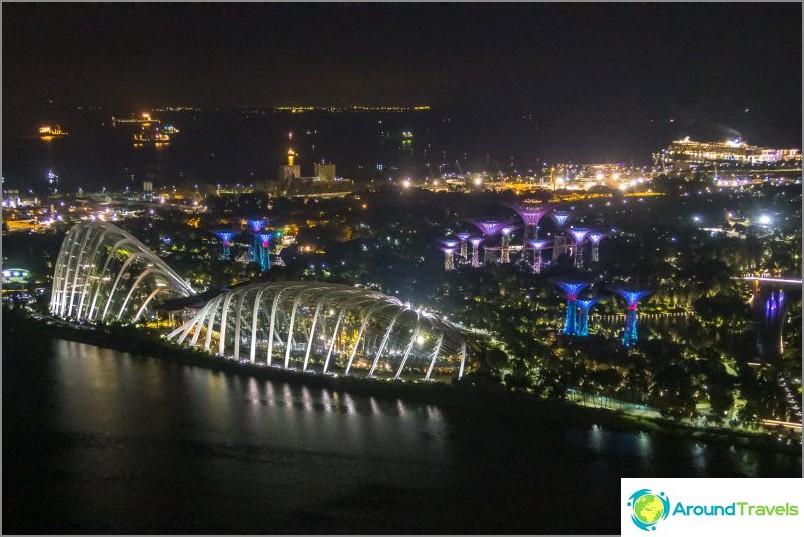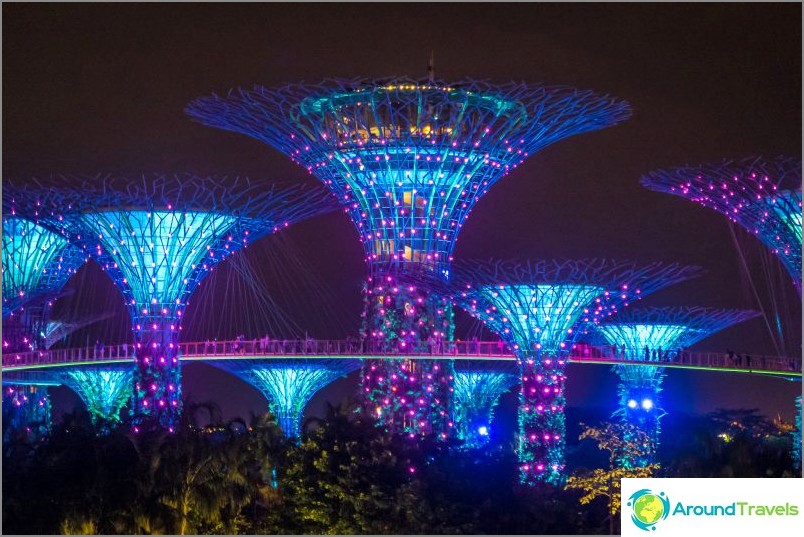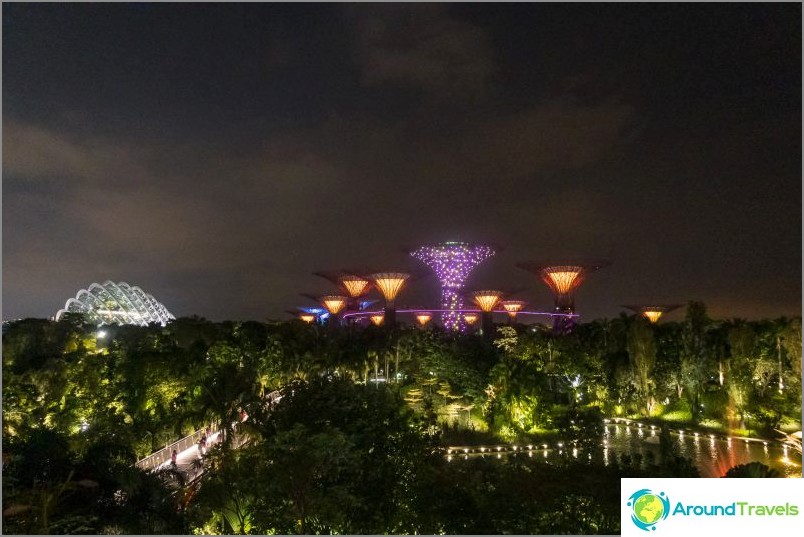 Visit information
Super Trees are open from 9:00 am to 9:00 pm. Skyway tickets can be purchased until 20:00.
Cost: SGD 8 for an adult and SGD 5 for a child under 12 years old. Children under 5 years old admit free.
The restaurant is open from 12:00 to 23:30. Minimum mandatory order is 80 SGD + 17% tax.
The bar is open from 10:30 am to 1 am. Bar entry costs SGD 20 per adult and SGD 12 per child (includes a drink).
On the map
Supertrees
Supertrees
Supertree Grove. Here is the main group of trees and this is where the show takes place.
More about the show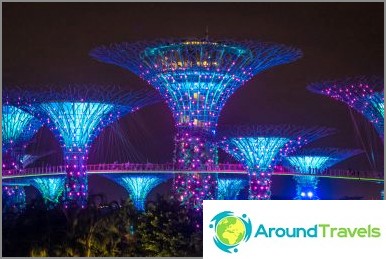 Supertree Grove. This is the main group of trees and this is where the show takes place. More about the show