The Temple of Truth is located in Pattaya on the seashore and I stopped there for one day in order to see this outlandish structure with my own eyes. The idea of ​​the temple is to combine the religions of neighboring countries into one «the truth».
The content of the article
Temple of Truth
The Sanctuary of Truth, sometimes also called the Temple of Truth, reaches a height of 105 meters, and if translated into ordinary floors, you get about 20-30 floors. Almost a skyscraper! Have you ever seen something like this? Me not. Something more or less similar was in the museum of wooden architecture near Veliky Novgorod, but not on such a scale. The advertising brochure generally states that earlier Thai craftsmen could easily build wooden buildings with a height of 100 meters or more..
Perhaps not everyone will be impressed by this Temple of Truth in Pattaya, compared to the same White Temple near Chiang Rai. However, it was the material from which it was made that played a big role for me. It already happened that I have a weakness for everything wooden - houses, furniture, dishes, Buratino ... (I'm kidding about Buratino, ugly boy).
The construction of the Temple of Truth began in 1981, and construction is still ongoing. At the entrance you are given white helmets, the sound of hammers and saws is heard everywhere. The work is in full swing. So girls, choose an outfit for a white helmet in advance.
Looking closely at the Temple of Truth, one can understand why it takes so long to complete. A lot of work has been invested in each figure, and there are thousands of them here. Wood carving is not for you to blind a Buddha from alabaster!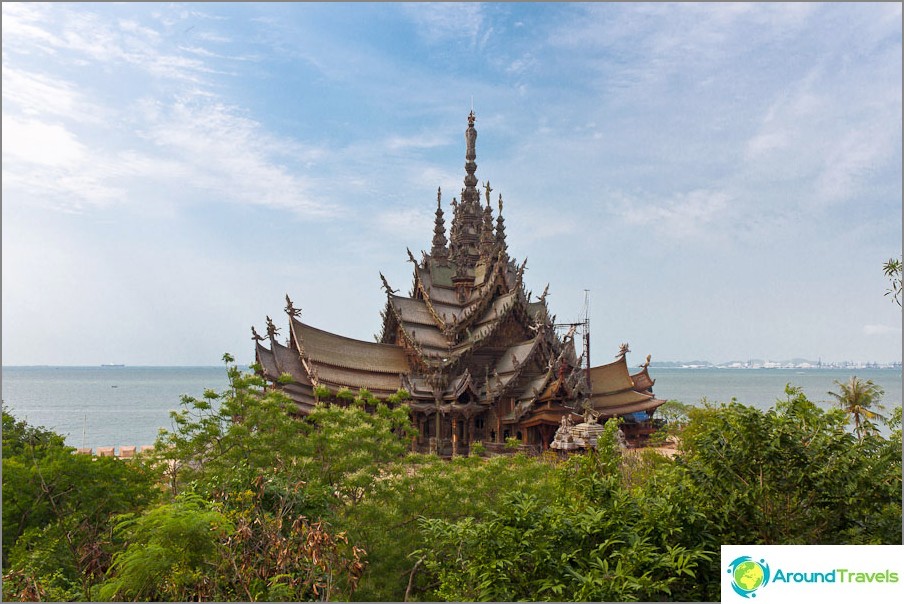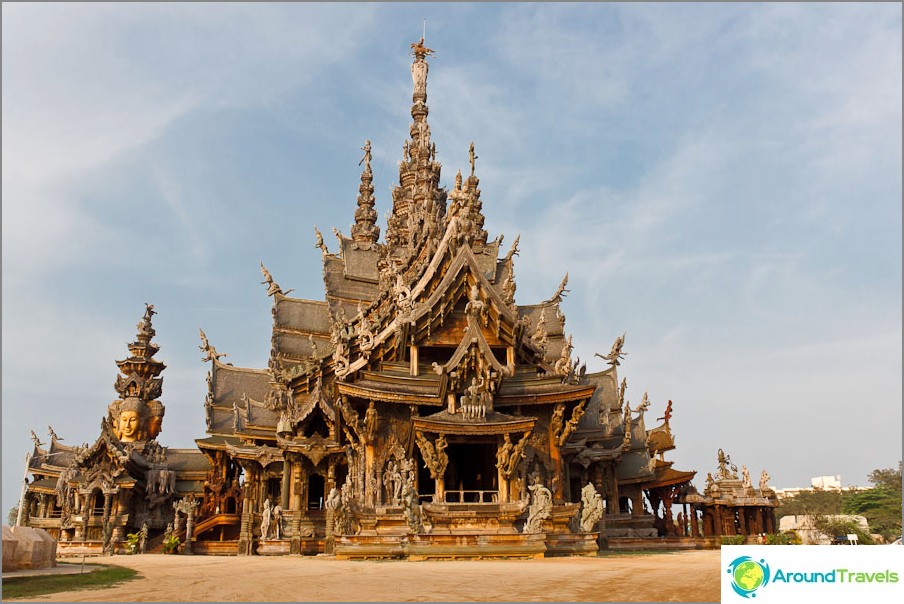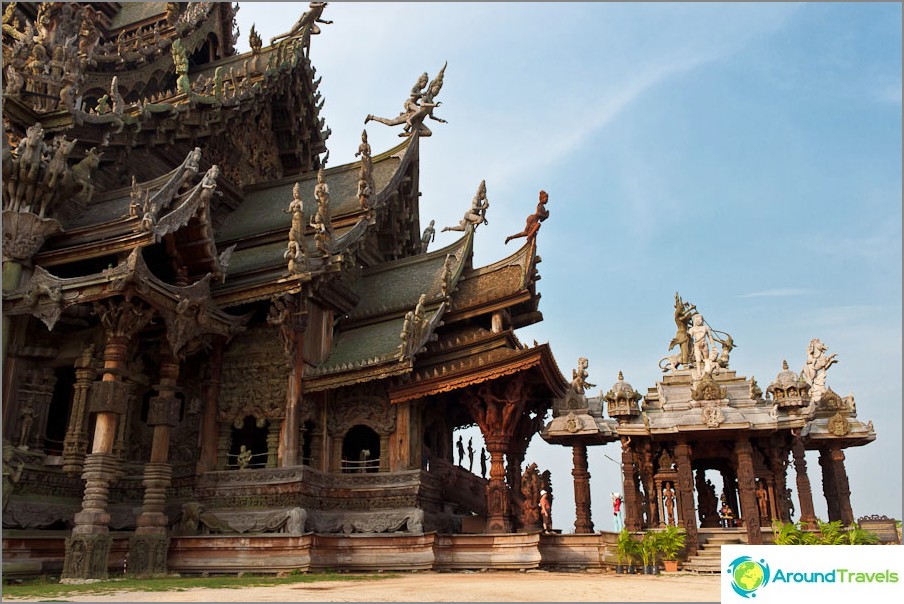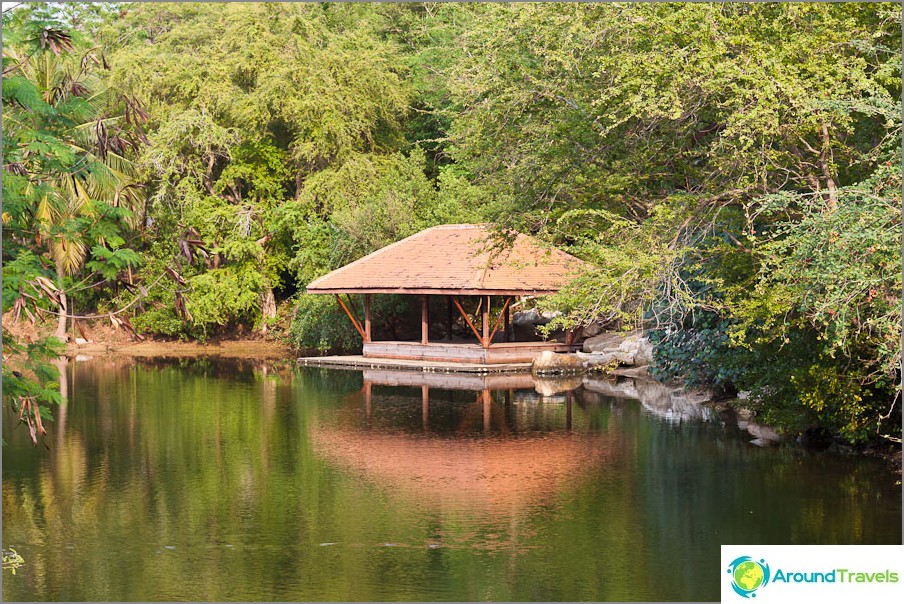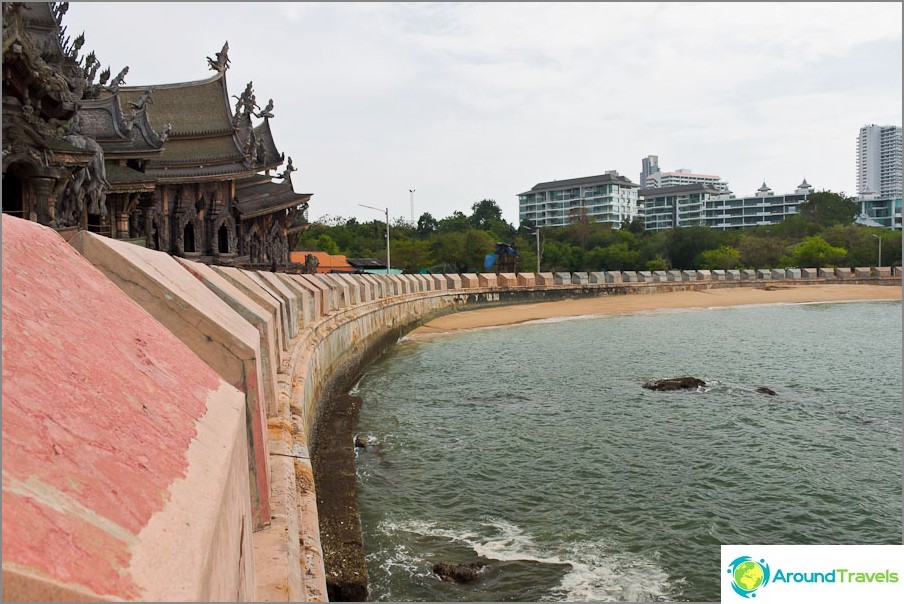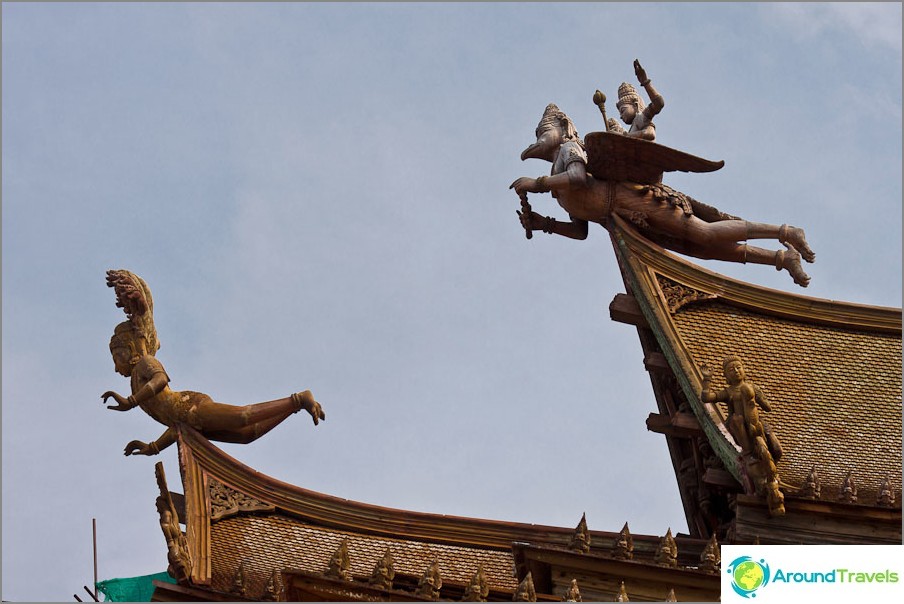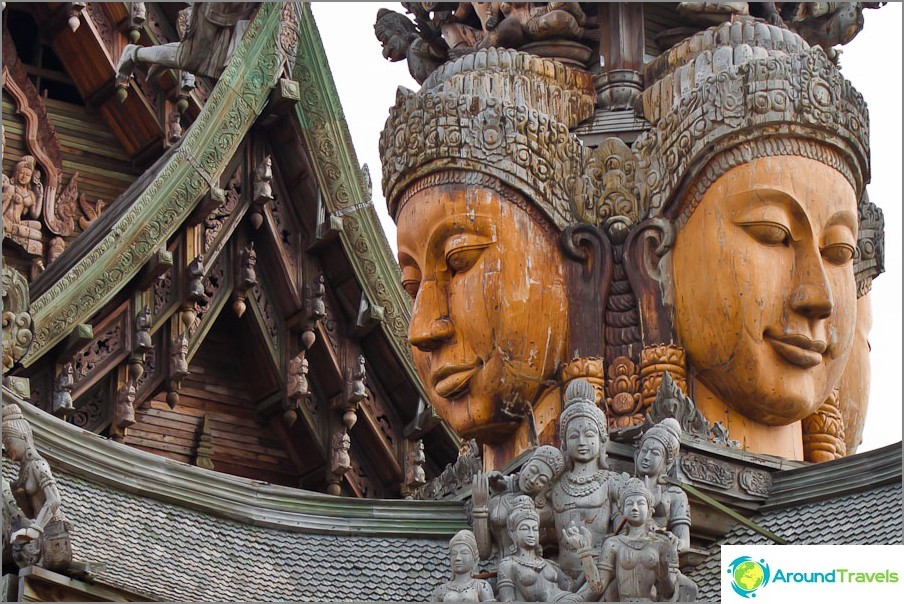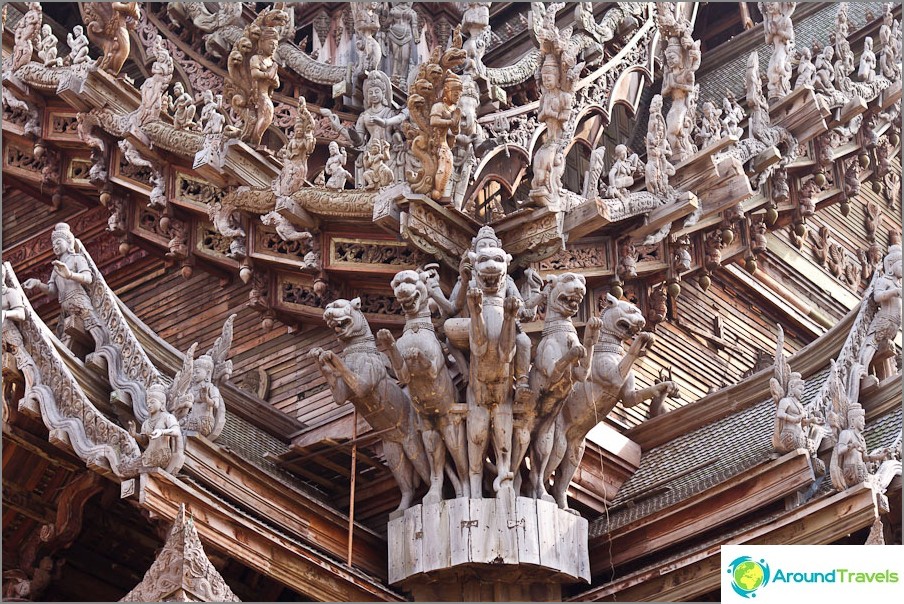 [/ caption]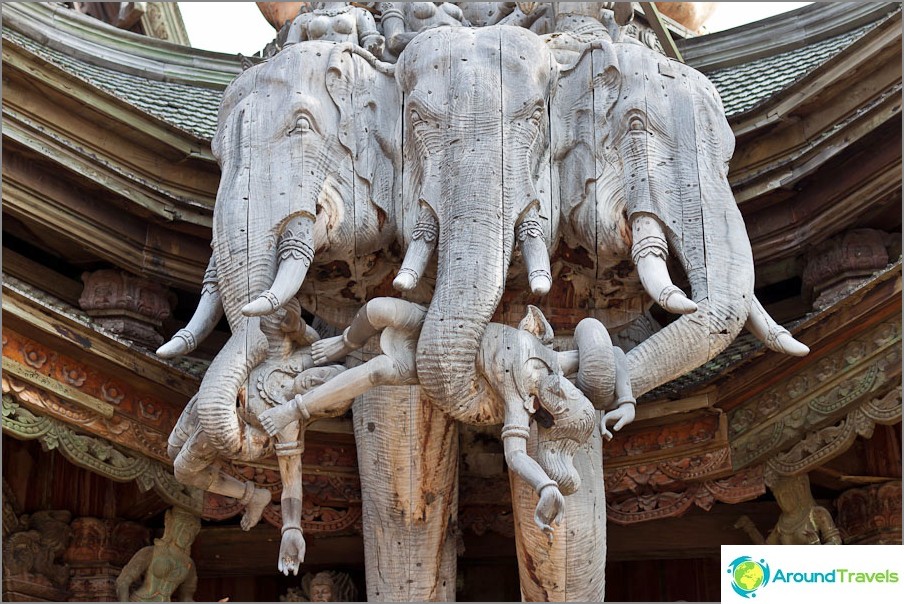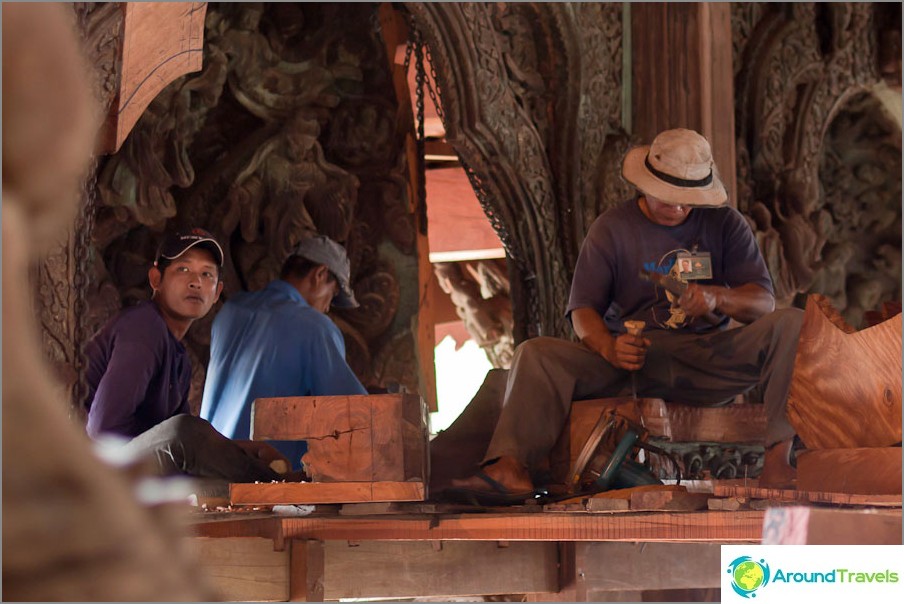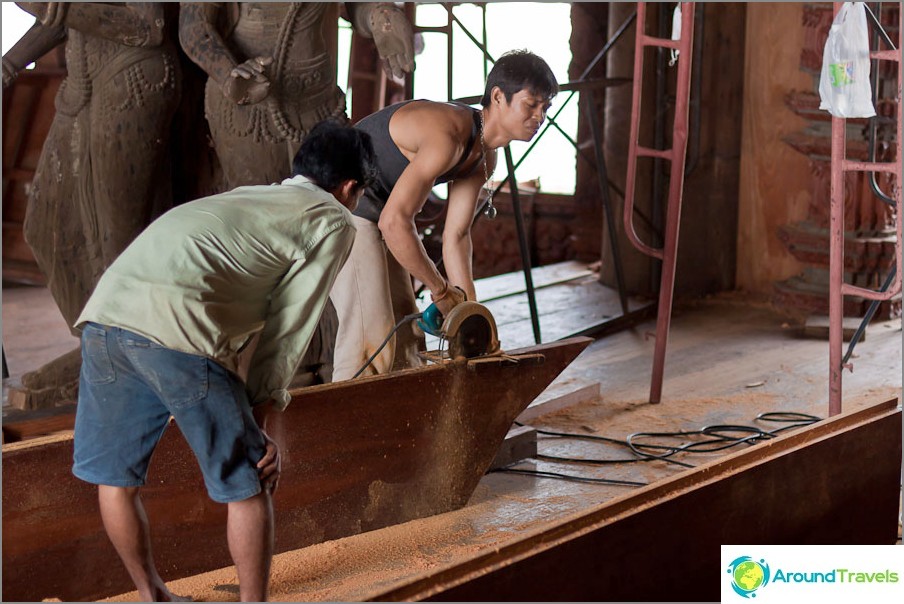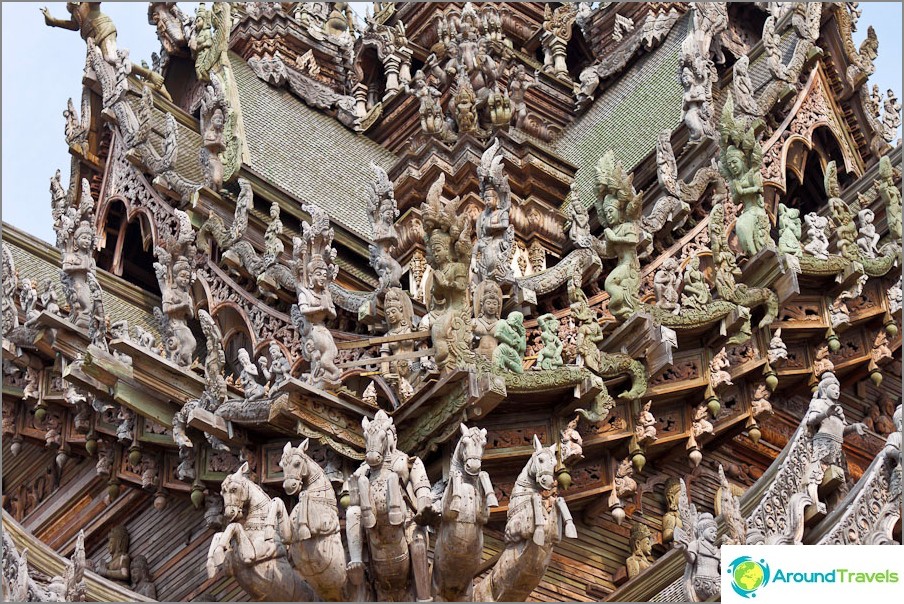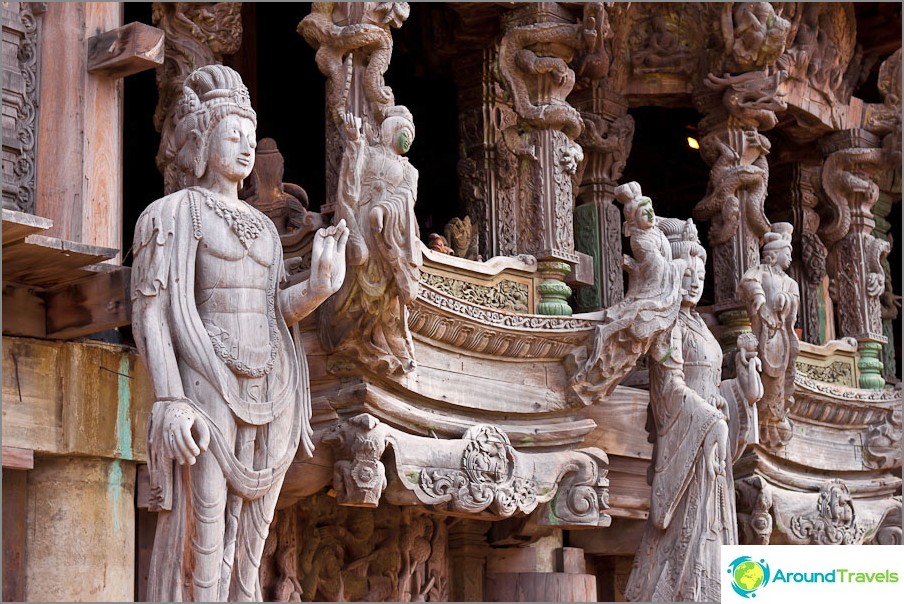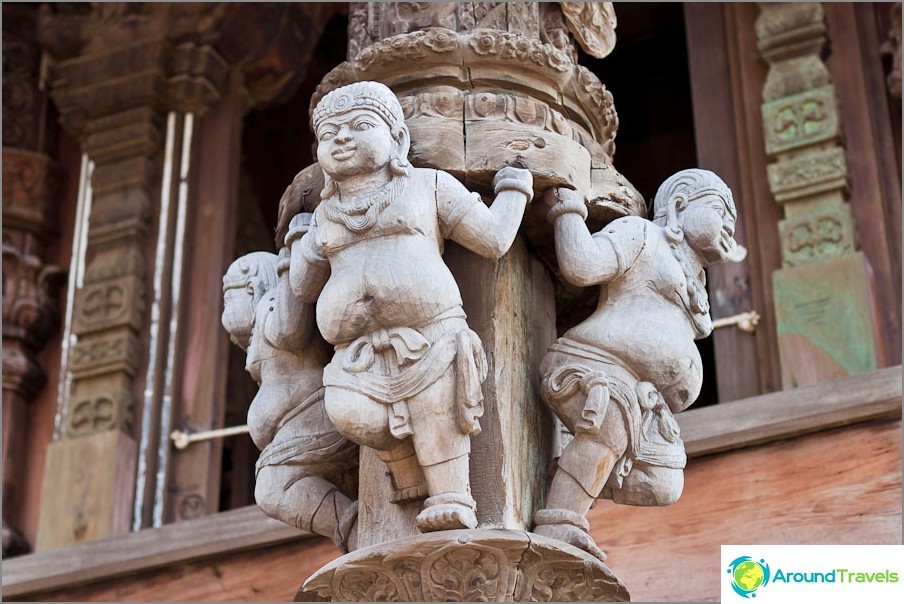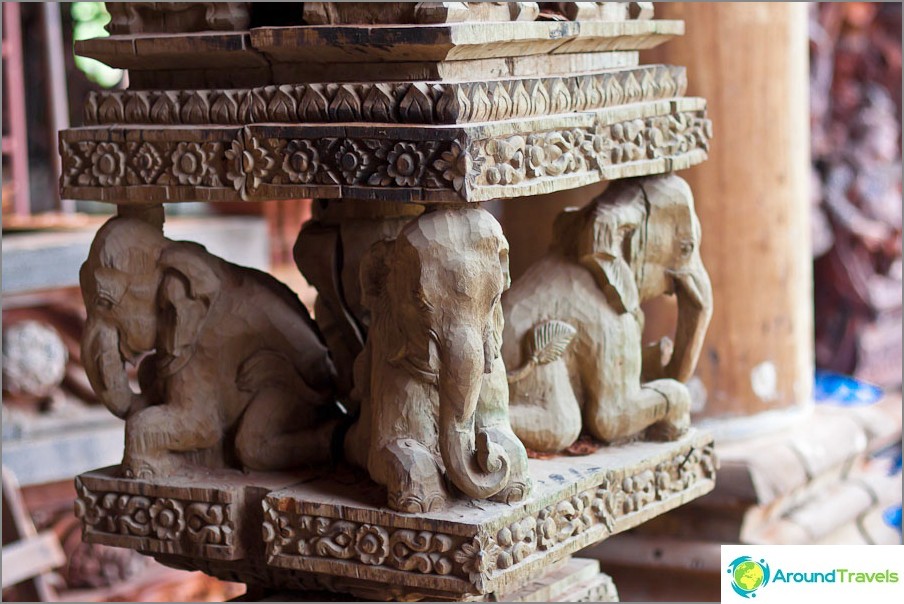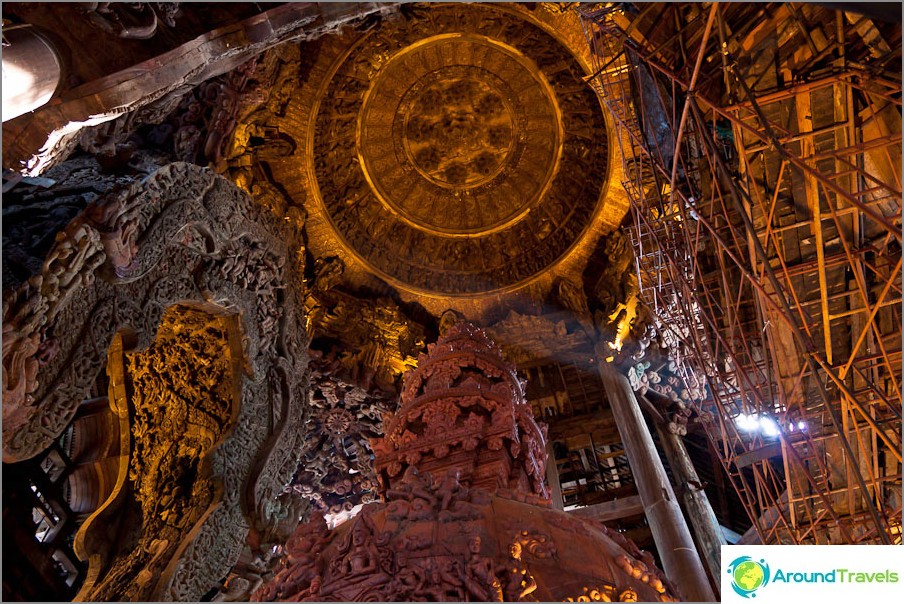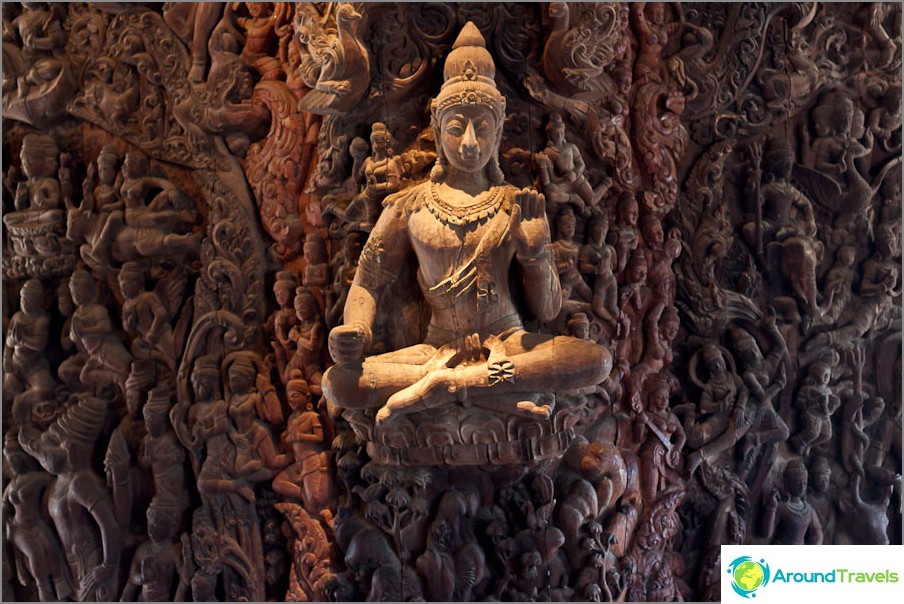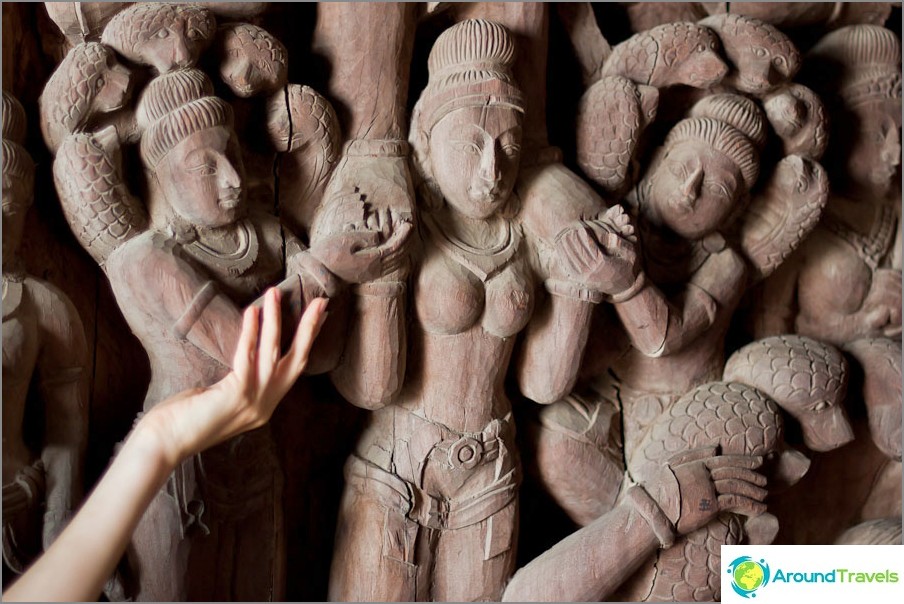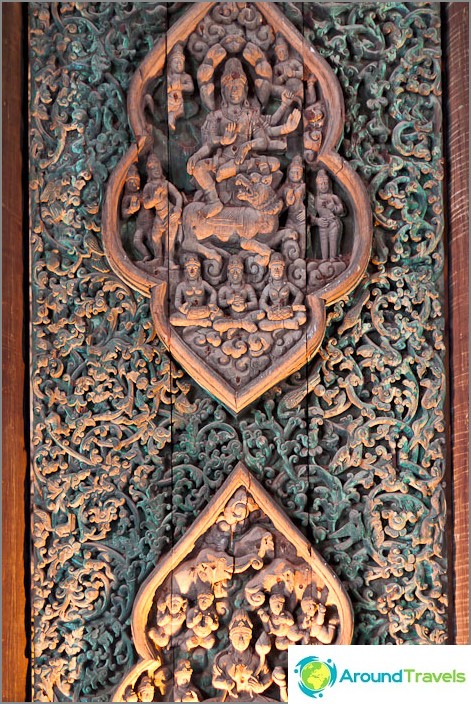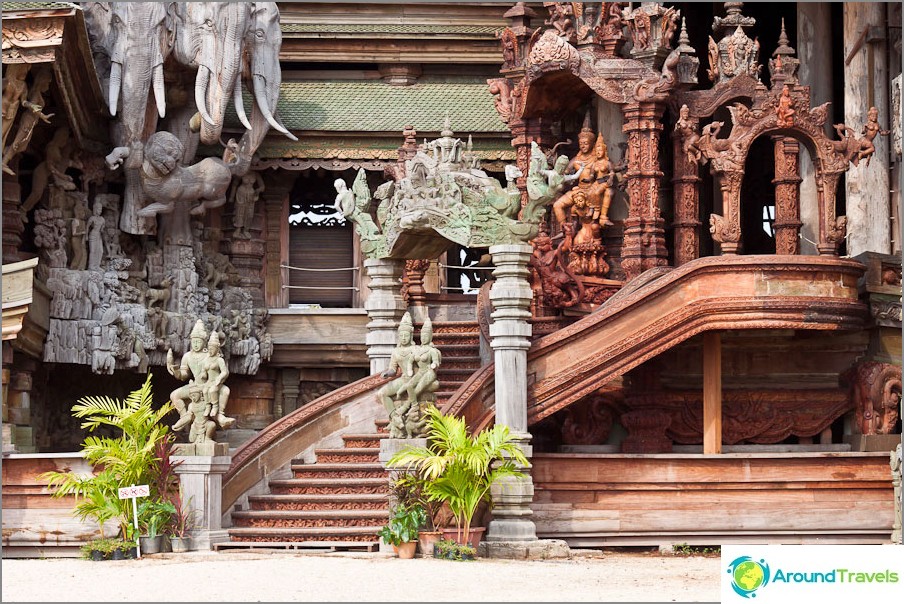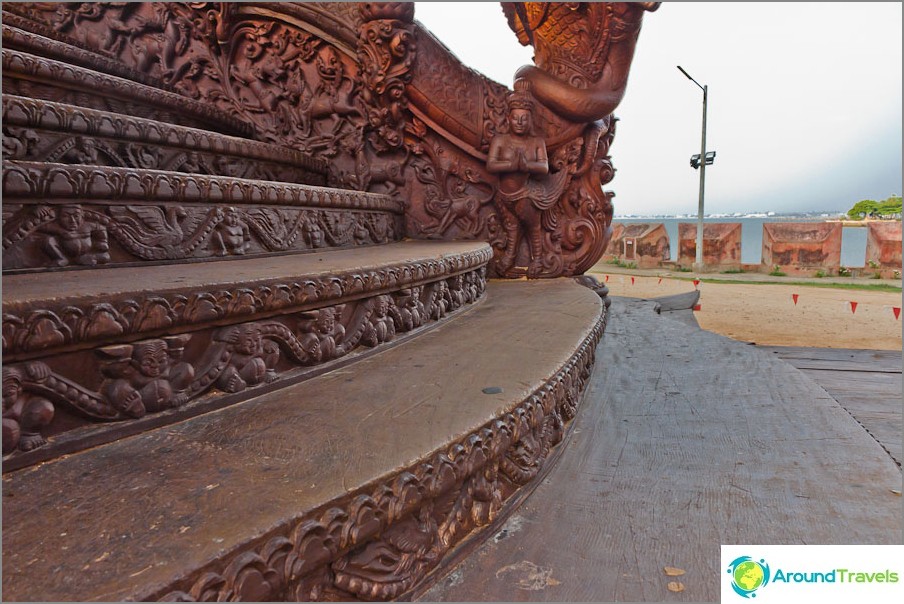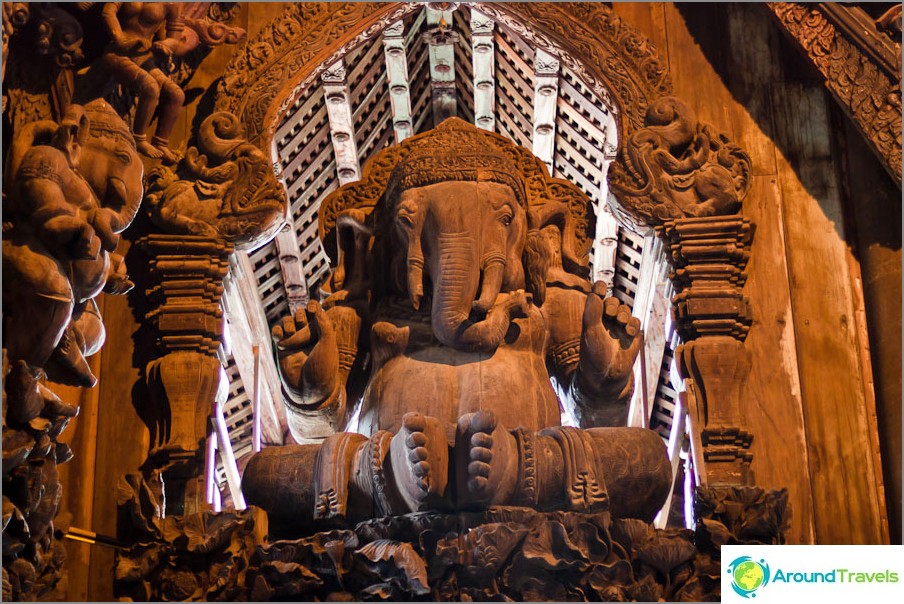 Some figures show that they have been here for a long time - they are gray and cracked. Some even managed to lose limbs, and now stand as with prostheses. At this rate, the Truth can be built all your life..
I was very impressed by the massive wooden pillars supporting the roof, which can only be grasped by two. What a pity that in Russia you will no longer find such thick and tall trees, and real log huts are becoming a thing of the past..
Despite the fact that the Temple of Truth looks more like a museum of wooden architecture, it is also a temple. Therefore, fans of the Buddhist religion can offer their prayers here..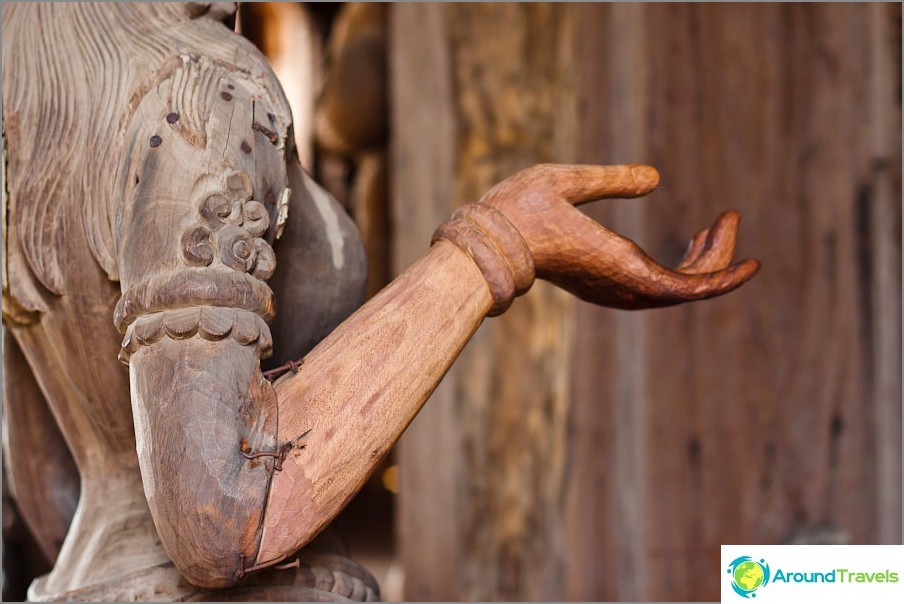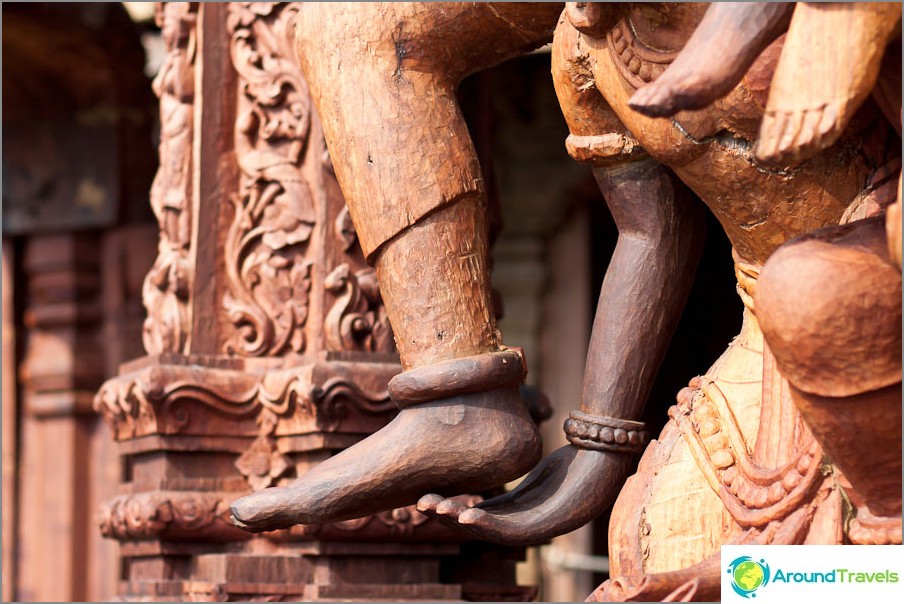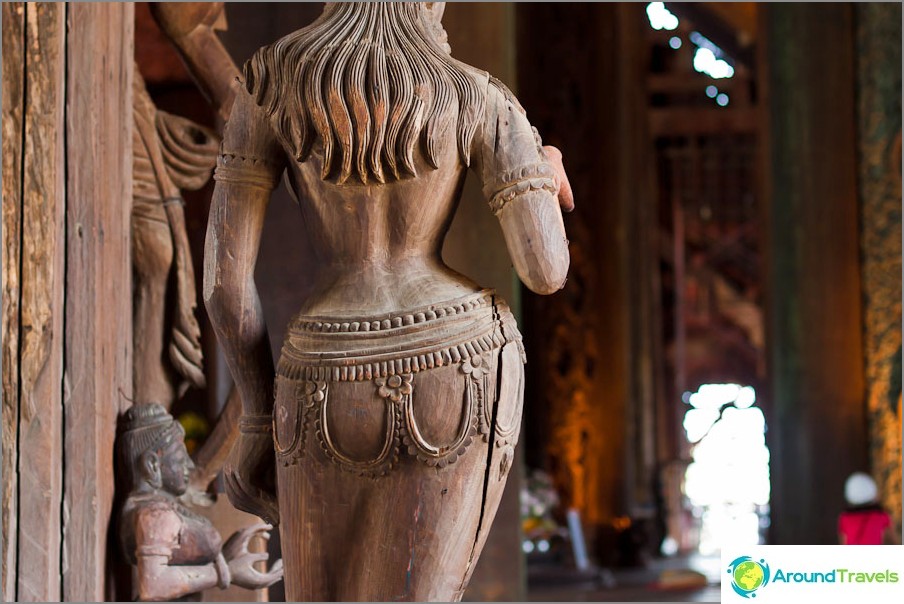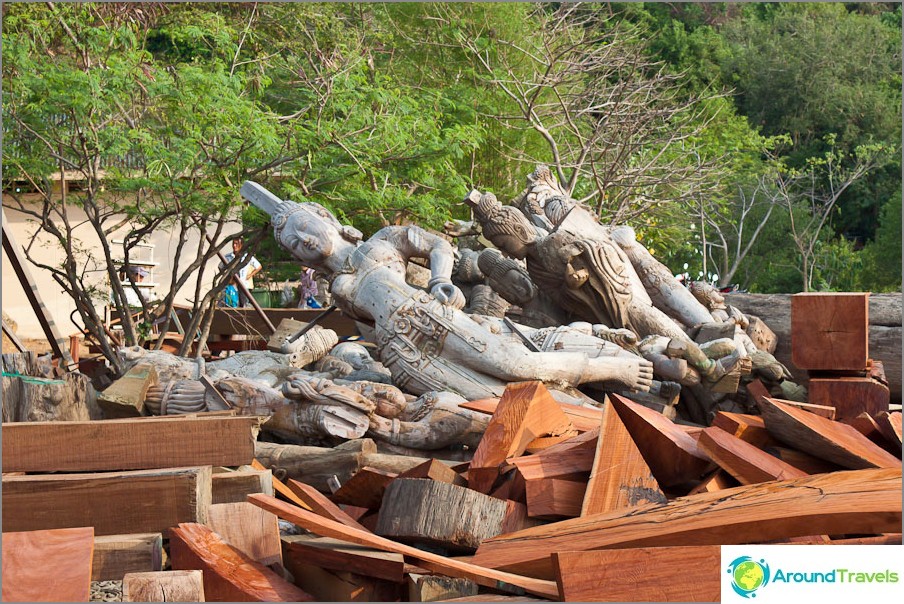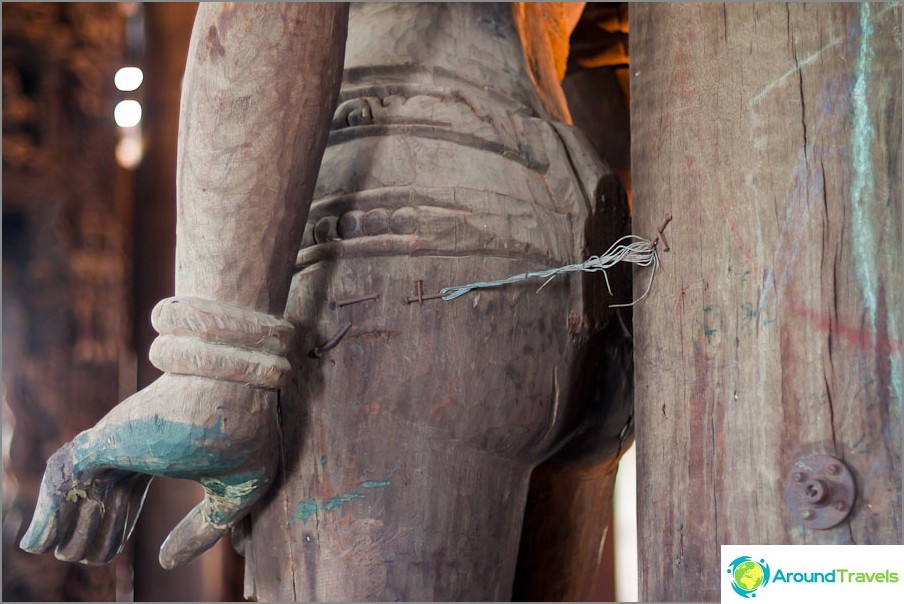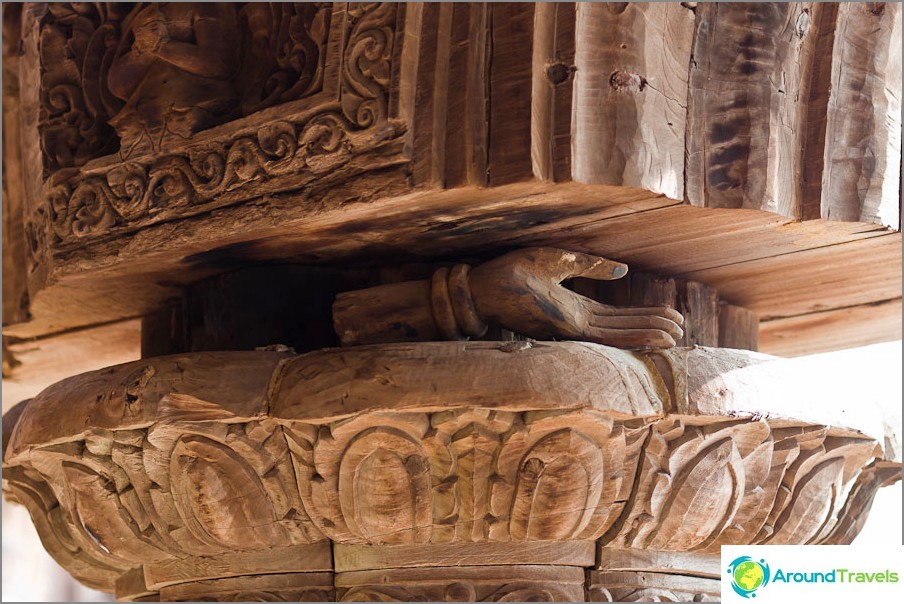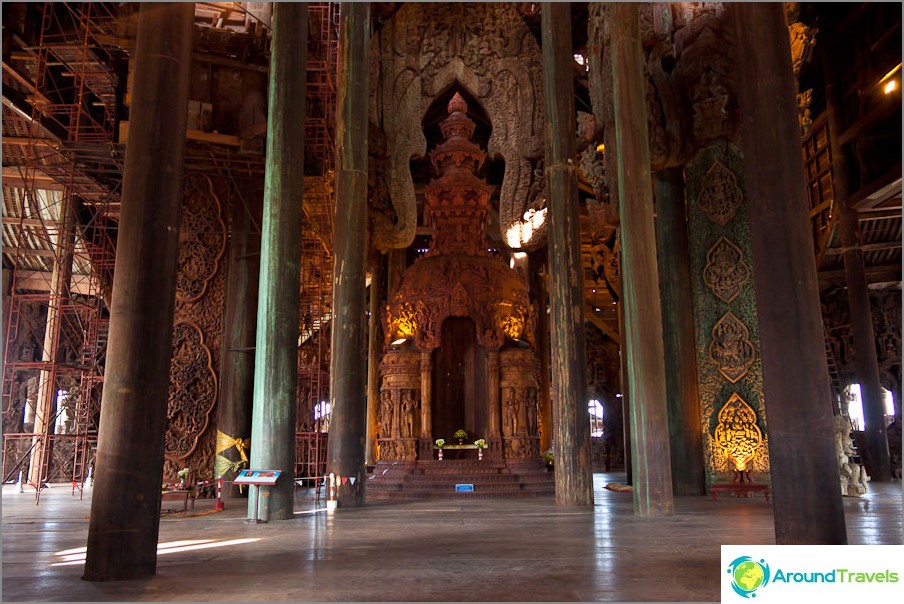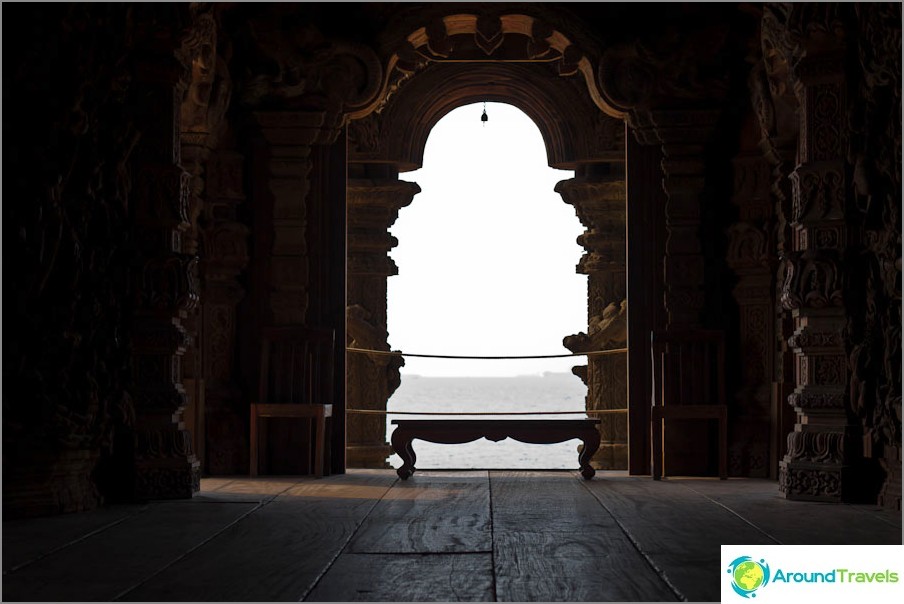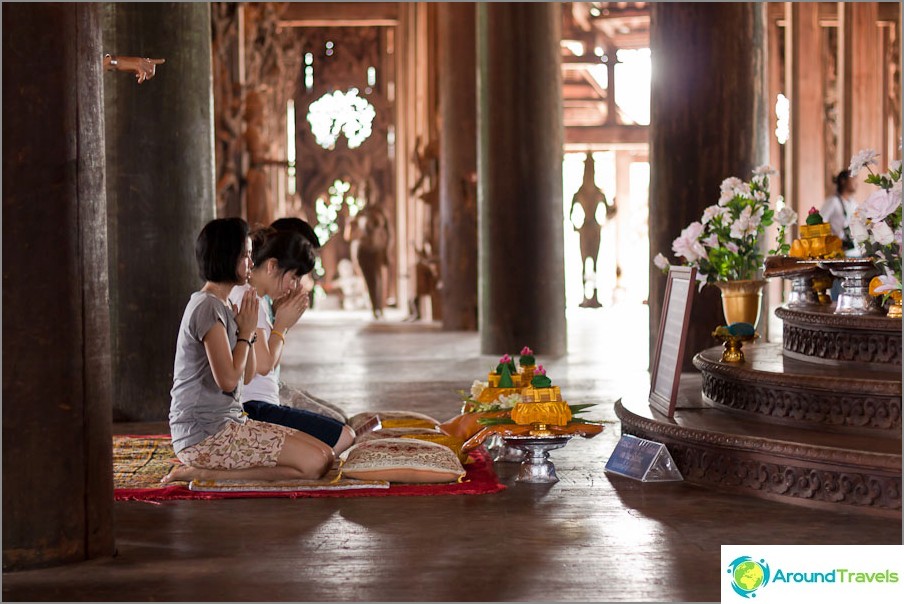 Information to visit
Entrance fee 500 baht per adult and 250 baht per child (height 110-140 cm).
Life hack! If you buy tickets through Klook, the price will be 440 baht per adult and 220 baht per child. Big savings are not direct, but everything is done simply, why not. You pay online on the website, a voucher comes to the email, then you show it on the phone screen at the cash desk.
Discount ticket price>
Almost any local travel agency can take an excursion to the Temple of Truth, which will essentially be a transfer (without a guide). This is convenient if you have a long way to get to it and do not have your own rented bike or car..
Temple excursion price>
The time for a visit should be about 1 hour.
Since this is a functioning Buddhist temple, you must follow the rules for visiting Thai religious institutions. Namely, to be with closed shoulders and belly. But on the spot they give something to hide behind a bail of 200 baht.
There is a Russian-speaking guide in the temple, he is constantly there. If there is a group, then they will conduct an excursion, included in the ticket price.
There are 3 cafes for snacks. At 11-30 and 15-30 there is a short dance show, you can ride elephants.
On the map
The Temple of Truth is located at Cape Rachwata in Pattaya. From the city center about 7 km. I rode a bike, you have to turn left on Soi 12 in the direction of travel from the center. Further straight ahead, without turning anywhere. In the place where there will be a fork, take it to the left. The entrance gate to the territory of the Temple of Truth will be on the right side.
Sanctuary of Truth
Sanctuary of Truth
Temple of Truth - Sanctuary of Truth, also called Wang Boran and Prasat Mai, is a 105-meter wooden temple.
Read about the temple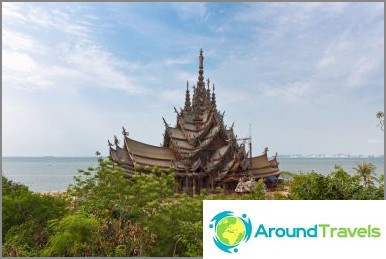 The Sanctuary of Truth, also called Wang Boran and Prasat Mai, is a 105-meter wooden temple.
P.S. I recommend to all wood lovers!