Airbnb makes finding accommodation less technical and boring, but creative and even exciting. Interesting and unusual housing options can be found not only around the world, but even in a single country. For example, in Thailand. Of course, the diversity is not so impressive, due to the peculiarities of the climate - it is not easy to make a house made of snow in the tropics, but still the choice is quite rich: from an ocean catamaran to a hobbit house and a Dutch mill. Personally, I was always attracted by tree houses and I almost spent the night in such a place near Chiang Mai once, but it did not grow together then. Hope next time.
The content of the article
Useful About Airbnb
Despite the fact that the service is developing rapidly, not everyone knows about it yet. Although it is a matter of time, I think. I already had more informational articles about Airbnb.
Sign up here and get $ 32 off Airbnb on apartments worldwide. Valid for the first booking, the booking must be from $ 70. A trifle, but nice.
Get $ 32 Discount>
Hobbit house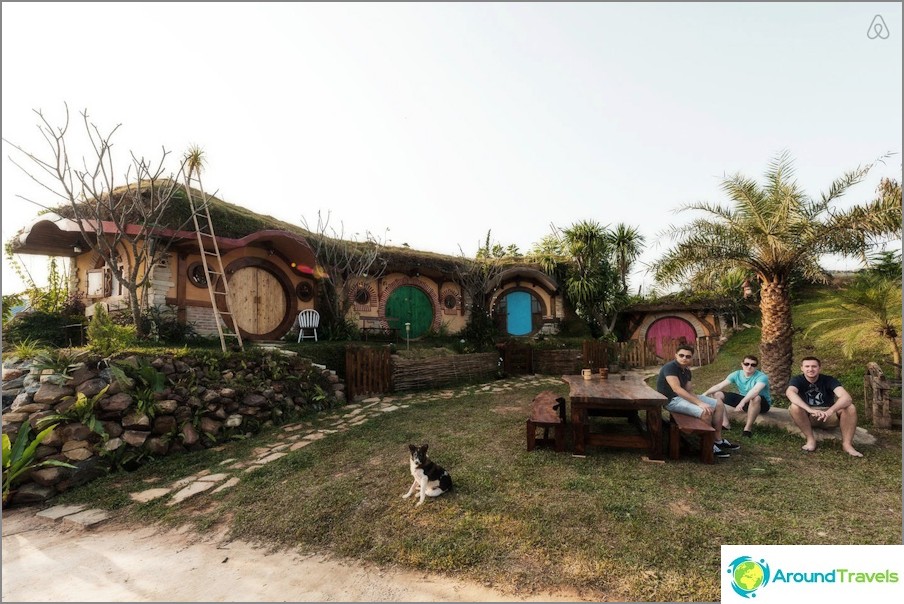 Location: Sikhio, Nakhon Ratchasima
Price per day: $ 58
After the film «Lord of the Rings» the world swept the fashion for the construction of semi-dugouts in «hobbit» style. There are such houses in Thailand, just two hours' drive from Bangkok and half an hour from the nat. Khao Yai Park, in a small Thai village. The owner of the houses has a whole themed collection: books, films and even hobbit costumes for photo shoots. At the moment there are only 4 available for guests «rabbit hole», but by the end of 2015 new houses in the same style will be built, making a whole hobbit village. The houses look small from the outside, but in fact, they are spacious inside, with an area of ​​about 60 sq. m. View Homes Page on Airbnb
House on tamarind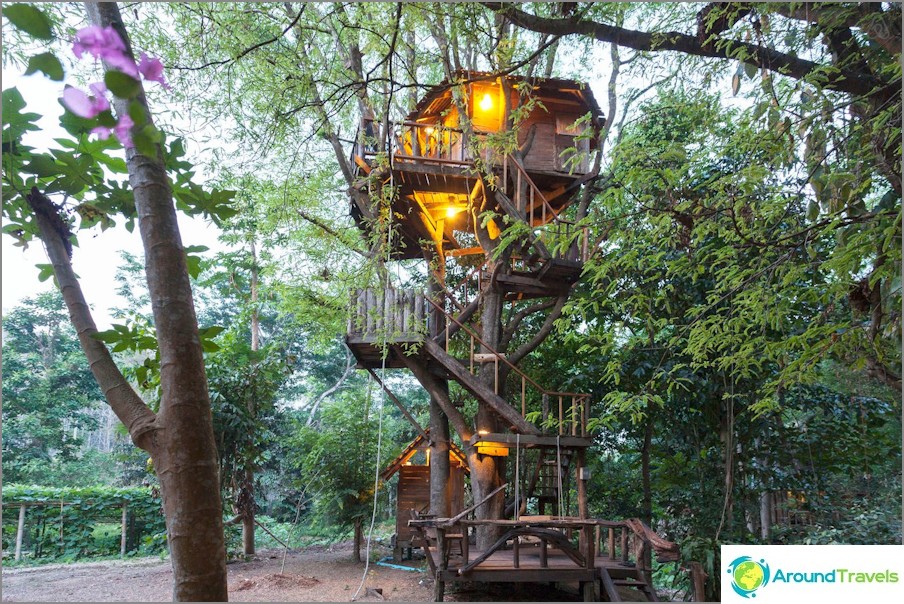 Location: Luang Nuea, Chiang Mai
Price per day: $ 60
Small family hotel of six tree houses surrounded by teak forest. Located next to a small village with a population of 400 people, 70 km from Chiang Mai. The owner of the hotel worked as an architect all his life, and after retirement, he first built a country house here for the family, and two years later - for rent. Each is hand-built and unique. The place is so quiet that you cannot get to the houses by public transport, you must first contact the owner and arrange a transfer. Although there is, in principle, something to see around the village, these are mainly natural attractions: a waterfall, an observation deck for a sunset, a cave with bats, etc. View Home Page on Airbnb
One with nature in Bangkok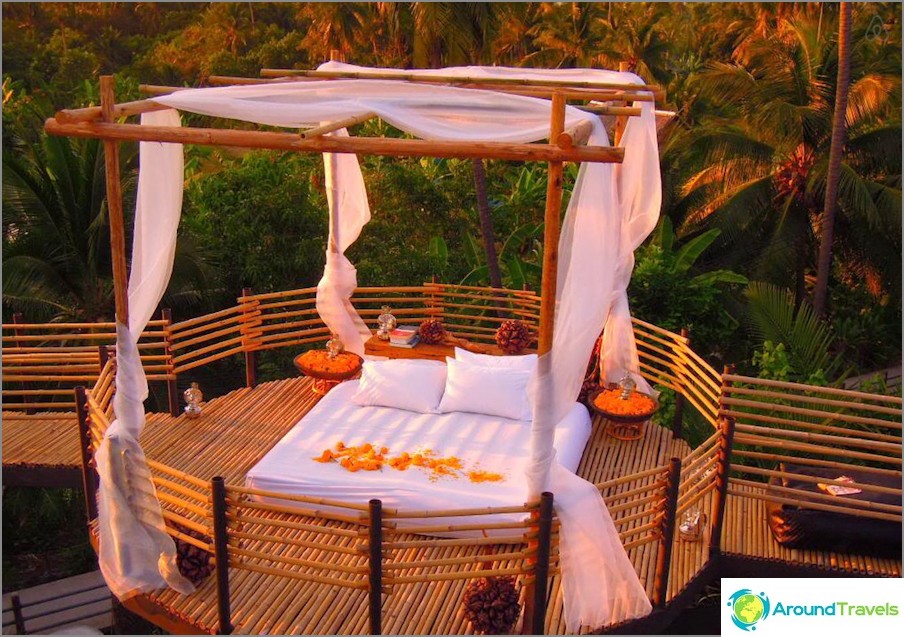 Location: Bang Nam Phueng, Bangkok
Price per day: $ 220
A three-storey eco-house by the Chao Phraya River, which combines natural materials and modern design. Located in Bangkok's green area, Green Lung, where high-rise building is prohibited. This is «lungs» Bangkok, an area overgrown with lush tropical vegetation and densely populated with various animals. People come here as in a city park, take a walk, ride bicycles along the paths and enjoy nature in the middle of the noisy metropolitan city. You cannot drive up to the house. Only on foot, by bike or by ferry. Butterflies fly around, geckos run around, it smells deliciously of damp earth, water and forest. In general, the real wild tropical nature. At the same time, the bedroom has air conditioning and wi-fi. The transparent floor in the bathroom adds color, you can observe nature without being distracted by anything. There is a swimming pool next to the house, the water in which does not contain any chemicals, that is, it is more like a pond. But the most romantic place in this house is a large outdoor terrace with a beautiful view of the river and forest. View Home Page on Airbnb
Youth party hostel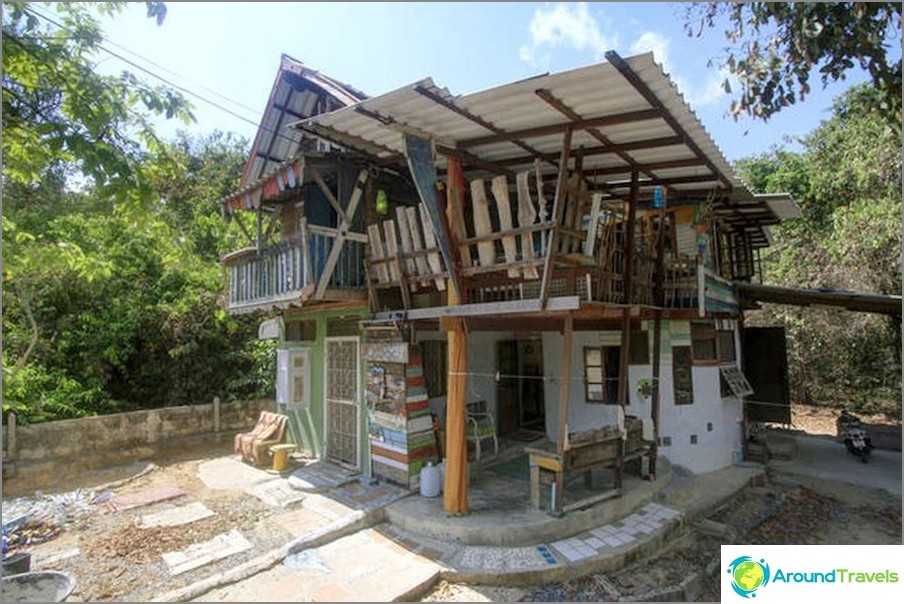 Location: Rawai, Phuket
Price per day: $ 10
It looks like a real maze of balconies and rooms, but at a very affordable price. A kind of youth party place where you can always find a cheerful company of backpackers from all over the world, it is always noisy and someone is sure to cook something tasty in the kitchen. A creative atmosphere reigns here, interesting acquaintances are made and the spirit of freedom and wandering is in the air. For those who are young at heart (and not necessarily in body), this original hostel in Phuket, near the beaches of Rawai and Naiharn, may well suit. View the hostel page on Airbnb
Traditional Thai teak house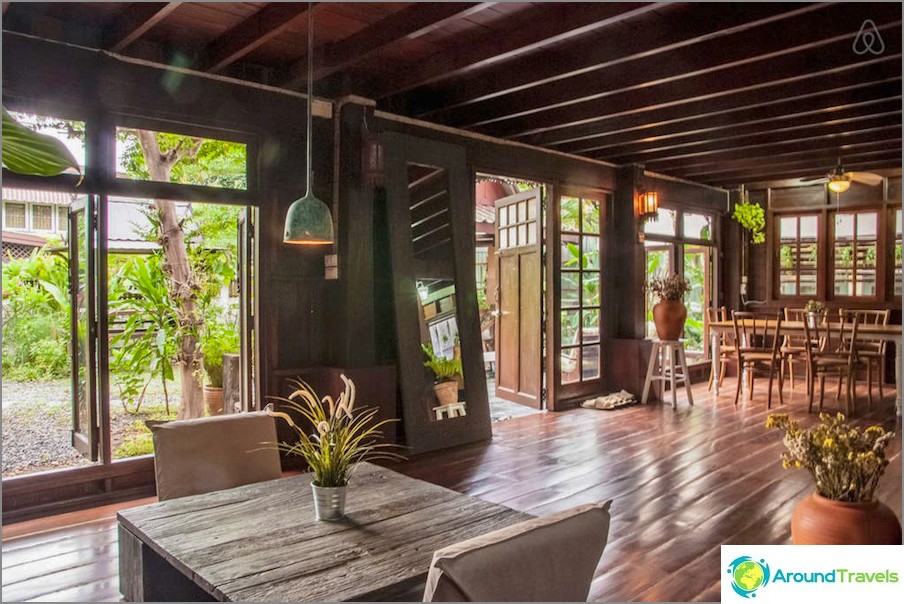 Location: Bangkok
Price per day: $ 98
Spacious teak house in the traditional style of the north of Thailand. House area 600 sq. m, is located in a very calm and safe corner of Bangkok, surrounded by a large tropical garden. At the same time, not far from the BTS Skytrain station. A good choice for those who want to feel the atmosphere of traditional Thai living with its noble dark wood walls, interesting interior details and original space around. At the same time, it is practically in the center of the capital. View Home Page on Airbnb
Klong house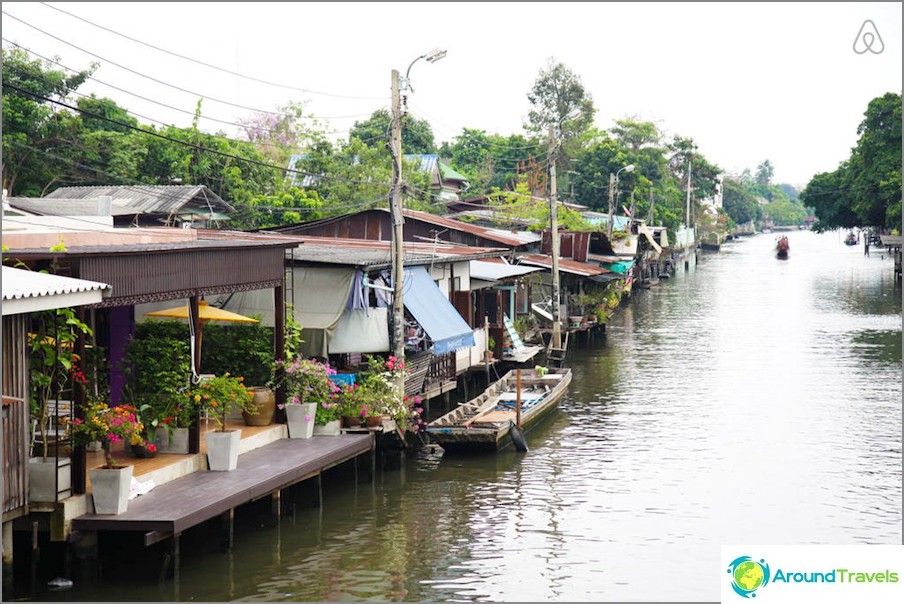 Location: Bangkok
Price per day: $ 70
The klongs (canals) of Bangkok are one of its main attractions. In the center of the Asian bustling metropolis, its own life, unlike anything and full of colorful details, flows. By settling in a house that stands right on the Khlong Bang Luang klong, you will find yourself right in the center of local color and ethnography. A kind of southeast Asian Venice. View Home Page on Airbnb
Catamaran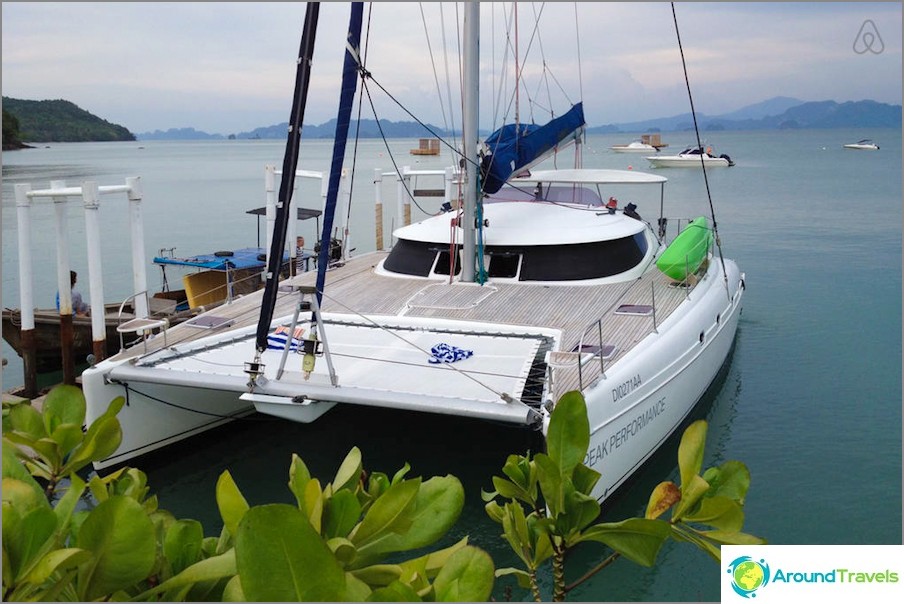 Location: Thalang, Phuket
Price per day: $ 1800
15-meter ocean catamaran, able to walk from Phuket to the Maldives. Although, perhaps, it is not necessary to go that far, Phuket and the islands around are one of the most beautiful and suitable for sea trips corners of Thailand. The captain and his assistant will help you plan your itinerary and show you the hidden caves and lagoons of the Andaman Sea, fishing spots and secluded white sand beaches, while a personal chef will prepare a lunch according to your request. Needless to say, only its price is more interesting than such an offer ... View the boat's page on Airbnb
Tent with amenities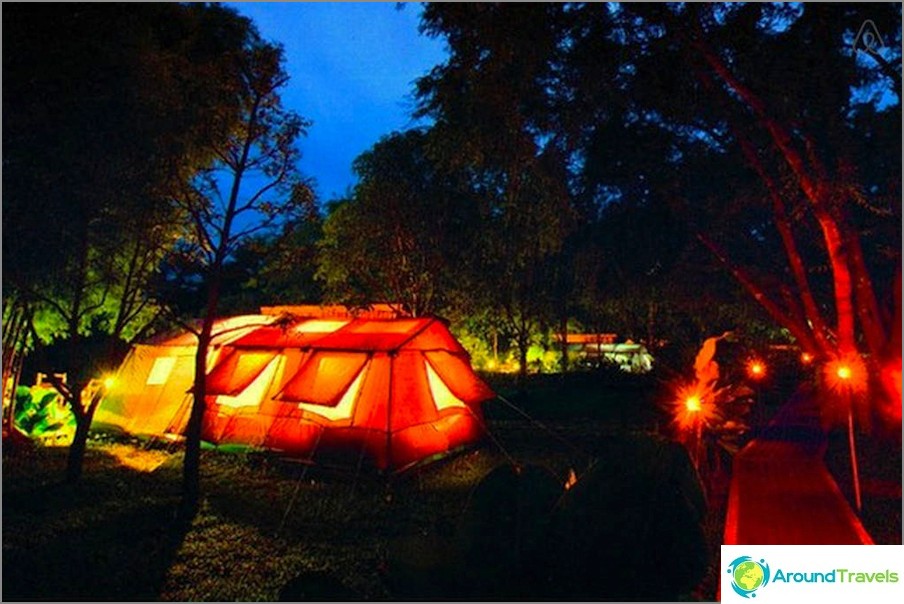 Location: Mae Sot, Tak
Price per day: $ 76
The Asian camp is almost on the border with Myanmar, among the forests, on the banks of the river. Large and tall tents with refrigerator, TV and air conditioning inside. 6 tents stand by the river, inside there is a separate bedroom with a bed and a living room with mats and a table. Next to the tents there is a European-style house with a shower and toilet. The tents are on the banks of the river, besides them there are paths, gazebos, cafes, a garden and ponds around. Unity with nature, Thai camping option. From entertainment there are ATVs and rafting and jet skis. There is a market not far from the Burmese border, in addition, there are attractions around Ma Sot. View the campsite page on Airbnb
Villa on boulders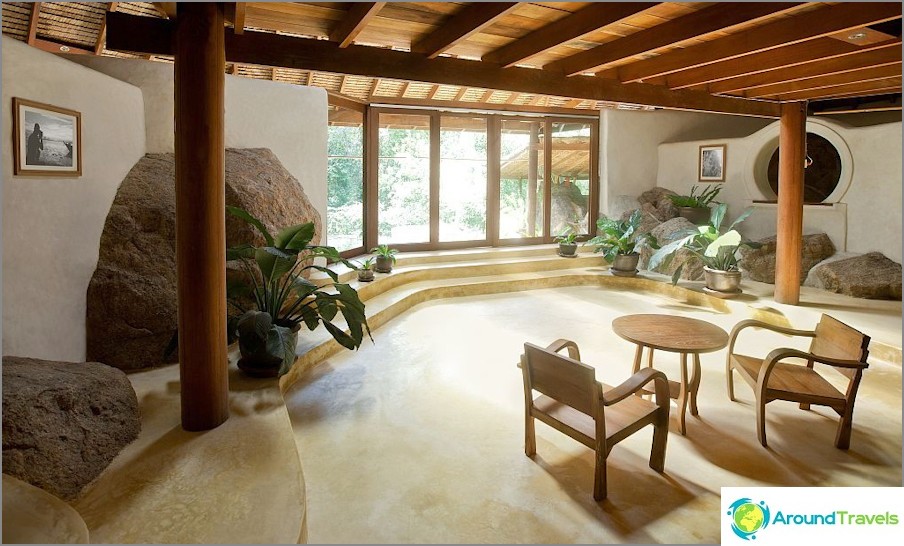 Location: Koh Phangan, Surat Thani
Price per day: $ 120
Surrounded by pristine rainforest, this 70 sq. m was built by the owner of natural materials: stones, earth and wood. Earthen walls fill in the gaps between large boulders, and the roof rests on two massive pillars that used to be the masts on a sailboat. One of the walls is made of glass and lets in a lot of light. Right angles in the interior are almost completely absent. Open kitchen overlooking the surrounding forest, with a brick wood burning stove. The villa is located in the middle of a forest and tropical wildlife, but the nearest village is less than a 5-minute bike ride away. There are beautiful beaches and local attractions nearby. The villa is fully solar powered and has rainwater in the kitchen and bathrooms. One of the showers is open 180 degrees towards the forest and the ocean. The villa is built to blend in with a lush tropical hillside. This concept suggests that at times, nature enters the living space. Most of the animals are completely harmless, and for most guests, lizards, frogs, cicadas or geckos are just a cute feature of the shelter. The villa's library contains books on yoga, psychology, Taoism, physics and organic farming. View Home Page on Airbnb
Cozy house near the airport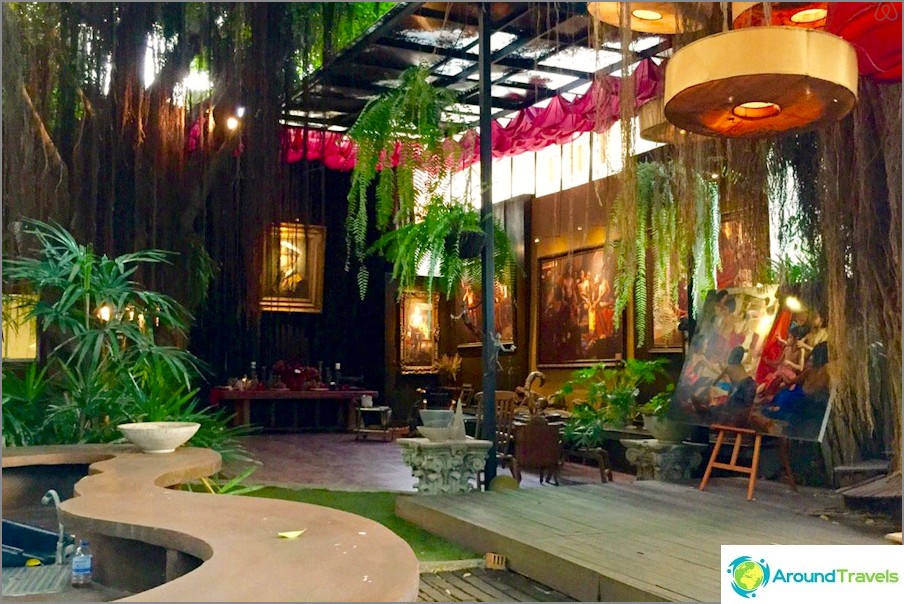 Location: Bangkok
Price per day: $ 38
The house is just 10 minutes drive from Suvarnabhumi International Airport. Nice accommodation with a landscaped garden and creative space, music and painting in the common area. The free airport transfer makes this place very attractive for those who are transiting through Bangkok and want to relax in a calm and relaxed atmosphere. View Home Page on Airbnb
Tarzan's house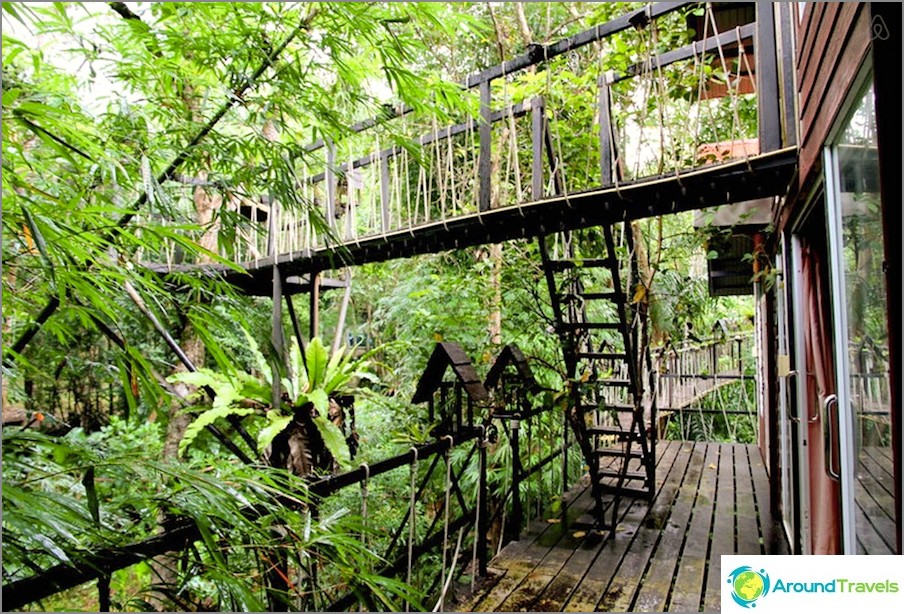 Location: Phanom, Surat Thani
Price per day: $ 239
The hotel is located near the nat. Khao Sok Park. The houses are built among trees, on high piles, so that the bedrooms are about 6 meters above the ground. There are also platforms and terraces, bamboo bridges and walkways at the height. And although in general the benefits of civilization are available here, it is rather an eco-lodge for lovers of unity with nature, who are not too confused about comfort. View Home Page on Airbnb
Elephant Bungalow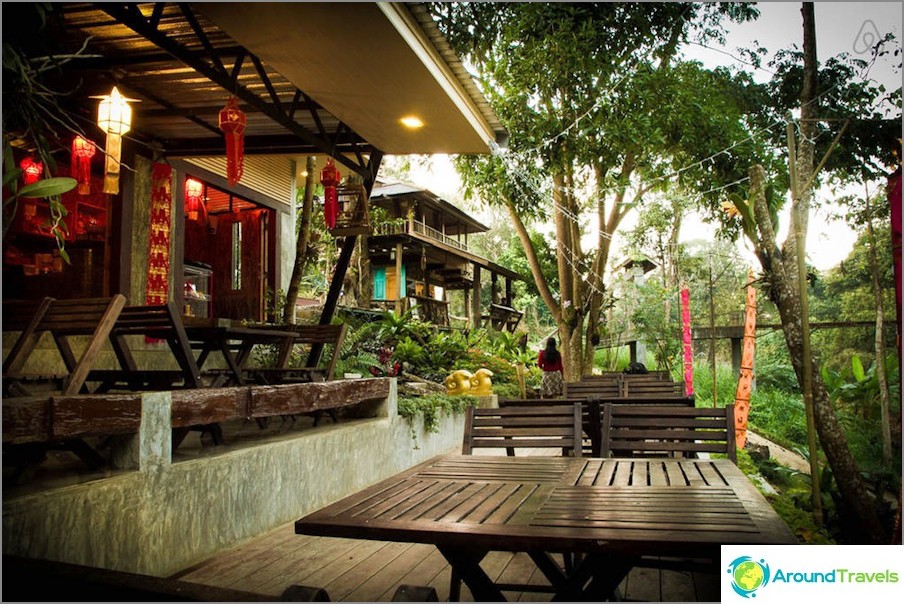 Location: Mae Wang, Chiang Mai
Price per day: $ 63
Bungalow on the banks of the Mea Wang River, above the elephant path. European style rooms with king size bed, air conditioning, minibar and balcony overlooking the river. the main «chip» of this place - elephants. You can play with them, swim, feed them, ride them, watch them ... The Chai Lai Orchid is located an hour's drive from Chiang Mai. In addition to elephants, here you can simply enjoy nature, lying in a hammock or sitting in a cafe, or you can try something more dynamic: rafting, trekking, waterfalls, mountain tribes, etc. Not far from this place is the national park with the highest mountain in Thailand - Doi Inthanon. View Bungalow Page on Airbnb
Mill in Thai performance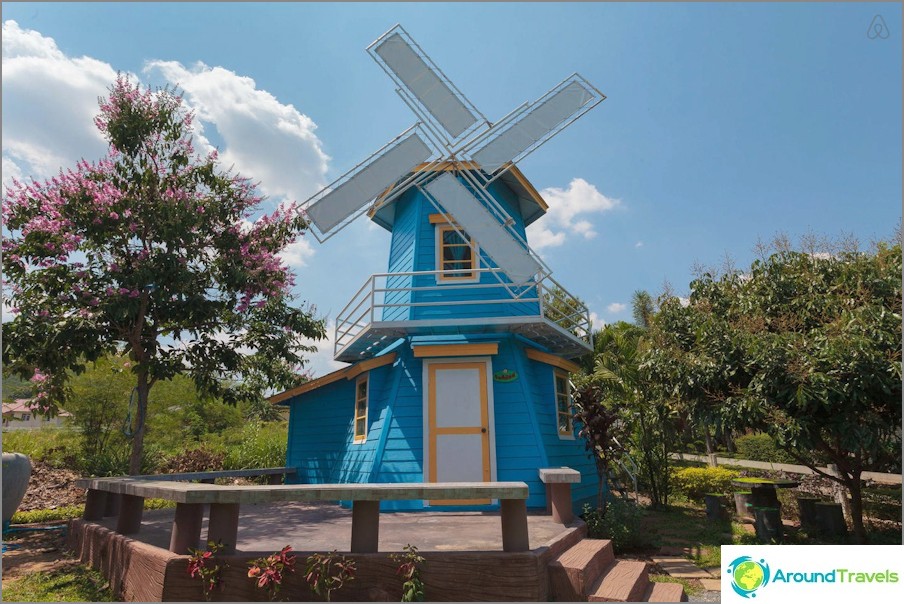 Location: Nakhon Ratchasima, Nakhon Ratchasima
Price per day: $ 116
A hotel with houses styled like Dutch windmills, painted in bright, cheerful colors. For some reason, in Thailand, the theme of mills is very popular, but usually they are still small in size and not residential, just a decorative element, along with earthen sheep. The houses offer a nice view of the mountains and the forest, and around there is a place for walking and a barbecue. The hotel is located near the nat. Khao Yai Park. This is one of the most popular in the nat. parks in Thailand. View Home Page on Airbnb