I will not say that all the toys are really special, but some made us very happy, and that is why we decided to shoot a short video about toys in Thailand that we bought for Egor. One plucked chicken, which is worth it, and an inflatable glowing elephant 🙂
I warn you right away, this is not a super-duper wooden ecological one. Firstly, we cannot buy heavy toys, because they will not be transported, and we change the city every 2 months now. Secondly, we do not buy expensive toys, so that it would not be a pity to leave them in the previous housing. Well, and the main point of the toys we now have is to distract Yegor in a taxi, at home, and during a massage. So, we have our own small set of developing toys from Moscow, and they are also in the center where we go to study.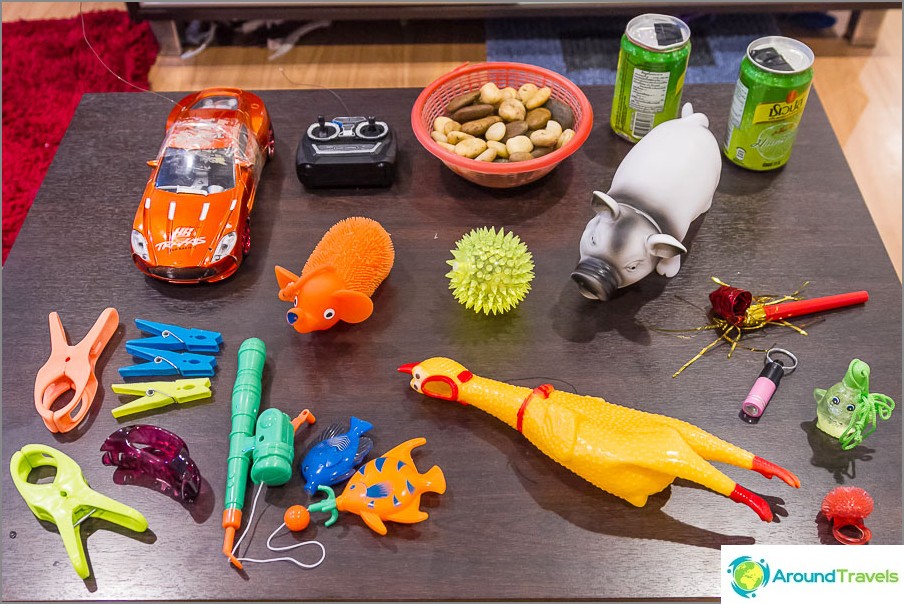 In general, the whole story is on the video, but now we have much more toys than presented. I personally have the feeling that the whole apartment is littered with them. These are mainly cars of different sizes and colors. In principle, this is understandable, they cost 50-100 rubles. Of course, they also break down often, but they do not have time to get bored. But in general, Yegor, as before, gravitates towards various bottles, boxes, pieces that are not toys. He can play with his pot, with a small stool, roll a stroller back and forth, put a pipe in a bottle, and so on. One of the finds is stones that were laid out around our pool in the condominium. He can shift them, scatter them, throw them off the table, just touch them..
I was once asked what kind of toys there are in Thailand. So here is full of cheap Chinese rubbish, which in Moscow costs 5 times more. But here's something really worthwhile and developing on the fingers of one hand, especially if we are talking about the regions of Tai. There was only one store on Koh Samui that sold wooden toys, we did not buy ourselves, but we saw them from friends, they were really interesting and good igruhi. In Bangkok, you can find a lot of things, here it is much easier. But in the center for classes, as I understand it, a lot is ordered and brought from America. That is, if you need something specific, then perhaps you should take it with you from Russia, well, or master all kinds of auctions like ebay in order to order from overseas, it comes quickly.