Not all of the best sights of Krabi are included in sightseeing tours that the average tourist consumes en masse. Trekking in the Tab Kak Hang Nak Nature Trail is one of those adventures that only the most energetic people can afford. Depending on your physical fitness, trekking will take two to five hours in both directions. The route runs along the ridge of the Tub Kaek mountain, which with its profile resembles a frozen sea wave. Along the way, you will come across several viewpoints and local flora and fauna, and at the end you will find the coolest panorama in Krabi. No worse than at the top Tiger Temple (by the way, I highly recommend it too).
The content of the article
Trekking on Tub Kaek Hang Nak
I am very glad that I managed to climb Tub Kaek. It's great that I was able to make time for this. It is clear that this is not the most popular place among tourists in Krabi, and it does not quite organically fit into the general outline of my trip to the best sights of Krabi, or more precisely the popular ones. And only a few can name the very format of recreation. «rest». It is more suitable for those people who love trekking and eco-tourism, mountains and forests, testing their capabilities and literally - reaching heights.
Therefore, I regarded this trekking as a walk for my beloved, who missed various kinds of trips. And since most of all I love nature and all sorts of viewing platforms that take your breath away, this place is just a must see. If you understand what I mean, then you also need to get here, you will not regret!
By the way, recently, I started to run, but because of the trip, the whole schedule has long been lost. Therefore, my visitation plan was originally to run up to this mountain. Not walking, but really - to run, thereby killing two birds with one stone, combining the useful with the pleasant. However, after 500 meters, I realized that I slightly underestimated Tub Kaek.
The rest of the way, and this is another 3.3 km, I walked at a brisk pace. The app counted 3.8 kilometers in total. The path passes through the jungle, gradually transforming from a wide dirt road for cars, into a path with stepped drops of stones and snags of trees. At first I wondered where the cars came from and why there should be, but on the way I met a tractor on caterpillars. Most likely, he is engaged in clearing and leveling the road after rains and landslides. The jungle is also not immortal, something constantly falls, blocks and piles on.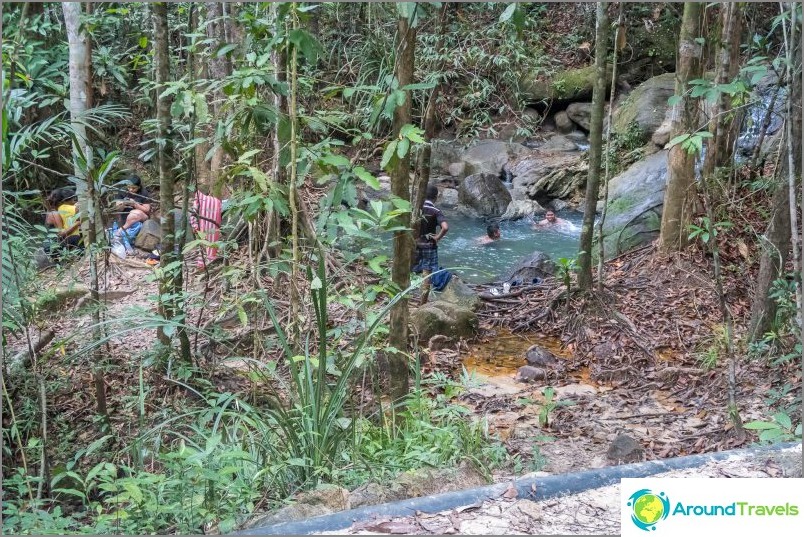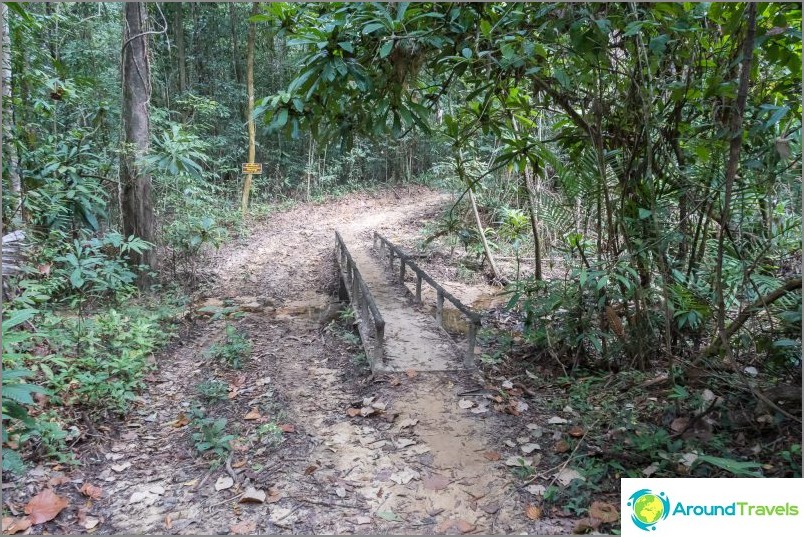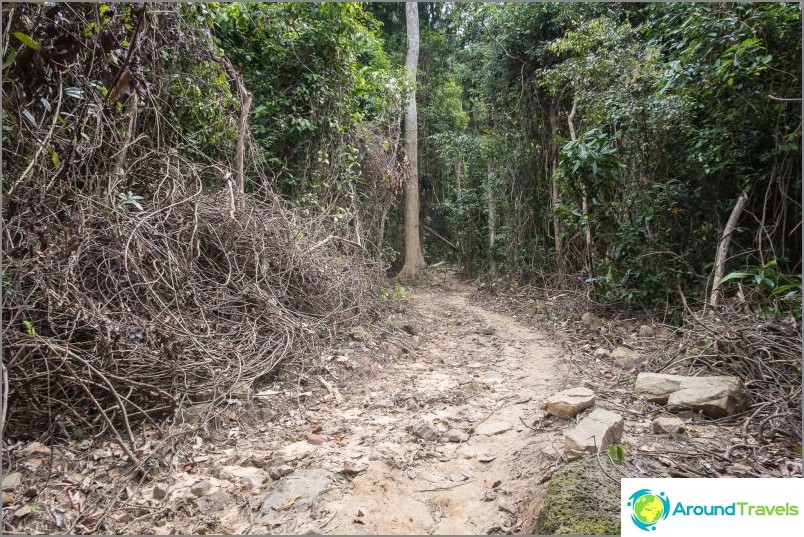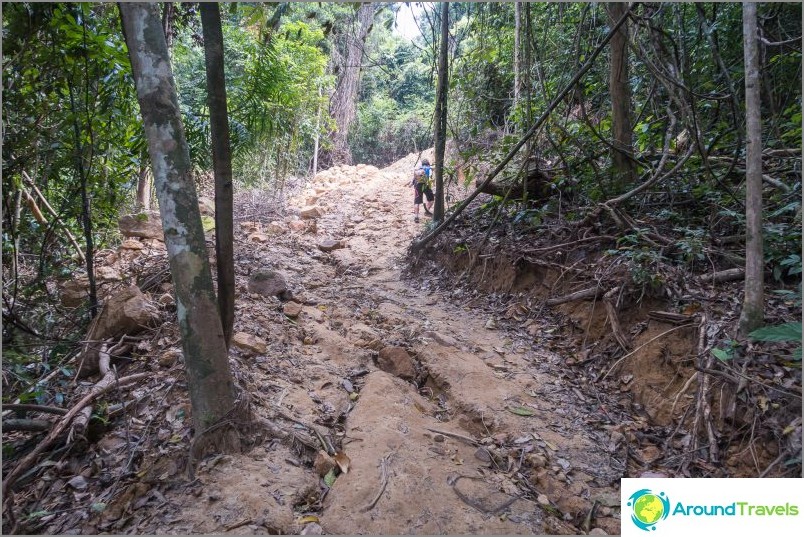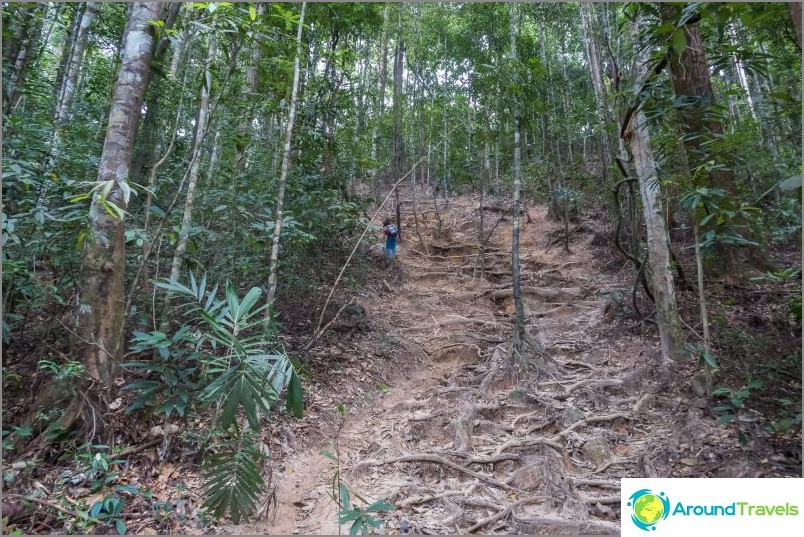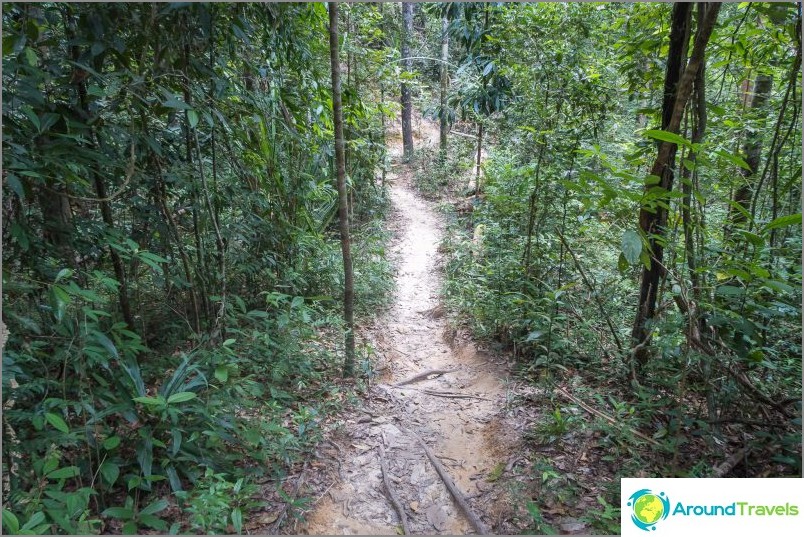 In total, I counted two serious, rather steep sections and three smaller ascents. Until the middle of the path, the road constantly goes uphill, in some places it turns into an almost vertical staircase, where you have to jump over roots, stones and gullies. After the first viewpoint, there will be several horizontal segments where you can take a breath without stopping. There are no auxiliary priblud such as handrails or ropes with knots here. So, I highly recommend not to approach the preparation at random and not to drag up the hill in the shale. On my own I will say that when you jump on all these potholes and crawl out to the first viewpoint (there is a plate with a number there), it seems - here it is, hurray, I got.
In fact, this is about half of the entire track. And the first viewpoint is very weak in terms of visibility, it is heavily overgrown at the edges and you can hardly see anything from it. But the main thing is that the main climbs are already behind, it will be easier further..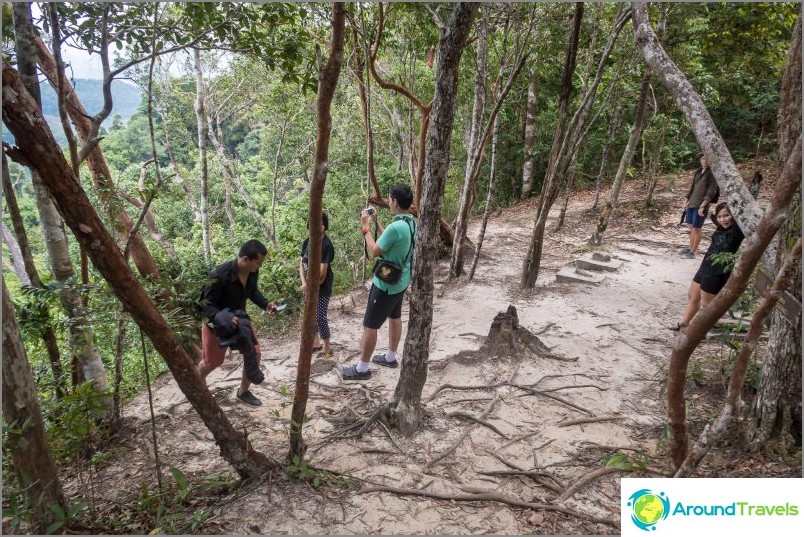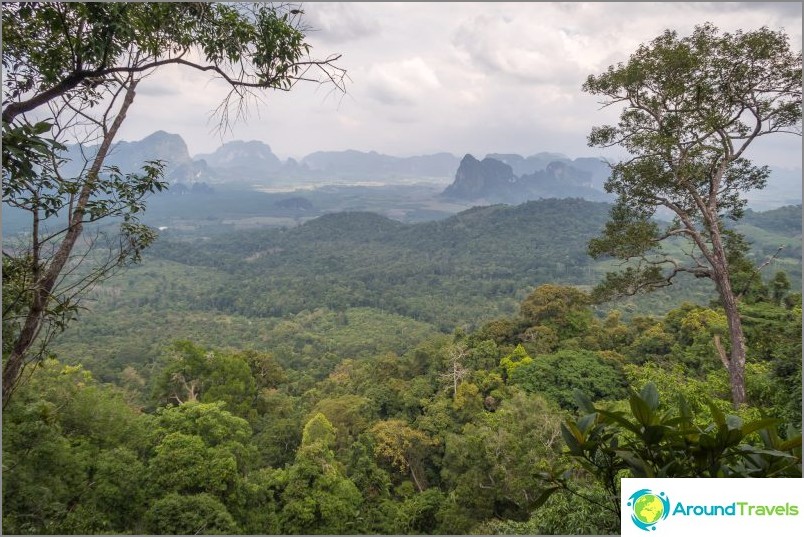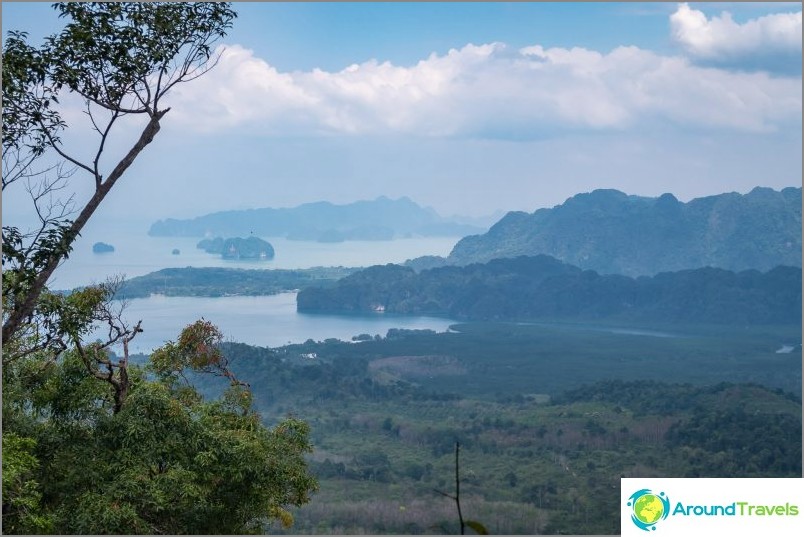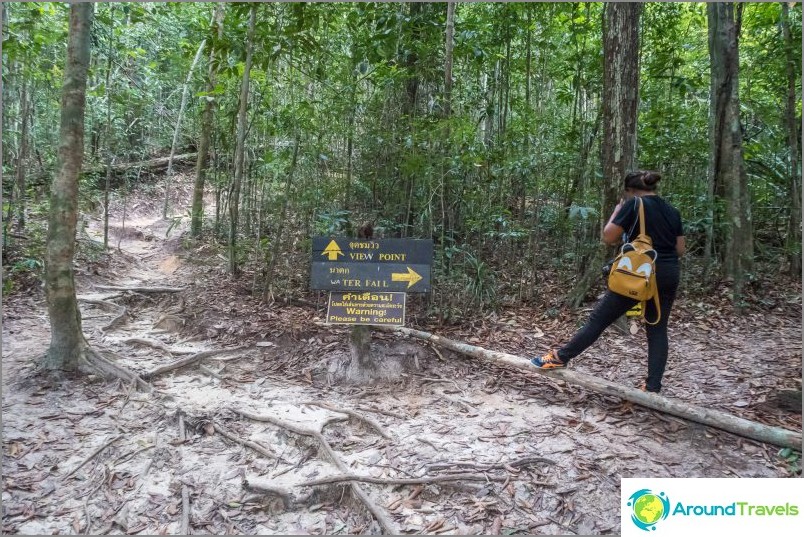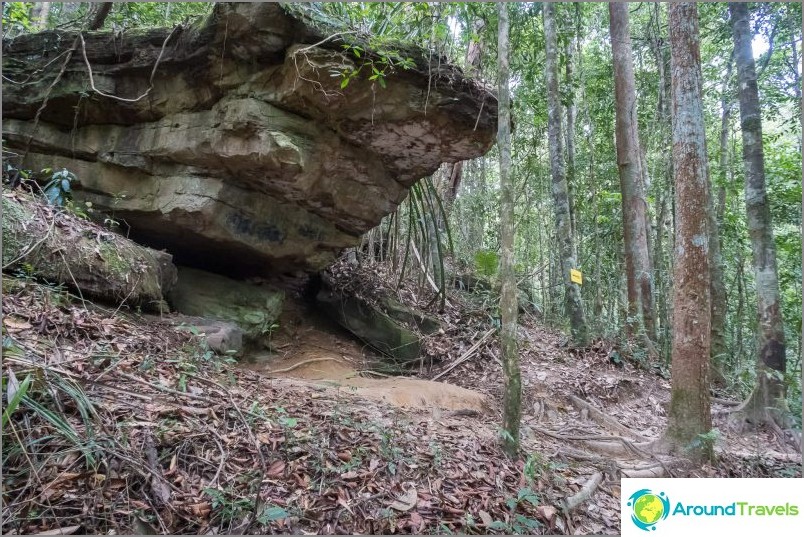 The path gradually leaves to the left, to the opposite slope, and suddenly you find yourself on a platform with boulders and railings. Here the view of the valley is already beginning to excite and requires a photo-fixation. But this is not the end - the trail leads to the very top (another 5 minutes walk) and there will be a couple of huge rocks with ladders and this is the purpose of the whole trip.
The views are amazing, it immediately becomes clear why many people love Krabi. An incredibly picturesque valley with patches of clouds, miniature houses and a river, the edge of the sea, and scattered rocks wherever the eye falls. It seems that the mountains fell from the sky a thousand years ago, and then overgrown with trees and grass. Krabi is a beauty that is equally striking, no matter where you look at it, whether from above or from below - you will not remain indifferent. And one more important point: there is a place to the right of the cliffs with ladders, without visiting which it cannot be considered that you were on Tub Kaek. There is a rock a la «The lion king», where, with the proper angle, you can take pictures on the topic «I am over the precipice».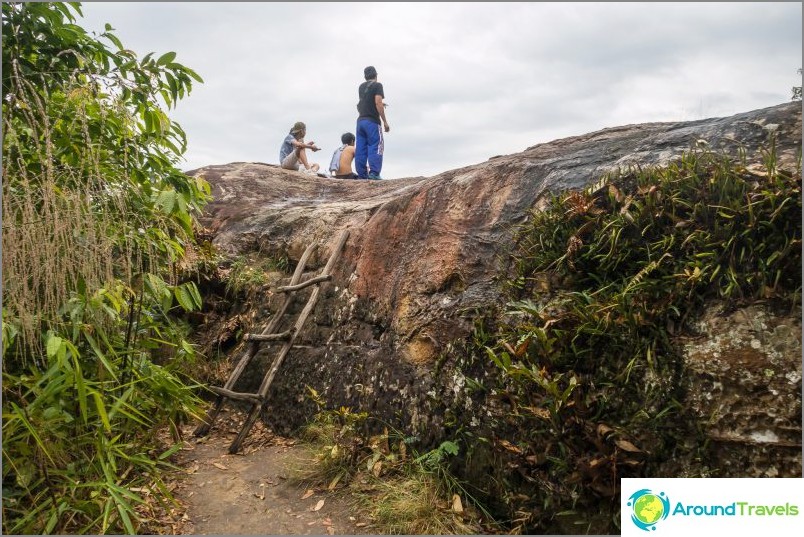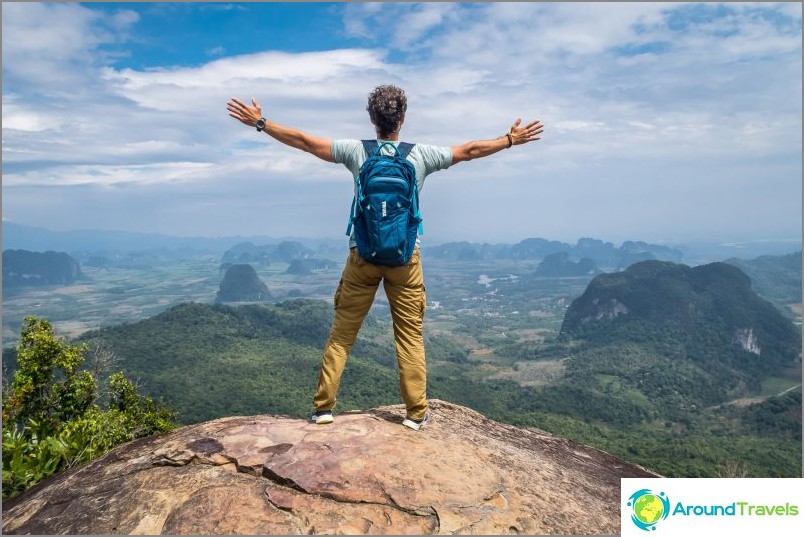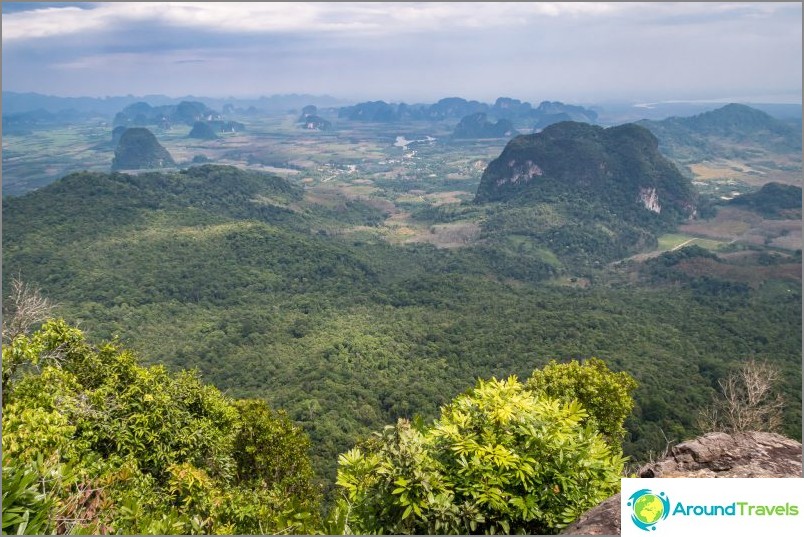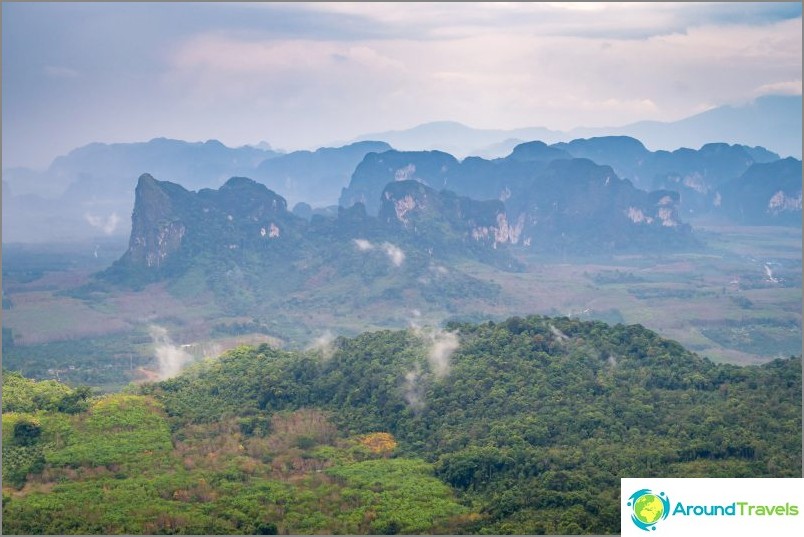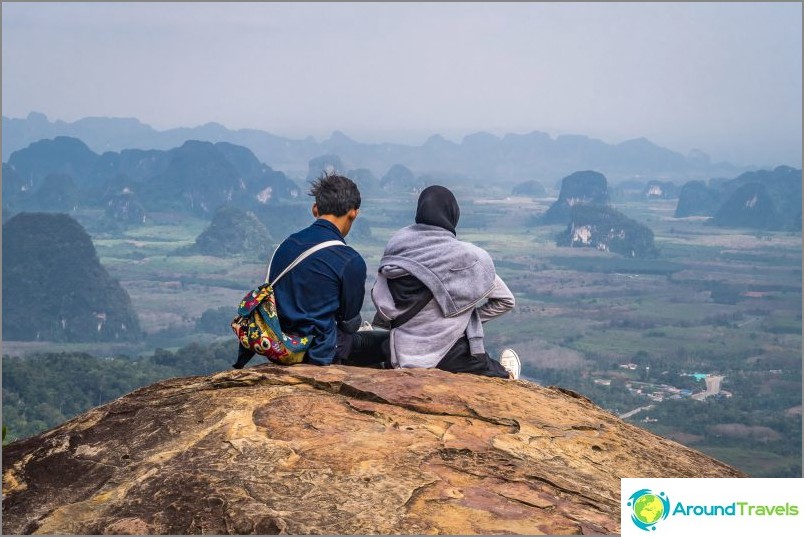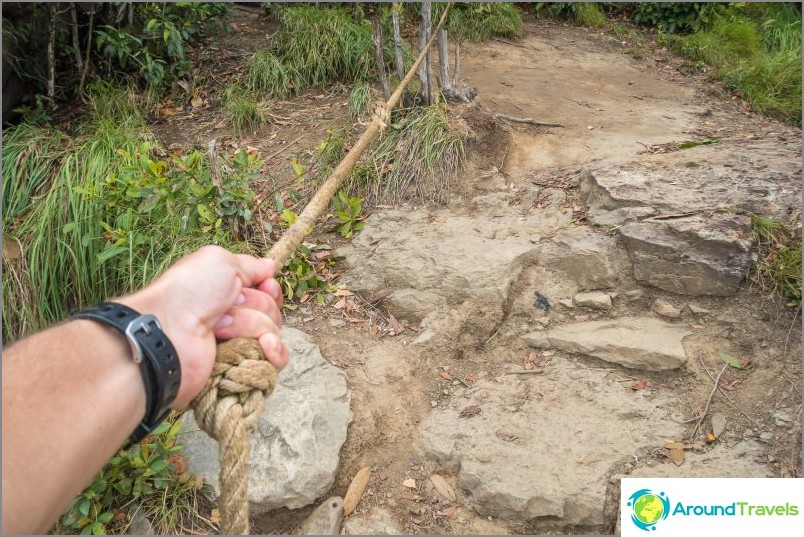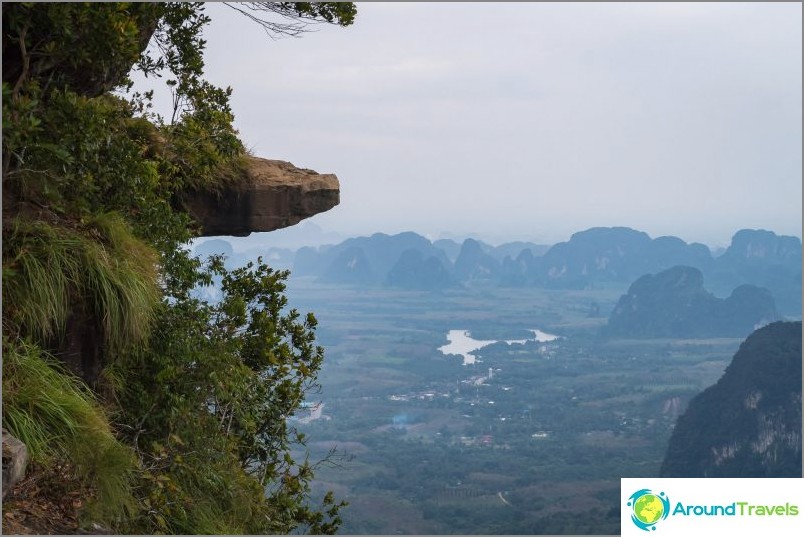 Unfortunately, when I visited Tub Kaek it was raining and I was literally wet to the skin, but in the tropics it is not scary. To tell the truth, in some ways it was even not bad, because it would be much harder to overcome such a track in the heat, and I would get wet no less - that's a fact. Better to get up in the rain than to die of dehydration on a Thai afternoon. But not without drawbacks, of course. The rain brought fog and covered the entire valley with haze, so the views were not of the same piercing depth as it could have happened in clear weather..
Information to visit
The entrance to the Tub Kaek mountain is free, but at the bottom you will have to make an appointment with the ranger: put your name, time, and on the way back, mark the time of leaving the park in the same way. This was done for your own safety, and I see no point in ignoring this formality. If you wish, you can leave a tip in the ranger box, which is located there on the table. Lay the time to visit Tab Kaek so that you will not spend about three hours, but most often it takes four hours.
If you take an ordinary person without physical training, then the ascent will take him an hour and a half or two, and the descent will take about an hour. And you will need at least half an hour to inspect the summit and take a break. I managed to go upstairs in an hour with a brisk pace, and I went downstairs for half an hour with a light run, well, I spent about an hour upstairs, taking pictures and going live. If anything, then it is impossible to get confused, in my opinion, there is only one path and there are rare signs.
Be sure to take a couple of bottles of water with you - it will be hot. You definitely need sports or trekking shoes, not sandals or slates. Only sensible, comfortable, sturdy shoes that will sit firmly on your feet. Although, as usual, I met people there and in shales.
Well, and with the weather, keep in mind: it will be easier to go in cloudy weather, but you will not see much, or a hard climb in the heat, but with stunning panoramic views. It seems to me that a compromise option is to go in the morning, in the morning chill, if I can say so about the morning in southern Thailand.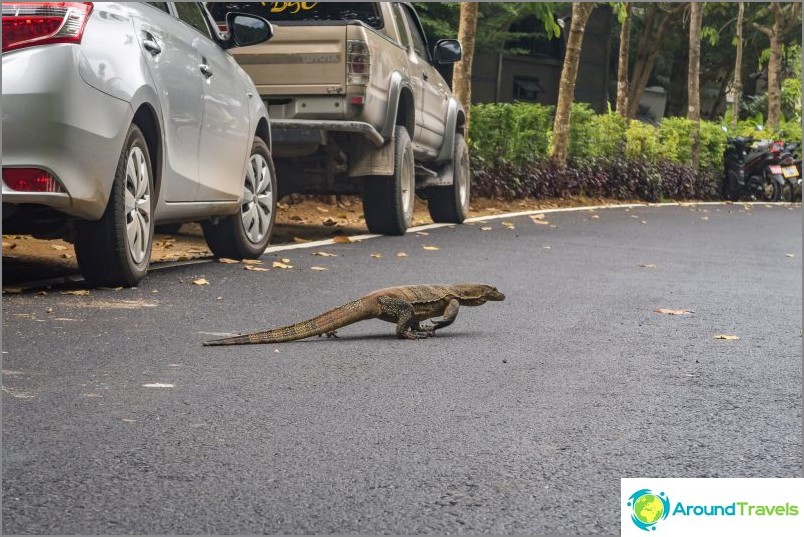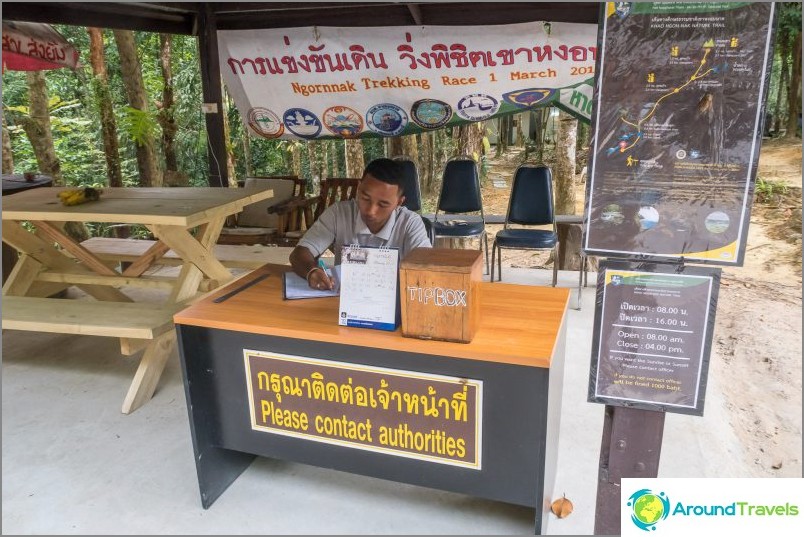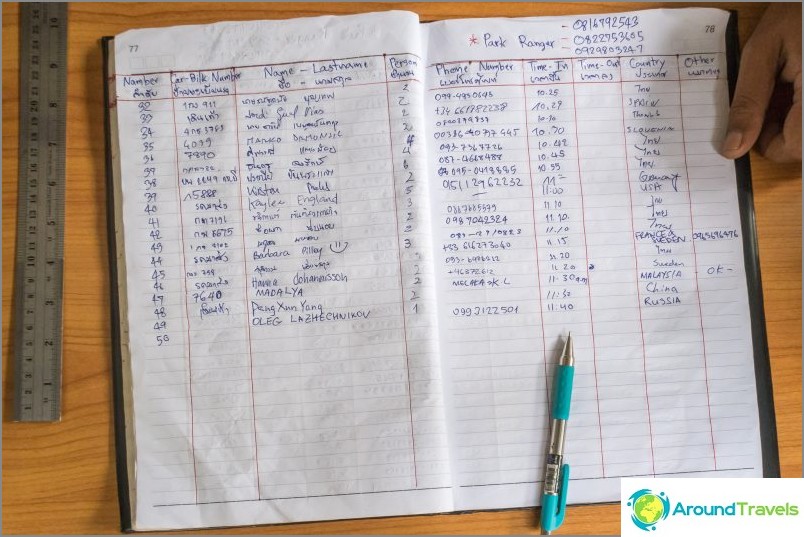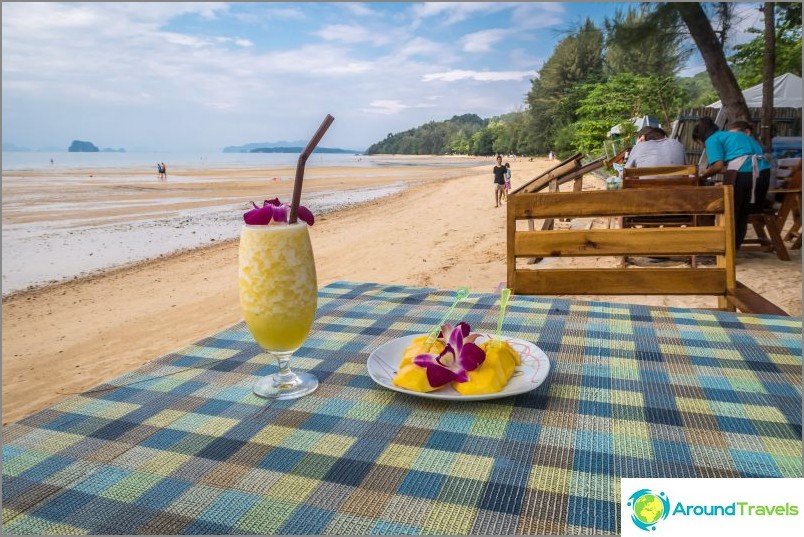 On the map
Tab Kak Hang Nak Nature Trail Map
Tab Kak Hang Nak Nature Trail Map: