Top up my Thailand travel guide another answer to the question of what you can bring from Thailand as a gift or souvenir to yourself or other people. Naturally, all from personal experience. So, everyone has different tastes, and it's straightforward to give advice, it's a thankless job. I'll tell you what I brought myself.
What I brought from Tai
Cosmetics and health
Deodorant stone, sold at Tesco / BigC.
Shampoo, soap, hand cream, shower gel with coconut scents. I took it already at the airport in a cosmetics store.
Local herbal toothpaste. Borrowed from Tesco / BigC. A specific thing, not everyone will like it.
Tiger Balm like our star, in 7-eleven.
Thai nasal inhalers, sold in every 7-eleven. Very useful and popular as gifts.
Food
Fresh mango, papaya, dragonfruit and some other fruits. I bought it 1 day before departure in the market. Mango took not the most ripe.
Dried mango and tamarind from 7-eleven.
Spices for Pad Thai and Tom Yam from Tesco / BigC.
Coconut oil from supermarkets. I bought a food one, as it is several times cheaper, and there is no need to search.
Tesco / BigC Dried Seaweed Chips.
Green tea from the north of Thailand. Took directly next to the plantations in tea shops.
Colorful rice from BigC. It tastes ordinary, but it looks interesting.
Ready Pad Thai. Once I had such an order. Bought at the airport right before departure.
Other
Thai wide leg pants with elephants and simply with pictures. And other informal clothes: T-shirts, sarfans, etc..
Silk scarves
Rag and ethnic cosmetic bags
Thai soup spoons so small and deep. Unlikely to be popular, but they look unusual.
Fenkies on the neck and arms, all sorts of bracelets, silver chains.
What can you bring from Thailand
The list is not entirely universal, but suddenly you find something for yourself. By the way, the prices for everything are quite low, you can buy in boxes.
Since we are talking about all sorts of small gifts, I can't help but tell you about a life hack. When shopping on Aliexpress, you can get cashback up to 11% through the EPN service (they have a plug-in for the browser, an application for phones). I wrote everything in great detail in my instructions, what is it and how to use it.
Earrings and other silver items are quite profitable to buy at Khaosan, the prices are good. But I can't tell you how good the sample is and all that. Sometimes I wear Fenkie myself and many of my friends-acquaintances too, so in my case, too, a universal gift.
Shampoos, creams and other paraphernalia are a universal gift, suitable for almost anyone. Especially I looked at the labels to make it in Thailand. What kind of cosmetics can be brought from Thailand, you will figure it out on the spot. In supermarkets, the choice is huge, both international brands and local ones. If you forgot to buy, then you will still have such a chance at the airport, there are shops there. Prices will already be higher, but what can you do.
You can also bring coconut oil, and you can take food in the supermarket, and not cosmetic. Its smell is very pleasant, and it can be used not only in cooking, but also on the body. It's just that food is several times cheaper and the volume is more than 250 ml or 500 ml. It seems to me that such a gift is quite universal, it is unlikely to be lost if you give it to someone of the female sex.
In general, I have now switched to coconut oil in cooking (it has a very high burning temperature) and it is one of the most useful (and less harmful). Thai is over, I order organic on iHerb. Well, that's it, on a note.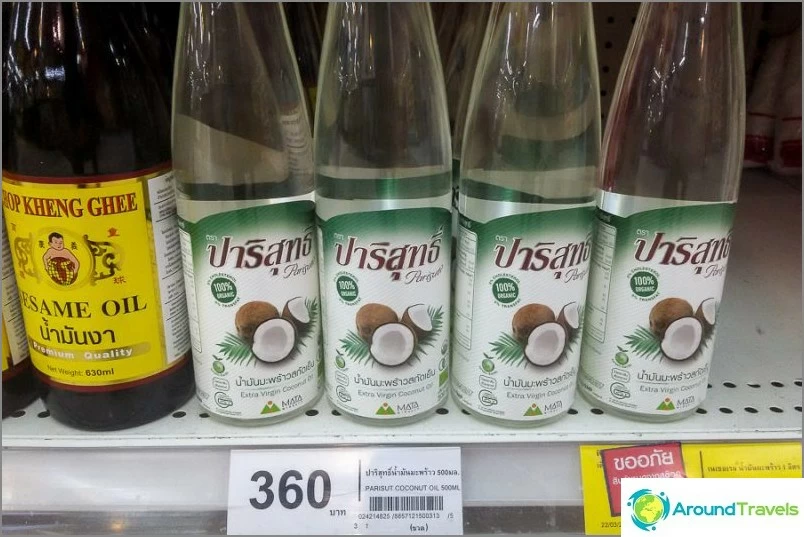 I got acquainted with stone deodorants for a long time, the most important feature is that they are odorless. True, they are not very convenient to use, since they need to be moistened.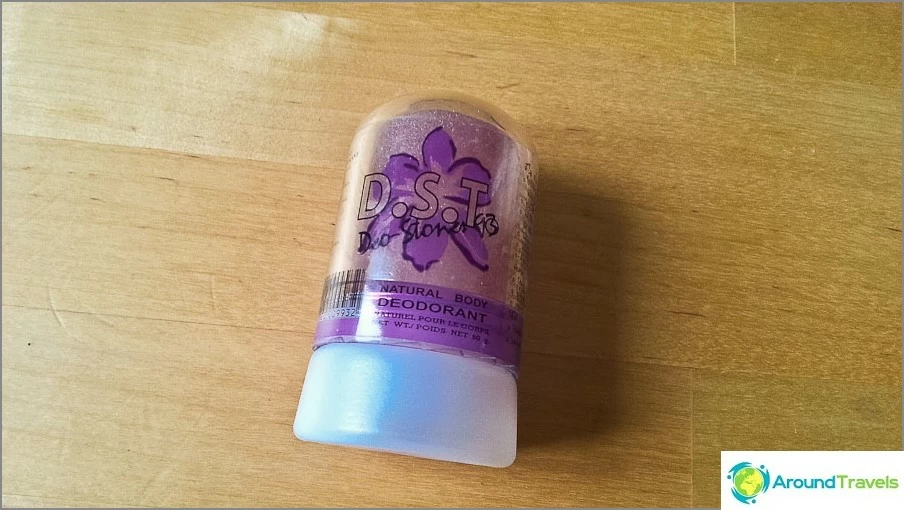 I have dragged myself from brown toothpaste since I tried it, so when I live in Tae, I only use it, and then I take it home for myself and the others. Her taste is not quite ordinary, but in my opinion it is very pleasant.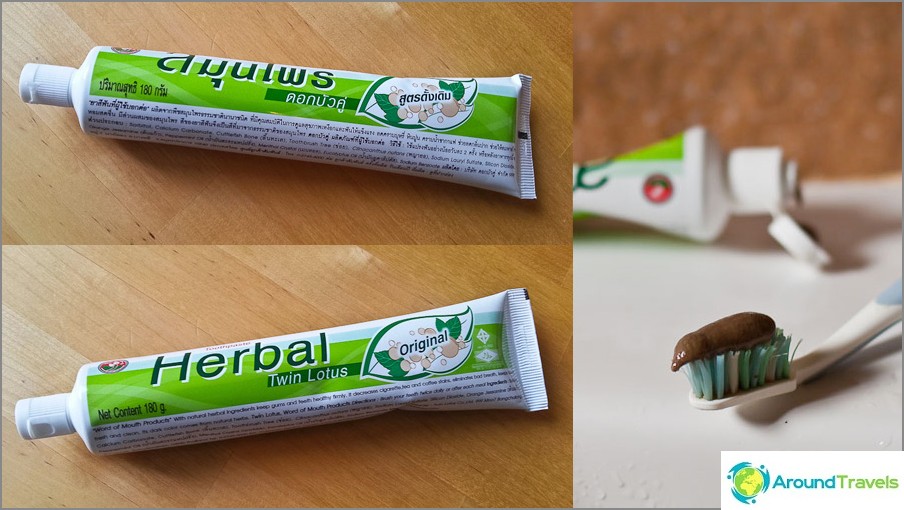 They often ask what medicines to bring from Thailand, and this question arises for a reason. I myself really like to bring Thai balms and inhalers. The latter is generally a bomb! Well, it's a very handy thing, but it costs a penny. Cold balms are also a good thing, I use them and the like whenever I am sick..
By the way, jars with screw lids are much more convenient than the classic «Russian» stars that you can barely open sometimes. And if we talk not about Tiger Balm, but about Tiffirub, then it is not at all burning and after it there is no irritation on the skin, it is even suitable for a child. You can buy at any pharmacy, minimarket 7/11 or at BigC / Tesco in the medicine department.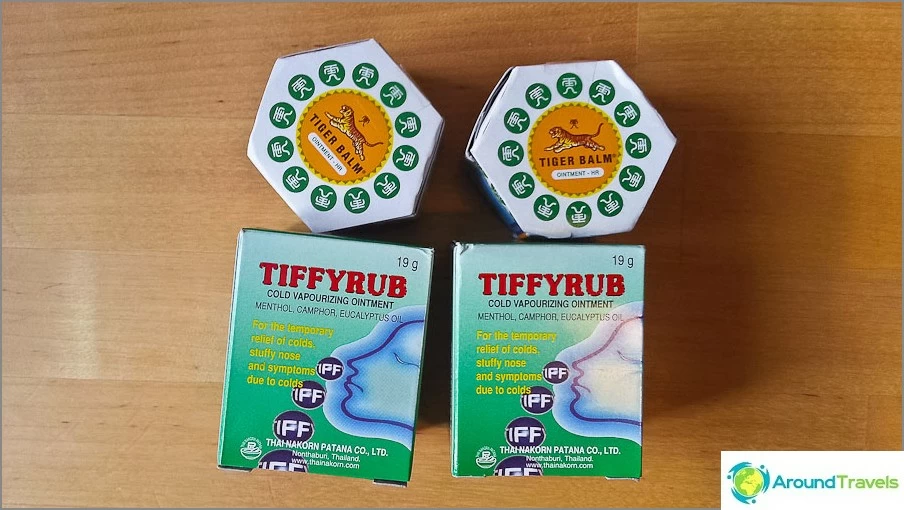 Seasonings are a good thing, they do not spoil for a long time, and then they give memories of hot Thailand and its cuisine. There is only one drawback, in almost all monosodium glutamate. On the other hand, in Asia, everyone is already used to this substance and treats it like we do to salt..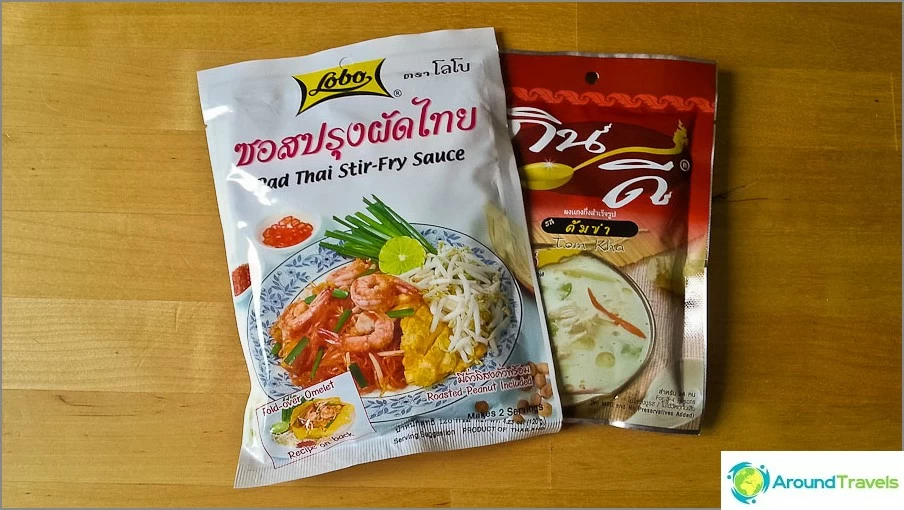 Something similar is also sold in Russia for making rolls. Only in Tae are these algae fried and with different flavors.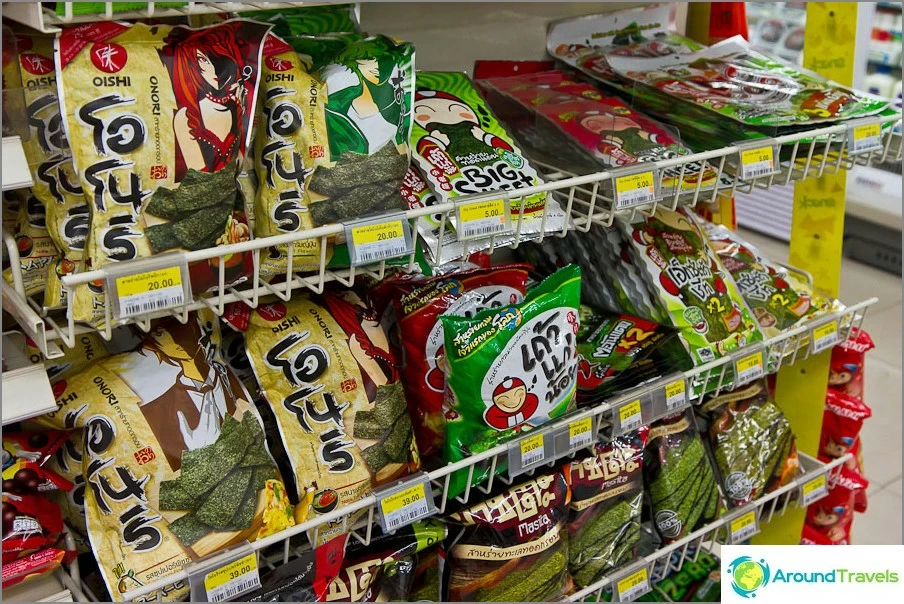 The colorful rice looks very funny, but it tastes nothing special. Its only drawback is that it itself is heavy for luggage, when every kilogram counts.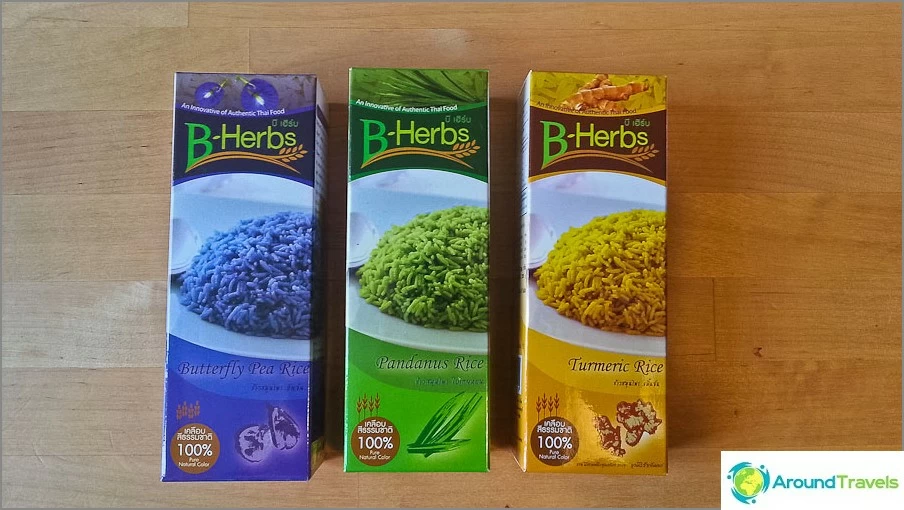 Green tea can be brought from any Asian country, now almost everyone drinks it and there is never enough of it. If you do not take in purely tourist places, it will cost a penny. Otherwise, it is cheaper to order from China on the same Aliexpress, or in a special tea store, if you are a connoisseur and understand the difference between cheap and expensive teas.
By the way, I personally more or less liked the green tea from BigC / Tesco, there are literally a couple of types of it. No, it is quite ordinary, such for every day, completely unexplored, but a box with inscriptions in Thai, so it will go for a sovereign gift.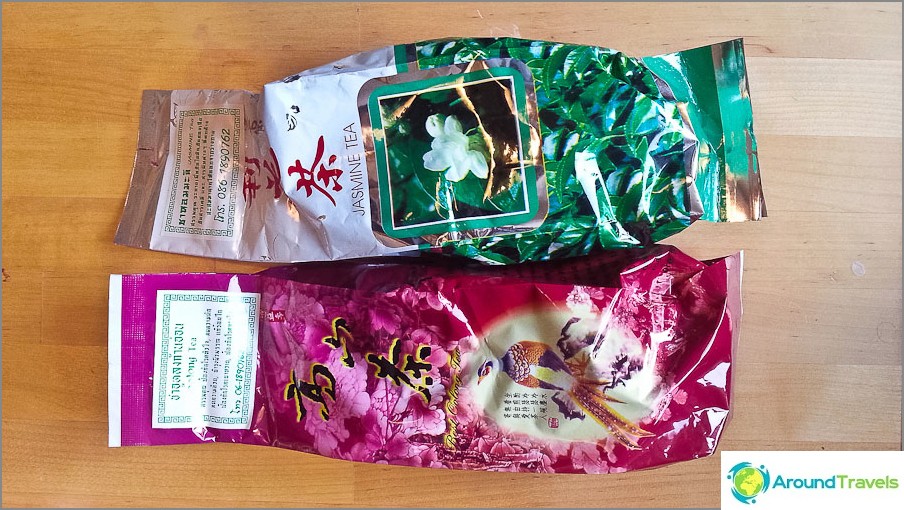 What fruits to bring from Thailand? Yellow mango, of course, live or dried as a last resort. In Moscow, it costs 300-400 rubles per 1 piece and very few people bought it. I assure you, you can hardly find a better fruit for a gift, the taste is understandable to a Russian person. There are also all sorts of rambutans, longons, dragon fruits, which have more exotic names and appearance, but they are not at all universal in taste compared to mangoes. Although very exotic as an exotic, one appearance is worth something.
In general, I like the idea with fruit the most, as it is very practical, they will eat it anyway. You can get together with family and friends and eat a couple of kilograms, thereby marking your return from vacation. Only excess weight can be in the luggage, and there are also some problems with the packaging so as not to pass it along the way. I recommend taking a little greenish, or already yellow, but still firm, then it will just come in a week and will be very tasty.
Durian is more difficult. In theory, it is impossible and the smell is very difficult to neutralize even by wrapping it in a dozen bags. However, somehow, occasionally, someone drives. I haven't risked it yet.
P.S. Be sure to write in the commentary what do you bring from Thailand to yourself and your loved ones? Share, I'll take note 🙂