Since 2010, based on my personal experience, I have been making this Thailand travel guide. At the moment, it is the largest in the Russian Internet. In total, I lived in Tae for about two years, coming to different places for the winter with a child or in the format of a solo traveler. I have accumulated enough experience (I even spoke on radio and TV), so I want to share it so that your independent trip to Thailand goes well.
The content of the article
Foreword
I have lived in Phuket and Koh Samui, Krabi and Hua Hin, Bangkok and Chiang Mai. I was in Pattaya, Phangan, Koh Chang, Lanta and other cities in the south and north of the country. He traveled by all means of transport: planes, trains, buses, cars, tuk-tuks, and even tried hitchhiking. Rented a variety of housing, ranging from a villa with a pool, ending with thatched bungalows. Ate various Thai food including grasshoppers 🙂
I am sure that my travel guide to Thailand will help travelers and give them an answer to the question of how to relax in Thailand on their own and what needs to be done for this. In my opinion, Tai is a unique combination of advantages, and there is simply no alternative to him now in terms of rest and wintering..
It is also great for those who just want to get to know Asia, you can go to Tai first of all. In Thailand, everything is tailored for tourists, from ordinary travelers to wintering workers. A stable climate that allows you to plan a trip, it is easy to rent an apartment for a short time (even apartments and houses), just move between cities, since transport links are developed and the roads are very good, you can eat normally at every corner. A kind of paradise of everyday comfort, where all pressing issues are resolved.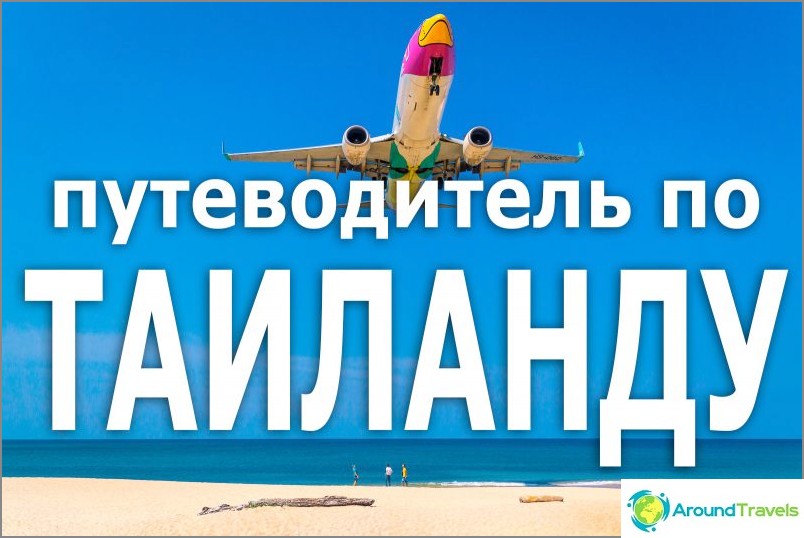 Preparing for the trip
It makes sense to think about many things while preparing for the trip, I have all of them set out here. For example, you should definitely make travel insurance, take the right bank card, choose a resort so as not to fall into the rainy season, stock up on the necessary things, and, on the contrary, do not take something with you..
Where to go, weather and seasons
At the very beginning, you need to decide where you will go depending on the current weather. Not everyone wants to get on their vacation during the rainy season. It's one thing when you winter in Thailand and it's not so critical, it's another thing if you come for 1-2 weeks on vacation and every sunny day is important.
I described the weather by seasons in detail, read it. From May to October it is not worth going to Phuket, Krabi and Koh Lanta, and from October to January it is not worth going to Koh Samui, Phangan and Hua Hin. In principle, you can go to Pattaya, Koh Chang and Bangkok all year round, but the best time to relax there is from November to February, from March the sea starts to ebb, it becomes dirtier, and in September-October in this region the peak season rains.
Now let's talk about how the resorts differ from each other. If you are not yet an advanced fan of Thailand and have not visited the main resorts, then it does not make much sense to go to a little-known and not very popular place among foreigners, there are few people who speak English and are less and less tailored for foreigners. Therefore, first of all, you need to choose between Phuket, Pattaya, Samui, Ko Chang, as well as Krabi, Phangan, Khao Lak and Hua Hin. The first 4 are the most basic, in my opinion. Also, if you do not need the sea, then you can go to Chiang Mai. I will try to describe the main criteria for choosing between them..
Phuket
The most popular resort and the choice of the majority, because there are beautiful island beaches, developed infrastructure and there is an international airport where you can fly by direct flight from Russia. For those who go on vacation, I recommend choosing, first of all, between the beaches of Patong, Karon, Surin, Kata (and Kata Noi), Nai Harn - approximately in descending order of people. Patong is the dirtiest but has the largest concentration of nightlife and shopping. Kata is a good combination of civilization and number of people. It makes sense to consider the beaches of Bang Tao, Kamala and Nai Harn for winterers or those who are looking for housing on a monthly basis, there is the greatest choice. Also on Bang Tao, Kamala and Kata there are supermarkets within walking distance. I really like Nai Harn beach, but there are very few hotels, cafes and shops near it, I will have to live in the distance on Rawai and travel to the sea by transport. Of the relatively quiet beaches, I advise you to see Naithon and Nai Yang, but there is a minimum of infrastructure. Be sure to drive to Phi Phi.
Pattaya
Most often they go here for a cheap tour and for a nightlife. But due to the large number of infrastructure and entertainment, vacationers with children and independent travelers purposefully come here. From the airport in Bangkok, you can get there in 3 hours. It is here that the famous Walking Street is located, although Patong in Phuket is not much inferior to Pattaya in this regard. The resort is one of the cheapest in Thailand, so during the season there are a lot of tourists, and in particular Russian. The beaches are not very beautiful and dirty, so swimming is best to go to the small island of Ko Lan (30 minutes by ferry to it) or out of town, for example, to the Military Beach. Some winterers also prefer to live in Pattaya, because of the prices, a large circle of contacts, the infrastructure concentrated in one city (Russian gardens, Russian cafes, etc.). You can live on the outskirts of the city (end of Jomtien Beach, Na-Jomtien Beach, behind Sukhumvit), then the noise and a large number of people will not bother you.
Samui
My favorite resort, which combines the beauty of island beaches (for me they are better than Phuket) and all the necessary infrastructure. If you need nightlife, then you need to settle on Chaweng, although it is very far from Pattaya or Patong in this regard. If you want a quieter place, then Mae Nam Beach and Chong Mon Beach, the latter is considered by many to be the best for children. And a cross between them and a supermarket within walking distance is Lamai Beach. Koh Samui is much smaller than Phuket, so no matter what beach you settle on, shopping centers and hangouts on Chaweng can be reached in 20-30 minutes, and the whole island can be passed around in an hour. There is monthly accommodation for winterers on every beach, there is a wide choice. The main disadvantage of the island is no direct flights from Russia, only with a stopover, and they are even more expensive than direct flights to Phuket. It takes quite a long time to get by land, given the 2-hour ferry crossing..
Phangan
The island is located near Koh Samui and it takes even longer to get there, as there is no airport. Therefore, either from Koh Samui by ferry, or from the mainland. Phangan became famous thanks to the large-scale open-air Full Moon Party, which attracts young people from all over the world. And also he is the Mecca of various kinds of yogis, raw foodists and other spiritual practitioners. If you don't need a party or an informal get-together, then you can just enjoy the great beaches, where there are almost bounty and few people. And since the construction of several supermarkets, it has become quite good to spend the winter here. However, housing, rented out on a monthly basis, is mostly simple, bungalow type. Another disadvantage is that there is no normal hospital..
Koh Chang
This island is beautiful with its tropical beaches and it is easier to get to it than to Koh Samui and Koh Phangan. The journey by land from Bangkok takes about 5-6 hours, plus 30 minutes by ferry. The island is quite small, bathing beaches are located on its western side, and you can drive this part in less than an hour. The beaches with the most infrastructure are White Sand and Cai Bay. And the whole party at Lonely Beach. There is a supermarket on Koh Chang, but no normal hospital.
Overview of all the beaches of Koh Chang>
Krabi
Not everyone knows, but Krabi is not an island, but a province with stunning sheer cliffs on the mainland near Phuket. All tourists and winterers stop in the small town of Ao Nang (Ao Nang and Nopparat thara beaches), which is located right on the coast. The place is known primarily for the fact that it serves as a transit point for those who go to the Railay Peninsula, whose beaches are among the tops of the most beautiful beaches on the planet. But you can also swim in Ao Nang, you just need to track the ebb and flow using a table from the Internet, because at low tide, not only to the depth, you can not reach the water itself. But shallow water is good for children. In Ao Nang there is a Tesco supermarket within walking distance and more recently also Makro, but to large shopping centers you will have to go to Krabi Town, 30 km away. Krabi is 2.5 hours by car from Phuket and has its own airport. From Ao Nang also swim to Phi Phi.
Khao Lak
I loved this resort on my last trip. It is suitable only for those who do not need the nightlife at all and the main purpose of the trip is a relaxing vacation on the beach. Despite the fact that this is the mainland, the beaches here are almost better and more beautiful than the Phuket ones. But there are very few people even in the season, and the main contingent is European pensioners. Unlike Koh Samui / Phangan, it is very easy to get here from Phuket airport, it is literally 1 hour by taxi, but the resort is quite small, the infrastructure is only for recreation, there are no supermarkets or hospitals.
Overview of all the beaches of Khao Lak>
Hua hin
This is probably the last place to go when it comes to vacation, despite the fact that the city is only 3 hours from Bangkok. The fact is that the beaches here are not for everybody, almost everywhere it is shallow and you have to go to the depths, a very strong wind, the sand is dirty-gray. The beaches on the islands are a hundred times prettier. Mostly in Hua Hin, people who are not fanatical about the sea or kiters spend the winter, or those who know exactly why they are coming here (the place is pleasant, even a little European, as it were).
Overview of all beaches in Hua Hin>
Bangkok
People rarely travel to Bangkok on purpose, usually it is just a transit point if the air tickets were bought exactly to Bangkok. However, for everyone who wants to taste real Asia, I recommend staying here for 2-3 days to walk around the city, see the most top temples, take a look at Bangkok from one of the observation decks (60-85 floor).
Chiang Mai
Personally, I really love the north of Thailand because of the mountains, the abundance of national parks and sincere people. There is no package tourism here, because there is no sea, hence the city is not a resort with all the ensuing consequences. The prices are also pleasing here, life is cheaper than in Pattaya. But you need to go here on purpose, for example, for a week, in order to drive through the north, making a circle. For independent travelers who love mountains, landscapes, waterfalls and coolness.
When you have decided on the resort where you will go, then you need to choose a beach / area for living. I tried to make reviews of all the beaches in the main resorts, I hope this will help you in your choice. Follow the links and read. Or you can use a catalog of beaches in Thailand and read about each specific beach. Also beaches (with links to their description) are presented on the map below.
Beaches in Thailand
Siam Beach:
Nui Beach:
Freedom Beach:
Paradise Beach:
Hua Beach:
Laem Ka Beach:
Ao Yon Beach:
Layan Beach:
Tri Trang Beach:
Karon Noi Beach:
Ao Sane Beach:
Panwa Beach:
Cape Panwa Beach:
Nai Harn Beach:
Ya Nui Beach:
Rawai Beach:
Chalong Beach:
Kata Noi Beach:
Kata Beach:
Karon Beach:
Patong Beach:
Kalim Beach:
Nakalay Beach:
Naka Phuket Beach:
Merlin Beach Resort:
Kamala Beach near Kamala Aquamarine Resort:
Kamala Beach:
Laem Sing Beach:
Surin Beach:
Pansea Beach:
Bang Tao Beach:
Banana Beach:
Beach of Andaman White Beach Resort:
Trisara Resort beach:
Naithon Beach:
Nai Yang Beach:
Mai Khao Beach:
Sai Kaew Beach:
Laem Sala Beach:
Bang Pu beach:
Sam Phraya Beach:
Sai Cave Beach:
Dolphin Bay Beach:
Beach near Khao Daeng:
Arunothai Beach:
Thongson Bay:
Bang Saen Beach:
Sai Noi Beach:
Khao Takiab Beach:
Khao Tao Beach:
Suan Son Beach:
Hua Hin Beach:
White Sand Beach:
Klong Prao Beach, north:
Kai Bae Beach:
Entrance to Chai Chet Beach:
Klong Prao Beach, south:
Lonely Beach:
Beach:
Long Beach:
Continuation of Long Beach and Memorial:
Klong Koi Beach:
San Noi Beach:
Wai Check beach:
Klong Son Bay Beach:
Pearl Beach:
Bailan Bay Beach:
Beach near Tree Top Adventure Park (Lisca Beach):
Beach Resort Grand Lagoona:
Beach at the Cliff Cottage:
Chaweng Beach:
Lamai Beach North:
Lamai Beach central part:
Lamai Beach southern part of Lamai:
Chaweng Yai Beach:
Chaweng Noi Beach:
Maenam Beach:
Na Thien Beach:
Laem Set Beach:
Thongsai Bay:
Hua Thanon Beach:
Chong Mon Beach:
Ban Thai Beach:
Bang Po Beach:
Phang Ka Beach:
Thong Krut Beach:
Thong Tanod Beach:
Bo Phut Beach:
Thongtakian Beach:
Beach at W-Retreat Koh Samui:
Bang Khao Beach:
Laem Nan Beach:
Nahai Beach:
Taling Ngam Beach:
Lipa Noi Beach in Thong Yang Bay:
Coral Cove Beach:
Plai Laem Beach:
Nathon Beach:
Laem Yai Beach:
Thong Plu Bay beach:
Bang Makham beach:
Bang Rak Beach:
Samrong Bay Beach:
Military Beach (Saikaew Beach):
Cha Am beach:
Pran Kiri Beach:
Beach with Babische or Puk Tien Beach:
Nang Ram Beach:
Railay Beach:
Phranang Cave Beach:
Ton Sai Beach:
Railay Beach - technical:
Jomtien Beach:
Baan Amphur Beach:
Bacco Beach:
Ambassador Beach:
Bang Saray Beach:
Sunset Beach:
U-Tapao Beach:
Wong Prachan Beach:
Pattaya Beach:
Cozy Beach:
Pratumnak beach:
Dongtan Beach:
Tham Phang Beach on Sichang Island:
Tawaen Beach:
Thong Lang Beach:
Tai Yai Beach:
Nual Beach (Naul, Monkey Beach):
Tien Beach:
Samae Beach:
Sang Wan Beach:
Wongamat Beach:
Beach cafe 'Cabbages & Condoms' and hotel Asia:
The Zign's beach:
Wong Prachan Beach or Crescent Moon:
Khuk Khak Beach:
Bang Niang Beach:
Nang Thong Beach:
Sunset Beach:
Sandy Beach:
Khao Lak Beach:
Pakarang Beach:
Pak Weep Beach:
Bang Sak Beach:
Pai Plong, Centara Hotel Beach:
Ao Nang Beach:
Nopparat Thara Beach:
Pan Beach:
Klong Muang Beach:
Tubkaak Beach (Tup Kaek) Beach:
Ao Thalane Beach:
Ao Nam Mao Beach:
Shell Fossil Beach:
Sai Nuan Beach:
Haad Yao Beach:
Haad Son Beach:
Haad Salad Beach:
Mae Haad Beach:
Malibu Beach:
Chaloklum Beach:
Fanta Beach:
Leela Beach:
Haad Chao Phao Beach:
Sri Thanu Beach:
Zen Beach:
Naked Beach:
Haad Gruad Beach:
Untitled beach:
Ao Hin Ngam Beach:
Haad Baan Kai Beach:
Haad Khom Beach:
Haad Rin Nok Beach:
Haad Thong Lang Beach:
Haad Thong Nai Pan Noi Beach:
Haad Thong Nai Pan Yai Beach:
Haad Tian Beach:
Haad Wai Nam Beach:
Haad Yao East Beach:
Haad Yuan Beach:
Ao Ton Sai Beach (right side):
Bambu Island and Beach:
Monkey Beach:
Bamboo Beach:
Kantiag Bay Beach:
Klong Dao Beach:
Klong Nin Beach:
Klong Toab Beach:
Klong Hin Beach:
Lana Beach:
Lo Ba Kao Beach:
Loh Moh Dee Beach:
Loh Samah Bay Beach:
Long Beach:
Long Beach:
Maya Bay from the movie:
Nui Beach:
Nui Beach:
Relax Beach:
Bottle Beach:
Haad Rin Nai Beach:
Ao Hin Lo Beach:
Ao Plai Laem Beach:
Ao Wok Tum Beach:
Ao Hin Kong Beach:
Ao Nai Wok Beach:
Thong Sala Beach:
Ao Baan Charu Beach:
Ao Baan Thai Beach:
Naturist Beach:
Ao Sieo Beach:
Koh Kwan Beach:
Phu Lei Beach:
Lo Dalum Beach:
Hin Khom Beach (Viking Beach 1):
Hin Khom Beach (Viking Beach 2):
Laem Thong Beach (Phi Phi):
Rantee Bay Beach:
Nung Long Beach:
Klong Khong Beach:
Nui Bay Beach:
Lanta Secret Beach:
Kaw Kwang Beach:
Haad Klong Jaak Beach:
Ao Ton Sai Beach (left side):
Visa issues
Thailand has a visa-free regime for Russian citizens. This means that if you are traveling for up to 30 days, then you do not need any visa. Therefore, for most travelers, it all comes down to a few options..
I covered this issue in great detail in my post - Everything about a visa to Thailand: types, terms, overstays, stamps, visaranes, read. Now, in brief.
When you enter the border, your passport will be stamped for 30 days. Also this stamp can be later renew in place at the immigration office (available at every resort) for another 7 days for 1900 baht. Thus, you can stay in Thailand without a visa for 37 days. A frequent case, when the period of stay is about 31-32 days, in this case, you can not renew the stamp, but simply leave the country with an overstay. For each day of overstay, you will pay 500 baht per person. But I would not recommend going with an overstay for more than 3 days.
For a longer trip, you will need to issue single entry tourist visa. It is given for 60 days with the right to extend it on the spot at the immigration office for another 30 days for 1900 baht. In total, we have 90 days of stay. You can apply for such a visa at the Thai consulate in Moscow or St. Petersburg. If you are from another city, then the easiest way is to fly in with a stamp, live for 30 days, and then go / fly to a neighboring country and get a single-entry visa there. Usually they go for one-shot to Laos or to Penang (Malaysia).
In case you need to spend even more time in Thailand, then you will need to go to the so-called visaranes. This is a trip to the border for a new stamp (to Cambodia, to Malaysia, to Burma) or to a large city of a neighboring country to the embassy for a new visa. Previously, it was possible to make stamp after stamp many times, now it is difficult, a bribe is required or to know at which land border crossing the least problems arise. Therefore, it is easiest to travel for visas, they can be made about 3 pieces in a row, and then, as a rule, questions from border guards begin to arise. You can also make a student visa and study English or Thai.
Tickets to Thailand
The most popular question is about a flight to Thailand. Unfortunately, there are no special secrets on how to buy tickets 10 times cheaper. The basic rules work: tickets are monitored and booked in advance, and flights with transfers are almost always cheaper than direct flights. You can also buy a ticket for a charter flight, especially the last one can be inexpensive. But after Transaero left us, there were fewer good offers. How and where to look for tickets, what prices are, I outlined in the post - How to fly to Thailand cheaper. Now it makes sense to count on an average of 25 thousand rubles for a round trip for a flight with a transfer. Fly to Tay on a direct flight for 9-10 hours, on a transit flight - from 12 hours to a day.
We also do not forget about the need return ticket or a ticket to a third country. If you are flying on vacation, then you will definitely have it, but for those who are going on an independent and long journey and are flying with a one-way ticket, I recommend that you study this issue in advance..
For those who are looking for flights to Thailand, I advise you to search through Aviasales and Skyscanner, we ourselves have been using them for many years now. In one search engine it is convenient to look at one thing, in another another, the prices differ slightly.
Medical travel insurance
You need to know that the first insurance that comes across may not work, especially when it comes to insurances attached to tours. Asia is a loss-making region for insurance (many claims), so some unscrupulous insurance companies will try to find a reason to refuse you. I constantly monitor changes in insurance and all my recommendations are set out in my rating. If you do not know what assistance is, what kind of insurance to choose, how to use insurance on the spot, then you definitely need to carefully read my post..
Travel medical insurance is one of the most important purchases. No, it is optional, as in the case of a Schengen visa, but it must be done. Medicine in Thailand is expensive and if problems arise, you can seriously get money, bills can amount to hundreds of thousands of rubles. Believe me, I know what I'm talking about, I have already come across, unfortunately. There is a super service Cherehapa for choosing insurance, one of a kind in its approach to insurance. They even help to solve insured events.
View insurance prices>
There you can compare prices for several insurance companies at once and choose something suitable. This service has excellent technical support, they will always answer your questions and advise (you need to write to the chat) what to take in your specific situation.
Hotel reservation
I'll start right away with a life hack. We find a hotel on the usual Booking'That is, we read the reviews, we choose. Then we go to the cool service RoomGuru and drive in the name of the found hotel there. As a result, we get all the discounts for this hotel that are available at that moment. The price will differ in different booking systems. We book where it is cheaper. Profit.
But you can also initially search for hotels in RoomGuru, it's convenient. Few people know that in Asia (including Thailand), it is better to use not Booking, but Agoda, since this particular booking service is tailored for Asia, it has the largest database of hotels. But at the same time, sometimes there are no hotels with Booking on Agoda, and vice versa. Thus, you can either look directly at Rumguru, which takes into account these 2 bases and a couple of dozen others, or go through the sites one by one.
I will also provide links to some of my reviews..
- The best hotels on Koh Samui on various beaches
- Hotels on Koh Samui with private beaches
- The best hotels in Phuket on various beaches
- Top hotels in Khao Lak
- Transit hotel in Bangkok near the airport
- Inexpensive hotel in the center of Bangkok.
Renting a house or apartment
It is best to book a house or apartment in advance, then the choice of accommodation will be wider and the prices will be more adequate. During the peak season (December-February), housing becomes tight. If you come for less than a month, then I would rather look for a hotel, much better rest will turn out.
If you are traveling to Thailand for the first time, then I recommend booking a house or apartment in advance. This is done only through a realtor. Yes, they do not deal with the cheapest housing and take a commission, but this allows you to avoid unnecessary hassle in an unfamiliar country. Believe me, independent searches on the spot are difficult and not worth it. You are going to rest.
Send me a request to advise a trusted realtor, whom I myself trust. And then recently there have been a lot of scammers.
Send request>
Budget travelers and winterers most often rent a house or rent an apartment for a long time (several months). I have already lived in cheap houses, you can follow the links and see how they look: house in Phuket, (house on Koh Samui, house in Krabi, Quatira in Hua Hin, apartment in Bangkok.
To be honest, I have lived in houses for a long time and now I prefer to live only in apartments. They are much closer to the European understanding of housing. This applies to furniture, kitchens and repairs in general. Yes, they are more expensive, but also more comfortable. Plus it's always nice to have a pool and gym in the building..
If you nevertheless decide to look for housing on your own, then my instructions are for you:
- How to rent a house
- How to rent an apartment
When I lived on Koh Samui and Krabi, I made 2 catalogs of houses: on Koh Samui and in Krabi. They will come in handy for self-rental, use them. There is a map, photos, contacts. Several smaller reviews were also done on apartments: in Phuket, in bangkok and in Chiang Mai.
What things to take with you, USD / EUR or cards
Currency and rate
The currency in Thailand is Baht (THB). You cannot pay with dollars or euros on the street, only baht. Rubles also do not need to be transported, they can be exchanged in rare exchangers and at a bad rate. Several years ago, the baht / ruble exchange rate was 1 to 1, which was very convenient (and cheap), but now the exchange rate is holding about 1 to 2 not in favor of the ruble (1 THB = 1.8 RUB as of January 2018), that is, all prices in Thailand you can safely multiply by two to get the amount in rubles.
Money and bank cards
I am not a fan of carrying cash with me and I do not advise you. If you lose money (or it is stolen from you), it will happen irrevocably. In the case of cards, you will not lose anything, or only a small part, you just need to set the limits on transactions in advance and know how to block the card. Yes, in Thailand, cards are accepted only in supermarkets, in shopping centers, when renting a car at the airport, but it is better to withdraw cash from a card at an ATM than to take a large amount with you right away.
Take $ 300-500 in cash, if something happens, that's enough for you, and a few bank cards. Several, not just one! So that in case one is lost or blocked, the second works. What cards to take? Read, I am constantly updating information.
Things
In principle, Thailand is an ordinary resort, so on vacation you need to take everything the same that you would take on any trip to the sea. You just need to remember that it is almost always hot there, so clothes should be light and light. And it is advisable to take sun cream with the maximum protection factor, since in Thailand they are sold mainly with weaker factors. The main conclusion I made is that you don't need to take a lot of things, you can buy almost everything on the spot, and the prices for shorts, T-shirts, light dresses are ridiculous, even despite the increased rate. Yes, most of such clothes will not last long for you, but you can buy branded clothes at home (and it is just worth buying it at home). So the most important thing is to take yourself, your head, a good mood, money, a passport, as well as specific medicines or items. I have everything described in great detail here - What to take with you to Thailand from things.
Separately, I note that if you are going to go to the north and generally travel around the country, then a set of warm clothes (pants, sweatshirt, socks) will come in handy. It is very cold on buses and trains, just like in the north of Thailand, it reaches zero in the mountains. Here sample content my backpack on solo trips. When I travel with my family for the winter, we have much more things in our suitcase..
You can also read separately, what to bring from Thailand for yourself and your relatives / friends.
How much money do you need to take with you
Vacation or travel
Finance is one of the most interesting questions for people. But the problem is that it is impossible to give everyone an answer how much they will spend. Everything is too individual and depends on the specific needs of the person. You can come to Thailand for both an inexpensive vacation and a luxurious one. You can only focus on prices for goods and services and independently estimate your expenses.
However, in order to still make it easier for you, I can try to tell you a certain average budget that will suit the average tourist, which I myself am also sometimes: 50-100 $ per night per person. For this money, you will get a normal rest, but without any special frills. I wrote about this in a little more detail in the post at the link above. Well, and you can also view the cost of a specific - 10-day trip to Thailand.
Wintering and spending monthly
Please note that your needs / approaches may not coincide with me or with someone else from other bloggers, which is why your spending in Thailand can be strikingly different in both directions. I wrote the post with housing prices, where he told me why I would rent a house for 15 thousand baht, and you can hardly find it for 30 thousand baht on New Year's, and the housing will be about the same. In general, we can say that living in Tae can be inexpensive if there is such a desire and need. You just need to understand a number of things, for example, that just living is not at all the same as coming to rest to the fullest. With a long stay, much less spending on all sorts of entertainment / excursions / bars, plus renting a house or a car will cost less if you rent a month.
On average, it is believed that an ordinary family of 3 people needs about $ 1000 per month (about 35,000 baht), a kind of average budget. We somehow lived together and rather modestly in Phuket on 24000 baht. And then they lived already not really saving the three of us with a child on Koh Samui for 60,000 baht. I can also say that in the very first winter in Chiang Mai it took 16,000 baht in general, and in the last in Phuket 80,000-100,000 baht. There is always a choice of how much to spend.
Vaccinations, insects and safety
Vaccinations
Many are interested in whether it is necessary to get vaccinated. So, there are no mandatory vaccinations for Thailand, this is not Africa, where it is necessary to get vaccinated against yellow fever. From diseases such as dengue fever and malaria vaccinations do not exist, so you (including children) only need the standard vaccinations you get at home. Malaria is rare and dengue is more to be feared. Many of my acquaintances have been ill with her. It is carried like the flu, usually with two waves of temperature. It is important to remember that it is necessary to bring down the temperature with Dengue with paracetamol, and not with ibuprofen (nurofen) and aspirin, therefore it makes sense to take paracetamol with you (our first aid kit) and shoot them down first, until you went to the hospital for insurance and you were diagnosed.
Insects
Thailand is a tropical country, so it is not surprising that it is full of all kinds of animals: mosquitoes, geckos, frogs, ants, snakes, scorpions and even monitor lizards. But don't be alarmed, most people only come across mosquitoes and geckos. Moreover, it is not a problem to buy a repellent against mosquitoes, and geckos are generally cute creatures. Ants, on the other hand, come to those who leave food leftovers outside the refrigerator, they especially love mangoes and shrimps, gourmets are direct. In all my times in Thailand, I have seen only once a snake and a scorpion in a live form. The main rule, if you want less living creatures - settle not in houses, but in apartments (hotels), and as high as possible on the floor. And, of course, do not climb with your bare feet into dense and tall grass. In general, the more urban you have, the less fauna you have. Details with photos - What insects are in Thailand.
Safety
Thailand is a safe country when it comes to robbery. Yes, as soon as something like this happens, the media inflate it to high-profile stories. But if you look at the statistics, you will understand how few serious crimes are there. In Tae, it is absolutely not scary to walk along deserted and unfamiliar back streets at night, it is safe to spend the night on the highway in the car, an accident somewhere forgotten will most likely wait for you. But you shouldn't relax completely either, you must always follow basic safety rules..
The main problems are accidents (especially on bikes) and theft from rented houses. They usually steal at night and the presence of the owners in the house does not interfere, therefore, check the locked windows and doors (it is advisable to have bars on the windows) and do not settle in detached houses without neighbors. Also, sometimes they steal from a hotel room, but I myself and my friends have not yet encountered this. If you are very afraid, book a hotel where there is a safe in the room, well, or, at least, do not leave money and equipment in plain sight.
The language barrier
It's good if you know English at least at the school level. But his ignorance is not a problem, especially if you are going to Pattaya / Phuket, where signs and menus in Russian are often found. Among tourists, I constantly see those who know literally a couple of words in English and for them this is not a problem. A lot can be explained by gestures, and to understand the answer simply by guessing the meaning (impressions of communicating with Thais). Therefore, if you are not a complete introvert, then you can handle it without any problems, you are not discussing politics and philosophy with Thais, but changing a towel in a hotel or eating in a cafe. Here's my advice to you - install the Google Translate application on your phone and download the English, Russian and Thai dictionaries in advance, then the translation will be available even without a mobile Internet. Or remember phrases in thai.
Transportation of animals abroad
I would not bring a cat or dog with me for a couple of weeks of vacation, it is much easier to find someone from my friends or relatives with whom I can leave them. It's another matter if you are traveling for a long time. However, it is not that difficult to take an animal with you - To Thailand with a dog or cat.
On site upon arrival
How to get from Thai airport to hotel
Tickets to Phuket are usually more expensive than to Bangkok. But if you are going to rest in Phuket, Khao Lak or Krabi, then it is very doubtful to fly to Bangkok first. The situation with Koh Samui is a little different, there are simply no direct flights there, and in any case there will be a transfer in Bangkok. But I already wrote about this in choosing a resort.
How to get to the hotel from the airport Phuket, Samui and Krabi you will find out from the links. All methods are described there, including public transport, transfers and taxis. But I'm getting ahead of myself to say that the easiest and most comfortable way is to book a transfer in advance via the Internet, then upon arrival you will be met with a sign with your name and taken to the desired hotel. Zero troubles.
Transfer online>
Transit in Bangkok, how to get to the resort
If you are going to Pattaya, Koh Chang, Hua Hin, as well as Chiang Mai or Bangkok itself, then you will fly to Bangkok. Usually, it is to Bangkok that tickets are the cheapest, both for flights with a transfer and for direct flights. And from there you will get to the resort you need by plane, bus or train.
Bangkok has two international airports: Suvarnabhumi and Don muang. From Russia, you will fly to Suvarnabhumi, and if further you transfer to an AirAsia or NokAir plane, then you will need to go to Don Muang. Don Muang is often visited from other Asian countries, for example, from Hong Kong, Malaysia, Singapore, etc. Follow the links to read all the information on the airports, how to move between them, and how to get to the city. Looking ahead, I will say that the easiest and fastest way to ride Taxi, it's cheap in bangkok.
If you are not going to linger in Bangkok, then below are links to detailed descriptions of all the ways to get to the nearest resorts..
- How to get from Bangkok to Pattaya
- How to get from Bangkok to Koh Chang
- How to get from Bangkok to Hua Hin
If you bought tickets to Bangkok because of their price, but in fact are going much further, then I have instructions for you..
- How to get from Bangkok to Koh Samui
- How to get from Bangkok to Phuket
- How to get from Bangkok to Krabi
- How to get from Bangkok to Chiang Mai
Mobile 4G Internet and WiFi
You can buy a SIM card either online in advance 2 times cheaper, or at the airport in the arrivals area, or at any 7/11 minimarket or Family Mart, of which there are plenty everywhere, or at points of sale of SIM cards. There are 3 operators in Thailand: DTAC, AIS and True. Everyone has good 4G / 3G coverage in resorts and between cities. How many I traveled, only in the mountains in the north did I stop catching the Internet. Mobile Internet is connected with a traffic package for a day / week / month. The prices are normal. Read all the details on the links above. I usually use DTAC.
Simka DTAC is 2 times cheaper, Bangkok>
Simka DTAC is 2 times cheaper, Phuket>
Almost every hotel, apartment or house has Wifi. The speed is not very high and is about 30/10 Mbps (unbalanced channels are often used), but it is quite enough for surfing and working. But with stability, everything is average, much worse than in an ordinary Russian city. The best Internet is when you have your own personal channel / router (this is possible in the house or in the apartment), because in the hotel the Internet is divided for all guests. Therefore, if you have arrived for a long time and the Internet is important to you, then clarify this issue before you sign the lease agreement..
Exchange or withdraw money
In Thailand, it is not a problem to exchange currency. Any resort is full of currency exchange and banks where you can do this. And if banks often work until 15-16 hours, then exchangers are almost round-the-clock. The course is about the same everywhere, only a little worse at the airport. Withdrawing from the card is also not a problem, there are ATMs near every bank, as well as next to minimarkets 7-11. I wrote about everything in detail in the post - How to withdraw money.
Food in Thailand
I really fell in love with Thai cuisine, and did not get bored at all at all times. But I know that there are those who consider it monotonous / tasteless and prefer to eat in European cafes or cook at home. The latter is relevant in the case of a long stay in Thailand and renting a home with a kitchen. In hotels, if they are not apart-hotels, there is usually no kitchen.
First of all, you should know that Tai is one big cafe (cafes and street food). There are cafes and shops on almost every corner, it is difficult to stay hungry. Makashnitsy are essentially a mobile kitchen (on a bike), all food is prepared in front of you and often there are no tables or chairs. It is believed that it is in the makashnitsy, as well as in inexpensive Thai cafes, that the most delicious food is sold, because they do not have refrigerators and everything purchased in the morning must be sold in a day, which is why everything is fresh. There are no fewer presentable cafes and restaurants, but there food is more adapted for Europeans, as well as a wider assortment of dishes, including European cuisine. Poisoning is rare, especially when it comes to inexpensive cafes.
The second thing to know is that in Thailand there are no supermarkets within walking distance that we are used to. There are either found on every street minimarkets 7-eleven, where the main products are water, chips, nuts, several ready-made meals, as well as household items such as shampoo and a toothbrush. Either big chain supermarkets Tesco, Big C, Makro, Tops Market, Villa Market with a full range of products and other goods (furniture, appliances, etc.), and where you need to go by transport. They are similar to our Ashans. There is also markets, where vegetables, fruits, meat and seafood are sold.
If you travel for a long time, then the post will be relevant to you - How to find familiar foods. And I also wrote separately on the topic - How to feed a child in Thailand. At first, in supermarkets, it is not clear where what is, but almost everything is sold, well, or a lot. But it is worth understanding that imported goods, as well as the fact that Thais do not really eat, will cost more..
Moving around the country
Instructions on how to get between cities
The fastest way is by airplanes. And in principle, it is not very expensive. For example, a flight from Bangkok to Phuket costs 1,500 baht on average. As a rule, it all comes down to buying an air ticket from AirAsia.com or NokAir.com. The first flies in Asia, the second mainly in Thailand. Prices are about the same, for the service I like NokAir more.
Many people move between cities. buses. The bus service is very developed in Tae, the buses are new and comfortable. If you can easily endure long journeys (especially at night), then this option is for you. Unfortunately, there is no sleeping bus in Tae yet's (when you can lie down straight), but maybe someday they will appear. The ticket is inexpensive and depends on the class (Vip, 1, 2), for example, 800 km - 500-1000 baht.
There is also a railway connection here, but it is less developed in comparison with the bus one, so it is not always convenient to use the train. In addition, trains are often late, which is not the case with buses. On the other hand, it is on the train that you can have a good night's sleep on a recumbent bunk. All the details in the post about thai trains.
- How to get from Bangkok to Pattaya
- How to get from Bangkok to Koh Chang
- How to get from Bangkok to Koh Samui
- How to get from Bangkok to Phuket
- How to get from Bangkok to Krabi and Ao Nang
- How to get from Phuket to Khao Lak
- How to get from Bangkok to Hua Hin
- How to get from Bangkok to Chiang Mai
- How to get from Bangkok to Ayuthaya
- How to get from Pattaya to Koh Chang
- How to get from Hua Hin to Koh Samui and Koh Phangan
Scooter and car rental
In place and over short distances, the easiest way to get around is on a scooter, which is most often called simply a bike. It can be rented without any problems, there are a lot of rental points in any resort and the prices are reasonable. The most popular bikes here have a volume of 100-150 cubic meters, that is, they are quite suitable for transporting two people. At the rental office you will not be asked for your rights, but according to the law, they are needed and if the police stop you, you will pay a fine, and there may also be problems in case of an accident. There are peculiarities, and, of course, there is also a danger, you have to be careful.
All about scooter rental in Tai>
For those who are too afraid to ride a bike for one reason or another, or are simply not confident in their abilities, it is better to take a car. It is also good for long distances and for traveling with a company. If you are still in doubt and do not know, which is better, a car or a bike, then see my comparison.
I personally do not take risks and never put a child on a bike, so when I travel with my family I always rent a car, which is what I advise you. And lately, I generally switched to a car to travel between cities, but I take a bike only at the place, for short local trips. It is best to rent a car from international network car rental companies, it is safer, no confusion with contracts, deposits and insurance. Well, and a life hack, if you order a rental through an Economybookings broker, then the prices will be lower, besides, the broker's website is in Russian, when the distributors are in English.
How to rent a car in Thailand>
What to see in Thailand
The main attractions are Thai and Chinese temples, beaches, national parks with waterfalls, zoos and amusement parks. From active - rope parks with trolls, ATVs and all kinds of water activities: diving, jet skis, bananas. Of course, at each resort there are also sea excursions to islands with white beaches and snorkeling..
During the first trip to Asia, a lot will be outlandish, even the dishes in local cafes and fruits, they can also be considered a tourist attraction. The set of entertainment plus minus is the same everywhere, the scale depends only on how large the resort is. It also makes sense for avid travelers to take a ride in the north of Thailand, there are mountains, waterfalls of normal height, and stunning views.
What to see in Pattaya
What to see in Phuket
What to see on Koh Samui
What to see on Koh Chang
What to see in Krabi
What to see in Hua Hin
What to see in Bangkok
What to see in Chiang Mai
All Thailand
All Thailand:
P.S. The guide is compiled from 2010 to 2019, the information is constantly updated and updated. Please support the project: like and share on social networks.