Contrary to popular belief that Krasnaya Polyana is exclusively winter, a ski resort in the Russian Federation, it is able to provide you with a good rest in the summer. You just need to know where to look, well, do not forget that in the local specifics of entertainment, the key word is - «mountain». Those who associate Sochi exclusively with the beach, the sea and a sun lounger have nothing to do in Krasnaya Polyana.
Be sure to read what makes sense to see in Sochi-Adler - My TOP15 attractions.
The content of the article
What to see in Krasnaya Polyana in summer
Summer Krasnaya Polyana comes to lovers of trekking, extreme sports, pokatushki and other chamber recreation. There are no crowds of holopubbies burnt in the sun in swimsuits, beach barkers, crowds on the embankment and traffic jams. Only mountains. And mountains of emotions.
I will immediately remind you of my detailed post. Krasnaya Polyana near Sochi - 4 in 1, the whole truth about the resort, where I explain in detail what constitutes the usual concept of a resort on Krasnaya Polyana. Be sure to click on the link, otherwise there will be a stupor further if you have not been to those parts yet and are just going to get acquainted with the local beauties.
I divided all the interesting things and activities in the article below by locations: Krasnaya Polyana, Estosadok and Gorki Gorod, Gazprom and Rosa Khutor. These are the four main zones where the main infrastructure of the resort is concentrated. I will not list in detail the work schedule and prices - they still change from year to year and from season to season. The main message of the article is to give you an idea of ​​how varied your summer vacation can be at such a seemingly hardcore winter resort..
Krasnaya Polyana
Krasnaya Polyana is an urban-type settlement, the name of which has become a household name for the entire valley between Mount Achishkho with its spurs and the Aibga ridge. However, we are literate people and we will call a spade a spade. So, the urban settlement Krasnaya Polyana in the summer is the residence of fans of silence, low population, quiet rest and ecological tourism.
There is only one large road in the village, there are no multi-storey buildings (with rare exceptions), and 90% of the buildings are one and two-storey houses. There are no megamalls, dance clubs, water parks and cinemas in Krasnaya Polyana - you will find all this upstream of the Mzymta, in Estosadka. In the village you will find a lot of baths, trekking, rafting and other ways of communicating with nature on equal terms. Post describing the village.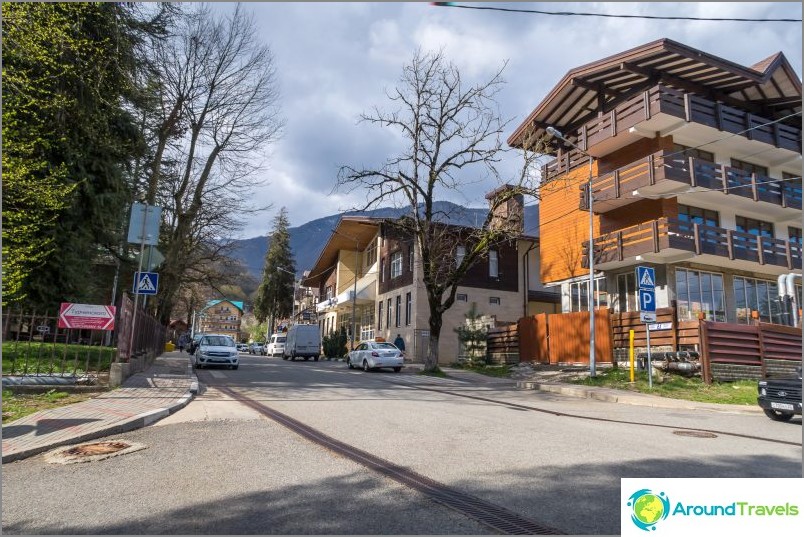 Walking excursions (ecotourism) around Krasnaya Polyana
It will be illogical to list all the options within the framework of the review article, because there are a huge number of routes for walking in the mountains and several companies are engaged in organizing trekking. They collect and conduct group walks in hard-to-reach places, in the vicinity of Krasnaya Polyana at different heights above sea level. Hills, forests, alpine meadows, waterfalls, viewing platforms - all this is available to the guests of the resort. Moreover, the paths are increasingly beginning to be equipped according to the mind: bridges, railings, signs and places for rest.
Jeeping, motorcycle tours, ATVs
This is a continuation of the theme of walks, but without the prefix «eco» and not at all pedestrian. Organized rides in the mountains and sights around Krasnaya Polyana on powerful off-road vehicles. Preliminary training in driving (if necessary) is carried out, as well as services for storing your personal equipment, their service and washing in case you come with your farm..
Hiking to the caves
Not the most carefree kind of recreation, but it is a unique chance to see underground reservoirs, corridors and even halls where the beam of a lantern cannot reach the ceiling. There are light caves, where tourists with children are allowed, where everything is ennobled with bridges and lighting, and there are caving trips where you will not find all this. Only hardcore, only real difficulties and complete darkness. Typically, in some places you can swim, so you will be asked to bring your swimming clothes and a towel.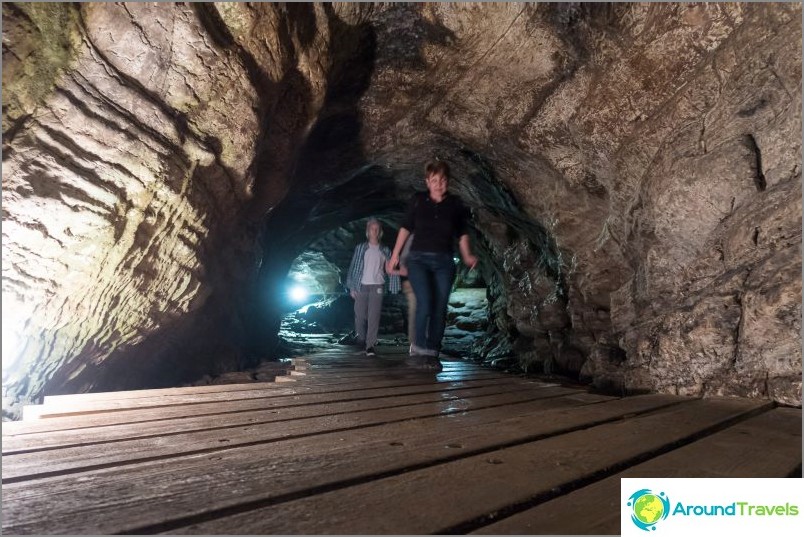 Walk to the dolmens
One of the options for independent pastime, for which guides and special equipment are not needed. Dolmens are located in the mountains at the end of Achishkhovskaya Street. These are ancient megaliths, about which it is better to read the information in advance, otherwise, upon arrival at the place, you simply will not understand why there is a need to be surprised. In short, this is a type of ancient burial site comparable in uniqueness to Stonehenge or the pyramids in Giza. But the dolmens in Krasnaya Polyana are not particularly impressive, it is better to go somewhere else.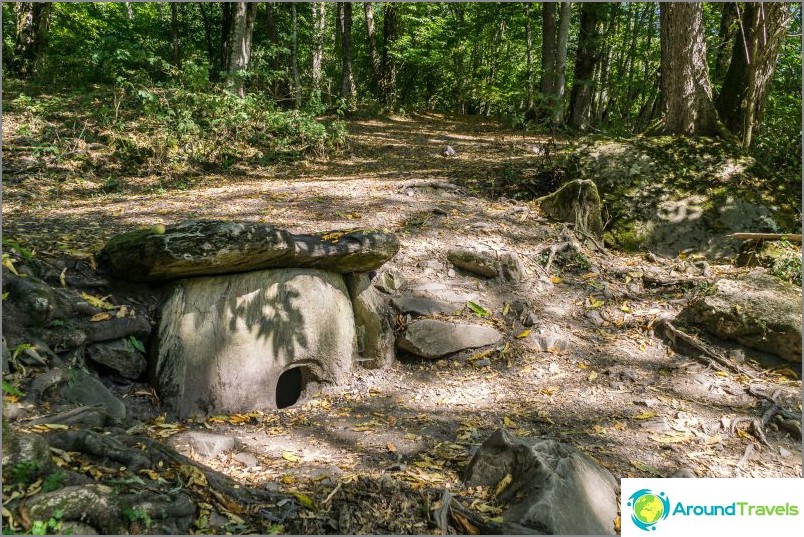 Rafting
The classic of outdoor activities - descent along a mountain river on inflatable boats. Depending on the options, it can be a fun and difficult descent, or a quiet family in a safe mode. In general, rafting is one of those cases when you do not need to have special equipment and training, and under the supervision of a guide you get a positive charge and «type» hilarious detachment from reality.
Helicopter rides
Helicopter tours can be taken either as a separate flight to any location, or as a full-fledged sightseeing tour. The route runs from the maritime cluster with the Olympic Park, along the Mzymta River to overflying the mountain cluster in the area of ​​Rosa Khutor, Gazprom and Gorki Gorod. The duration of the survey is 5 hours, and it is allowed to take children from 8 years old on the flight.
Baths of Krasnaya Polyana
Krasnaya Polyana theme park «Bath Land». Five SPA-complexes, which include: a Russian steam room, a Roman bathhouse, a Turkish hamam, a hot tub (a vat on chains or a Japanese o-furo barrel), as well as a cold tub with spring water.
SPA complex «British» bath, an amazing mix from the bath culture of the peoples of the world. Houses made of clay and straw, clay steam room «Hedgehog»in the Burmese style, something similar to the Japanese o-furo and - a Russian bath. Expensive but stylish.
Chandelle Blanche Medi SPA & Beauty. Wellness center, which is located in three buildings of the hotel on an area of ​​about 3 thousand square meters.
Russian bath in KO «Belarus» - thermal complex with indoor pools, hydromassage and cascading showers, Russian steam room, Finnish sauna and Turkish hammam.
Slavic baths near Ogniyar - the territory of the dry law at the tourist center «Mountain air». There are Russian steam rooms and two swimming pools, a bath with hot broths and a Charcot shower.
SPA «Mikhailovskie Movnitsy» - Russian bath, built according to old Slavic technologies. With hayloft.
SPA complex «Velha» - Russian bath, cold water plunge pool, Finnish sauna, hamam and heated pool.
Picnics
The territory of Krasnaya Polyana and the surrounding area is rich in beautiful sights and pleases the eye with simply gorgeous nature. Very often here you can find ennobled areas of the forest or the territory near water bodies, where gazebos or picnic pavilions are neatly arranged. Equipped with everything necessary for a relaxing holiday with a family or a large company, without the risk of causing any damage to nature.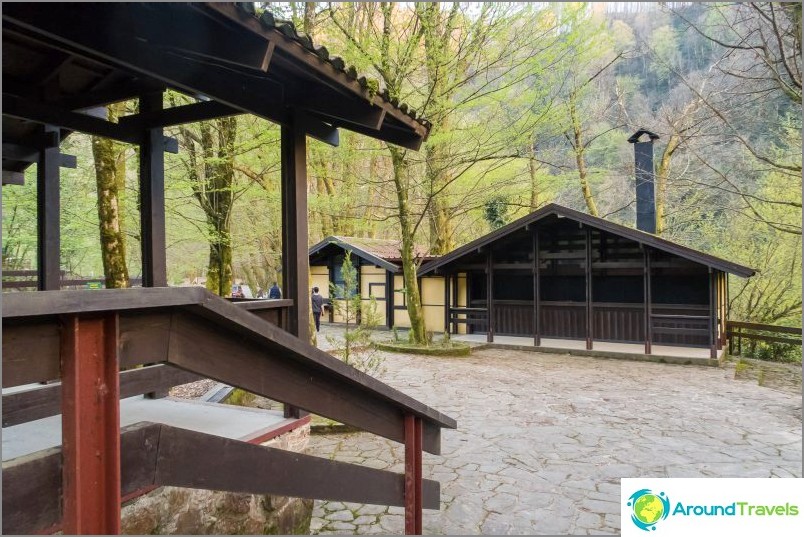 Canyoning
Ecotourism and sports activities in one event. You find yourself in a separate canyon of a mountain river and begin to descend along it, using all available methods and means. On foot and by water, in relaxation mode or with the use of climbing equipment - there are two types of canyoning. Depending on the option you choose, you either descend in contemplation and photograph mode, or get the full adventure package, which includes waterfall jumps, water slides in the rocks and a cascade of waterfalls not suitable for walking on the list.
Creative activities for children and adults
Creative center «Family», where creative development circles are organized, children's parties, culinary master classes are held, as well as a service for overexposing children.
Cooking classes at the inn «Triconi» - free family entertainment in one of the most famous places in Krasnaya Polyana. Moreover, it is held as part of the promotion of the inn itself, so you will not pay a dime for participating in culinary master classes..
«Coop Studio» - an egg house, as well as a coffee shop and a creative workshop. Here, for children and adults, painting master classes, poetry evenings in the library are held, there is a bar for adults and a tea room for everyone..
Kayaking Waterfly
Waterfly (in Russian «waterfly») Is an inflatable kayak with an open cockpit. In essence and technical characteristics, it is a water all-terrain vehicle that allows you to safely raft where it is quite dangerous for classic rafters. Waterflies - easy to handle and very light boats.
Eco-settlement Russian House «Rybino»
A resort within a resort, a complex for rest from the usual vacation in Krasnaya Polyana. Rybino is located literally a couple of kilometers from the village, under the Achishkho mountain. From 10 a.m. to 8 a.m. yesterday you are provided with: fishing in an enclosed reservoir, horseback riding, a Russian bath, a bar, a park area, a small zoo, hammocks and sun loungers, sports games and just walking in the shade.
Soap factory in Medoveevka
This is more shopping than cultural or sports entertainment. A trip to Medoveevka is usually associated with a visit to the local soap factory, which has been producing natural products for hair and skin care for over a decade. They don't pay for ads, so I'll do without links.
Aviary complex of the Caucasian reserve
For 300 rubles, you open the doors of a small animal rehabilitation center, where many representatives of the local fauna are gathered: wolves, deer, chamois, bison, wild boars, lynxes, leopards and others. You can just go and gaze at the animals, reading the information from the stands. But ideally it is worth joining a tour where the guides will tell you stories about the appearance of animals in the complex that you will have no room for boredom..
Brewery «Endemic»
Craft brewery in the mountains near the village of Medoveyka. It will be interesting both for people who are far from beer, and for its connoisseurs and consumers. The brewery produces local beers, ciders and their mixes. Entertainment, as you know, is not for everybody, and this is the very case when the word «amateur» fits very well.
Paragliding
Since I initially decided to divide all the entertainment by location, then in theory it is necessary to write this item in every resort, but with your permission, I will not. Both Krasnaya Polyana and Estosadok are located between the mountains, so in each settlement there are several points convenient for flights. They differ in height for the start, height differences during the flight, time in the sky - from 15 minutes. All flights are performed in tandem with an instructor.
Estosadok and Gorki Gorod
Gorki Gorod is just a part of the Estosadok village. But, since it has a special, specific function, Gorki Gorod is usually spoken of as something separate and independent. Although in fact, these are just two halves of one settlement, separated by a main road. It's just that the infrastructure of Gorki Gorod consists of 99.9% of entertainment establishments, and Estosadok across the road - in the same proportion, but already as a residential sector.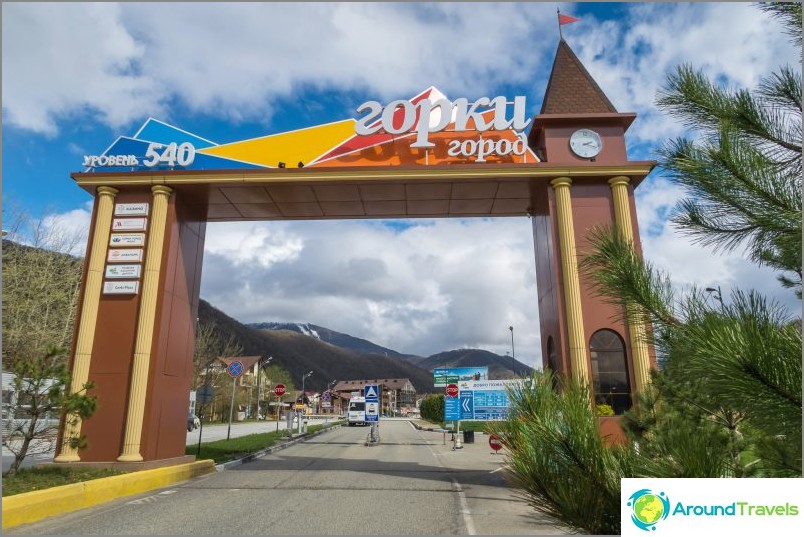 Horseback riding Gorki Gorod
Horseback riding can be seen as a more sophisticated alternative to the K-12 cable car, one of the three cable cars that lead to the Polycaria Falls. I myself have not skated on it yet, but I read on the net that there are several route options, and one of them is entirely laid through the forests on the mountainside. This is one of the new entertainment options at the resort.
Beach in the Imereti Bay
It is believed that this is the entertainment of Gorki Gorod, but in fact, in Gorki Gorod, you are simply picked up by a transfer bus and taken to the sea. Transfers ride several times a day and it is better to prudently probe the topic, where they stop and whether it is necessary to buy places in advance.
On the beach, in addition to standard tuning, you will have the opportunity to rent a SUP board, practice diving, or send the children to the inflatable slides. For very little ones there is an equipped play area and some kind of animation program.
SEC Gorky Gorod Mall
The largest shopping center in the entire resort, from Krasnaya Polyana to Rosa Khutor itself. In principle, residents of large cities Gorki Gorod Mall will not surprise with anything new: several floors of boutiques, entertainment, a cinema «StarCinema», bowling «Lucky strike» and shop «Crossroads» in the plinth. But in terms of local infrastructure, it is a real center of entertainment and shopping, which cannot be ignored..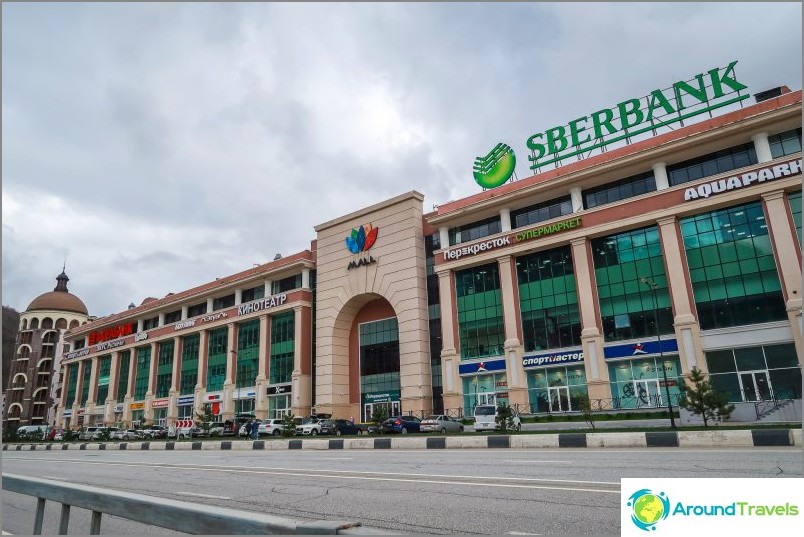 Aquapark «Mountain beach»
Just for those who suffer from the lack of the sea during a forced vacation in the mountains. And here (unlike Sochi) a real sandy beach has been prepared for you. Well, a bunch of services in pursuit: sports games on the sand, jacuzzi with sea salt, water slides, animation, sauna, restaurant, massage, children's playroom, and even fish peeling, as in Thailand.
Casino Sochi
They position themselves as the only multifunctional entertainment center in Krasnaya Polyana. In fact, entertainment here is for high-flying people, that is, high-quality and expensive. Gambling hall, concert hall, signature cuisine restaurants, theater, conference rooms and poker club.
Cable car to Gorki Gorod
Of course, first of all, the cable car is a type of vehicle in the mountains, especially relevant during the winter season. But for the summer they do not stop their work and turn into a kind of survey road. Riding and flying over the mountains and local views is quite an excellent pastime for a couple of hours.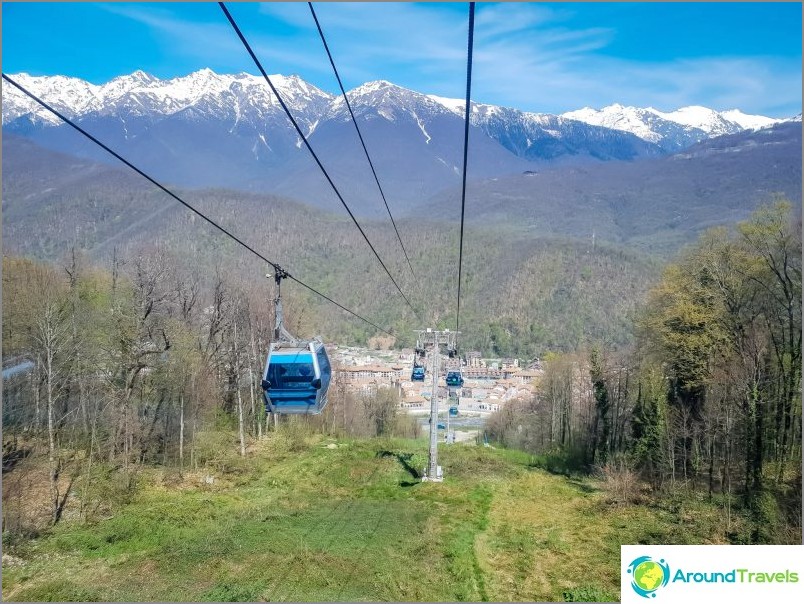 Walk on pitbikes, ATVs or mountain bikes
As in any other resort town of Krasnaya Polyana, you will be offered a ride on the downhill tracks or a contemplative walk around the area. In addition to equipment, you can rent protection to safely ride both on natural trails and on prepared obstacle courses..
Rest in a tent camp
In addition to being just a small tent camp (7 tents on wooden decks) at an altitude of 2 km above sea level, they offer an entertainment program in field conditions: night cinema, a telescope, a master class on tying knots and, in general, conduct a course for a young fighter with training in setting up tents and setting up a camp. The rest is designed for a family format, therefore, classes for children are also provided..
Yoga
In addition to the usual activities, for people leading a healthy lifestyle in Krasnaya Polyana there are many offers for yoga classes. Private, group, yoga seminars, yoga camps - here you won't even be able to make a short list of options. Plus, the names, contacts and venue may change annually, so look for up-to-date information in google search.
Rope Park Rope Adventure Park
A popular entertainment nowadays, when platforms are installed on trees, cables and ropes are pulled, which is why a whole rope town is formed at a height of 10-15 meters. And then for the money you are allowed here to tickle your nerves alone or as part of a group; you can even hold competitions if you come with a company. There are difficult and simple routes, as well as a separate safe one for children. Rope Adventure Park is located at an altitude of 1460 m, entrance fee - from 300 rubles.
Ecotourism
An increasingly popular format of active recreation, which is gradually being adjusted to global standards. Specially prepared routes are laid in the mountains at different heights, which pass through picturesque places or natural attractions. As a rule, these are not very difficult walks that an ordinary person with average physical fitness can do..
Polikarya Waterfall, Alpine Meadows, Circus-2, Black Pyramid Peak, Rhododendron Valley, Relic Forest - these are the names of trails and routes that are offered in travel agencies. Their availability, time and cost change regularly, so check with the tour organizers..
Cave Falls
The Keiva waterfall is one of the most beautiful natural places that you should definitely visit in the Estosadka area. The road to it is almost all uncomplicated and very picturesque. Moreover, you can come here at any time of the year, it is equally good in winter and summer. It's just that in winter you will be met by an ice waterfall, and in summer - alive.
Rosa Khutor
Rosa Khutor is a distant and most famous area of ​​the village of Estosadok, which is strongly associated with skiing and snow recreation. The resort area is located on several levels, from the Mzymta River to viewing platforms at heights of 2230 and 2509. However, with the onset of heat and after the snow melts, this place does not remain unclaimed.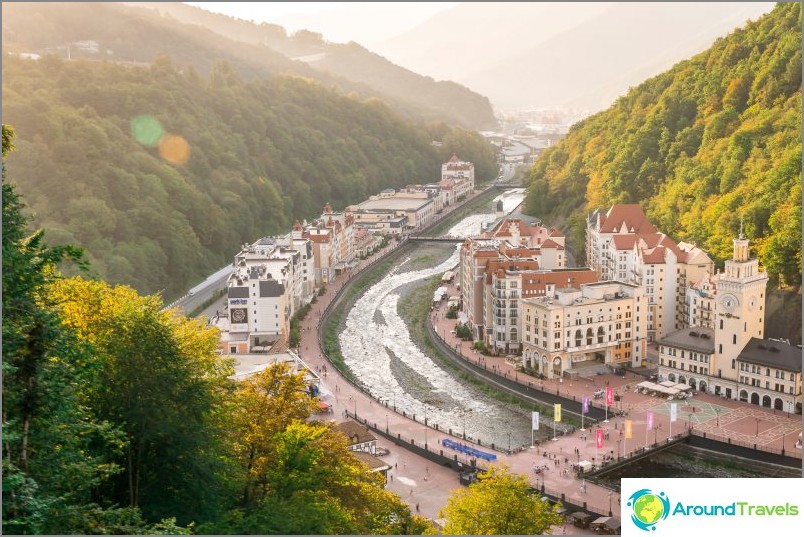 Rosa Peak observation deck
The attraction of Rosa Khutor, where you can climb from Rosa Dolina in 30-40 minutes, with three transfers. The climb itself is also impressive, the views are awesome at any time of the year, as long as it is not cloudy. At the very top, there is an observation deck with a view of almost 360 degrees and a restaurant Height. Rose Peak is located at an altitude of 2320 meters in the Aibga mountain range. In winter, people unload on Rosa Peak to slide down one of the two slopes of the ridge, and in summer - for hiking and horseback riding.. More about Rose Peak.
Then you can just go back down to Rosa Dolina, or you can still take a walk: a walk to the Stone Pillar at a height of 2509 (even higher than Rosa Peak), or descent by cable car on the other side of Rosa Peak Mountain to the Stone Forest, where there are several beautiful waterfalls. Accordingly, it will then be necessary to return back to Rosa Peak and descend to Rosa Dolina. All routes are easy.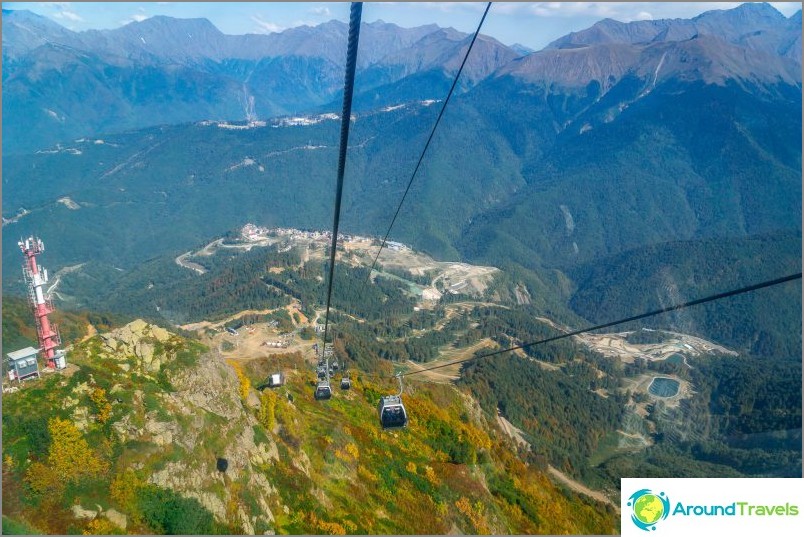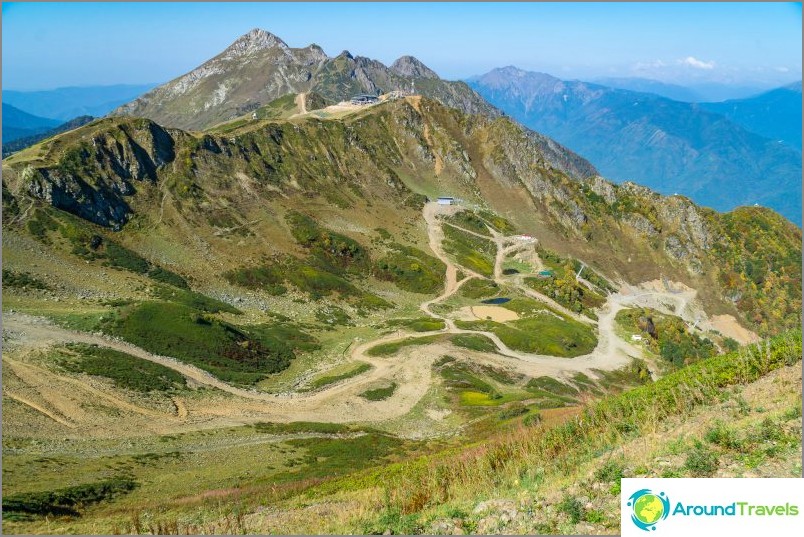 Observation deck Stone Pillar
If you decide to go up to the Rosa Peak observation deck (and it's easy to go there - the funicular drives), then it makes sense to set aside a whole day for this and not limit yourself to one point. If you walk along the Aibga ridge along the pedestrian path, then you will find yourself on the highest observation deck of the entire area - Stone Pillar. Height - 2509 meters. The path is simple and short, 2 hours round trip.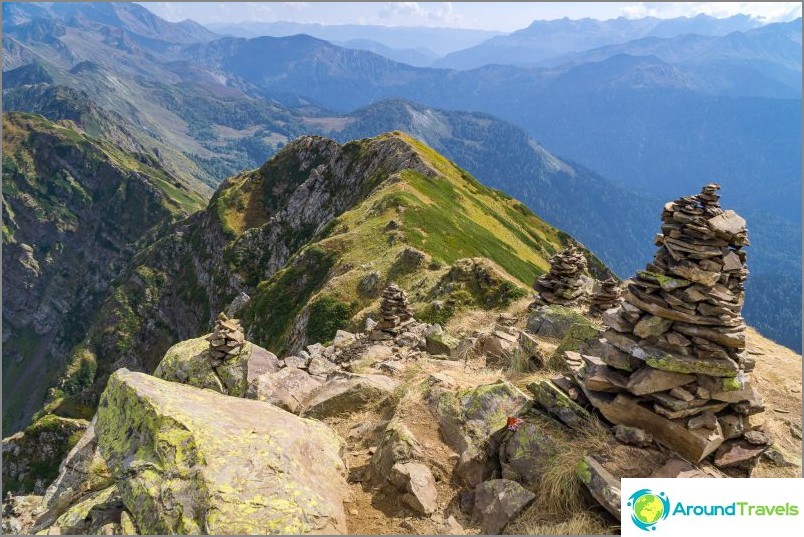 Family entertainment
pottery «Olgiz». Master classes for beginner potters are held here: a potter's wheel and hand modeling from clay, as well as stained glass painting, decoupage, wet felting and painting on fabric.
Art studio «Colored mountains». Painting workshops, corporate parties, team building, nature walks with an easel and drawing training.
Flacon 1170
So-called «design residence» in the mountains. Festivals, events, gatherings, lecture halls, coffee shop, yoga, bar, fitness, vegan cuisine, conferences, parties, coworking, music, delicious food for ordinary people. They position themselves as a creative art space and health center. Open from 7:30 am to 11:00 pm, admission is free.
Karting club «Rosa Khutor»
Entertainment for big and small - karting track on the 6th floor of parking lot P4 in Rosa Khutor. 250 meters, made of polished concrete, equipped with telemetry, which reads your achievements, and at the exit you will be given a sheet with the results of the race. You want speed, you want drift. Beginner training and competitions are held every week.
Park Virtuality on Rosa Khutor
Virtual reality and this is all that is connected with it. Rides with hyper-realism of presence, labyrinths made of mirrored walls, belt mazes, play areas for children for all ages. There is a babysitting service, a cafe, work from 12 to 22, the cost of visiting is from 250 to 400 rubles.
Historical and ethnographic complex My Russia
A complex and interesting architectural ensemble on the banks of the Mzymta River, which consists of houses built in a traditional way. Moreover, for each building representing its own region of the Russian Federation, a different construction method was used. The entrance to the territory is paid, inside there are several eco-hotels, restaurants, cafes, hand-made workshops.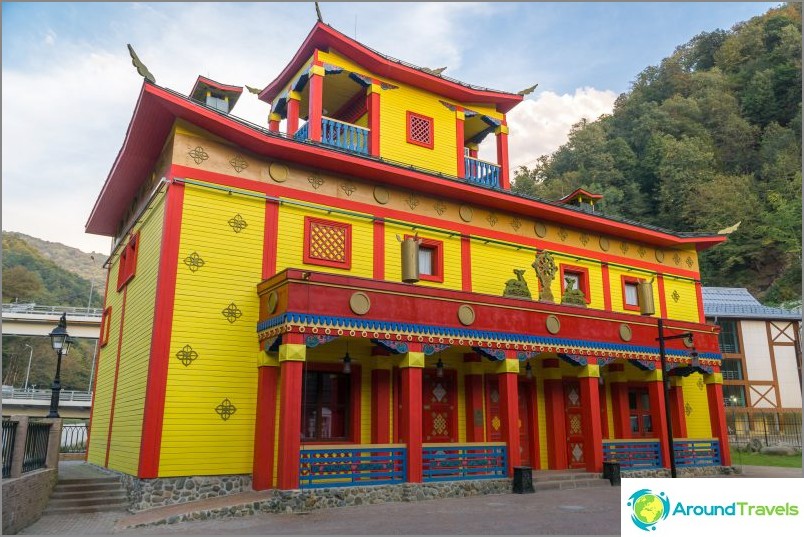 Rosa Hall Concert Hall
A multifunctional complex with transforming halls, where various events are held annually on more than 10 thousand square meters, from children's parties to major conferences. There are two halls inside, designed for 2500 people each, plus a cafe, VIP boxes and meeting rooms. Well, in addition to the practical meaning, it has an entertainment component - concerts are held here.
Rosa Beach beach area
The only place on Rosa Khutor where you can sunbathe by the water for people who do not want to cut half an hour to the sea. A freshwater reservoir on the banks of the Mzymta River with a sandy artificial beach and beach equipment - of course for an entrance fee. The price includes the cost of using sun loungers and beach infrastructure: toilets, changing rooms, cafes. Located near the beginning of the Health Trail.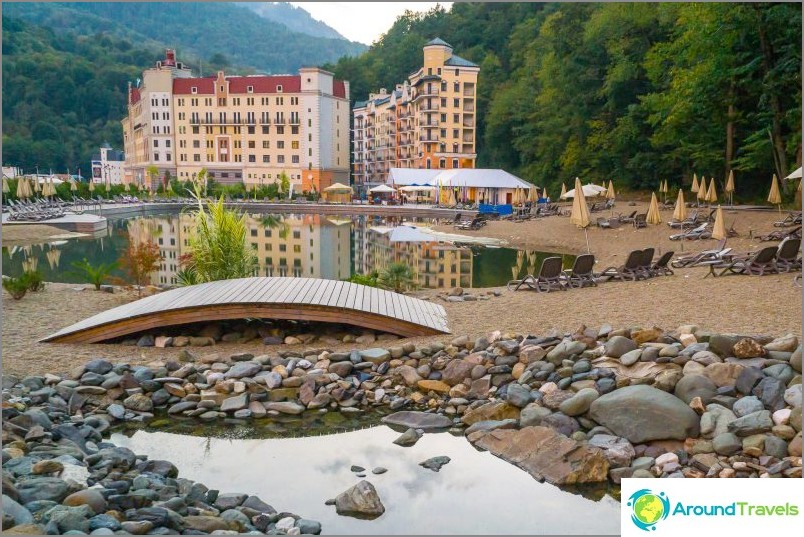 Health trail
A multi-level long hiking trail on the slope of Mount Psekhako. The levels are divided according to the difficulty of passing the trails: large, medium and small (1.5 hours on foot, 1 hour and 15 minutes, respectively). Has no serious obstacles for people with an average level of physical fitness, fully equipped for safe and comfortable walks in nature.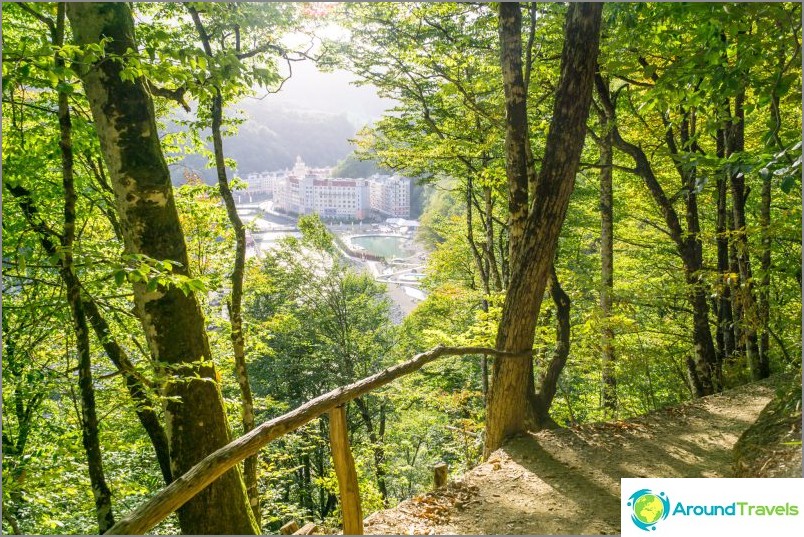 Autotrack Qualification
A place of worship for fans of 1:10 scale sports car models. The auto track was designed specifically for the Russian championship in racing on such cars, and you can ride it both with your own equipment, and with a rented one here. Races take place on a track that is clearly visible from a high podium, where you will be placed with a race control panel.
Trolls Flight Eagle
Suitable only for those who are very, very afraid or trying for the first time. The flight is quite long, there is a trolley length of 500 meters, but the speed ... as you go on foot. At least these were my impressions.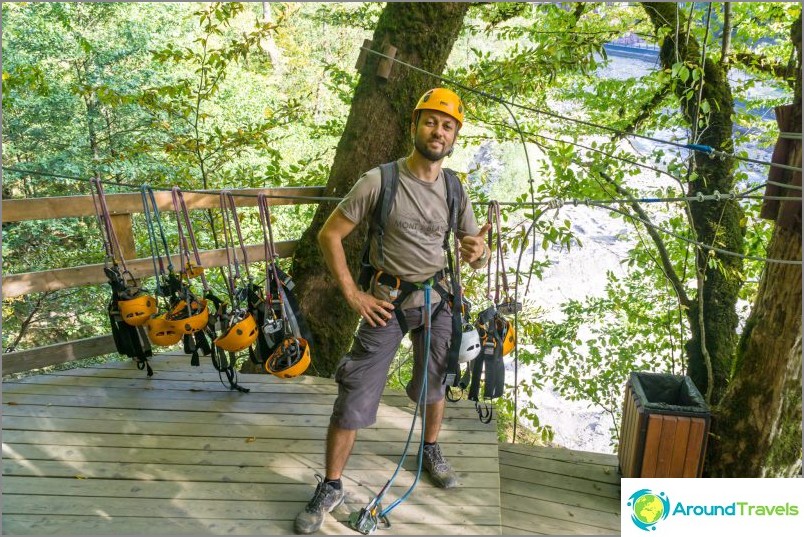 Rafting on the Mzymta river
As in other places of the resort around Krasnaya Polyana, organized rafting takes place in Rosa Khutor along the Mzymta River. The total rafting time is about two hours. Rafting is included in the excursion, which lasts about 5 hours. Sports entertainment, with elements of extreme, but absolutely safe and suitable for people without special training.
Rope amusement park Panda Park
PandaPark is a network of rope parks, which are routes of varying difficulty between trees at a height of 3 to 23 meters above the ground. Fans of such an extreme will have to overcome obstacles and navigate the crossings, including wooden bridges and steps, ropes, suspended climbing walls and trolls.
Rock climbing on Rosa Khutor
A three-hour program for those who like to climb, hang and fall from sheer walls. An attraction was organized at an altitude of 1600 meters. Contains five tracks with difficulty from easy (for children over 12 years old) to serious. All equipment and instructions are provided by the climbing organizers in Rosa Khutor.
Mendelikha Waterfalls Park
The southern slope of the Aibga ridge. Riverbed of the Mendelikha River. Height is 1472 meters above sea level. The seven waterfalls here are open to hikers if they get here from Rosa Peak or by cable car «Edelweiss». The park has two equipped routes of medium difficulty: small and large rings. If you go through both routes, it will take about two, two and a half hours. The highlight of the tour is that it passes close to the border and therefore you will have to bring your passport.
Tasting complex Krasnaya Polyana
Exhibition-tasting of alcoholoids, which were infused with mountain herbs of local surroundings, as well as fruits and honey from neighboring Abkhazia. The store is open from 11 am to midnight. It is located in the building Tulip Inn Rosa Khutor 3 *, entrance - from the embankment «Panorama».
Baths Espas
Three bath complexes: traditional Russian, mountain alpine and exotic Japanese. Located near the cultural and ethnographic center My Russia, on the banks of the Mzymta River. As they usually say in trailers for blockbusters: «from creators» BATH-LAND. A regular spa divided into thematic zones, but quite a suitable option for relaxation, especially on rainy days (and there are also such in summer).
Horseback riding on the Aibga ridge
For the amateur and for those who know how to ride. For beginners, walking can seem like a tedious task, because horses are not cars and riding them takes practice. Horse rides start from the building on Rosa Peak, in which the a restaurant «Height 2320». They pass along the trails of the Aibga ridge, from which an excellent view of the panorama of the Caucasian ridge and the Black Sea opens. There are two routes in total on Rosa Peak: a short one - for 30 minutes and a long one - for 1 hour. The cost may vary, but so far 600/1200 rubles, respectively.
Yeti Park
Yeti Park? -? A high-altitude rope park with a cafe, children's activities and a special feature that no one else in Rosa Khutor has - an attraction-mine. According to information on the network, rope routes are sometimes allowed to pass at night. In general, the park has a certain thematic decoration to the declared «Yetty» and even objects of everyday life of Yetty and casts of his traces are presented.
Gazprom and Laura
Entertainment Center Galaxy
Due to the fact that there is little space in the gorge, RC Galaktika is almost the only place on Gazprom where the main entertainment for tourists is concentrated: a water park, bowling, an ice skating rink, children's playgrounds, a cinema for three cinemas, a food court, an open terrace with fountain, well, and where without shopping - a shopping gallery. The largest area is occupied by a water park. There are water slides, swimming pools (including one in the open air), a jacuzzi and a children's area with mini slides for you..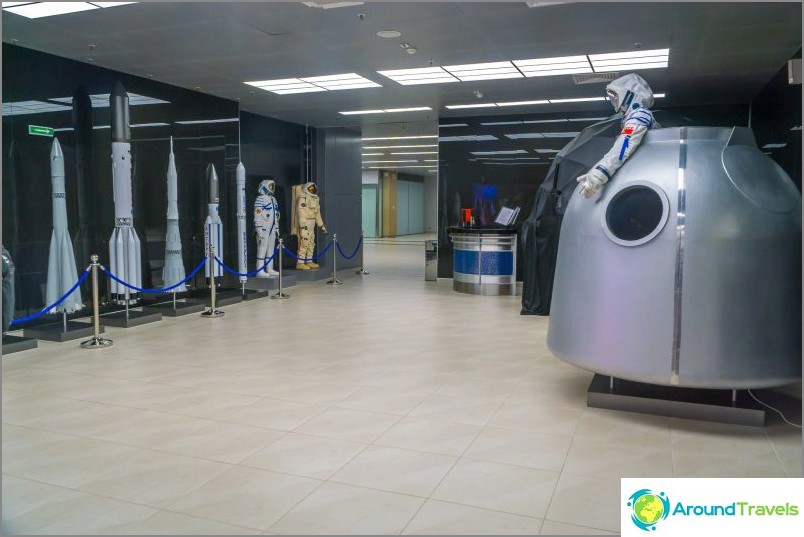 Exhibition of owls and birds of prey «Sovarium»
Non-standard exhibition for guests of Gazprom and neighboring resort towns. Show with the participation of owls and their trainers, filming with photos and videos, demonstration flights of owls, feeding, an exciting (as they say) excursion and interactive with predators. Work from 10 to 20 daily.
Sightseeing tour by cable car
One of the lazy ways to see so much more. Previously (until 2016), the cable car was the longest in the world. Now she takes the second place of honor and offers vacationers a walk in large cabins with panoramic windows. You will have almost six kilometers of flight at an altitude of 50 meters with views of the Aibga ridge and the resorts of the mountain cluster. Cabins can accommodate up to 30 passengers.
Cycling
On the Laura slope there are cycling routes with picnic and recreation areas. At the base of the mountain, not far from the stadium «Laura» we offer rental of bicycles and cycling equipment, equipment, modern electric bicycles for those who do not like effort or who are not allowed to have heavy knee loads.
Eco trails on the Laura slope
Correct trekking is now also available on the Laura slope, where two hiking trails are equipped: the trail «Sports»?2 kilometers long and a trail «Fir forest»?-? 2.5 kilometers. The routes run through a fir forest with views of the mountains, and in some places there are special observation decks.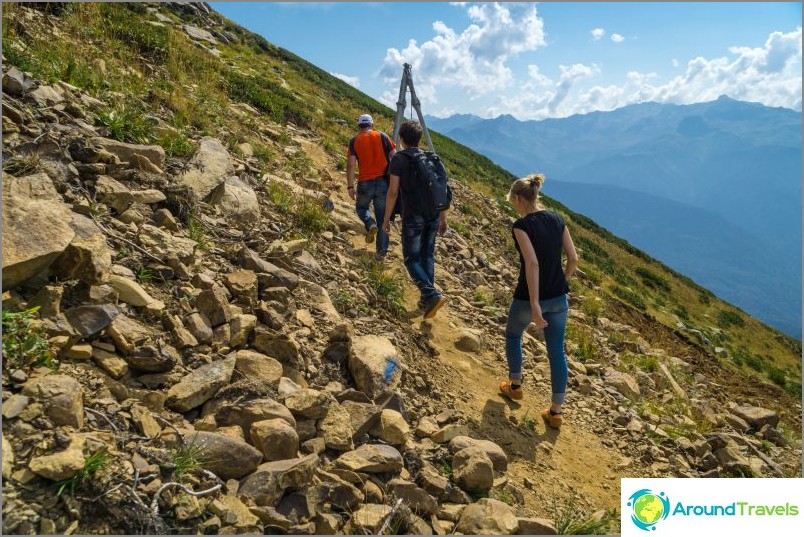 Husky Park
The contact area for communicating with dogs is a summer-winter attraction, only in the summer you will not be sledged. In addition to the huskies themselves in the kennel, there is a lot of family entertainment: a children's play area, board games, laser tag, a summer cinema, an outdoor pool, drawing workshops, a children's climbing wall,
Deer farm?
A dozen deer in the enclosure near the H trail on the Laura slope meet the excursions without much interest. We got used to it. Tour guides usually work out a program of presenting facts from the life of horned pets, deer calmly pose for a photo shoot and chew the lichen offered by tourists. A very leisurely pastime, for an amateur.
Exhibition of special equipment
Special mining equipment that shouldn't just stand there in the summer, that's why the park of cars was declared an exhibition and people started to come here - and free of charge. During the tour, you will be shown and told about snowmobiles, snow generators, snow melters, ATVs, snow groomers and other trucks. All this takes place on the territory of the ski and biathlon complex «Laura».
Summer tubing
Where to ride the slide in summer? Here. Put on sportswear (preferably) and go for a cheesecake on a specially equipped track on the K2 slope, not far from the mountain shelter «Fir». In the basement of the shelter, you rent an inflatable pillow (tube) for a lot of money (300-500 rubles) and off you go! The cheesecake slides at a moderate speed along the track covered with plastic brushes, so here you don't have to worry about children - no collisions, no coups.
Buggy rides
Buggies are cars upgraded for off-road, but what I'm telling you, you yourself know that. The route passes along the mountain serpentine, the Psekhako plateau and rough terrain, including water fords. Twenty kilometers of motorized fun for a group of 3-5 people.
Horse rides
At Gazprom, they also offer horse rides, and their length varies from forty minutes to day trips, and for the most persistent there are offers with three-day routes. All walks take place on the territory of the Caucasian Reserve, through picturesque, colorful places with calm nature, immense space and photogenic mountain profiles.
The park «Green Planet»
Selfie theme park I would say. About a hundred green sculptures placed next to the Galaktika entertainment center at Gazprom. The sculptures depict animals and fairy-tale heroes, in principle - nothing special. But it's free and people like to make themselves, so the Green Planet can be considered one of the entertainment at the resort..
On the map
Summer and winter activities in Krasnaya Polyana
Summer and winter activities of Krasnaya Polyana: