Alpine skiing in Azerbaijan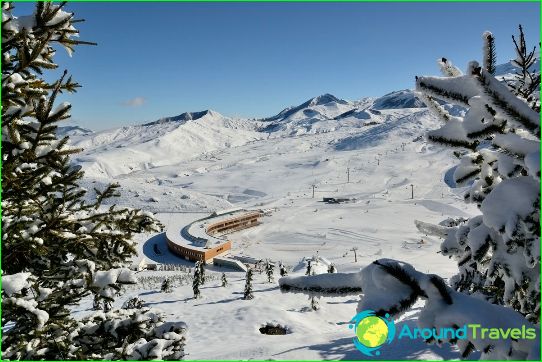 The nature of Azerbaijan is distinguished by its extraordinary beauty, and its inhabitants - amazing cordiality and hospitality. These two reasons are already enough to buy a tour to Azerbaijan, but there is also a third reason to visit the Caucasian republic - its ski resort. You can now go skiing and snowboarding without flying to Europe or North America.
Equipment and tracks
The ski resort of Azerbaijan is still quite young, but its popularity has already stepped far beyond the borders of the Caucasian republic. Located 25 kilometers from the village of Qusar, the Shahdag resort is spread over the territory of a national park, whose ecological system is under state protection..
The routes of Shahdag are laid at an altitude of 2500 meters above sea level, and its territory exceeds 2 thousand hectares. In total, 19 slopes are equipped in the ski resort of Azerbaijan, to which four cable cars are delivered to the guests of the resort. Already, a ski school has been opened in Shahdag, where you can learn to stand on the slope not only on skis, but also on a snowboard. The equipment rental point allows you to choose any equipment for practicing your favorite sports.
The ski resort of Azerbaijan is still quite young, and therefore many plans to equip it are only being implemented. Over time, cottages and campgrounds will open in Shahdag, gondola lifts will be built and a system of artificial snowmaking will be launched. The project includes the construction of swimming pools and tennis courts, basketball and volleyball courts. But today the guests of Shahdag are happy to go in for snow tubing and go on horseback riding, take part in hiking on snowshoes and riding snowmobiles. Children willingly play in the children's complex under the supervision of experienced educators, while their parents master the wisdom of skiing.
Entertainment and excursions
The family resort of Shahdag is developing at a rapid pace, and very soon its guests will have something to do not only on the ski track, but also in their free time from active sports. But already now the hotels of the ski resort offer a varied recreation program, which includes spa relaxation, rest in bath complexes, excellent massage and, of course, familiarity with the famous Caucasian cuisine. The skill of the local chefs makes guests regret that the return ticket is already in their pocket, and the vacation is a time-limited concept.
Photos of ski resorts in Azerbaijan