Cambodian cuisine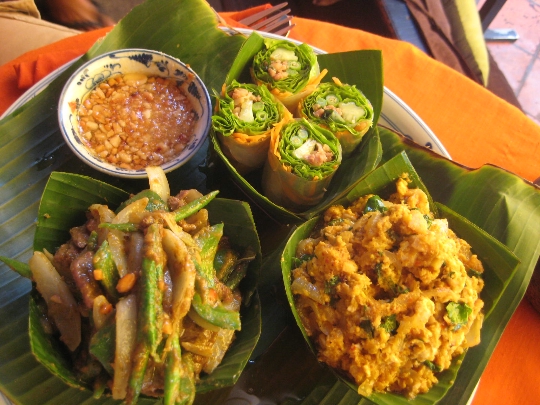 What is Cambodian cuisine? It traces the influence of Vietnamese, Chinese, Lao and Thai culinary traditions..
National cuisine of Cambodia
Soups are popular in Cambodia - they are prepared in fish, meat or chicken broth, seasoned with dried roots and spices. As an addition to the soup, shavings of dried seafood often appear. In the country, many dishes are prepared using coriander and lemon balm, and some of them are added with chili. Fish is a frequent guest on the table: it acts as the main ingredient in sour fish soup (dtrai-chin-nyung), fish baked with rice (nom-trai) and fish sauces (nyok-mam).
A popular side dish is rice, which is often seasoned with herbs and palm, peanut or coconut oil. Often, rice is fried with soy and pork, cooked with bananas, fish or seafood. No less popular is noodles - they are barley, white, starchy, rice, brown. Those who are not against exotic food can try, for example,"a-ping" - spiders fried with garlic and salt.
Popular Khmer dishes:
"samlarmachu" (soup with a sweet and sour aftertaste, made from fish, tomatoes and pineapple);
"amok" (meat or seafood with vegetables, curry sauce and coconut milk);
"kuytheav" (noodle soup with chili, fish sauce, lime juice, and meat or seafood to taste);
"lock-varnish" (dish with stew, egg and pasta);
"trey tien chu goaeme" (fried fish with vegetables, served with sweet sauce);
"norn-bye" (pie stuffed with fruit).
Where to taste the national cuisine?
It's not a problem to taste Khmer cuisine in Cambodia: there are a lot of eateries, cafes and small restaurants in the capital and resort towns (note that hygiene rules are often not observed in street cafes and eateries).
In Phnom Penh you can eat at "K'nyay" (the prices in the institution are slightly higher than in others, but it will delight guests with Khmer cuisine made from high quality products, and there is also a vegetarian menu), "The empire" (visitors here are treated to refined Khmer dishes adapted to Western tastes: here it is worth trying Khmer curry, fish amok, prahok with the least amount of spices than in the original, and if you do not like traditional food or you want to try something different, here it makes sense to come on any Thursday - at this time steak nights are arranged in the restaurant) or "54 Langeach Sroc" (in this Khmer restaurant - beer garden, in addition to beer, you can taste fish amok, fried ants or frog legs).
Cooking classes in Cambodia
You can attend culinary courses in "Le Tigre de Papier" (Siem Reap), more precisely in the culinary school, which is open at this restaurant: after visiting the Psa Cha market, you will be offered to cook several Khmer dishes, as well as tell you how to properly arrange and serve them (classes last 4 hours and are conducted in English).
If you wish, you can come to Cambodia in April, during the Khmer Cuisine Festival.
Photos