Children's camps in Cyprus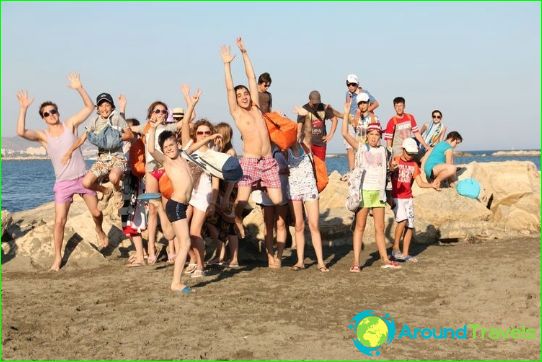 Cyprus is considered an ideal place for a children's holiday. Situated in the Mediterranean Sea, this beautiful island is renowned for its mild climate and rich history. Cyprus hotels and camps provide all kinds of entertainment and activities for children. There are great beaches, children's pools, sports grounds, mini-clubs and animation..
Russians have long chosen Cyprus as a country of good beach and family holidays. Children's camps in Cyprus attract the attention of Russian children of all ages. Holidays for children in Greek resorts are organized by major Russian tour operators. Moreover, they work according to the following schemes:
They rent a whole hotel, recruit a team of teachers and invite children.
Buy places in children's camps in Cyprus.
Many children's recreation centers position themselves as camps with in-depth study of foreign languages. By purchasing a ticket to such a camp, parents will provide their child with a healthy vacation during the summer holidays. Boys and girls from all over the world come to language camps in Cyprus.
Benefits of children's holiday in Cyprus
The natural conditions of the island are beneficial for children's health. The Mediterranean subtropical climate ensures dry summers and mild winters. The local air is considered to be healing. It improves health. It is difficult to find another place on our planet where the climatic conditions would be as favorable for recreation. It is considered the healthiest in the world. This is why life expectancy in Cyprus is higher than elsewhere. The air at the resort is saturated with iodine and mixed with aromas of flowers and herbs. The weather on the island is almost always sunny, but there is no sweltering heat..
The indigenous people of Cyprus are distinguished by their hospitality and goodwill. Children's holidays in this unique resort can become a real fairy tale.
Features of Cyprus
It should be noted that the hottest months are July, August and September. When choosing a camp, it is better to pay attention to those located near Nicosia, Limassol, Larnaca.
In Cyprus, the official language is Greek, but almost all of its inhabitants are fluent in English. The staff in camps and hotels speaks Russian. Every major resort in Cyprus has a water park.
Rest in a children's camp is an exciting adventure for any child. During recreational activities, children can improve their English and improve their talents. Among the daytime activities in the camps, creative activities are provided: drawing, photography, media, dancing, crafts, etc. From sports activities, children can choose volleyball, basketball, aerobics, football, etc..
Photos of children's camps in Cyprus