Holidays in Cyprus in July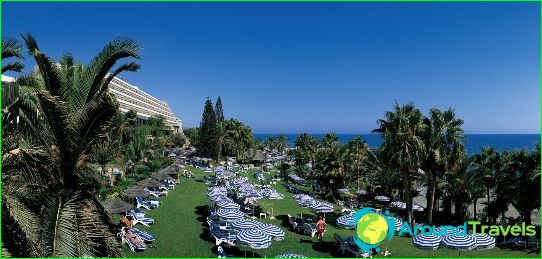 Cyprus is confidently among the top ten European countries in the tourism industry. Here, literally everything is subordinated to the interests of the tourist, beach service is developed, a sufficient number of water parks, fascinating excursion routes.
The close location of Israel allows you to combine a vacation in Cyprus in July with a trip to the Holy Land. Cruise travel will also make your vacation more varied and memorable..
July weather conditions
Midsummer means the hottest weather on the island has arrived. Columns of thermometers freeze at around +30 ° C ... + 35 ° C, not intending to give up their positions. Due to the low level of humidity, in the range of 60%, such a high air temperature can be easily tolerated. The nights are cooler, so tourists also have the opportunity to take a break from the heat.
The water temperature on the coast reaches +30 ° C, swimming is the most comfortable, however, do not forget about hats (even while swimming) and protective equipment.
Shopping in Cyprus
In the very heat, it is worth looking for places equipped with air conditioning. Most often these are large shopping centers, where you can have fun, with the benefit of the body and soul, wait out the midday heat and buy gifts, souvenirs for family and friends.
The most popular purchases among products are Cypriot wines and liqueurs, olives and, accordingly, real olive oil, preferably cold pressed. Lovers of sweet delicacies will not deny themselves the pleasure of buying delight or halva, almond sweets.
Shopping centers will pamper tourists with good prices for fur coats, clothes and shoes. Popular souvenirs include models of ships, handmade silver items, dolls dressed in national clothes, lace.
Beer festival
For many holidaymakers arriving in Cyprus in July, the beer festival that is organized in Limassol becomes a real discovery. Male tourists claim that if they had known about this event earlier, then their ladies would have discovered the amazing beauty of Cyprus long ago..
While summer temperatures break records, foam drinkers taste, quench their thirst and enjoy a delicious cold drink. Moreover, the Cypriots managed to unite beer lovers with musicians, not only rockers known for their addiction to alcoholic beverages of various strengths, but also with representatives of classical music.
How to relax in Cyprus (part 1)

Photos of holidays in Cyprus