Cyprus dishes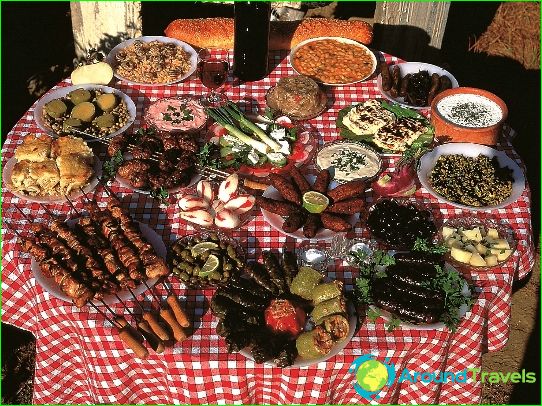 Cypriot cuisine is influenced by Greek culture. She has also been influenced by Turkish, English, Lebanese and Arabic cuisines. There are always a lot of vegetables on the tables of Cypriots, which are served in a variety of ways. However, the locals are not vegetarians. The main dishes in Cyprus are meat. Fresh vegetable salads are always added to the main dishes. The national cuisine belongs to the Mediterranean group. From Turkish and Greek chefs, Cypriots have adopted the tradition of grilling, using a large amount of garlic, herbs and yogurt. At the same time, the local food is less spicy. Cypriot dishes are usually prepared with a minimum amount of hot peppers and cumin. The most important aromatic components of dishes came here from the cuisine of Italy: basil, tarragon, coriander, mint, arugula and cinnamon. The culinary tradition of eating ginger and curry has passed from the Indians.
Main products
In Cyprus, vegetables, fruits, olives, etc. are grown. In the northwest there are pomegranate and fig trees, in the southwest there are banana plantations. Therefore, the Cypriot table is rich in fresh food. Cyprus meat dishes are made from pork, lamb, rabbit and poultry. Beef is rarely eaten here, as cattle are almost never raised. Fish on the island is also not very popular, since the main population is concentrated in areas remote from the coast. From fish, locals eat tuna, squid and swordfish. They are deep-fried or fried.
Culinary customs
Salads are traditionally sprinkled with lemon juice, like fish and meat. Therefore, sliced ​​lemons are an important attribute of the table. Olives are an indispensable addition to meals. A more exotic appetizer is olives baked in foil. Cypriots consume much less olive oil than other Mediterranean peoples. They usually serve meat and fish dishes with tzatziki - thick, sour yogurt with mint, cucumbers and garlic. This dish is great for refreshing, and therefore goes well in the summer heat. Tzatziki is a name borrowed from the Greeks. The Cypriots themselves designate this dish as talaturi.
The chefs use only fresh ingredients to ensure the food tastes delicious. Every housewife in Cyprus is sure that if the dish has lost its freshness, then it cannot be. For a snack, locals use pita with suvlaki (a type of barbecue). This meal can be supplemented with salad. In general, Cypriots eat light and healthy food. Their diet is dominated by vegetable fats. The number one dish in Cyprus is lamb kleftiko.
Photos