Where to relax in Cyprus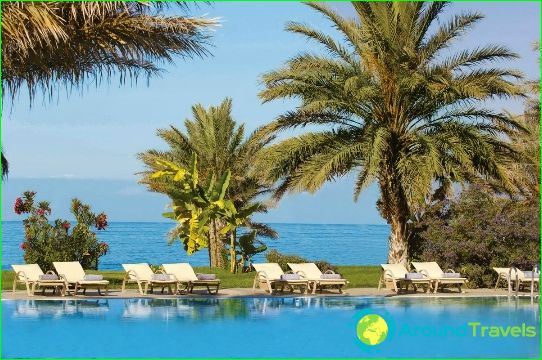 Cyprus is very attractive for tourists with its sandy beaches, gentle sea and hot sun. But where is the best place to relax in Cyprus? When choosing a resort, remember that the best beaches with fine white sand are located on the eastern edge of the island..
Family holiday
Protaras is a great place to enjoy a quiet family vacation. You can bring your children here, in whose memory unforgettable moments will remain. It has excellent conditions for scuba diving.
Another place in Cyprus that enjoys success in this particular category is the popular resort of Larnaca. Larnaca is the most budgetary resort in Cyprus. There are a lot of hotels of 2 and 3 stars category..
Youth rest
The resort town of Ayia Napa is, in fact, the second Ibiza. It's never quiet here. Day and night, numerous bars and discos attract tourists with groovy rhythms. From May to the end of September, a variety of show programs are presented every day in all clubs.
Limassol is another great hangout place where you won't be bored at all. In addition, the beaches of Limassol have completely unique sand of volcanic origin. It contains a large amount of silicon, which has a miraculous effect on the skin. This resort is very popular with our compatriots.
Vacation with children
But Ayia Napa is also great for families with young children. You just need to choose the right hotel - it should be focused on the reception of young visitors. On the spacious territory of such a hotel, there are all kinds of entertainment that will not let the kids get bored. These are water slides, playgrounds, and pools with warm water, as well as a mini-club, where kids will have a great rest under the supervision of educators and animators..
SPA rest
In recent years, thalassotherapy (seaweed wrapping) has been developing rapidly in Cyprus. Some hotels in Paphos and Limassol have opened their own beauty centers. The main areas of recovery here are:
restoration of general tone;
weight control;
treatment of discomfort in the legs;
anti-cellulite programs;
treatment of rheumatism and arthrosis.
Excursion rest
Where is the best place for sightseeing lovers to relax in Cyprus? Undoubtedly, it is worth paying attention to the small town with the beautiful name of Paphos. Here you get the impression that even the air is steeped in history: literally at every step you are greeted by architectural masterpieces and museums. Paphos will delight curious tourists with historical legends, amazing museums and beautiful views.
How to relax in Cyprus (part 1)

Photos of holidays in Cyprus