Holidays in the Czech Republic in June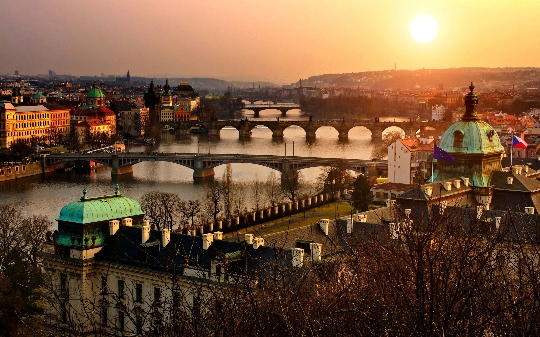 This small European country never ceases to amaze. Even if you imagine that there is only Prague left, a tourist will find something to do for many days. Magnificent architecture, many historical monuments, beautiful city landscapes, famous bridges and cathedrals.
And if you still leave the surroundings, then the journey around the Czech Republic can become endless. That is why many tourists choose a vacation in the Czech Republic in June, so that bad weather could not interfere with the enjoyment of life and the country for a second. It is important to take with you a still warm jacket in case of bad weather, it is better to replace the usual umbrella with a bright raincoat - with it the journey will be brighter. There should be room in the suitcase for sunscreen, the June sun can be quite aggressive.
Weather in Czech Republic in June
The beginning of summer favors travel, fine sunny days line up. Rare short-term thunderstorms cannot darken the feeling of serene happiness. The temperature at night reaches about +18 ° C, at noon, rising to +25 ° C. It is these advantages of recreation in the Czech Republic in the summer that many tourists enjoy, especially lovers of a cold white foam drink..
Pink holiday
One of the most beautiful celebrations takes place in the second half of June in the town of Cesky Krumlov, which is located in the south of the country. It is here that the Rozmberk castle is located, where during the Middle Ages a carnival dedicated to the five-petal rose appeared.
The tradition of celebrating the holiday of the rose, which is a symbol of the Rožmberk family, has survived to this day and is finding new admirers. Townspeople and guests are transported several centuries ago, fancy dress and the city of masters, old fun and national dishes. It was very successful to hold events here within the framework of the festival of antiquity music.
Fairytale city
In the very south of the Czech Republic, on both banks of the beautiful Vltava, lies Cesky Krumlov, which is known primarily for its castle. Every year, thousands of fans of medieval culture or musicians, romantic young people and experienced couples come here..
Most of the time tourists spend on the territory of the castle complex or in a beautiful park nearby. The cascade fountain is one of the main attractions of this park. The city has its own church of St. Vitus, worth visiting. And children will undoubtedly enjoy a trip to the House of the Fairy Tale or the Museum of Local Lore.
Photos of rest in the Czech Republic