Transport in Hurghada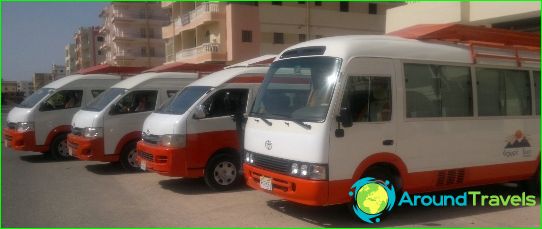 On the one hand, this Egyptian city is one of the oldest resorts, so they have long known how to please even the most capricious resort. On the other hand, despite the best beaches in Egypt, the tourist structure needs renovation and renovation..
Hurghada is divided into three parts:
The old town is the historical center, where most of the historical monuments are collected and the flavor of the east has been preserved;
Sakkala is a new city developing at a rapid pace;
a line of hotels and inns along the coast.
It is clear that vacationers on the coast want to see the city, wander around the market and stock up on souvenirs for relatives. Therefore, the mood of the tourist and the impressions that will remain from the trip to Egypt depend on how transport works in Hurghada..
Hurghada car fleet
Comfortable buses of travel companies and companies are intended for tourists; this transport will take a vacationer from the airport to the hotel and back. There are also regular shuttle cars to get to the city, however, they only leave completely filled. Since the majority of arrivals use the services of travel companies that provide a transfer to the hotel, then those who arrive «savages» will have to wait a long time for departure.
Unlike most major tourist centers in the world, transport at this resort is not very diverse. The fleet of local minibuses is quite old, and it is mainly adapted for the transportation of the indigenous inhabitants of the country..
Car rental
Tourists who have previously vacationed in Egypt do not recommend renting cars, although this service is provided here. Many local drivers are only remotely familiar with driving rules, so any controversial situations can arise on the road..
Taxi the color of the sun
In Hurghada, the best way to get around the city for a tourist is a taxi. Cars are clearly visible from afar, as they are painted in orange and blue colors. There are no counters in many taxis, the price is negotiable and it is better to do this in advance so as not to get an unpleasant surprise later. The amount of the trip is a great way to bargain, it can decrease several times (the driver will still take his own and even more).
Cruise
It is quite possible to make a trip to Saudi Arabia to explore places for future rest, the trip can be a pleasant adventure. Ferries leave from the port located in the heart of Hurghada.
Photos