Season in Sharm El Sheikh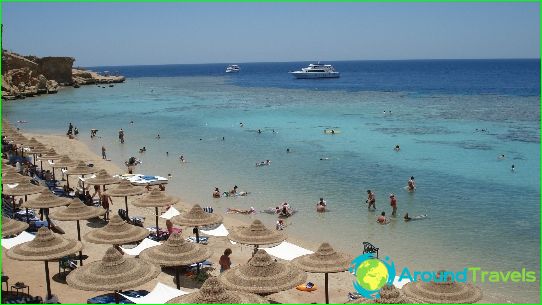 Translated from Arabic, the name of this resort town in Egypt means «sheikh bay». The weather on its coast is formed not only by the geographical latitude, but also by the Sinai Mountains, which protect the beaches of Sharm from bad weather and strong winds from the northwest. The sustainable beach season in Sharm El Sheikh begins in early April and lasts until the end of November.
The best time to go on vacation
The high season in the Egyptian resort, when sunbathing is especially pleasant and the water temperature in the Red Sea looks the most comfortable, starts in mid-spring. Columns of thermometers are recorded at this time +27 degrees on land and + 25 - in water. It can be cool at night and late in the evening, and therefore a windbreaker or light sweater should take a place in the traveler's suitcase.
The second wave of the best season in Sharm El Sheikh is the middle of the calendar autumn. The beginning of October brings some relaxation of the heat and the temperature leaves the summer 30-degree limits. The water remains warm and comfortable for swimming and diving. Its temperature values ​​fluctuate around +26 degrees.
The most thermophilic
For many travelers, their vacation does not coincide with the best holiday season, but this does not mean that it is not worth flying to Egypt. And at the height of summer, you can rest comfortably here, if you follow some important rules. Considering that the summer season in Sharm el-Sheikh is intense heat, it is important to use protective creams with a high factor and not to be in the open sun for too long. The air temperature on the beaches of Sharm in July-August can reach +40 degrees by noon, the water warming up to +30 also does not bring the desired freshness, and therefore it is best to sunbathe in the morning hours. This will avoid unpleasant health effects and achieve the perfect shade of the famous Egyptian tan..
Christmas by the sea
New Year's holidays or a winter vacation in Egypt is an opportunity to change the scenery and sunbathe in the midst of the Russian January frosts. The weather in Sharm el-Sheikh allows you to enjoy the warm sun, diving or just splash in the Red Sea even in the coldest season. The daily temperature fluctuations for the air at this time are very significant, so warm clothes will be needed for the evenings. In the afternoon, the temperature on the beaches reaches +23 degrees, and the water warms up to +20, making water procedures refreshing, but quite comfortable.
Photos