Tours to Sharm El Sheikh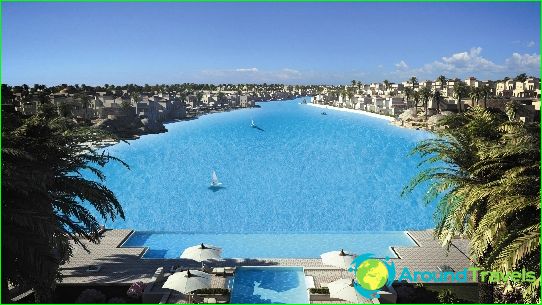 One of the best resorts on the Red Sea, Egyptian Sharm El Sheikh has long become a real tourist Mecca for Russian travelers. Clean beaches, comfortable hotels, profitable shopping and a rich underwater world make tours to Sharm el-Sheikh popular, and relaxation there is ideal..
History with geography
Back in the 70s of the last century, Sharm was just a fishing village, but thanks to its favorable geographical location, it was able to "break through" into the ranks of the world's leading resorts. The beaches of Sharm el-Sheikh resemble the Mediterranean Riviera, and the quality of tourist service here is quite comparable to the level of Nice or Rimini..
From the winds and bad weather, a thirty-kilometer strip of local beaches is reliably covered by the ridge of the Sinai Mountains, and therefore the climate for those who choose tours to Sharm el-Sheikh is always favorable.
Briefly about the important
The climate in the resort is hot and dry, and therefore there is no rainy season and other troubles typical for Asian countries. Even in the height of winter, the beaches of Sharm are hot weather and the temperature does not drop below +25. The sea warms up to +28 in summer, and cools down to +20 in winter, which does not prevent the most seasoned vacationers from swimming and watching the underwater world.
The main highway runs through all districts of the city, connecting different hotels with each other and with the resort center. In the area of ​​the Old City, tourists are interested in the Eastern Old Market, and in Naama Bay there are hundreds of cafes, restaurants, casinos and nightclubs..
When buying a tour to Sharm el-Sheikh, it is important to determine the level of the desired hotel. The most comfortable and expensive hotels are located in the Gardens Bay area.
The resort's international airport is the largest on the Sinai Peninsula. To get around the city and its surroundings, you can use public transport or rent a car. The local traffic police are quite loyal to foreigners, but categorically do not allow drunk driving.
In order to safely enter the water on the beaches of Sharm, you should use special shoes. The fact is that the sharp coral reefs in this area of ​​Egypt begin right off the coast. Sea urchins can be just as dangerous in the water. Cases of the appearance of sharks off the coast of the resort were recorded extremely rarely, but when booking tours to Sharm el-Sheikh, you should not neglect the basic safety rules at sea.
Photos