Tours in Baden-Baden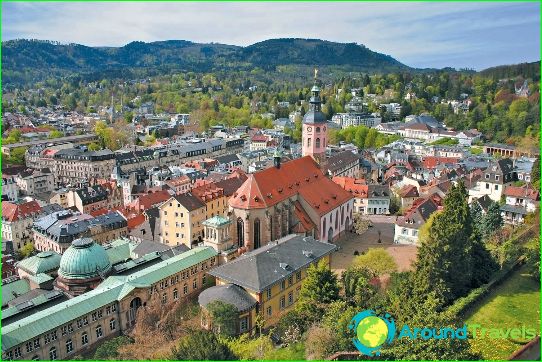 The summer capital of the Old World is unofficially called the German Baden-Baden. Here you can improve your health on the waters, test your luck in the oldest casino in Germany and count all the precious stones on Faberge Easter eggs in the museum dedicated to his work. Tours to Baden-Baden are also bought by those wishing to join the society of the rich and famous, which invariably gathers every summer at the famous German resort..
History with geography
The name of the city until 1931 sounded like just Baden. But accustomed to precision, Europeans so often repeated Baden in Baden, emphasizing the name of the region, that the city was officially renamed Baden squared.
Healing springs were in high esteem even among the inhabitants of Ancient Rome, who built baths and other entertainment and household institutions here. Since then, a lot of mineral water has flowed into the lands of the Baden-Württemberg district, and the popularity of the resort only grows every year. Following the Europeans, even Americans began to buy tours to Baden-Baden, and not only vacationers, but also sellers in souvenir shops began to speak Russian at the resort.
Briefly about the important

The easiest way to fly to Baden-Baden is with a direct flight from a German airline. The second way is to get by car or train from Frankfurt. It will take no more than a couple of hours.
The climate in the resort is always mild and pleasant for healing both body and soul. Summer is very warm and dry. The thermometer reads about +25, the heat is extremely rare. In winter, temperature readings range from 0 to +5, but at night there is a slight frost.
The main thermal baths for tour participants in Baden-Baden are called "Caracalla" and "Friedrichsbad". One of the ways to tidy up your health and mood is the Roman-Irish baths of Baden-Baden, in which depression and other troubles are chased away with the help of water of different temperatures and steam..
Tours to Baden-Baden and treatment on the local waters are shown primarily to those who have problems with the musculoskeletal system and blood vessels. Here, patients with cardiovascular diseases and neuralgia help to feel better..
Hotels in the resort are open to people with different needs and financial capabilities, and therefore you can book a room in a chic five-star park hotel, and in a modest, but no less comfortable, which has only a couple of stars on the facade..
Photos