Hamburg metro: map, description, photo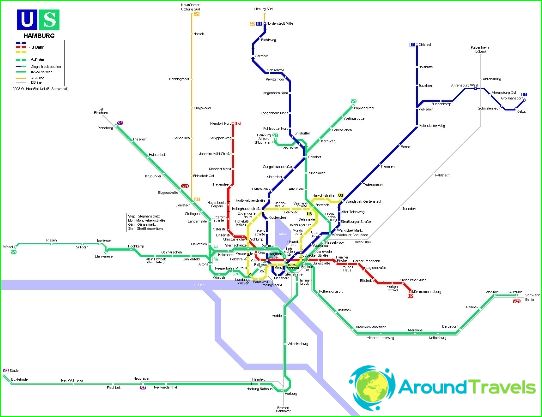 The Hamburg metro was opened in February 1912 and today consists of four lines serving 91 stations on a 104 km route (in 2012) and carrying more than 205 million passengers every year. Hamburg Subway (U-Bahn) is a high-speed transport system serving Hamburg, Norderstedt and Ahrensburg in Germany. While technically subway, most of the lines are above ground. Subway (U-Bahn) is closely related to the S-Bahn commuter train system, which also has underground sections.
In early 1906, the Hamburg Senate signed a contract for the construction of underground railways with Siemens & Halske and AEG in Berlin. And already on October 7, 1906, the first section was completed. Thus, Hamburg became the third city in Germany (after Berlin - 1902 and Schöneberg - 1910), which has its own metro. At that time, the underground was called the Hoch-und Untergrundbahn, since a significant part of the tracks passed either above the ground or through tunnels that did not exceed street level.
In the summer of 1943, during the Second World War, the Hamburg metro was badly damaged by Allied bombing raids. Rothenburgsort Central Station was completely destroyed. It took five years before the network was fully restored and continued to expand.
Hamburg metro lines
Line U1 - The blue line runs from Norderstedt Mitte station to Ohlstedt with a fork at Großhansdorf station. The line was opened in 1914, has 46 stations and a length of 55.8 km.
Line U2 - The red line runs from Niendorf Nord station to Mümmelmannsberg station. The line was opened in 1913, has a length of 24.3 km and 25 stations.
Line U3 - The yellow line runs from Barmbek station to Wandsbek-Gartenstadt station. This oldest line was opened in 1912, has a length of 20.6 km and 25 stations.
Line U4 - the green line runs from Billstedt station to HafenCity Universität station, opened in November 2012, its length is 12.2 km, 11 stations.
Key underground stations in Hamburg
Hamburg's central underground station is Hamburg Hauptbahnhof, where the Central Station for long-distance trains, S-Bahn and U-Bahn trains is located. It is divided into two stations: Hauptbahnhof Süd lines U1 and U3 and Hauptbahnhof Nord lines U2 and U4.
Another important station is Ohlsdorf, through which lines U1 and S1 pass. It is the closest station to Hamburg Airport. A bus leaves from here to the airport terminals every 10 minutes.
Hamburg metro opening hours
The Hamburg Metro operates from 04:30 am to 01:00 am Sunday through Thursday. On Friday and Saturday, most of the metro stations operate around the clock. The interval of train movements is from 5 to 10 minutes in the center, and on the peripheral sections of the U1 line, the frequency of movements is reduced to 20 minutes.
Tickets for the Hamburg metro
Metro tickets can be bought from vending machines or buses. The fare depends on the travel area, as well as the time of use. For tourists, there is the Hamburg Card, which allows unlimited use of public transport in Hamburg, as well as access to various attractions and discounts. For children under 6 years old, the metro ride is free, accompanied by an adult. Fines for free riders are very high.
Photos of the Hamburg metro