Where to eat in Munich?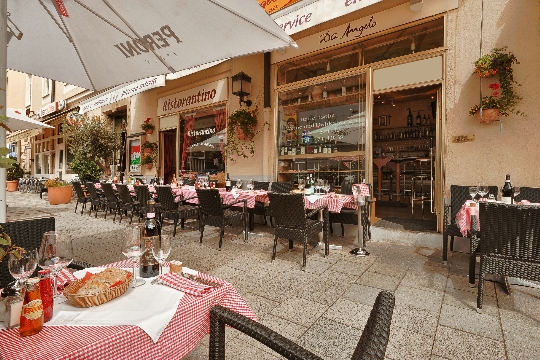 "Where to eat in Munich?" - a topical issue for tourists who are going to visit the capital of Bavaria. Here you can satisfy your hunger in coffee houses, restaurants, taverns, pubs, eateries. In addition to authentic establishments, it's easy to find Japanese, Chinese, Italian and other world cuisines here..
Where to eat in Munich inexpensively?
At numerous McDonalds outlets, you can grab a bite to eat for about € 10 (salad, chicken, fries, big mag, drink). If you - "per" healthy food, you can look into Bistro Organic: sandwiches are made here from whole grain bread, and cutlets, for example, from vegetables (eco-fast food will cost more).
Another option for a cheap snack is Chinese and Turkish eateries, where you can order, for example, dener or Turkish pizza. It is also worth looking into "Schmalznudel" - here you can enjoy Schmalznudel - a delicious Bavarian donut. You can also eat relatively inexpensively in Nordsee (this restaurant chain specializes in fish dishes).
Where to eat in Munich delicious?

Pfistermuhle: This Michelin-starred restaurant invites its diners to experience "correct" Bavarian cuisine. The menu includes fried veal chop with garlic and thyme (27 euros), foie gras terrine with pickled gooseberries (19 euros), roast suckling pig in beer sauce (25 euros).
Chez Philippe: This small French restaurant serves classic French dishes such as snails, onion soup and rack of lamb with Provencal herbs. In addition, there is a good wine list, as well as surprise dishes that are not reflected in the menu..
Restaurant grill93: this restaurant will appeal to lovers of steaks - here you can order both Argentinean grilled beef and salmon or tuna steak.
Tantris: Great cuisine, beautiful interior and high-class service await you in this trendy restaurant, but this comfort is also worth it - a 5-course set menu with wine costs 220 euros.
Wirtshaus Zum Straubinger: in this brasserie you can taste Bavarian specialties of goose, pork, duck and various beers.

Gastronomic tours in Munich
In Munich, you can go on a beer tour - during a walking tour you will visit 4 of the city's 6 breweries (Augustiner, Hackerpschor, Lowenbrau, Spaten). In addition, an accompanying guide will take you through several beer halls, where you can taste different types of beer (they will tell you about the peculiarities of brewing, and which snacks are best suited to the beer).
As part of the gastronomic tour, you will be offered to visit various authentic restaurants where you can taste pork shank, famous sausages and other meat delicacies, as well as Austernkeller - here you can taste dishes from oysters and other seafood that are delivered here from the fishing site by plane.
Munich is full of greenery and parks, observation towers, unique architecture, beautiful lakes, delicious national food.
Photos