Transport in India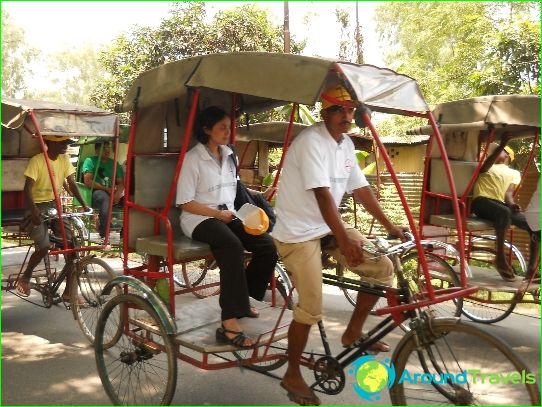 Transport in India, although represented by various types of communication, is not as well developed as in other countries.
Major modes of transport in India

Buses: You can buy a ticket for public buses at the ticket office or from the controller (you can find the schedule at train stations and stations). And to purchase tickets for private buses, you should go to the tourist offices (you can also find out about the timetable there). But if you wish, you can buy them at the entrance to the bus.
Route taxis (designed for 10-12 people): they run in hard-to-reach areas (most often mountainous). The fare for fixed-route taxis is more expensive than for buses and they hit the road as they fill up.
Air transport: with domestic airlines, you can comfortably travel to the most remote Indian states.
It should be borne in mind that canceled or delayed flights are not uncommon in the country..
Rail transport: since all major cities in India are connected by rail, trains can be reached if desired, which are quite cheap. In some places, the railway breaks off, but in this case, you can continue the journey from one station to another by bus. You, as a tourist, will be able to purchase the Indian Pass - with one ticket (it is personalized), you can travel by rail for a certain time. These tickets are sold at railway stations in big cities and at tourist offices in India..
Rickshaws: there are bicycles and rickshaws in the country (they can be used to get anywhere in the city as quickly as possible).
Taxi
When using a taxi service, it is important to check if the driver has reset the counter. And since there are many taxis in the country with non-working or completely absent meters, it is advisable to agree on the cost of the trip in advance..
At airports and train stations, you can use the services of a state taxi - they work on a prepayment basis (ticket offices are located near the exit). Having paid for the fare, you need to take a receipt - it should not be given to the driver until the end of the trip (he has no right to ask for a large amount for the trip).
Car rent
Before renting a car in India, you should know that the quality of roads in the country is poor and often there are no markings and road signs on them (there is left-hand traffic in the country), and local drivers do not comply with traffic rules. This service is available in large cities and resorts, but the best option is to rent a car with a driver: this way you will avoid a lot of unpleasant moments and get an inexpensive guide..
You will be able to travel in India both by standard (plane, bus, train) and non-standard (rickshaw) vehicles..
Photos