Taxi in Naples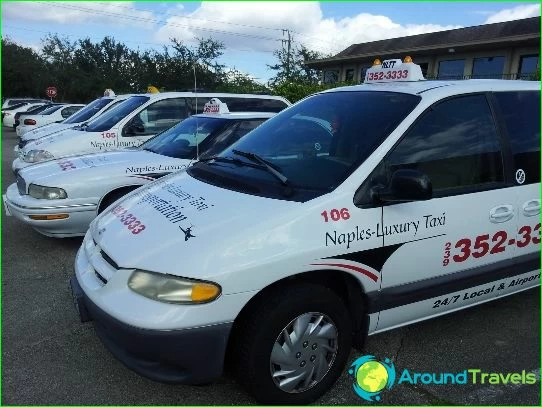 Official taxis in Naples are white cars equipped with taximeters (the symbol of the city - Pulcinella is depicted on the car doors).
Taxi services in Naples
You can take a taxi immediately after arriving at the airport (their parking is located opposite the arrival terminal) - local drivers will readily take you to the city center, to any hotel and even to one of the nearby cities. And having made an online order in advance for a transfer from the airport to the desired destination, after placing the order, you will be aware of the exact cost of the service. While vacationing in Naples, you can get into a free car in the parking lots equipped next to the main squares and sights of the city..
Anyone who wants to leave a request for a car can carry out their plans by contacting one of the taxi companies: Consortaxi: 081 20 20 20; Taxi Napoli: 081 556 44 44; La Partenope: 081 556 02 02; Cotana: 081 570 70 70.
Taxi cost in Naples
"How much does a taxi cost in Naples?" - the question that many guests of this Italian city ask themselves. You can navigate the prices by looking at the data with the current tariffs reflected in them:
boarding costs for passengers 3-5.5 euros;
one kilometer traveled is charged at a price of 0.8-1 euro;
when ordering a taxi by phone on weekends and holidays, 1.6 euros will be added to your fare;
luggage surcharge will be 0.50 euros / 1 piece, and for transporting a pet you will be charged a surcharge of 2 euros.
In addition, if you get into a car designed to carry more than 5 passengers, then you will have to pay an additional € 1 for 4 and the next person..
For a trip around the city you will pay at least 4.20 euros, and, for example, a trip in the direction "Central Railway Station - Airport" will cost 18 euros, and in the direction "Town Hall Square - National Museum of Capodimonte" - 12 euros.
Payment according to meter readings is not always convenient (drivers often take tourists in circles, winding up the meter in order to increase the fare) - it is often more profitable to use taxi services that operate according to a system of preset fares (the price list with prices in official taxis is reflected in several languages ​​- Spanish, Italian , English, French) related to popular destinations (port, airport, train station). In this case, you should voice the direction in which you are going to go, and then say "tariffa pre determinata".
In Naples, especially in the historic center of the city, there are many attractions (there are about 450 churches and temples in the city), which are most conveniently reached by a local taxi.
Photos of taxi in Naples