Holidays in Rimini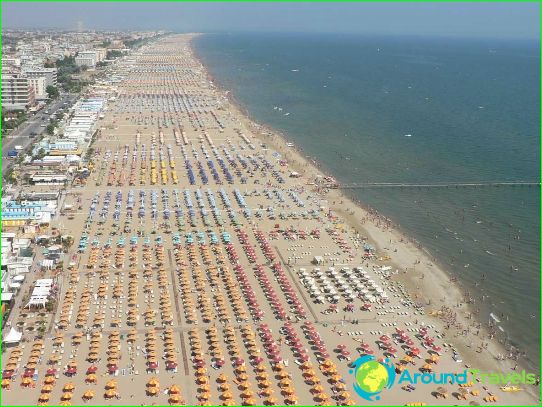 Holidays in Rimini are popular with both youth companies and couples with children, and the elderly..
The main activities in Rimini

Active: those who wish can spend time in the Dolphinarium, the Aquafun water park, famous for all kinds of attractions, slides, children's railway; amusement parks "Fiabilandia" and "Mirabilandia"; the park "Italy in miniature"; come off at the Gran Caribe disco; play golf; go diving.
Excursion: excursion programs include visiting palaces (Palazzo del Podesta, Palazzo del Arengo, Palazzo Communale), the Arc de Triomphe of Augustus, the Pigna fountain, the Malatesta temple, Sismondo castle, Tiberius Bridge.
Beach: local beaches are designed for different vacationers, but many of them are a paradise for young people, since various entertainment is available there during the day, and discos are held in the evening. So, it is worth taking a closer look at the beaches of Rivabella (yoga classes, ball games in the sand, fun festivals, wine tastings of the Emilia-Romagna region are held here) and Marina Centro (in summer, competitions, sports competitions, concerts, costume parties, shows are held here almost every night. ).
Event-driven: if you wish, you can visit the "La Fogherraccia" Festival (March), the "Aquilonatasul" kite flying (April), the "Pink Night" Festival (summer), the "BorgoSanGuiliano" Festival (September), the MangiarSano Gastronomic Festival (October ).
Prices for tours in Rimini
You can relax in Rimini throughout the year, but the ideal time to travel here is May-October. High prices for tours in Rimini are typical for June-early September, when all the beaches become crowded, and there are long queues at water parks and other entertainment centers.
You can save on vacation expenses (20-40%) by going to Rimini in the low season (November-March) - this is a great time to buy branded items at big sales and visit all kinds of exhibitions.
On a note!
Buses and trams are great for getting around the city (you can buy single tickets at tobacco and newsstands, or from the driver, but in the latter case, the purchase will cost more). You can use taxi services around the clock - you can find them at special parking lots (the night tariff will increase the cost of the trip by 25%).
On vacation, you should be careful - do not leave personal belongings unattended and do not walk the streets with all the cash you have (keep documents and money in the hotel safe).
Memorable gifts from Rimini can be sausages, cheeses, wines, grappa, olive oil, Italian footwear, Italian tailoring, fur coat, Murano glass products.
Photos of holidays in Rimini