Best restaurants in Venice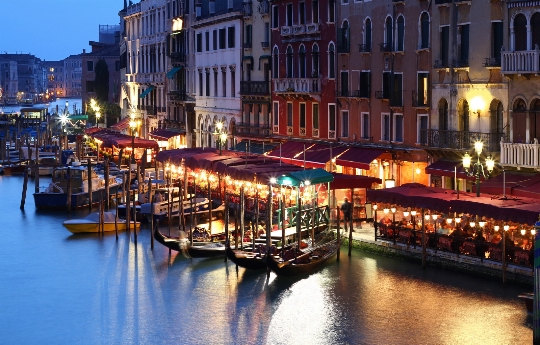 A romantic and cozy city gives a sense of tranquility, a crazy carnival brings irrepressible fun, old streets allow you to dream, and the best restaurants in Venice - taste its mystery and sophistication.
Antico Pignolo is rightfully considered one of the best restaurants in the city. Stylish and with an impeccable reputation, it offers its guests fish and vegetarian dishes, an excellent wine list and professional service..
There are several more popular and inexpensive places in Venice: "Arte della Pizza"; "Orange"; Bacaro Lounge; Taverna del Campiello Remer. The most delicious pizza in Venice is at Antico Forno, the most amazing ice cream is at Gelati Nico, and the best pasta is at Trattoria Aquila Nera..
Popular restaurants in Venice

"Met". The restaurant deservedly received two Michelin stars. The cuisine is traditional Italian in a new way. Everything here is at the highest level, prices are also quite high. In this restaurant you can arrange a romantic dinner, just have lunch or order a banquet - in any case, dissatisfied people will not be able to leave here..
Osteria Antico Giardinetto. A cozy family tavern, not a pretentious place. Most of the seafood dishes are on the menu. Desserts are also surprising here, and prices for Venice are very affordable.
Antica Trattoria Poste Vecie. This is the oldest restaurant in Venice, it was opened in the 15th century. The interior and kitchen have not changed since then. Homelike atmosphere, fireplace and seafood attract more locals here, as few visitors know about this place. But you must visit here.
"Ristorante de Pisis". Lunch on a terrace with a beautiful view or a cozy room - everything for visitors. The restaurant is decorated in an old Venetian style, good service. The cuisine here is Mediterranean.
Florian cafe. Perhaps the most famous place in Venice. No bohemian establishment in Europe compares to this. If you imagine all the eminent celebrities who have visited Venice since the 18th century, you can be sure that they all came to the Florian cafe. So why not have coffee at Byron and Russo's favorite place?
Venice leaves a double impression. On the one hand, there is romance and canals, on the other, the city seems to be frozen and in no hurry. They say that it will soon be flooded, so you need not waste a minute and go to Venice. And you should definitely see the famous Venice Carnival.
Photos