Tours to Venice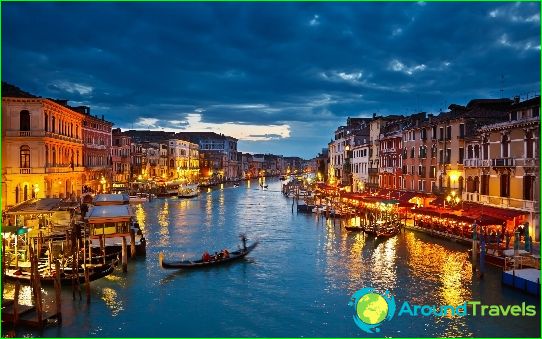 What could be more beautiful than a leisurely glide of a huge heavy gondola along the calm waters of the canals and contemplation of the majestic palaces passing by, the walls of which are touched by time and the sea? A quiet barcarole is pouring from the mouth of a handsome stately gondolier, and the midday sun gilded the hands of the clock on the bell tower of St. Mark's Cathedral ... Life is good! And also, going on a tour to Venice, the traveler gets the chance to choose a carnival mask in a shop on a narrow street, find out that the Bridge of Sighs is not at all as romantic as it seems, and drink a cup of coffee while admiring thousands of pigeons on the most magnificent Italian square..
Briefly about the important

Venice is not the cheapest city in the Old World, and therefore the prices for hotels, food and transport here may not seem too humane. When booking tours to Venice, it is best to choose a hotel in the mainland. The cost of a room in such a hotel can be significantly lower, and the nearby grocery stores will help solve the problem with breakfasts or dinners..
The geographical latitude at which the city is located corresponds to the position of the Crimea. Summer here is quite hot and long, but the air temperature rarely rises above +25, even in July. The rainiest months are June, August and November, when flooding is highly likely in Venice. Winter is rather wet and short, frost and snow are rare, but dampness and winds from the sea make this season not very pleasant for tours to Venice.
Venice is connected by a single metro system with the neighboring cities of Padua and Treviso, where you can take excursions.
You can see the process of creating products from the famous glass on the island of Murano. Factories for its manufacture have existed here for several centuries. Prices for products are lower than in other areas of the city. The situation is the same with another Venetian folk craft - lace. They are still made on the island of Burano, located in the Venetian lagoon..
The gondoliers who operate the famous Venetian boats are mostly men. Only one beautiful lady got into their slender ranks, and the total number of Venetian boatmen - 433 people, it happened historically.
Travel tricks
For lunch or dinner on your Venice tour, it is best to stay away from the main tourist routes. So the prices will be several times lower, and the quality of the dishes will be incomparably higher. You can have a snack on the go with a slice of pizza by taking it out at any of the street fast cafes..
Photos