Riga - the capital of Latvia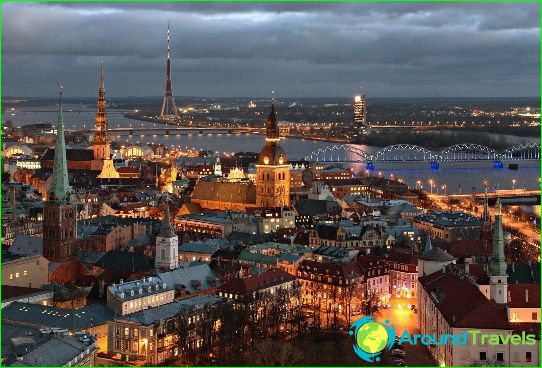 The capital of Latvia, Riga, was first mentioned in 1201, so the city's architecture is a unique cocktail of the Middle Ages, Art Nouveau and hi-tech, sprinkled with sweet patriarchy. Cozy cafes serving homemade cakes are always full of customers.
The Dome Cathedral
The largest medieval cathedral in the entire Baltic region. The first foundation stone was laid in 1211, and then the construction practically did not stop. And a modern look and feel - a magnificent blend of Romanic, Baroque, Gothic and Classicism.
The cathedral organ, 25 meters high, consists of 7,000 pipes. It was assembled in 1884 by craftsmen from Germany and was considered at that time the largest in the whole world..
«Three brothers»
On Malaya Zamkovaya Street there are three houses, tightly pressed against each other, which received the nickname «Three brothers». All houses are built of stone, since it was forbidden to build wooden buildings in that ancient Riga-fortress.
The owner of the house at number 17 was a baker, and the first city confectionery was opened here. House number 19, although it was built a little later than its brother, was erected in the style of Dutch Mannerism. The fact is that the construction time fell on the years of close contact between merchants and builders from Holland. But house number 21 boasts a baroque chic, so rare not only in Riga, but throughout Latvia. Today it houses a museum of architecture. The exposition is rather modest, but this disadvantage is compensated by the free admission..
cat house
The apartment building (1910) belonged to a wealthy merchant. The turrets of the house are decorated with two figurines of metal cats - another symbols of the capital. There is an interesting legend regarding the origin of these cats. The owner of the new house was refused admission to the ranks of the city merchant guild. In retaliation, he decorated the towers of the house with funny cats, turning them with their tails up in the direction of the Great Guild building. Thus he expressed his contempt for the merchants who rejected him. Now the cats are facing them. This was achieved only through a lawsuit..
Riga castle
Once it was a real fortress, surrounded by powerful walls and defensive towers. The building began to be built in 1330, and it was intended for the master of the Livonian Order. The fortress was destroyed and rebuilt several times, so the exterior of the building combines numerous architectural styles.
Later, when the Livonian Order ceased to exist, the castle became home to all subsequent rulers and governors. And now this tradition is sacredly observed - the castle is the residence of the Latvian president.
Photos