Where to eat in Riga?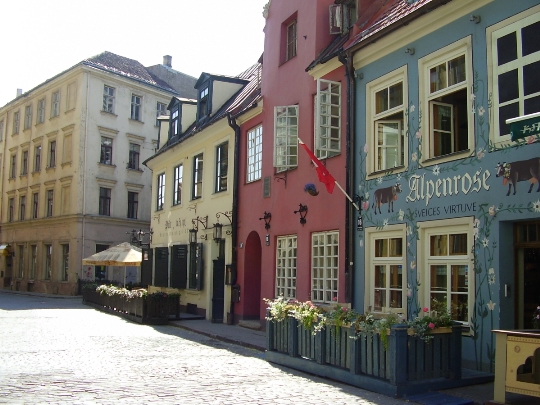 While vacationing in the capital of Latvia, many travelers face the question: "Where to eat in Riga?" The city has many food outlets - cafes, restaurants, pubs ...
Where to eat in Riga inexpensively?
You can eat inexpensively at the Lage Kafejnica cafe, which is located in the shopping center "Origo": salads here cost from 0.7 euros, first courses - from 1.5 euros, second courses - from 0.9 euros. A complex lunch in this institution will cost 3.5 euros..
You can have a budget snack in numerous kebabs. For example, in "TurKebab" in addition to kebab, you can taste pizza, sandwiches, soups, main courses, traditional oriental sweets.
You should definitely visit the popular place among tourists and local residents Lido - a chain of 8 restaurants specializing in Latvian cuisine. Here you can enjoy various dishes that are prepared in front of guests (a plate of a salad bar costs from 2.8 euros, chicken cutlets - from 1.35 euros, desserts - from 1.3 euros).
You can taste delicious Turkish dishes, kebabs and soups at affordable prices by visiting the Foodbox Silent Center fast food restaurant.
Where to eat in Riga delicious?

Bestsellers: this restaurant is located in the building of the Albert Hotel - its menu includes dishes of Russian, Chinese, French, Italian and Latvian cuisines. And for little visitors, a special children's menu has been developed here. In the same building you can visit the Star Lounge cocktail bar - from here you will be able to admire the view of the city center.
Akhtamar: in this restaurant you can try barbecue grilled on coals (25 types), as well as dishes of Armenian cuisine (more than 200 types).
Steiku Haoss: This place will appeal to steak lovers - it serves 17 types of pork, lamb, poultry and beef steaks using natural spices. Meat dishes are served with various side dishes, aged wine or refreshing cocktails..
Alus Ordenis: this place invites its guests to enjoy old and original Latvian cuisine - blood sausage, pork knuckle, bovine eggs, pork "pigtail", crispy potato pancakes, as well as various types of Latvian beer.

Gastronomic excursions in Riga
Latvia is renowned for its lamprey masters. To be convinced of this, you will be offered to make an unforgettable trip to a well-known family business located near Riga, in a beautiful suburban park. Here you can not only see the cooking process, but also taste lamprey sushi and the famous lamprey jelly..
In Riga, you will not have any problems with food - both fast food restaurants and relatively expensive restaurants that regularly hold attractive promotions for their guests have found their refuge here..
Photos