Metro Kuala Lumpur: scheme, photos, description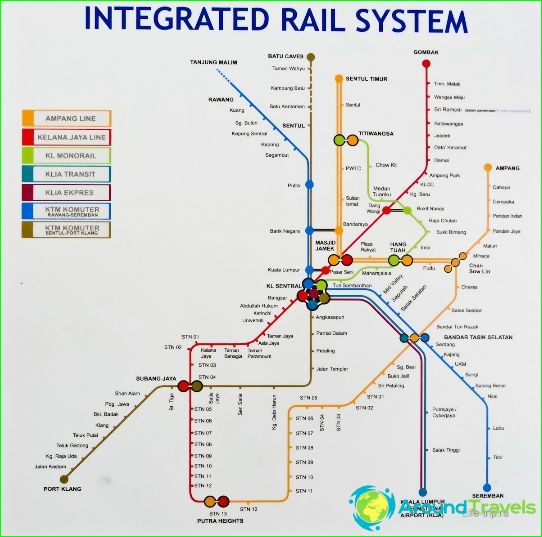 In the capital of Malaysia, the city of Kuala Lumpur, there is a public transport system, which consists of not only underground, but also surface routes. This includes the KL Monorail monorail and the KLIA Expres express trains going to the airport..
The central station and transport hub where all public transport lines related to the Kuala Lumpur metro intersect is KL Sentral. Here you can not only change to another branch or continue the trip in the next direction, but also use the services of numerous restaurants, shops and shopping centers..
The Malaysian capital's light rail lines are the red and orange lines on the urban transport map. These lines are not equipped with crossings, and those who wish to change to a train on an adjacent route have to buy a new ticket at the desired station and continue on..
The light metro Kuala Lumpur connects the suburb of Ampang, located in the east of the city, with the Sentul district. Another route begins here and continues to the southern outskirts. In total, this type of transport serves up to 150 thousand passengers daily, and the total length of its routes is 27 kilometers. For those wishing to use the light metro lines in Kuala Lumpur, 29 stations are open.
Suburban rail routes, also part of the Kuala Lumpur metro system, are four lines connecting the city with the outlying areas that form the metropolitan area.
The monorail route begins at the central transport hub, and its trains cover about nine kilometers in a northern direction. 11 stations were opened along the route, whose services are used by about 40 thousand people daily.
Kuala Lumpur metro opening hours
Kuala Lumpur Metro opens on weekdays and Saturdays at 6:00 and runs until midnight. On Sunday, the work schedule of this type of transport is somewhat reduced, and the stations accept passengers from 8.00, and the last trains arrive at 23.00.
Photos of Kuala Lumpur metro