Holidays in Morocco in December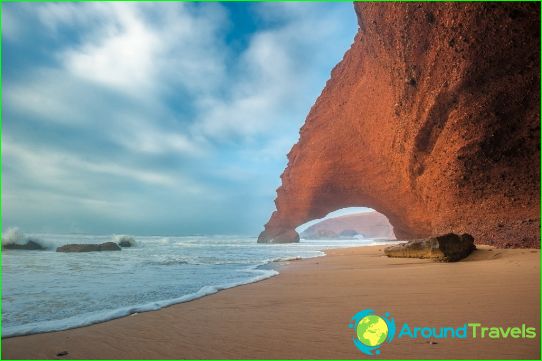 Every tourist who plans to visit Morocco in December, and possibly celebrate the New Year here, pays special attention to the weather conditions. At the same time, the weather is difficult to predict, and the only way to make realistic plans is to get acquainted with the climatic characteristics of each month. In Morocco in December, a beach holiday is impossible, because the heat is already in the past.
Weather in Morocco in December
Heat-loving travelers should visit Agadir, located in the southwestern part of Morocco. The highest temperature is set here, namely + 20-21C. In this case, you should be prepared for the fact that by the evening it gets colder up to + 9C.
In the southern regions of Morocco, a continental climate reigns, so the weather here is cooler. In Marrakech, temperatures range from + 7-18C. In the capital, the same indicators are noted, but at the same time it can be a little warmer in the evening.
In Fez, a thermophilic person can freeze. Temperature ranges from + 5-15C.
It is important to consider that there can be 4-12 rainy days in December. The largest amount of precipitation falls on Tangier, Rabat, Fez, Agadir, Casablanca, Marrakech.
Holidays and festivals in Morocco in December
An international film festival is held annually in Morocco. The President of the Film Festival is Prince Moulay Rashid. The competition program assumes screening of films from different countries, among which Japan, USA, France, South Korea, Poland are widely represented. Without a doubt, every festival features films made in Morocco. The movie is broadcasted with subtitles in three languages ​​at once: English, Arabic, French. If you are planning a vacation in Morocco in December, take the opportunity to visit one of the best film festivals in the world.
Moroccan residents are preparing for the New Year, which is the most Europeanized holiday for them. Moroccans do everything to ensure that tourists appreciate their desire to organize a bright and unforgettable holiday, because their New Year falls on another month of the year. Tourists can celebrate the holiday in the best restaurants, appreciate a festive dinner at their hotel with an unusual entertainment program and dance part. Adventurous travelers can celebrate the New Year in the desert.
Morocco is one of the best countries to travel in December!
Holiday photos in Morocco