Excursions in Kronstadt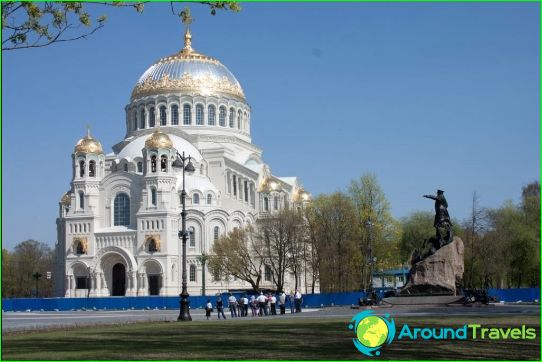 Petersburg is a unique city famous for its rich history. Every tourist who comes to St. Petersburg seeks to learn as much as possible about it. Excursions in Kronstadt will allow you to understand how unique the history of this city is.
Sightseeing tour
During a sightseeing tour, you can learn the history of the construction of the dam in St. Petersburg and Kronstadt. The compulsory program includes a tour of Anchor Square, Petrovsky Dock, the Naval Nikolsky Cathedral, and numerous monuments. Many sightseeing tours in Kronstadt involve a boat trip with a visit to the forts, among which it should be noted «Kronshlot», «Peter the Great», «Paul the First», «Grand Duke Constantine», as well as «Emperor Alexander the First». In the shortest time you can understand what Kronstadt is.
The best sights of Kronstadt

Naval Nikolsky Cathedral. The year of the construction of the cathedral was 1913. This temple is a monument to all the sailors who died fighting for their homeland. The Naval Nikolsky Cathedral is rightfully considered the spiritual center of the Russian fleet. The model of the temple was the Cathedral of St. Sophia, erected in Constantinople. The history of the landmark turned out to be extremely difficult: in the 1920s, it was devastated, in 1929 - it was closed, during the Second World War - severe destruction. Subsequently, a large-scale restoration was carried out, thanks to which in 2002 the cross reappeared on the dome, and in 2005 the first liturgy took place.
Vodokanal Museum. The Vodokanal Museum is located in the building of the water pumping station, which is the main mechanism of the first water supply system that appeared in Russia. In the middle of the 19th century, two steam engines were located in this area, which circulated water through numerous pipes. Each visitor to the museum can learn the history of water supply.
Summer garden. Kronstadt is deservedly famous for its summer garden, which appeared in the 18th century. The Summer Garden began its history under Peter the Great, but was rebuilt by Charlemagne at the beginning of the 19th century. The object is protected by the state. By now, the main alley has been preserved in its original form. Unfortunately, the house of Peter the Great, as well as the numerous houses of the tsar's closest supporters, cannot be seen, since they fell into disrepair and were demolished. However, it is possible to enjoy a walk in the garden and imagine what it was like before. Currently, the Summer Garden is in a deplorable state, but the authorities are planning to carry out restoration work..
Kronstadt is famous for its unique ancient architecture and is the best witness of many important historical events in Russia.
Photos of excursions in Kronstadt