What to do in Yaroslavl?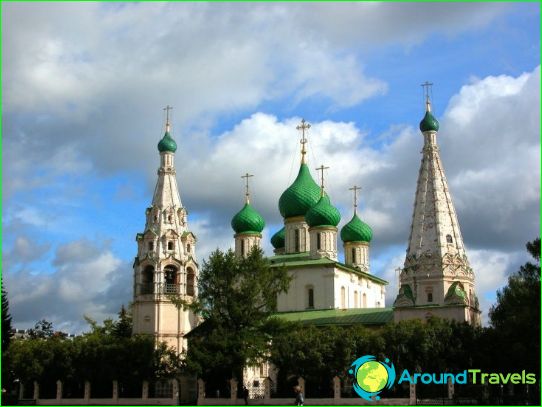 Yaroslavl is a prosperous commercial and industrial center, as well as an old Russian city that received the nickname "city ​​of 100 churches" (to date, only 30 churches have survived).
What to do in Yaroslavl?

Go to the Volkov Drama Theater and Studio Theater "Wanderer";
Take an excursion to the historical and architectural museum-reserve, opened at the Spaso-Preobrazhensky monastery;
Take a walk along the Volzhskaya embankment;
Go to the Yaroslavl Dolphinarium to visit the dolphin and fur seal show.
What to do in Yaroslavl?
It is advisable to start your acquaintance with Yaroslavl from the historical center of the city, where the main attractions are concentrated (it is advisable to purchase a guidebook or a map of the city) - the Church of Elijah the Prophet, the Church of John the Baptist in Tolchkovo, the Epiphany Church. Be sure to visit Korovniki to see the unique ensemble of churches.
In the historical center and near the waterfront, you can relax in first-class restaurants and cozy cafes with affordable prices. You can watch a movie, go shopping, buy souvenirs, or just relax in a relaxed atmosphere by getting poisoned in the mall "Rio".
Those looking for an exciting nightlife should head for nightclubs, cocktail bars, casinos. For example, in a nightclub "Honey" guests are entertained with large-scale and colorful parties, in which famous performers take part.
You can spend time culturally in one of the five theaters of the city: various international theater festivals, poetry evenings, ballroom dance festivals are regularly held here.
Actively minded tourists can play bowling, billiards, ride horses, go fishing.
Children must be taken to children's entertainment centers "Zambezia", "Little land", "Cosmic", "Masha and the Bear".
Yaroslavl has something to show and something to be proud of: having arrived here, you can circle around the city center, play paintball, go to the Yaroslavl Planetarium, a circus and a zoo, ride a motor ship along the Volga to Vakarevo and back, visit a jazz festival (held in March).
Photos where you can go in Yaroslavl