Bratislava in 1 day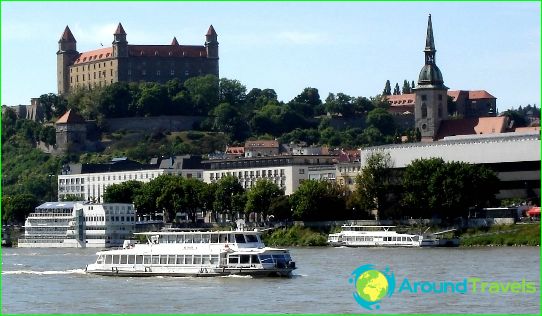 Bratislava is unique and unrepeatable on a global scale, despite its relatively small size. Turned out «in the backyard» tourist popularity, Bratislava in 1 day is able to surprise so that it will not seem a little. You can start at least with the fact that this city is the only world capital that has a border with two states. The city is adjacent to the Austrian and Hungarian territories, and an ordinary tram once went to Vienna..
Old city
The Bratislava panorama is impossible without a castle, the predecessor of which was a fortress, erected at the same time as the pyramids of Egypt. Today Bratislava Castle stands proudly on the castle hill and serves as the hallmark of the capital of Slovakia. A national architectural and cultural monument, Bratislava Castle invites tourists to get acquainted with the art gallery and the old library, see the exhibits of the Slovak National Museum and capture the luxurious interiors as a souvenir. An excellent place for panoramic photos is the terrace in front of the main facade of the castle, from where unique views of the old Bratislava open up.
Gateway to Bratislava
Another structure without which the excursion «Bratislava in 1 day» will not be complete - Mikhailovskie Vorota. The multi-storey clock tower built at the beginning of the 14th century adorns the capital of Slovakia, and the gates at its base serve as a kind of symbol - the entrance to the city. Protecting it from enemy invasions, the tower once had a drawbridge and a deep moat filled with water. The height of the Mikhailovsky Gate is just over 50 meters, and one of the expositions of the city museum dedicated to ancient weapons is located in the inner premises. In the 18th century, the fortress wall, which served as an extension of the gate, was destroyed as unnecessary, and today the tower serves only as a reminder of the former greatness of the fortress. On its balcony under the clock, you can enjoy the views of old Bratislava.
Emperors were crowned here
In the 13th century, a grandiose construction of a cathedral began in Bratislava, which became its main temple. Today the Church of St. Martin is a cathedral and adorns the capital of Slovakia along with other old buildings. Built in the Gothic style, the temple looks up into the sky with an elegant tower with lancet windows, and inside it there are unique Baroque sculptures made by Georg Raphael Donner. The Gothic tombstones of the famous nobles buried in the temple look somewhat dramatic, but the rays of the sun shining through the magnificent stained glass windows inspire optimism and give lightness to being.
Photos